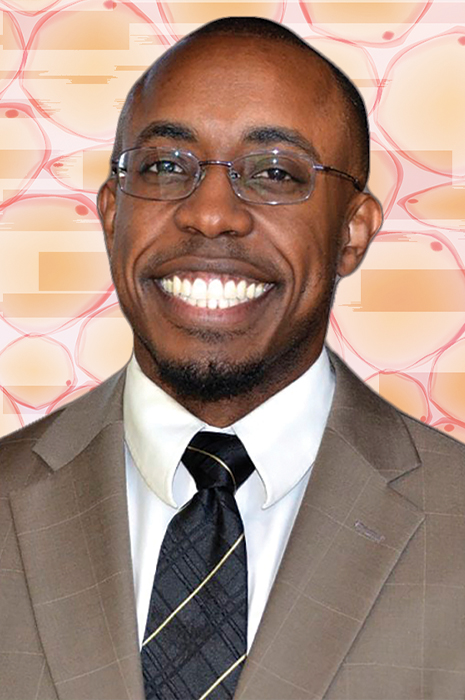 Connective Tissue
A biomaterials engineer works to improve diversity by strengthening the ties that bind students to faculty—and each other.
By Mary Lord
When a national study last year revealed a huge "persistence gap" between black and Latinx STEM majors and their white peers, Darryl Dickerson wasn't surprised. Having been one of the few African-American undergraduates studying biomedical engineering at Tulane University back in the early 2000s, he understands the isolation many underrepresented minority (URM) students feel—and how "critically important" it is to welcome their often-unheard voices when devising solutions. "Broadening participation is not only the job of folks who are diversity professionals," says Dickerson, an assistant professor of mechanical and materials engineering at Florida International University. "It's the responsibility of everyone, staff and faculty."
Dickerson, whose research focuses on tissue regeneration, speaks with as much commitment about inclusion and equity in engineering education as about discovering ways to repair cartilage in arthritic joints. Indeed, his career reflects both passions. As associate director of the Minorities in Engineering Program at Purdue University from 2013 until he joined FIU this past August, he documented the success of a groundbreaking summer-bridge experience. He and his colleagues found that incoming URM students who attended this academic bootcamp—instituted in 2005 to address a 9 percent disparity in first-year retention rates—continued in engineering and STEM majors at the same high rate as their majority peers. Not only did the retention gap vanish, but attendees also posted higher first-semester GPAs and few, if any, withdrew from or dropped courses. The results, which were presented at the 2015 ASEE Annual Conference, helped make Purdue's summer bridge program one of the evidence-based exemplars in the National Society of Black Engineers (NSBE) Student Retention Toolkit.
Dickerson's own academic trajectory was shaped more by fortuitous encounters with champions and mentors than by programmatic design. A New Orleans native, he excelled at science and aimed to become a physician. "Honestly, I'd never heard of engineering until late in high school," he says. He opened up to the field following a visit by NSBE members who talked about their studies and encouragement from a physics teacher who saw his potential as an engineer, but entered Tulane still intent on a medical career.
The transition from high school to college proved a culture shock. Though academically prepared, Dickerson wasn't used to having so few classmates who looked like him and recalls feeling isolated, "something I had not experienced before." His response was to connect with NSBE's campus chapter and seek out one of the few faculty members of color—mechanical engineer Calvin Mackie—as a mentor. "It was important for me to find networks," explains Dickerson, who began performing research as an undergraduate. Then, during his third year in the lab, he suddenly recognized that he would have more opportunities to effect change as a researcher than as a clinician. While being a doctor can make a big difference for individual patients, "it doesn't' necessarily give you a way to make a paradigm shift," he concluded.
Since then, Dickerson has sought to improve outcomes in engineering education as well as in medicine. As president of the National Association of Multicultural Engineering Program Advocates (NAMEPA), for instance, he helped organize ASEE's 2019 Collaborative Network for Engineering and Computing Diversity (CoNECD) conference and coauthored a paper on preparing pre-college students for Algebra 1 success. An active NSBE member and the organization's former national chair, he is working with NAMEPA members to encourage universities to adopt effective practices highlighted in the NSBE toolkit. So far, few campuses have implemented the toolkit's full range of summer bridge programs, living-learning communities, and other research-proven boosters of undergraduate success and sense of belonging.
Equally, Dickerson seeks to shift medical paradigms. His cartilage-regeneration research may one day allow patients to avoid total knee or hip replacements. He remains CEO of Advanced Regenerative Tech, a company he founded in 2010—the year he earned a Ph.D. in biomedical engineering from Purdue—to commercialize lab breakthroughs. As codirector for engineering workforce development in the National Science Foundation Engineering Research Center in Cellular Metamaterials (CELL-MET), he is well positioned to help expand and diversify the biomedical engineering talent pool. Focusing on curriculum development, he also channels the kind of mentoring he got at Purdue. When a research assistant lamented to him recently that "there's so much I don't know," he was ready with a response: Seeking answers to unknowns is what drives research. "We want to encourage the admission of ignorance for anyone, at any point in time," says Dickerson. "Students have an image of the professor who is all knowing and powerful. That image is so far off!"
Dickerson's "space away from work" includes the kitchen and a garden. He likes to cook and, judging from photos he shared on social media, can engineer a fine pecan pie.
Mary Lord is deputy editor of Prism.
© Florida International University/Miguel Ventura