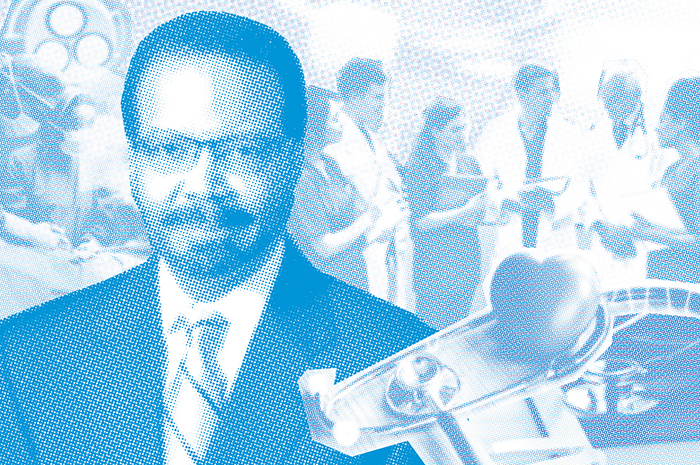 Shoot the Moon
A research pioneer aims to create a new kind of medical practitioner: the physician-engineer.
By Jennifer Pocock
Roderic I. Pettigrew is not one to be cowed by challenges. As founding director of the National Institute of Biomedical Imaging and Bioengineering at the National Institutes of Health, he supported research on such transformative projects as spinal cord stimulation for patients with paralysis and microneedle patches that make vaccinations as easy and painless as applying a bandage. At NIBIB, he says proudly, "the order of the day is to break new ground." Now he's embarked on another new venture as the Houston-based CEO of EnHealth and the director of EnMed at Texas A&M University.
EnMed is the combination of engineering and medicine at the medical school. EnHealth is the umbrella that encompasses all of the health-related colleges at the university. It will combine engineering with dentistry, nursing, pharmacy, and more. "We will train doctors to think about the convergences of all of the sciences that are responsible for life and nature…and use that to be more effective and efficient in solving problems," he says.
The programs will involve entirely new curricula that look nothing like traditional medical programs. EnMed students will graduate with two degrees—a medical doctorate and a master's of engineering—in four years. More than that, though, these students will be innovators—Pettigrew is adamant about this. "Each student will be required to invent something. That is a distinguishing feature of EnMed," he says. "[The inventions] may not all see the light of day, but they'll be required to do it. It's all about turning discovery into health with the long-range objective of maintaining health throughout your long life."
Pettigrew's own life trajectory resembles, in some ways, the moon shot that so inspired him when President John F. Kennedy proclaimed it as a goal in 1961. "I came out of the womb a scientist," he says. Pettigrew experienced the ugliness of the segregated South firsthand growing up in a tense Albany, Ga., where young black men would go missing during demonstrations and might not reappear. A neighbor was proud of his newly installed picture window, until someone threw a Molotov cocktail through it. "It was a scary time," he says. "I thought that I might not live through my teen years."
Science, however, "took me beyond all of it to the wonders of the universe." He remembers his joyful discovery in sixth grade of the Bernoulli principle: how and why air and fluids flow to create lift. On the drive home, a piece of paper flew out the car window. "I know why that happened!" he cried. "Yeah," his mom said. "You left the window open."
Pettigrew skipped his senior year in high school and went straight to Morehouse College, where he studied physics on a Merrill scholarship. Morehouse students absorbed an "explicit directive" to contribute to society and relieve the plight of others, something that reflected his own upbringing. Learning about experiments using nuclear fission reactions to treat brain cancer led him to pursue a master's in nuclear science and engineering at Rensselaer Polytechnic Institute and then a Ph.D. in nuclear science at MIT.
Hoping to join physical and life sciences in diagnosing and treating disease, he applied for a prestigious "Ph.D. to M.D." program at the University of Miami—a new course that would train those with science Ph.D.'s to become medical doctors in just two years. "And that," he says, "was a very difficult program. It's something I'm glad that I did, but I would not want to repeat it."
As a clinical research scientist at Picker International, Pettigrew helped lead the way in nuclear magnetic resonance imaging (MRI) technology. He was instrumental in figuring out how to take a clear three-dimensional image of a constantly moving target—the heart. Among many impressive fellowships and appointments, Pettigrew held a medical residency at Emory University and nuclear medical residency at the University of San Diego. He was also a professor of radiology at Emory and taught bioengineering both there and at Georgia Tech. In the early 2000s, Pettigrew was encouraged to apply for the founding director position at the NIBIB. Applications were due the next day. "I almost didn't apply."
It's still early days at his new job, but Pettigrew says he has already met an example of "the type of student we want." Observing the laparoscopic removal of diseased tissue from a patient, the student watched as surgeons repeatedly had to unclog the equipment, a task that added time and stress to the procedure. "There has to be a better way so that it doesn't get clogged at all," the student remarked. "I'm sure we can come up with something." That kind of attitude just might complete some unfinished business Pettigrew brings from NIH: developing a vaccine against HIV.
Jennifer Pocock is associate editor of Prism.
© National Institutes of Health/Thinkstock