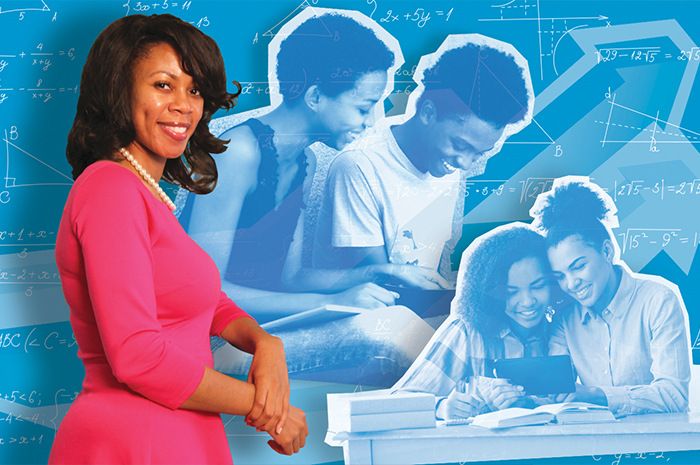 She Has Their Backs
A counselor corrects 'leaks and gaps' affecting African-American students in a joint program with a predominantly white university.
By Jennifer Pocock
To hear students at Florida A&M University tell it, Charmane Caldwell is the heart and soul of the FAMU-Florida State University College of Engineering. As the director of student access, Caldwell has helped many students stay on track who otherwise might have fallen through the cracks. By implementing a new living-learning program at FAMU, extending a pre-college engineering bridge program for the joint school, and changing testing and first-year engineering requirements, she is credited with significant improvements in grades and retention.
The FAMU-FSU program is unique in that two universities—one historically black, the other predominantly white—share a single engineering college, the result of a 1982 decision by Florida's Board of Regents to support a joint engineering institute in Tallahassee. Bringing the two together created new opportunities for students to work together and learn from one another, but by 2013, something was wrong. The program had a major retention problem. Failure in first-year calculus was extremely high, and so were dropout rates—especially among the FAMU students.
"The dean called me and said that he had a position available that I would be perfect for," Caldwell recalls. She was ready for the challenge, having completed a doctorate in electrical engineering and spent a year and a half traveling. After accepting, "I wanted to find out where the leaks and gaps were." A big problem was calculus. On the FSU side, students took math placement tests as a matter of course when they came in. FAMU did not, causing a lot of students to take calculus before they were ready. When she implemented placement tests for FAMU engineering students, the calculus fail rate plummeted and the program provided support for students who needed more classes to catch up. Caldwell also altered the Engineering Concepts Institute, an intensive summer program for incoming engineering majors at FAMU, to include both schools.
"One of the issues with FAMU-FSU," Caldwell says, "was that there was no lack of diversity because of how the school was structured. But there was a lack of inclusion." No matter what, students gravitated toward peers from the same school.
A restructured introductory course helped fix that: It replaced boring lectures with a more active format that allowed students to try group projects in several areas of engineering. Caldwell picked the groups. All had at least two women, students from different backgrounds worked together, and known friends were separated. The first-year retention rate went from 52 percent to 72 percent from 2014 to 2015, then to 88 percent in 2016. While interracial collaboration persisted through the undergraduate years, FAMU students preserved a distinct identity with a living-learning community.
To help students plot their post-freshman trajectory, Caldwell recently introduced Educating Engineering Students Innovatively (EESI).
Engineering rarely fits how the acronym is pronounced ("easy"), but students get a start with career planning. They can pick from a traditional research lab track, innovation projects with an emphasis on entrepreneurship, an industry project track where they work with Northrop Grumman, or an Engineering Partnerships in Community Service (EPICS) track. With the exception of research, which requires a year's commitment, students are allowed to switch tracks.
Drawn to engineering at age 10, when she built a telephone transmitter out of household materials, Caldwell started pondering a career in education as an FSU sophomore. Impressed by her presentation to an electrical engineering class, a professor asked if she had ever considered becoming a professor herself. "Not a teacher," Caldwell emphasizes, "a professor. I had never had anyone suggest that to me before." In her senior year, she attended an engineering panel where all the speakers were black women with Ph.D.'s. "I had never seen that before, and it made a huge impact on me," she says. "I knew then that I was going to get a Ph.D." While earning her master's degree, she worked as an intern in General Electric's research and development labs, where she rotated through different departments before settling on control systems engineering.
Caldwell says of her students, "I want to smooth the way for them so they can reach greater heights." It seems to be working; enrollment of FAMU students in engineering has risen 13 percent since 2014. Asked about Caldwell and the programs she has initiated, students who spoke with Prism repeated the same word: family.
Jennifer Pocock is associate editor of Prism.
© Florida Agricultural and Mechanical University/Getty Images