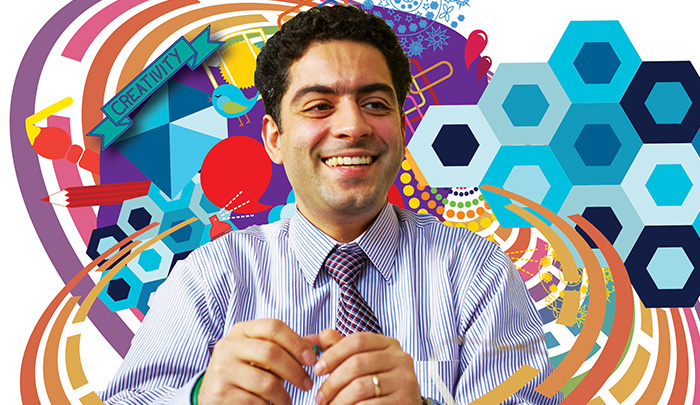 Impulsive Ingenuity
A rising academic seeks to tap the creative talent of students who, like him, struggle with attention deficit disorder.
By Mary Lord
Just 34, Arash Zaghi can point to a string of achievements. After graduating at the top of Iran's prestigious Sharif University of Technology, he worked as a project engineer in Tehran while earning a master's in earthquake engineering. Arriving in the United States, he whipped through a Ph.D. in civil engineering from the University of Nevada, Reno in just three years. There, he developed a seismic-design method for a novel connection detail that was incorporated in the new San Francisco-Oakland Bay Bridge.
Joining the University of Connecticut in 2011, Zaghi soon won back-to-back awards for teaching excellence. He also established a research lab to study the design of multihazard-resilient infrastructure, launched a start-up, and filed for a patent for an ingenious bridge-column system. His latest endeavor, however, veers sharply away from roads and girders. It's based on a discovery about himself.
Three years ago, Zaghi was diagnosed with attention deficit-hyperactivity disorder. Now, backed by a two-year, $150,000 Research in Engineering Education grant from the National Science Foundation, he is studying the creative thinking and risk-taking potential of engineering students with and without ADHD and identifying obstacles to success. "This project has the potential to improve education for all students and transform the way we teach engineering," says Zaghi. He argues that risk-taking, impulsivity, procrastination, and focus problems – common traits in the 4 to 7 percent of the population who have ADHD – often coexist with significant talents. Properly steered, these talents can spark the "revolutionary change" needed to solve such "broad, complex problems" as cybersecurity or global climate change, he says.
Traditional engineering programs, with their overemphasis on established theories and structured problem sets, tend to drive away such people. "People with ADHD are not good at sticking to anything. They move on," Zaghi says. One study found that just 3 percent of undergraduates with ADHD were enrolled in engineering. To him, this is a wasted resource: "They think of ideas others may not think of. These kids are there in society to generate new knowledge that can be passed on to others."
Zaghi's own diagnosis came after he became overwhelmed trying to juggle teaching and research duties and sought professional help for anxiety. The psychiatrist immediately sized up his symptoms and administered a test on which he scored "super high." Suddenly, Zoghi's poor memory, spelling woes, and other struggles as a schoolboy made sense. "I always blamed myself for being lazy," he explains, calling school "a very corrosive environment for my self-confidence." Now, he realized, his brain wasn't inferior – just different.
An article in the Journal of the Royal Society on "the evolution of hyperactivity, impulsivity, and cognitive diversity" provided additional perspective and inspiration for his new study. Risk-takers, it reported, are the ones who discover new foods during famines and explore new territories. "I couldn't sleep that night" after reading it, Zaghi recalls. The current education system, he realized, works against people who "are meant by nature to do something else, not what 90 percent of the population can do."
His new research has him teamed with educational psychologists, gifted-education and learning specialists, and a psychopharmacology expert. Though still in the early stages, Zaghi's work clearly has touched a chord. Parents call to share stories about their children with ADHD and seek his advice about applying to and attending college. One big concern – that it would be hard to recruit subjects – has proved unfounded. Students were offered one credit for participating in the study. But so many "swarmed in" after reading about the project in the university's Daily Digest that the researchers are doing a second recruitment. Whether Zaghi's research will boost inclusion and success rates remains to be seen. But preliminary results suggest that engineering students with ADHD are, indeed, more creative than their non-ADHD peers, he says.
As an assistant professor, Zaghi can't abandon the civil and structural engineering research that put him on the tenure track. His current project involves the development of an innovative, cost-effective method for repairing corrosion-damaged steel bridge girders using an advanced concrete material. The construction technique strengthens the beams while avoiding traffic interruptions.
His impulsive, risk-taking personality means Zaghi is unlikely to suffer from complacency. "As soon as you think you're comfortable with something, that's not good," Zaghi explains. "That comfort is a warning that you're missing something." In this case, that something may well be the creative talents of 21st-century problem solvers.
Mary Lord is deputy editor of Prism.
©Peter Morenus/University of Connecticut Photography/Thinkstock