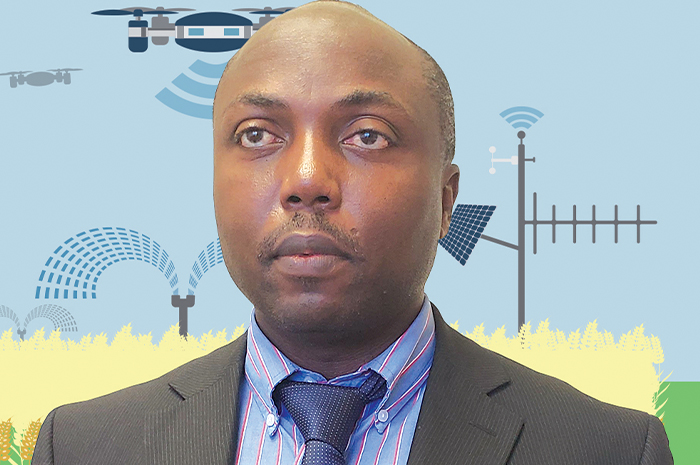 Digital Harvester
A farmer's son from Cameroon helps lead a team developing high-tech methods to stave off future food shortages.
By Mark Matthews
Half a world away from where his family raises corn, coffee, cocoa, cassava, and cocoyam (a root vegetable), mostly with manual labor, Franklin Fondjo Fotou is putting the latest robotics and computer technology to work in what might become the next green revolution.
On 20-acre plots of wheat in Kansas and Oklahoma, Fondjo Fotou and fellow researchers, led by agronomist Stephen Welch, will build upon the state of the art in model-based breeding. They'll deploy aerial drone imagery, on-the-ground robots, and subsurface sensors to measure plant growth, genetic expression, environmental conditions, and electromagnetic radiation. Then they'll crunch the genetic data and measurements with models on high-performance computers.
Out of this, the researchers hope, will come new techniques for speeding up breeding programs and significantly boosting yields not only of wheat but of legumes, cereals, and possibly oranges, apples, and pistachios, or even cotton. Perhaps more important, today's students will acquire and pass on these new tools.
Fondjo Fotou hopes that one of the project's biggest gains will be the experience his undergraduates at Langston University—Oklahoma's only historically black higher education institution—acquire developing robots, learning design software, and programming microcontrollers and sensors. "This will show that what they learn is not superficial," he vows. "They will be able to challenge any engineer in the field of robotics or sensors."
The Green Revolution of the 1950s and 1960s is credited with saving a billion people from starvation worldwide. It combined genetic improvements, fertilizers and other chemicals, improved irrigation, and mechanized farming to boost food production. Since then, genetic modification and new technology have increased yields. But to feed the estimated 9.8 billion people crowding out arable land on the planet in 2050, production will have to double. Today's agriculture methods can't keep pace.
Enter Welch, a professor and theoretical plant modeler at Kansas State University, who enlisted Fondjo Fotou, a computer scientist and head of Langston's Technology Department, and Phillip Alderman, an agricultural systems modeler at Oklahoma State University. They obtained a $4 million, four-year National Science Foundation grant to tackle the problem with a multidisciplinary marriage of "plant physiology, biological engineering, genetics, computational biology, mathematics, statistics, and computer science," according to their abstract.
Each of the three will tap other experts at his university. "This can't succeed without collaboration," Welch says. Aerial drones, robots, and sensors aren't brand new to modern farming, but the researchers intend to use them better, sometimes in novel ways. Of the drones, for instance, "What we want to do is really dig deeper" and gain measurements over a larger area than is ordinarily done, Welch says. Analytics are key. Agriculture is already "awash in data," Alderman says, "but we need to learn how to take data and turn it into actionable results." This is the job of the high-performance computer Fondjo Fotou runs at Langston, as well as machines in Oklahoma's statewide network.
If this new world of agriculture represents a giant technological leap from the labor-intensive family farm where he grew up in Cameroon, in west-central Africa, Fondjo Fotou's academic journey has been similarly far-reaching. The son of parents who never attended school and couldn't write their own names, he went to work in the afternoon and on weekends to support his studies toward a bachelor's and two master's degrees in physics (with minors in electronics and heat transfer) from the University of Yaoundé I in Cameroon's capital.
Competing against many others, he secured interviews at the Japanese Embassy and a Monbukagakusho Scholarship to pursue a Ph.D. in computer science and communication engineering at Kyushu University in Japan. Fluent in French and English, the two official languages of Cameroon, he learned Japanese well enough to defend his thesis and get hired as a research associate. "One day I got an e-mail from someone I thought I knew, asking, 'How are you doing?' " Out of that exchange came an offer to come to Langston as a visiting scholar. He accepted and later became an assistant professor as well as chair. His wife, Vicky Fondjo, whom he had met at Yaoundé I and who earned a Ph.D. in physics at the International Center for Theoretical Physics in Trieste, Italy, joined Langston as an assistant professor of mathematics. They have two sons.
"Something was pushing me to come here," he reflects. It may have been the chance to mentor students whose life challenges, geography aside, he likens to his own. "I tell them, 'We have almost similar backgrounds.' " He encourages them to pursue master's degrees in engineering technology or project management.
Fondjo Fotou has similar ambitions for boosting Langston's recognition among research-funding agencies, reaching the point where its faculty become principal investigators on research grants. A green revolution wouldn't be a bad place to start.
Mark Matthews is editor of Prism.
© National Institutes of Health/Getty Images