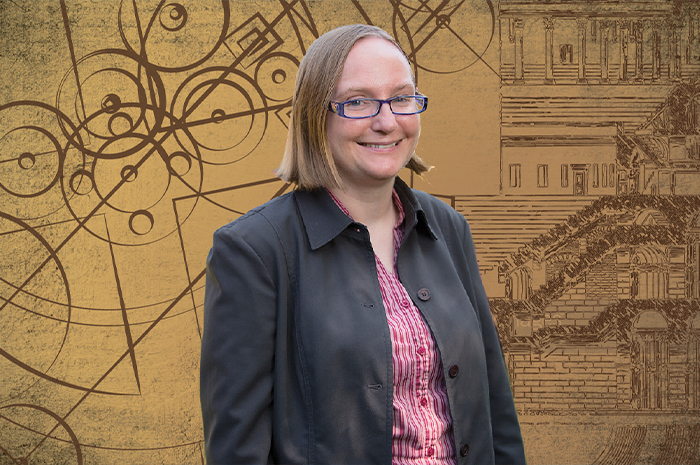 Back to the Future
An engineer turned classicist inspires ingenuity with hands-on lessons in ancient technologies from automatons to surveying tools.
By Mary Lord
When not poring over thousand-year-old manuscripts, Cornell University classics scholar Courtney Roby indulges in "technology tourism." She marvels at the Romans' civil infrastructure: the sustainable design and durability of their roads and the infinitesimal gradient of the towering Pont du Gard aqueduct in Nîmes, France, which carried water over 31 twisting miles. A close inspection of the tiny Antikythera mechanism, a Greek relic considered the world's oldest computer, reveals not only a complex system for tracking the movements of sun and moon but also an eclipse predictor. "The more you learn about the engineering, the more excited you get," she says.
An associate professor specializing in the science and technology of the ancient world, Roby traces her fascination with "nerdy" topics to her father, a nurse turned software and systems engineer who introduced her to electronics, and her grandfather, a World War II radioman who taught her how to program. A math whiz in high school, Roby participated in robotics competitions and planned to major in mechanical engineering until her coach, an engineer by training, suggested that electrical engineering was a better fit.
And it was—for a while. As an undergraduate at the University of Colorado–Boulder, she "got involved in the math side" of optics and plunged into research, earning double bachelor's degrees—in electrical engineering and mathematics—in 2001. A string of prestigious graduate research fellowships followed, including one that placed her at AT&T Labs in New Jersey, where she met her future husband, a computer engineer. Then her career reached a fork in the road.
"If I'm being honest, it was less of a 'eureka moment' than a dark night of the soul," recalls Roby. At a conference in Washington, D.C., she attended a presentation by a Princeton mathematician that raised a crystalizing question: What was his work being used for, and how would he feel about its application to, for example, advancing weapon systems? "I got kind of troubled by all this," says Roby. She could imagine finding herself in the same position.
By then a National Science Foundation graduate fellow, Roby completed an M.S.E.E. in photonics in 2003 at Boulder and was pursuing a Ph.D. in electrical engineering. But in off hours, she began reading philosophy treatises and the history of science. She also resumed the study of Latin, begun when she was a college junior. "Latin opened up so much for me, culturally," she reflects. Three years later, she made the formal switch out of the engineering lab, earning a Ph.D. in language and literature from Stanford University in 2011.
But, as Roby tells her students, "Studying engineering changes you. You will never not be an engineer after engaging in all that problem-solving work." Her prize-winning dissertation focused on the vivid literary technique, technical ekphrasis, used to describe machines and other technology long before the era of CAD diagrams or photography. Roman author Vitruvius, for instance, likened the acoustical design of an amphitheater to expanding water ripples. Roby's latest book project examines Hero of Alexandria, a major figure in the history of mechanics whose technical treatises spanned subjects from pure geometry to the construction of mechanical automatons.
In fact, engineering students form the bulk of Roby's Technology in Ancient Rome class, where they craft surveying tools based on ancient descriptions and test them by measuring angles and distances on the football field. They also study the Romans' torsion catapult, its power derived from sturdy cords fabricated by women. "I try to discourage people from building trebuchets, because it's anachronistic," Roby says with a laugh.
Roby's work has inspired graduates to adapt ancient technologies to lay out rows of grape plants in a West Coast vineyard and steered biochemists toward new lines of cancer-cell research. There are cautionary lessons as well, like the tale of a Roman project manager who left for several years while workers built an underground aqueduct starting from both ends. He returned to find that it didn't meet in the middle. But he came up with a solution: He split the builders into two teams, mercenaries versus Roman marines, and had them compete to dig a new connecting tunnel the fastest.
Mary Lord is deputy editor of Prism.
© Cornell University/Toni Rigolosi