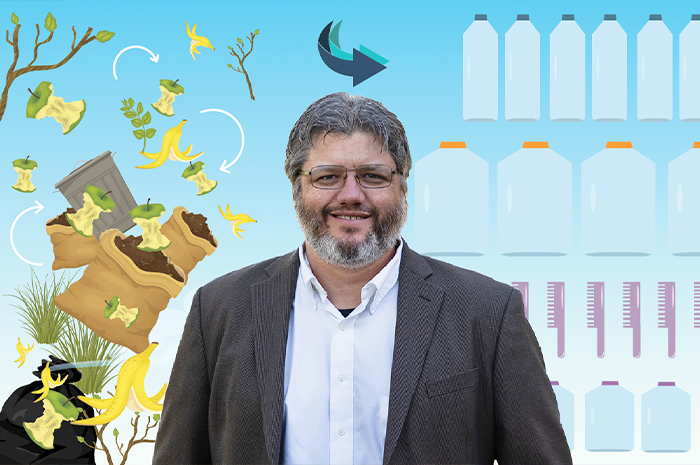 Engineering a Sustainable Future
A MacArthur 'Genius Grant' awardee finds renewable ways to create the chemicals of tomorrow.
By Rina Diane Caballar
Chemical engineer Paul Dauenhauer is working to find sustainable alternatives to modern chemicals and materials. He incorporates renewable organic material from agriculture and forestry waste products—biomass—to produce chemicals used in making plastics and rubber. Not only are the resulting chemicals renewably sourced, but they also come at a lower cost and with a quality comparable to those produced using fossil fuels. This ingenuity has earned him a 2020 MacArthur "Genius Grant," the prestigious fellowship honoring recipients' creativity and accomplishments in advancing the future.
"We're in a race against time," Dauenhauer says. "We have a climate problem, but we also have a waste problem. We have to solve them before they grow to a point where they either can't be fixed or the cost of fixing them is too great."
With his expertise in catalysis and reaction engineering, Dauenhauer also created a new type of plant-based, high-performing surfactant—a key ingredient in laundry detergent, dish soap, and other cleaning and personal care products. It served as the foundation for Sironix Renewables, a startup Dauenhauer cofounded in 2016 to bring these eco-friendly surfactants to the consumer market.
Generating materials from natural sources has long been at the heart of Dauenhauer's work and life. Growing up in small-town Wisconsin Rapids, Wis., where the main income source was forestry, Dauenhauer was exposed to how one material can be turned into another—trees into paper or biomass into fuel.
Then, as an undergraduate student, Dauenhauer experienced a eureka moment after reading papers about ways to use biomass to make plastics and fuels. "I realized that's what I wanted to work on. I just got excited by it." He earned a B.S. in chemical engineering and chemistry from the University of Wisconsin, then pursued graduate school at the University of Minnesota, which was conducting research in the areas that fascinated him.
After garnering a Ph.D. in chemical engineering, Dauenhauer worked for a year at Dow as a senior research engineer in the Core R&D Reaction Engineering group. "I had a lot of research experience but not a lot of industrial experience, and a big part of developing new technologies that can be commercialized is understanding economics and the process by which you take something out of the lab and turn it into a commercial product," he explains. "I got a chance to see how [Dow] operates and makes decisions, and incorporate that into my thinking about what technologies I want to work on." The experience led Dauenhauer to shift his mindset from discovery to commercialization, with a goal of not only inventing new technologies but also converting them into real-world applications.
"That's what engineering is about: We take things we know and turn them into economically viable processes and technologies that can have an impact," says Dauenhauer. "And even one technology that becomes large-scale could have enormous impact."
Dauenhauer's interest in teaching and research led him back to academia—currently, he heads his own research group at the University of Minnesota. His team is working on advancing catalytic resonance theory to accelerate chemical reactions beyond the previously possible catalytic "speed limit," which could lower the cost of chemical processes involved in materials manufacturing.
"We came up with this theory that if catalysts can change with time at the same speed as the reaction—so as the molecules come in and react, the surface changes at the same speed—that could give you rates thousands of times faster," he explains. "I've been dreaming about working on this for years, but I never pursued it because it was hard and I was nervous it wouldn't work. Now we've done it experimentally. It's one of the most exciting things I've ever worked on, and I see us working on this for another 30 years."
Dauenhauer considers relevancy and the potential to create a better future as chemical engineering's greatest advantages. The field is at the heart of many foundational technologies, he says: "Everything chemical engineers do connects to something important to society."
Rina Diane Caballar is a freelance writer covering technology and its intersections with science, society, and the environment.
©John D. and Catherine T. MacArthur Foundation/Alexander Da Silva