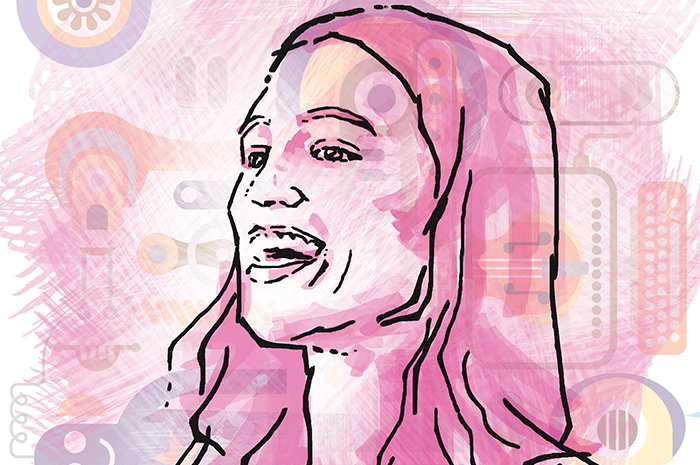 Fluid Dynamics
A young virtuoso is a study in versatility.
By Jennifer Pocock
At just 25 years old, Lina Colucci is already many things: inventor, engineer, clarinetist, and dancer, just to name a few. Now a Ph.D. student in her fifth year at the Harvard-MIT Health Science and Technology program, she designs sensors that will be able to read a hospital patient's hydration levels—not just telling them if they're hydrated, but exactly how much water is in each organ.
"Our bodies are mostly water," she says. "Healthy people can pretty easily regulate their fluid levels, but people with conditions like heart and kidney failure accumulate a lot of fluid…they can pretty much drown in their own body water." Because doctors have no way to quantify the amount of water patients have accumulated, they end up guessing at the medication doses that patients need, leading to many costly and exhausting hospital visits. "There's really no good way to treat the problem right now."
Colucci's devices are mini-MRIs that sit on a tabletop at the hospital or in a patient's home. Some work by measuring the fluid levels in a patient's finger; others can measure other extremities where fluid accumulates, such as the legs. Her ultimate goal is to be able to read the lungs while also measuring systemic fluids.
With her devices now in clinical trials, she says that she loves the versatility of the project. "Most Ph.D. [projects] are very specific in one single thing. I'm lucky that mine is broad and I get to run the whole gamut." Her work ranges from thinking about physics and what's going on at the atomic level to tapping her electrical and mechanical engineering background—her undergraduate degree from Duke is in mechanical engineering—as well as testing her sensors in the hospital, collecting the data, and developing algorithms to mine the data. She is also working to spin the project into a start-up, "but it will depend on timelines and if it's the right time for the company."
The sensors project isn't Colucci's first foray into personal technology. When she was 16, she decided to redesign a "primitive" technology for the school science fair: the ballet pointe shoe. Dance and music have been a part of her life since she was very young, so she knows just how painful those shoes can be. But she also grew up in a household steeped in science and engineering—her mom is a biologist, and her dad is a mechanical engineer. Together, they helped teach her about the scientific and design processes.
To make her shoes, Colucci interviewed dozens of dancers on what works best for their feet. Among the dancers' biggest concerns was the ability to buy the shoes and wear them right away. Today's pointe shoes require dancers to spend hours sewing on ribbons, breaking the shoes in different ways to fit their feet, and then gluing them back together. This process weakens the shoes so that they don't last very long. Professional dancers can wear out three pairs of shoes in one night, and they cost about $100 each! Colucci wanted to design a shoe that would not only last longer but would also be more supportive, ready to wear, and still look as beautiful as the classic satin shoes. Her design landed her on the cover of Ergonomics in Design at the age of 17, as well as an internship with Nike.
"The art and the technical worlds are not mutually exclusive at all," she says. "In fact, they are made much better when they are put together. The beauty that you see in the art world, when you think about dance—what makes them work is physics. I try to look at the art world and see where the math comes in."
Engineering and art still go hand-in-hand for Colucci, even though her research has veered from shoes to medical devices. She still dances with a company and performs with her clarinet. Juggling all of the programs can be a challenge, but she does it by switching between semesters. One semester she'll prepare a music performance and then she'll switch to dance the next semester, brushing up her skills in the other subject when she has free time. "Both dancing and playing music bring me a lot of joy and are good forms of physical and mental recharging," she says. "It's nice to have such activities to turn to when I'm in a rut with research." This semester, Colucci will perform a Brahms clarinet quintet at a MIT Chamber Music Society concert.
Jennifer Pocock is assistant editor of Prism.
Design by Francis Igot