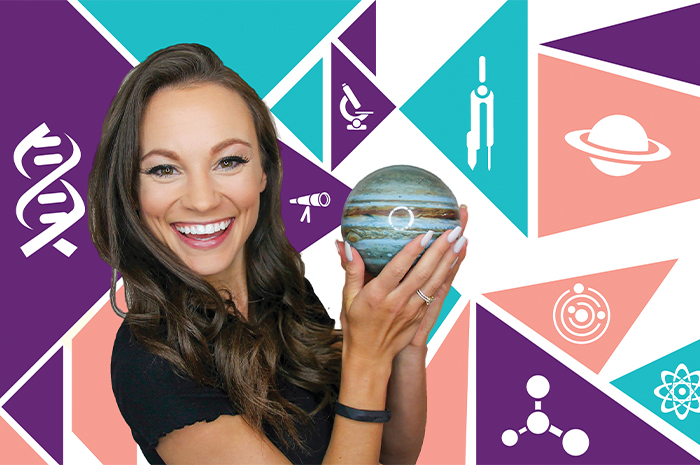 Shooting Star
This aerospace engineer has launched a career dedicated to showing kids that, when it comes to STEM, there's no limit to the heights they can reach.
By Jennifer Pocock
Emily Calandrelli didn't plan on being an aerospace engineer, author, or educational TV star. She started with a love of math and a Google search to see which math-based professions made the most money. That's what drove her to West Virginia University to study mechanical engineering. And her path to aerospace? It was as short as a trip in the "Vomit Comet," an airplane that provides experiences of weightlessness to astronauts—and aeronautical engineers—in training. "I was sold," she says, when she found out aerospace students got to ride in the plane. It wasn't long before she was hooked on space and pursuing internships with NASA. "My world just opened up from there."
Calandrelli's latest project: the Netflix kids' sensation Emily's Wonder Lab, where she teaches children to "stay curious and keep exploring!" But the show isn't her first foray into STEM entertainment. She is also executive producer and host of Xploration Outer Space on Fox and a field correspondent on Bill Nye Saves the World, also on Netflix.
The engineer's STEM outreach also extends to the written word. Her Ada Lace Adventure series of kids' books follows a third-grade girl, Ada, and her best friend, Nina, who solve mysteries with technology. The series has an out-of-this-world following; astronaut Anne McClain read the third book, Ada Lace, Take Me to Your Leader, from the International Space Station as part of the Storytime from Space program.
At West Virginia University, Calandrelli was often the only woman in her classes. Because of that and her stellar grades, national awards, and honors work, the university often invited her to appear in promotional photos and videos. Those caught the attention of a producer searching for a woman to host a new space show, Xploration Outer Space, as Calandrelli was graduating from MIT with her master's degree in aeronautics and astronautics, as well as technology and policy.
For the Saturday morning series, now in its sixth season, she's gotten to explore every facet of the space industry, from weird jobs like outer space odor tester to riding in space balloons. She's been nominated for a daytime Emmy award and has ridden the Vomit Comet three times now.
As host and executive producer of Emily's Wonder Lab, she works hard to share her "genuine excitement about science" with kids and to prove that engineers and scientists come in all shapes, sizes, and colors. "The thing that I find most surprising is that the first thing most people say is not 'We love your show!'—it's 'Thank you.' That really changed the way I do my job," she says. "I want to spend my time doing something that people are really thankful for."
In the era of COVID-19, the show is especially useful. Since it focuses on practical experiments that kids can often do with supplies around the house, many parents find a ready-built curriculum for their young explorers.
Calandrelli filmed the entire first season of Wonder Lab while nine months pregnant with her daughter. That's garnered a big response from mothers wrestling with their identities as both intellectuals and parents. "They tell me that they tear up when watching," and showing their kids, Calandrelli says. One said, "Look mom, a mommy scientist just like you!"
Still, it wasn't an easy path to launch Emily's Wonder Lab; the new kids' show was turned down by several networks as "too science-y," and marketers were afraid audiences wouldn't respond to a female host. Calandrelli retorts that putting more women on screen can double your market!
She was bored of seeing the same faces represented as scientists in TV shows, books, and movies. It was always "an older White guy with [wild] hair in a lab coat." As hard as it is to be a woman in the sciences, however, she recognizes the added difficulties for men and women of color. It's the responsibility of those who make casting decisions to change the status quo, she says. "When I was hired to do Xploration Outer Space, it wasn't because a bunch of people applied and I had the best application; it was because the guy who owned the production company decided he wanted a woman to be the host of the show."
Calandrelli is hopeful that work like hers will help make STEM more welcoming for all—inspiring new generations of kids to reach for the stars.
Jennifer Pocock is associate editor of Prism.
©Emily Calandrelli/Getty Images