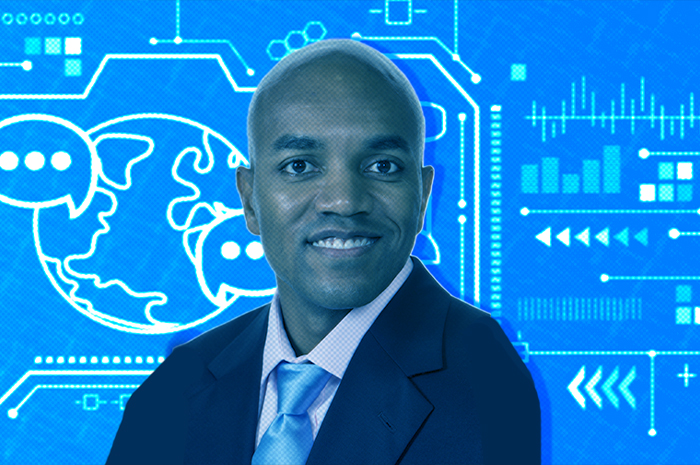 Avatar of Applied Learning
A dual ASEE award winner wants engineering technology to get the recognition it's due.
By Jennifer Pocock
Engineering technology gets short shrift in some circles, and Michael Johnson considers that a major flaw. "We want more technical professionals in the United States. "We want to be competitive," says the Texas A&M professor and associate department head of undergraduate education in engineering technology. "Whatever flavor they come in doesn't really matter. What helps is that there are people who can contribute, who can design and manufacture products." In engineering technology, he adds, "we are very focused on teaching you to be a practicing technical professional."
Johnson, who joined the Texas A&M faculty in 2007, loves engaging with students who are ready to dig in. His efforts won him two of ASEE's most prestigious ET-related recognitions this year: the National Engineering Technology Teaching Award and the Frederick J. Berger Award, which "encourages excellence in engineering technology education."
Johnson's ET conversion came after earning traditional degrees in mechanical engineering—and still feeling ill-prepared to be a practicing engineering professional. There was too much theory and not enough hands-on work. His passion for applied learning, however, began with engines, an interest acquired growing up in Michigan in a family of gearheads with a father who worked on the line at General Motors. Johnson, who loved taking things apart, "wanted to build airplanes or cars."
While an undergraduate at Michigan State, he interned at 3M and quickly realized that the product-design jobs he most hoped to pursue all required advanced degrees. Seeking a change of pace from the Midwest, he found his way to MIT for his master's and Ph.D. degrees. He rejoiced in the idea of living in a place with so many different thought leaders. "I thought it would be cool to walk around and maybe bump into [author and activist] Cornel West," who was a Harvard professor at the time, he recalls. "I actually did see him in Harvard Square once."
While Johnson didn't end up designing automobiles and airplanes as originally envisioned, he did find his family history coming full circle: He partnered with GM for his dissertation, studying their product design process. Following graduation, he worked in industry at the 3M corporate research lab in St. Paul, Minn., as a product development engineer. "I'd always known I wanted to come back to the academy," he says, "but I wanted to get some practical experience first."
A runner who enjoys spending time with his wife and coaching his three sons' sports leagues, Johnson especially loves teaching senior design courses—his focus for the past six years. "I enjoy getting a chance to see [students] right before they get out," he says. He particularly relishes students he taught as sophomores coming back for his capstone class and "seeing their growth and professionalism" as they "matured throughout the curriculum."
The age of COVID-19 has brought new challenges to ET programs like Johnson's. "The hands-on component that you get in the lab is really the core of engineering technology," he explains. "Getting that done remotely is difficult." This fall, the prime focus has been "trying to get as many people into the lab as safely as possible." With mask requirements and the aid of large-screen projectors, he's conjured a setup that he hopes will protect students from catching the virus while providing as complete an educational experience as possible. "There are some things where you really do need that hands-on activity to understand how that equipment works and how different inputs affect outputs," he says. In those cases, the students will come to the lab in small groups to work.
So far, the workaround seems to be going well. "It's an unfortunate situation that was forced upon us," Johnson emphasizes, "but I also think it's a great opportunity to look at these [online learning] technologies and how we can better implement them to help our students." Many of them, he notes, opted for online and hybrid learning this fall instead of in-person classes. He worries, however, that over the long haul, remote learning poses a double disadvantage for ET students, who are more likely to come from underrepresented groups and lack access to technology compared with their peers in engineering science programs. Eventually, he predicts, hybrid learning won't suffice, and ET programs will need all hands on deck.
Jennifer Pocock is associate editor of Prism.
©Michael Johnson/Getty Images