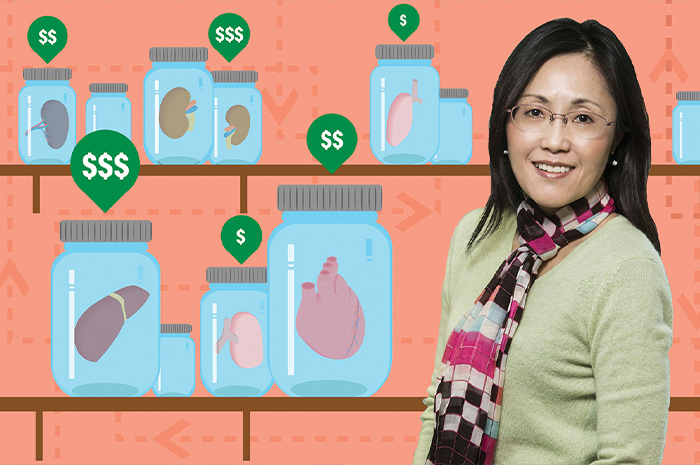 Network Sleuth
A health-policy scholar applies engineering and other tools to investigate—and one day disrupt—the global black market in human body parts.
By Mary Lord
Organ trafficking, drug smuggling, and other criminal operations might seem an unlikely focus for a public-health scholar. But Naoru Koizumi, an associate professor and director of research at George Mason University's Schar School of Policy and Government, sees "similarities and common problems across illicit supply networks," whether they deal in kidneys, counterfeits, or humans. In fact, she notes, worldwide contraband routes often employ the same unsavory characters. Exploring these convergences, as a multidisciplinary group of experts did at her National Science Foundation-funded workshop in April, could, she believes, yield solutions for problems as diverse as transplant waiting lists, money laundering, and opioid addiction.
Growing up in Kobe, Japan, Koizumi never aimed for a career in medicine, let alone one that would plunge her so deeply into its criminal underbelly. If anything, she rebelled at the prospect. "I was determined never to become like my mother," a divorced physician and prominent government official with whom Koiozumi, an only child, had "a difficult time." Resisting pressure to pursue premedical courses, the math-loving teen opted instead to study statistics. Graduating with a bachelor's in business administration and an economics minor from Tokyo's Aoyama-Gakuin University, Koizumi headed to the University of Pennsylvania, where she earned a Ph.D. in regional science in 2002 and conducted postdoctoral research in the electrical and systems engineering department as well as the medical school's psychiatry department. There, working on projects for the National Institutes of Health, she discovered the power of combining biostatistics and graphical information system (GIS) mapping techniques to analyze mental-health patient flows in and out of treatment and design more efficient care-delivery models. The work propelled her to Japan's Hyogo College of Medicine and a second Ph.D., this time in environmental and preventive medicine with a concentration on liver and kidney diseases.
Koizumi, whose published research ranges from the dynamics of slum expansion to risk factors for early graft loss in organ recipients, has long been interested in kidney transplant allocations and addressing regional disparities in access—a "major topic" she examined using systems science and GIS on a National Institutes of Health grant. Her pivot to illicit networks was sheer serendipity, however. She was visiting an Indian slum as part of a Gates Foundation project to study how drug-resistant tuberculosis spreads when she heard that some impoverished residents sold their kidneys to survive. "That was my first exposure to organ sales," recalls Koizumi, who began forging collaborations to study the complex web of brokers, buyers, and sellers in developing countries. Curious about the extent of this underground supply chain—which includes complicit surgeons and illicit sales of the expensive immuno-suppressing drugs that transplant recipients must take for life—she delved more deeply into the literature. The result: a 2018 NSF Early-concept Grant for Exploratory Research (EAGER) to develop an analytical framework for examining the structural patterns and evolution of organ-trafficking networks. The work, which involves experts from engineering, math, and the social sciences, has taken her to Costa Rica and Bangladesh—two hot spots for organ harvesting.
Koizumi, associate director of the Schar School's Center for the Study of International Medical Policies and Practice, acknowledges that organ trade is "kind of a minor area" within illicit networks. Still, the health toll on individuals makes her keen to improve policies so sellers don't suffer the ill effects of poor post-surgical care and people with end-stage renal disease can get quicker, more equitable access to life-saving transplants. If she can get a visa, Koizumi hopes to visit Iran, the only country in the world with an official, government-supported kidney market and no waiting list, to study the system's operations and pricing mechanisms. Meanwhile, she is teaching the next generation of investigators how to use GIS and other tools of translational research.
Some issues may remain impervious to integrative health research, however. Koizumi notes that Congress has three times debated and ultimately rejected bills to expand Medicare coverage for immunosuppressive drugs beyond the current three-year cap per patient. Unable to cover the cost, many kidney recipients end up back on dialysis, which the government is willing to pay for and which is backed by a powerful lobby.
Mary Lord is Prism's deputy editor.
© George Mason University/Toni Rigolosi