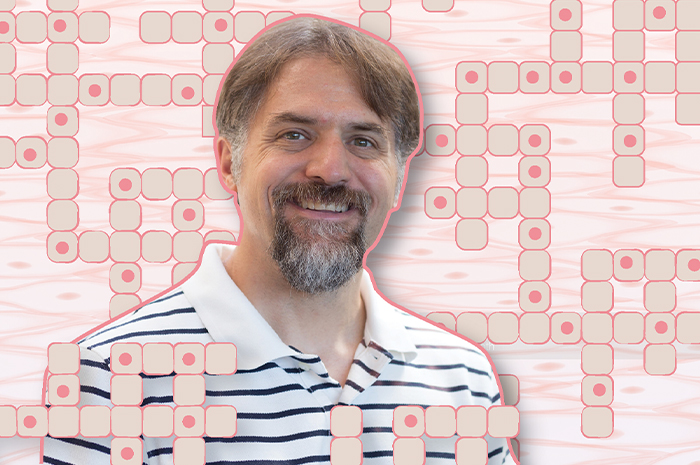 Filling in the Blanks
A biomedical engineer finds creative ways to solve puzzles in the lab while writing crosswords in his spare time.
By Jennifer Pocock
Victor Barocas is on a permanent quest to find out how things fit together in a grander scheme. He takes clues and flips them around, seeing how they relate to each other and wondering if they might work better in a different context—or add up to a bigger answer.
A biomedical engineering professor at the University of Minnesota, Barocas works with soft tissue mechanics. "Anything that can be held but can bend is soft tissue," he explains. "So, for example, blood cannot be held, and bone cannot bend, so they're not soft tissues. Ligaments, however, are." So are muscles, blood vessels, valves, and skin. Barocas's lab at UMN is fixated on one thing: figuring out how these tissues work in a mechanical sense.
All of Barocas's degrees are in chemical engineering: a B.S. and M.S. from MIT in 1988 and 1989, respectively, and Ph.D. from UMN in 1996. But at some point, as he wandered through the complex plant machinery used to produce chemicals at a large scale, he realized that their systems' processes are similar to those in the human body. The body, after all, is a complex machine with millions of moving parts that operates continuously and uses chemical reactions to keep it going.
After that, he shifted to more biological systems. Some of his work, like many in the biomedical engineering community, is dedicated to making devices that will help doctors solve biomedical puzzles. He recently collaborated on a new type of stent that increases blood flow, for example. Mostly, however, he wants to know how soft tissues work and share his findings with the UMN medical school, which is located conveniently next door to the engineering school.
This love of picking apart mysteries of the human system translates well to his off-campus hobby: making complex crossword puzzles. As a child, Barocas always loved doing the crossword and became involved with the puzzle community as a competitor, becoming a state tournament champion. That led to him to try his hand at coming up with clues rather than piecing them together.
Over the years, he's published in numerous newspapers—he makes a new puzzle every month or two—but the ultimate prize is getting a puzzle into the New York Times. Since 2011, Barocas has published 14 total crosswords in the Times alone, including five notoriously fiendish Sunday puzzles. In January of this year, his biotechnology-inspired Sunday puzzle with the recurring clue of "gene splicing" frustrated millions of readers. (Hint: the word "gene" is spelled out diagonally four times in the puzzle, across eight different answers.) "The most important thing in puzzle making," he says, "is coming up with something that readers will find fun to solve, not just something that I have fun making. It should be challenging but not impossible."
Above all, Barocas loves teaching and bringing a valuable learning experience to his students. "I have been incredibly lucky to work with my students over the years," he says. "I want that to come across more than anything." His accolades include a 2018 distinguished teaching award for "outstanding contributions to graduate and professional education," which he earned for ensuring that students received real-world and soft-skills training as part of their curriculum, without sacrificing academic rigor. His mentorship is also credited with contributing to an increase in the number of women and underrepresented minorities in the department of biomedical engineering.
Barocas believes engineering education has the potential for major change in the face of the COVID-19 pandemic—in a good way. The surge in online learning this semester will lead to a pedagogical revolution, he thinks, that will enable more professors to flip their classrooms faster, which in turn will make more room for active learning and deeper discussion. "I flipped my classroom last year," he says, "and that led to major improvements in learning for my students." The ability for them to view the material ahead of time and go at their own pace in the lectures led to deeper and more meaningful questions and discussions in the following class sessions. It also helped students prepare for exams. "One student said that she would rewatch all of my lectures on double-speed before the tests to make sure she didn't miss anything."
Leave it to a puzzle-writer to find a clue to improved learning.
Jennifer Pocock is associate editor of Prism.
©University of Minnesota/Toni Rigolosi