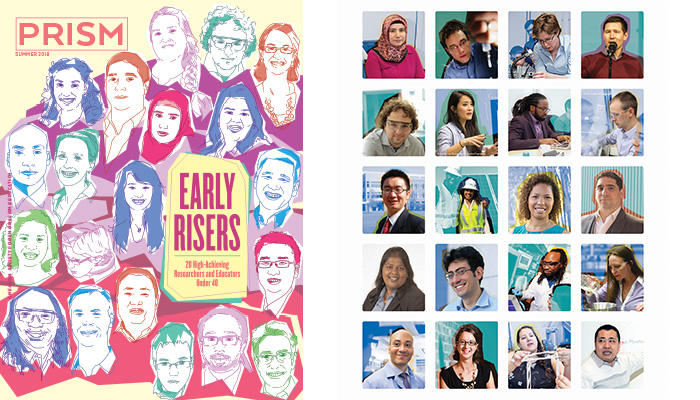 Today's early-career faculty are transforming classrooms, technology, and society.
They grew up in places as varied as the American midwest, an oil town in northwest China, and Sicily. Their research topics are equally diverse, from food-bank logistics to emergency medicine, and from solar energy to spacecraft. One holds several patents for inventions aimed at reducing fossil-fuel emissions. Another works in a multidisciplinary field on the biomedical frontier: immunoengineering.
What these 20 accomplished under-40 academics all share, however, is a demonstrated talent for teaching, research with real-world impact, or—as is often the case—both. They were selected to highlight the vital role of engineering and engineering technology programs in generating solutions to society's big challenges and shaping a globally competitive workforce. The individuals profiled on the following pages had not turned 40 by December 31, 2017 and were chosen based on recommendations by their schools and colleagues, plus research by Prism staff. It is not a scientific sample. Rather, these rising stars represent a balance of geography, discipline, personal background, and type of institution. The common denominator is ingenuity. Some see an obvious void and seek to fill it. Take Manu Platt, an associate professor in the joint Georgia Tech-Emory University bioengineering program founded by past ASEE president Don Giddens. Combining the study of cell biology, hematology, and biomechanics with statistics and computer modeling, he and his team have pinpointed a possible cause for the strokes that impair many children with sickle-cell anemia and found a chemical signal for aggressive breast-cancer tumors.
Miguel Jaller's engineering training makes him challenge how things are routinely done. Reflexive donations after natural disasters, he's found, can result in mountains of unsorted clothing and collection-site "garbage dumps" that complicate, rather than help, recovery efforts.
Engineering education is a prime focus for several researchers. At Tufts University, Kristen Bethke Wendell, an associate professor of mechanical engineering and endowed chair of engineering education, already has shifted her colleagues' pedagogy since joining the faculty in 2016. Her secret? Small steps that evidence shows can make a big difference, such as increasing active problem-solving by training undergraduates as peer-to-peer "learning assistants." At Boise State University, Marc Jankowski spearheaded an effort to incorporate computation throughout the materials science and engineering curriculum.
Another driver of change is the passion for inclusion. Seeing her students segregate themselves, Betul Bilgun, a gregarious assistant professor of chemical engineering at the University of Illinois at Chicago, began randomly assigning groups to collaborate on projects. By semester's end, "everyone knows everyone," she notes. Jenni Buckley, an associate professor of mechanical engineering at the University of Delaware, disrupts groups inclined to divvy up project roles based on gender. Rather than assuming familiarity with tools, she requires all students in her computer-assisted design class to complete a lab in which they practice with every power tool and earn a badge.
As with Prism's 20 Under 40 class of 2014, federal funding—particularly money that offers a leg up for young faculty struggling to see their ideas bear fruit in the lab, classroom, hospital, or marketplace—looms large. That's because the path-breaking work described here, in such areas as cheap solar cells, disaster relief, and safer autonomous vehicles, would not have happened without the basic research dollars that flow from the National Science Foundation, the Department of Defense, and other government agencies.
Betul Bilgin


Mixing it Up



Betul Bilgin, an effervescent assistant professor at the University of Illinois, Chicago, gained recognition among chemical engineering educators when she had to take over teaching a course two weeks into the semester—with no training or course materials, and while the department was undergoing ABET reaccreditation. Not only did she finish the semester strong (her students bought her flowers), but "the ABET program evaluator praised me for my dedication, effectiveness, and enthusiasm."
Raised in Usak, a small town in western Turkey, Bilgin, in 2001, became the first girl to represent Turkey in the international Chemistry Olympiad, held that year in Mumbai, India. Aged 17, she came away with a silver medal, but it was the access to higher-education mentors that shaped her future. "I had never had contact with professors before," she says. "After this, I decided I wanted to be one." While an undergraduate at Fatih University (now part of Istanbul University), she worked at MIT labs in the summers. Entering graduate school in the United States to study biological and chemical engineering, she earned a master's at the University of Minnesota and a Ph.D. at Michigan State.
In the senior capstone course she teaches at UIC, Bilgin pushes her students to take on ambitious projects, such as the "large-scale stem cell therapy facility for spinal cord injuries, including a bioreactor," they designed one year. She also has sought to make students break out of their ethnic and class comfort zones. "UIC is extremely diverse," she says. "Not just ethnically, but economically." Seeing her students segregate themselves, she began randomly assigning groups to collaborate on projects. "By the end of the semester, everyone knows everyone."
Bilgin, a mother of three, has visited a dozen K-12 schools to introduce children to chemical engineering, employing a chemical marbleizing art project to demonstrate materials, vocabulary, and concepts like surface tension. "You draw on water using a seaweed that becomes slimy on top, and mix mineral dyes with an enzyme from an ox stomach. Then you paint the dyes on with a horsehair brush," she explains. The drawing "magically" transfers onto paper.
A natural extrovert, Bilgin relishes getting to know people. She and her husband invite someone new to their home every week for dinner. "We cook for them and have Turkish coffee and talk," she says. "You meet these people at work. Then they come to your house and see your inner space, and that's a deeper friendship. We've learned a lot from all of these conversations."
James Bird


Piercing the Mystery of Bubbles



Years ago, James "Jacy" Bird was trying to get soap bubbles to spread on a surface, but they kept bursting. Then he noticed that, once popped, a bubble doesn't disappear but instead creates a ring of miniature bubbles. Why? No one knew. Even more basic questions, such as why drops splashed, had no answer. Bird set out, as he puts it, to "play with drops and bubbles." Now 37 and an assistant professor of mechanical engineering at Boston University, Bird seeks to understand how submicron aerosol droplets form from bursting bubbles. When a bubble emerges to the surface from water, the surface tension is rearranged, shooting a jet of droplets into the air that eventually break into smaller droplets that also carry into the atmosphere whatever else was in the water—salt, for instance, when they come from oceans. "Fluid mechanics is not clear on how they are formed," he says. Backed by a 2014 National Science Foundation CAREER grant, Bird's Fluid Lab is using high-speed videos, numerical simulations, and computer and physical modeling to find the answer. Despite their microscopic size, submicron droplets are an important phenomenon because they're long-lasting and so travel farther in the air. Figuring out the mechanics could greatly improve climate modeling. One of the most uncertain inputs models use is the flux of submicron droplets as they rise from ocean to atmosphere and their effect on clouds. Knowing how droplets are created and distributed should result in better models. Bird's findings will also give health researchers a better understanding of the transmission of some respiratory illnesses, including Legionnaire's disease.
Bird's research has yielded surprises. In 2013, he and colleagues showed, counter-intuitively, that a wrinkled surface can shed liquid faster than a smooth one. This could lead, for example, to improved aircraft wings. Last year, Bird and Ph.D. candidate Samira Shiri found that smaller drops transfer a larger fraction of heat when they hit a surface than do bigger drops. The results point the way to warmer, more breathable rainwear.
Bird's interest in fluid dynamics dates to his childhood in Washington, D.C., and watching the eddys that formed when he tossed twigs into a gutter after a heavy rain. After receiving his B.S. from Brown, he spent a year as a Fulbright scholar near the Great Barrier Reef in Australia, scuba diving and studying the fluid dynamics and thermodynamics of coral reef systems. He earned his Ph.D. at Harvard and has been at BU since 2012. A fan of supplementing publications with video to convey the excitement and curiosity surrounding research, he has also developed a graduate course in science communications.
Image Courtesy of Jackie Ricciardi
Jenni Buckley


Engineered Inclusion



Want to increase diversity? "Let's tackle it like engineers," says Jenni Buckley: Define the problem, come up with the concept of a solution, then design and test it. Evaluate and adjust based on results. An associate professor of mechanical engineering at the University of Delaware, Buckley puts the force of her training into correcting the underrepresentation of women and minority students in engineering.
But not just engineering as a whole. Buckley notes that three disciplines—electrical, civil, and mechanical—graduate the lowest proportions of women and other underrepresented students. These are also the fields where most of the engineering jobs are, and therefore should be the key targets. "Every women-engineers conference I go to we put up Rosie the Riveter posters and we say, 'Yeah, girls, you can do it.' . . . Except we're not doing it," she exclaimed last year in a TEDx talk. Putting forward a problem-solving approach, she argued that women could be pulled away from the biosciences in part by reframing engineering around health care, sustainability, and security.
In 2009, Buckley, whose specialty is designing medical devices, and a friend who is an orthopedic surgeon launched a nonprofit to encourage women to go into orthopedic surgery and engineering. The Perry Initiative started as a summer program with one group of high school students and now runs outreach programs for high school, college, and medical students nationwide. It "quite frankly, steals female talent shamelessly from the biosciences," she said in her talk.
Changing the culture of engineering education to make it more inclusive requires looking at biases and assumptions and redesigning classes or labs to counter them, Buckley says. Rather than assuming that students have a background in using tools, she requires all students in her computer-assisted design class to complete a lab where they practice using every power tool and earn a badge at the end. "It levels the playing field," she says.
Buckley encourages students who lack CAD experience to raise questions in class and asks those with background knowledge to refrain from doing so. "This is not a race," she tells them. She also looks at how group projects tend to divvy up roles based on gender and for ways to disrupt that so that every student experiences maximum growth.
At the University of Delaware, now in the top 25 for female engineering graduates, these efforts are showing promise. Buckley wants the university to be in the top 10. More pressing for her now is engineering ways to help students of color succeed—an effort years behind getting more women into the field.
Eric Jankowski


Printed Solar Power



Prices for solar panels are falling. Accordingly, the global market for them is skyrocketing. But imagine how demand for renewable, carbon-free solar power would truly soar if commercial-size solar panels could be made for virtually pennies. That's the promise of organic photovoltaics (OPVs), which are made from polymers instead of silicon. Potentially, says Eric Jankowski, an assistant professor of materials science and engineering at Boise State University, the energy they'd produce would cover their costs within a week. "After that, you're generating free power; you're printing yourself money." Jankowski, 36, who's been at Boise for three years, won a five-year, $500,000 NSF CAREER grant last year to use computational simulations to figure out how best to arrange the molecules of advanced carbon-based materials so that they'll efficiently convert sunlight to electricity. Currently, commercial silicon panels convert anywhere from 15 percent to 25 percent of sunshine to energy, and it takes around 15 years to recoup costs. Jankowski reckons if OPVs can be pushed to around 13 percent efficiency, they'll become competitive with silicon cells. If they can reach 15 percent or higher, "we'll blow silicon panels out of the water." The process of figuring out the correct building blocks to coax the molecules to self-assemble and produce the desired properties is challenging. But Jankowski, who relishes challenges—he relaxes by playing the Chinese strategy game Go—is optimistic. He expects that, at a minimum, by the time his grant ends his team will have figured out which chemicals will give the best options for commercial panels five years hence.
A native of Midland, Mich., Jankowski earned all three of his degrees in chemical engineering from the University of Michigan, followed by post-docs at the University of Colorado, Boulder, and the National Renewable Energy Laboratory. Having resisted following the crowd into computers during the dot-com boom, he came to recognize the importance of computational modeling and took tutorials from an international nonprofit, Software Carpentry. He's found graphics cards to be low-cost, high-performance devices for computer simulations. Standard programming classes are insufficient for scientific research, he says, so he spearheaded an effort to incorporate computation throughout the materials science and engineering curriculum. He is also "leading faculty from biology, geosciences, physics, mathematics, and mechanical engineering to create a signature 'computational on-ramp' for graduate students across the university," writes engineering dean JoAnn Lighty.
Mikhail Kats


The Light Fantastic



High school physics teaches that light behaves in predictable ways. Well, not always. As Mikhail Kats has discovered in ground-breaking optics research he began as a Harvard grad student, nano materials can be engineered to change the laws of reflection and refraction to bend and reshape light in arbitrary ways. Now an assistant professor of electrical and computer engineering (ECE) at the University of Wisconsin–Madison, Kats, 31, has helped pioneer the creation of metasurfaces: optical nanostructures like lenses 1,000 times thinner than a human hair. He says this may revolutionize optical components by making them lighter and more flexible—drastically cutting the cost and weight of solar installations, for instance.
In nominating Kats for the "20 Under 40," ECE colleagues wrote that "he has a knack for using simple arguments to explain complex physical phenomena, which has led to a number of surprising discoveries."
A native of St. Petersburg, Russia, who moved to Kansas with his family when he was 9, Kats was drawn to "the science of light" as a Cornell undergraduate. "Just about every industry relies in some ways on optics," he says. "Think about computing, for example. The vast majority of us receive information from our computer through monitors. And if you think about how you can stream a Netflix movie while someone next door is using Skype, it's because of fiber-optic communications."
Kats is exploring ways to turn traditional thermal properties on their heads: for example, developing coatings that actually give off less light as they get hotter and more light as they grow colder. This would help create objects that would be camouflaged from infrared detection. A similar technique could also find use in outer space for controlling the temperature of satellites and other spacecraft. Kats envisions a surface coating that would eliminate the need for power consumption or moving parts. Instead, the coating would regulate temperature on its own by changing its emissivity, expelling more infrared light to cool down or reducing emission to warm up.
Program chair for this year's Optical Society of America's Novel Optical Materials and Applications conference, Kats says the kind of research he performs is something that private industry, with its focus on quarterly profits, often cannot do: connecting new or emerging scientific concepts to existing needs "or technologies for applications 5, 10, or 15 years out." Bringing a light touch to teaching, he gets top student ratings. Last year, he tweeted a video of himself explaining how to view a solar eclipse without special glasses. The secret? Use regular polarized sunglasses to view a reflection of the eclipse on a car windshield.
Image Courtesy of Renee Meiller/UW-Madison College of Engineering
Shiho Kawashima


Fine-Tuning Concrete



Concrete has long been a favored building material. The Colosseum in Rome was built mostly from concrete. So, too, was the Pantheon, its 142-foot-high dome able to withstand two millennia of everything humans and nature have thrown its way. Yet despite concrete's ubiquity in structures from skyscrapers to sidewalks, "there is still a lot we don't know about it," says Shiho Kawashima, associate professor of civil engineering at Columbia University. "When you look at it, it's just a gray rock, but once you understand the engineering that goes behind it and all the challenges we face using it, you realize how complex it actually is."
Kawashima, 32, pursues ways to improve concrete production, performance, and sustainability. One focus is 3-D printing, which could revolutionize construction by eliminating the cost of the temporary molds, or forms, which can add 50 percent to the total expense. Most research and development so far has gone into the robotic machines that do the printing. Backed by the National Science Foundation, Kawashima concentrates on the ink—the concrete—and what additives can be used to optimize its performance. She experiments with different additives like nano-size clay and silica particles that can be added in very small doses to cement to improve strength and self-healing potential.
By cutting down on the amount of calcium oxide—created by burning limestone at very high temperatures—Kawashimi hopes to reduce the greenhouse gas emissions caused by cement production. "Five percent of man-made carbon emissions are tied to the production of cement," she points out. "It's an issue that needs to be addressed."
Kawashima's lab serves as a breeding ground for future engineers like high school student Augusta Umwamanzu-Nna, who spent part of a summer on a new recipe for concrete to seal oil wells on the ocean floor. This could help prevent catastrophes like the BP disaster of 2010, where improperly installed cement resulted in a gusher of crude in the Gulf of Mexico. "Having young, talented, motivated people come and work at my lab is definitely one of the most rewarding things for me—if not the most rewarding," says Kawashima. Umwamanzu-Nna got to present her findings at the Intel Science Talent Search and at the White House.
Image Courtesy of Timothy Lee Photographers/Columbia Engineering
Walter Lee


Science of Diversity



Walter Lee says universities owe it to their students to help them over the graduation finish line, and he's out to show schools how. An assistant professor of engineering education at Virginia Tech and assistant director for research at the Center for the Enhancement of Engineering Diversity, Lee is tackling one of the most vexing questions in engineering education: why, despite over 40 years of work by researchers and practitioners, the proportion of engineering degrees earned by African Americans has declined.
In 2014, Lee and two colleagues developed a survey instrument—the Engineering Department Inclusion Level—to measure feelings of inclusion among underrepresented students at the departmental and university levels. Applied at two large public universities, it found African-Americans consistently rated the level of inclusion lower than did other racial and ethnic groups. More recently, his team developed the Engineering Student Integration Instrument, making a distinction between students' assimilation into the dominant university culture and how well a college supports all of its students. Making engineering more diverse and inclusive is also the purpose of GUIDE, a research group run by Lee and a small group of undergraduate and graduate students.
Now, Lee has a key role in the $5 million Virginia Tech Network for Engineering Transfer Students (VT-NETS), in which the university is collaborating with two community colleges to provide 336 scholarships over five years to help low-income students transfer successfully. The initiative includes a two-week overseas study component. Funded by the National Science Foundation, Lee and colleague David Knight will study the pressure points where transfer students most struggle, and they will design and test curricular and cocurricular supports to increase their rates of success. Their results could provide a national model for supporting engineering transfer students. "We're not just doing this research in a vacuum," Lee says. "There are real students going through this process right now, bringing concerns to our attention."
As an industrial engineering undergraduate at Clemson University, Lee benefited from the kinds of support he institutes and studies at Virginia Tech. He participated in a program for minority engineering students called PEER (Programs for Educational Enrichment and Retention) and went on to serve as a peer mentor to others. As a graduate student at Virginia Tech, he led a summer bridge program and was a graduate assistant in a living-learning community.
Kyle Lampe


Nerve Builder



Engineers have made great strides in regrowing skin and bone, and are inching toward 3-D printing of organs. But regenerating nerves? That's still an elusive goal, but one loaded with potential for helping victims of strokes and diseases of the central nervous system like multiple sclerosis and Parkinson's. Kyle Lampe is passionate about it. "While it's a really hard problem to work on, it has an enormous possibility to change the quality of life for folks it affects," he says. An assistant professor of chemical engineering at the University of Virginia, Lampe leads research into understanding neural diseases and injuries and then restoring or saving damaged tissue through cell growth and drug delivery.
Lampe's lab engineers hydrogels, which he likens to Jell-O, to generate cells in a three-dimensional environment and study how central nervous system (CNS) cells grow and work together. Regrowth of central nervous system cells is particularly tricky, he says, because the CNS comprises so many different cell types. "You cannot stitch a CNS injury site back together," he says in an interview published by U.Va.'s Applied Research Institute. Working closely with clinicians, he's intent on ultimately coming out with a product. "I can design something really elegant, but if it doesn't have an application it's kind of pointless," he says.
Lampe first learned about neural tissue engineering while on a National Science Foundation-sponsored Research Experiences for Undergraduates internship at the University of Colorado, Boulder. After receiving his bachelor's degree at University of Missouri–Rolla (now Missouri University of Science and Technology). he went on to earn a Ph.D. at CU, working in a lab focused on neural-tissue engineering, and was a post-doctoral fellow in materials science at Stanford.
He wants to replicate his own experience of discovery among his students, employing what his department chair, Bill Epling, calls "provocative methods of learning and assessment." Students write their own syllabi, determine course objectives, set their schedules, and learn they need to build in time for failure. Raised in rural Iowa, where his high school offered no AP classes, Lampe says, "I'm a big believer in giving people a chance." He hires as many work-study students as possible and doesn't base hiring decisions on grades alone. He also works to build team spirit. Says Epling: "His lab is well known for their summer outings to paintball or kayaking the local river, as well as the regular end-of-term meals he hosts at his home that inevitably end with a round of science charades."
Image Courtesy of Tom Cogill/UVA Engineering
Fanxing Li


Emissions Wizard



Fanxing Li's methods to improve chemicals sometimes seem more magic than science. An associate professor of chemical engineering at North Carolina State University, he works to eliminate harmful byproducts by turning them into valuable resources, exploring techniques like capturing emitted carbon dioxide and turning it into carbon monoxide—a valuable chemical used in product manufacturing.
Growing up in a small oil town in northwestern China, surrounded by refinery smoke and machinery, Li was fascinated by energy and emissions early on. Concerned about the global increase in population and energy consumption, and what that means for the air, he says, "We need to mitigate any unintended environmental consequences while allowing people to enjoy a higher standard of living." He's not looking into biofuels, though—he wants to make fossil fuels better "because in my opinion, fossil energy won't go away anytime soon." He believes that his research can make "significant impacts" on people's quality of life. Case in point: shale gas.
Li's team recently received a $1.4 million grant from the American Institute of Chemical Engineering's RAPID Institute to figure out how to use some byproducts of fracking. "We are looking at converting the shale gas components that would otherwise be burned and wasted into liquid fuel," he explains. That would save the ethane and other valuable chemicals that would otherwise contribute to global warming.
Another of Li's projects, soon to be commercialized, is a lower-energy way to turn ethane into ethylene. This is important because ethylene is one of the most prolific chemicals in manufacturing—used to make plastics, clothing, and myriad other everyday products.
"Worldwide, we consume 150 million tons of ethylene every year," Li says. "To make one ton of ethylene, they emit about 1.2 to 1.6 tons of CO₂. The reason for the emission is because they burn a lot of methane." Li has found a way to skip the burning altogether, increase the amount of ethylene made, and come out with just one byproduct: water.
Li came to the United States when he was 24 to pursue a Ph.D. at Ohio State University after earning bachelor's and master's degrees in chemical engineering at Tsinghua University in Beijing. Now 37, he holds five patents (with 10 more pending) and has won $8.9 million in grants, including an NSF CAREER award and awards from the Departments of Energy and Defense for his emissions reduction technologies.
Saniya LeBlanc


Heart of an Educator



Fixated "from a very young age" on becoming a mechanical engineer, Saniya LeBlanc had an equally clear vision of her future after graduating from Georgia Tech: Join a big company like General Electric, get on the leadership track, maybe earn an M.B.A., and work her way up to executive management. "No one could tell me otherwise," says LeBlanc, who was born in Kansas and reared in Atlanta by Bangladeshi parents. That she is now an assistant professor of mechanical and aerospace engineering at George Washington University, heading a nanomaterials and energy lab, she attributes to several "very determined professors" who nudged her toward a Churchill Scholarship to Cambridge University, Georgia Tech's first.
Still, academia remained a tough sell. Though she'd conducted research as an undergraduate, including in energy giant Schlumberger's Paris office, LeBlanc didn't find the experience inspiring. Instead, she deferred entering a graduate program at Stanford University to teach math and science in a multicultural, inner-city D.C. public high school with Teach for America. That K-12 experience, while "tough on me," equipped LeBlanc with the lesson planning and real-world classroom skills to be an effective-yet-caring instructor. She soon realized that getting pupils to master geometry was a small part of a broader, more critical mission. "To create a safe space and show them there was a world beyond the world they knew—that was my job," she says. Among her proudest achievements: developing an after-school advanced physics class for a group of students who aspired to study engineering. All but one have since completed their degrees. "She clearly has the heart of an educator," attests Santiago Solares, LeBlanc's departmental colleague and mentor.
After earning a Ph.D. and a stint at an energy-technology start-up, LeBlanc, 37, joined GW in 2014. She developed and teaches a popular, National Science Foundation-funded nanotechnology practicum designed to train undergraduates and younger students on new fabrication tools and techniques. Her lab conducts pioneering research on energy-conversion technologies and nanomaterials that could vastly improve efficiency and reduce the cost of electricity—while also helping her campus draw more power from renewables and meet its sustainability goals. In teaching four undergraduate and two graduate courses and helping students with research showcases and conference presentations, LeBlanc stresses the importance of precision, accuracy, and mastering underlying physics concepts. She herself learned that lesson early in grad school, when a tiny error in an otherwise flawless fluid-dynamics calculation yielded the wrong number. Had she been designing a bridge, her professor warned, it would have fallen down.
Image Courtesy of GW School of Engineering & Applied Science
Michele Manuel


Amazing Metals



Few recall fondly having an orthodontist tighten our braces. Today's preteens can be spared that annoyance, thanks to shape-memory-alloy braces that don't need adjusting. The feats that materials can perform have fascinated Michele Manuel since she was in high school on the Florida panhandle and won an Air Force research internship. She went on to major in materials science and engineering at the University of Florida, earn a Ph.D. at Northwestern University, and conduct both blue-sky research at NASA and manufacturing-oriented work at General Motors. Now 39, a full professor and chair of UF's materials science and engineering department, Manuel leads a team that studies various combinations of metals to make them stronger, lighter weight, longer lasting, more malleable, self-healing, or absorbable within the body. Applications range from power adapters in digital devices and medical implants to vehicles and space travel.
"Materials are essentially the linchpin for any technology," Manuel says; they can either limit technology or drive it forward. Her experience watching the interplay of science, engineering, and parts coming off the line at GM "allows me to put some relevance into things that I study." In her latest project, she's applying to the Department of Energy in hopes of establishing a multi-institution, multidisciplinary Energy Frontiers Research Center that would explore how high magnetic fields alter materials' behavior. It would tap into the National High Magnetic Field Laboratory (MagLab) in Tallahassee, a UF affiliate that's home to several world-leading magnets.
Manuel says she's someone who jumps on "every opportunity that presents itself," who gets along with a lot of people, and who "doesn't spend a lot of time worrying about what other people think." To date, this approach has brought a Presidential Early Career Award for Science and Engineering, substantial funding from the National Science Foundation and NASA, and tributes from professional societies. Often the only woman of color in a room among professional peers, she says "there are constantly barriers you have to overcome." She's already challenged the status quo when it comes to hiring. Her growing faculty—she aims to increase it by a third by 2020—ranks at or near the top among materials-science departments nationally in its percentage of underrepresented minorities and women, as well as in African-Americans earning Ph.D.'s.
Image Courtesy of University of Florida
Miguel Jaller Martelo


Freight Trainer



"Look at these images and think a little bit about what comes to your mind," invites Miguel Jaller, opening his presentation with heart-wrenching scenes of wildfires, floods, and devastation. "How do you feel?" The audience wants to help. That typically means donating, explains Jaller. He then offers some counterintuitive advice: Don't. As his next slides reveal, misplaced generosity can result in mountains of unsorted clothing and collection-site "garbage dumps" that plagued recovery efforts following Hurricane Katrina and other calamities.
Jaller, 37, an assistant professor of civil and environmental engineering at the University of California, Davis, is used to challenging conventional wisdom. A specialist in industrial and transportation engineering, he has investigated natural disaster logistics from New Orleans to post-tsunami Japan, Haiti, tornado-ravaged Joplin, Mo., and his native Colombia. He also probes inefficiencies in freight systems. He recently tallied the packaging waste, fuel consumption, congestion, and truck pollution resulting from free, two-day shipping of Internet purchases. "We've been spoiled by it," says Jaller, a father of two and an avid online shopper. While convenient for consumers, this triumph of technology and logistics leaves no time for consolidation—combining someone's separate, small purchases into one box, for example, or waiting to accumulate orders at regional hubs for more efficient loading and distribution. Free-return policies only add to the toll.
After earning a master's in industrial engineering focusing on supply-chain management and logistics at Colombia's Universidad del Norte, Jaller entered Rensselaer Polytechnic Institute in 2006 to study urban freight transportation systems and disaster response logistics under Jose Holguin-Veras. He joined a number of National Science Foundation projects on lessons learned from hurricane-battered New Orleans and other catastrophic events that could improve future relief efforts. "My first break was Katrina," he recalls. He found bottlenecks caused by the outpouring of donations that "slowed down the humanitarian response and detracted from the ability to alleviate suffering." Some contributions are useless. When floods inundated much of Colombia in 2010, the Red Cross received a tiger suit, a Spanish flag, and a huge mattress that no one could move.
Moving to New York City in 2010 to analyze freight traffic and land use for the state transportation agency, Jaller was well positioned to investigate the impact of Hurricane Sandy on the transportation system and recovery of coastal communities. Since joining the UC Davis faculty in 2014, Jaller finds that transportation engineering is now a "trendy topic" and has brought an influx of students. Instead of working on stoplights, however, he and his students work on state and federal projects, "trying to fix some of the fixes"—asking, for example, "what happens to real public transportation" in the age of Uber or the environmental implications of e-commerce.
Image Courtesy of UC Davis
Malini Natarajarathinam


Hunger Solutions



Growing up in India, Malini Natarajarathinam saw widespread poverty and hunger. But she was startled to discover that the problem existed in her backyard at Texas A&M. Undaunted by her lack of social-services expertise, the associate professor of engineering technology plunged right in. "The focus is just doing things better—and there are always things that can be done better," she explains. Dr. Malini, as she is affectionately known, found that a single state entity supplied both food banks and school lunch programs with the same frozen pizza and other products. Why not consolidate everything in a roomier warehouse? That would allow the nearby Central Texas Food Bank to reach more people and generate revenue by collecting the per-pallet delivery fees schools paid to contractors.
Natarajarathinam, 38, enlisted several of her industrial-distribution students in calculating demand, the investment required, and impact, presenting the food bank's community advisers with a proposal that "looked like a piece of art."
"This won't work," a teacher in the group declared: Parents wouldn't want their kids eating cast-off food. Others concurred. "It was a real learning process for me," recalls Natarajarathinam. "Even if you're making a decision with numbers, you have to take into account how the solution is going to be received by people," including how they feel.
That epiphany led to a "stopgap" solution: removing the food bank's logo from its school delivery trucks. It also prompted Natarajarathinam in 2016 to launch "Hunger-free Texas," a $300,000 university-funded service-learning initiative that engages students in tackling such problems as improving food-bank operations and efficiency. Site visits are key. "How are they going to know about what's happening in industrial distribution if they don't even know what a real-life warehouse looks like?" she asks. In recognition of her engineering education efforts, Texas A&M named her a Division of Student Affairs Faculty Fellow, a competitive and prestigious honor.
Natarajarathinam, who launched the FIRST Lego League in College Station, developed a zest for experiential learning first as a graduate student at the University of Alabama, where she earned an M.A. in management science, an M.S. in applied statistics, and a Ph.D. in operations management. She also holds a master's in industrial engineering from Auburn University, where she studied after graduating with a bachelor's in the subject from India's Anna University. Outside of teaching and caring for her two youngsters, she studies supply chains in times of crisis, posing questions like: "What good is a hurricane evacuation plan if people refuse to abandon their pets?" She also has become a passionate engineering-education researcher.
Image Courtesy of Texas A&M University
Marco Pavone


Safer Autonomous Vehicles



The death in March of a 49-year-old woman, struck by an Uber autonomous test car while crossing a busy road, brought Marco Pavone's research into sharp relief. An assistant professor of aeronautics and astronautics at Stanford, Pavone aims to ensure that such accidents become almost nonexistent. He develops algorithms that control autonomous robotic vehicles—cars, drones, and spacecraft—allowing them to make split-second assessments in unfamiliar environments. They should, he says, "make intelligent decisions under uncertainty better than humans do." In April, while an investigation into the Tempe, Ariz., test-car fatality had not yet been completed, he suspected the fault lay with the vehicle's artificial intelligence (AI) algorithm. While accidents can't be prevented completely, "you work to make them rarer than those caused by humans," he says.
Beyond safety, Pavone, 38, is helping to redesign urban transportation. With a 2015 National Science Foundation CAREER grant, he's working on algorithms to control electric, autonomous vehicle-sharing systems in urban areas. Cars would be equipped with demand predictions and routing information so they could be effectively pre-positioned, work in tandem with public transport systems, and know the best times to hit a charging station. For Principles of Robotic Autonomy, a class he offers to graduate and undergraduate students, Pavone built a mini-urban environment so students can learn how to code robots to drive in realistic conditions. In a recent demonstration, students deployed toy-size robots to scour the mini-city searching for animals in trouble. Equipped with sensors like those on a self-driving car, the robots "are moving around in a way that is analogous" to how a real autonomous vehicle would operate, Pavone told IEEE's Electronics 360 website.
Pavone's career path seems predetermined: Growing up in Sicily, he became fascinated by software and space but also felt a desire to work on technologies—transit safety, for instance—that benefit society. After a master's degree in computer engineering from the University of Catania, he earned a Ph.D. in aeronautics and astronautics from MIT. Before joining Stanford in 2012, he spent two years at NASA's Jet Propulsion Laboratory working on robotic platforms that operate in low-gravity and extreme environments. Winner of a 2017 Presidential Early Career Award for Scientists and Engineers (PECASE), Pavone has launched an extracurricular group, the Student Space Initiative, where students work on complex space projects in multidisciplinary teams. With more than 250 members, it's the largest student group in the engineering school.
Manu Platt


Disease Fighter & Mentor



One day, engineered genes or vaccines may defeat sickle cell disease, HIV/AIDS, and breast cancer. But in the here and now, there's much that an engineer can do to blunt their worst effects. This is Manu Platt's turf. An associate professor in the joint Georgia Tech-Emory University biomedical engineering program, Platt, 39, combines the study of cell biology, hematology, enzymes, and biomechanics with statistics and computational modeling to grasp how tissues progress from healthy to sick and then works to control disease complications.
Of the 300,000 babies born annually with sickle-cell anemia, 11 percent suffer a major stroke by age 16 that leaves them limping, reliant on crutches, or cognitively impaired. Platt and his team set out, first, to develop a mathematical model for predicting stroke risk. Then, applying computational fluid dynamics, they found a possible cause: bumps on the internal wall of the cerebral arteries. Now they're trying to figure out how to prevent those bumps from developing.
Antiretroviral drugs have turned HIV/AIDS from a certain killer to a manageable illness—if patients take their pills. Platt, working with clinicians in South Africa and Ethiopia, has identified a cellular marker that can serve as a "biological lie detector," so patients who fall behind are monitored and counseled.
Curious as to how the same type of breast cancer advances rapidly in one woman and more slowly in another, Platt's team found that a tumor's aggressiveness could be determined by the chemical signals emitted by macrophages—a type of white blood cell. With this predictive information, some women may survive without a radical mastectomy.
A proud nerd with dreadlocks and earrings, Platt traces his career to the summer before seventh grade in Dover, Del., and an intensive math and science program called FAME (Forum to Advance Minorities in Engineering) formed in 1976 by the DuPont Co. Valedictorian of his high school class, he earned a bachelor's in biology from Morehouse College and a Ph.D from the joint Georgia Tech-Emory program (begun by past ASEE President Don Giddens). He joined the Tech faculty following a postdoctoral fellowship at MIT.
His easy laughter and ready smile notwithstanding, Platt is blunt and forceful in decrying racial injustice. Accepting the Biomedical Engineering Society's Diversity Award last year, he reminded his academic audience that in 2015, unarmed blacks were killed by police at five times the rate of unarmed whites. "I move in spaces where black bodies are not common," he says, and he wants to change that. In 2012, Platt cofounded Project ENGAGES (Engaging New Generations at Georgia Tech through Engineering & Science), in which African-American high school students take freshman chemistry and train in the school's laboratories, earning above-minimum wages. Many proceed to major in STEM fields.
Alicyn Rhoades


Powering Plastic



When molten plastic shoots across an injection mold, the material quickly cools and crystallizes. But how? In what structure? And does it allow for the strongest and most reliable possible product? That's what Alicyn Rhoades is finding out. Much is demanded of plastics nowadays. Some must withstand extreme conditions, holding their shape and size. And some are intended to biodegrade, but in a predictable way. All this requires lengthy and costly trials. A plastics engineering technology professor at Pennsylvania State University, Erie's Behrend College, Rhoades uses advanced scanning technology to come up with more precise simulation models. That way, better products can be manufactured in less time.
Plastics have been Rhoades's career since she entered Penn State Behrend as an undergraduate. "I visited each [engineering] department," she recalls, "and the plastics professors looked like they were having the most fun!" After earning a Ph.D. from the University of Southern Mississippi in 2006, Rhoades worked for more than six years in Bayer's (now Covestro's) materials science department, part of a global team pursuing alternatives to petroleum-based polymers.
Rhoades agreed to join Penn State Behrend on the condition that she could make the curriculum more interdisciplinary and industry-focused. "Even as part of an assignment, I'll have my students call and talk to a company expert," she says. "They have to do some type of interaction outside the books and the classroom." Part of the fun for Rhoades is the multidisciplinary nature of plastics. "In our department, there are design professors, materials professors, and manufacturing professors. Of the seven faculty, there's very different skill sets, and it takes all of us to do a good job of teaching plastics engineering."
Fundamental to plastics expertise is an awareness that it can shatter. Rhoades developed a failure analysis course that ties together all of the aspects of plastics engineering and teaches students to look with a critical eye at why plastics break and figure out whether it was the material, the process, or the engineer that failed. Such a skill has proven so popular with industry that the course is now required for every senior in the plastics engineering technology program.
A mother of six—three of them born while she was pursuing tenure—Rhoades says: "I see my students (as) similar to how I see my kids. . . . They need someone who cares about them and their development—not just if they can pass the class or behave—but if they develop the technical and soft skills that they need."
Evan Scott


Immunoengineer



Evan Scott is making a name for himself fighting diseases that share one common element: inflammation. That covers pretty broad—and dangerous—territory. "Anything that involves inflammation involves the immune system, and that includes almost every disease or disorder known to man," says the assistant professor of biomedical engineering at Northwestern University. One of the focuses in his lab is atherosclerosis, also called coronary artery disease, the leading killer of Americans. Fatty deposits in the walls of arteries lead to blood clots and heart attacks. "It's kind of sad—and a little scary—that by the age of 20 if you eat a standard American diet, you likely have numerous fatty deposits lining your arteries," he says.
The most critical part of atherosclerosis is not the plaque deposits themselves but how inflamed and unstable they are. "Inflammatory cells within atheromas can lead to rupture of these plaques and a blockage of blood flow, resulting in a stroke or heart attack," says Scott. "We design and engineer nanoparticles that target specific inflammatory cells inside vascular lesions to shut them down and reduce the local inflammation." Besides heart disease, techniques developed in Scott's lab have also been tested on mouse models of melanoma, Chagas disease (an insect-borne infection that can lead to heart and digestive problems), and hemophagocytic lymphohistiocytosis, a rare, sometimes fatal disease most often seen in infants.
As "immunoengineers," Scott and his colleagues are also interested in learning how vaccines work so they can speed up development and methods of delivery. A recent publication from his lab describes work on a single-shot sustained-release vaccine that may reduce the need for multiple vaccinations.
Scott, winner of both a New Innovator Award from the National Institutes of Health and a CAREER Award from the National Science Foundation, came to Northwestern after four years as a postdoctoral scholar at the Swiss Federal Institute of Technology in Lausanne. He continues seeking new horizons by attending conferences outside his specialty. "That's when you get to see all these other areas of application," he says, and discover new challenges such as—most recently—glaucoma. "Across so many diseases, the fundamental cells involved and the materials that can be used to target remain the same." Therapeutic agents and precision of delivery can make all the difference. Does that sound like an engineer?
Image Courtesy of Northwestern University
Kristen Bethke Wendell


Curriculum Disrupter



Who says it's easier to move a graveyard than to change curriculum? Five semesters after arriving at Tufts University, assistant professor of mechanical engineering Kristen Bethke Wendell already has made "a substantial impact" with her research-informed overhaul of pedagogy from preschool to college classrooms, reports department chair Chris Rogers. Integrating community-based design problems into teacher professional development and finding new ways to use maker spaces in urban settings, Wendell has won widespread recognition plus millions of dollars in funding and early career awards from the White House (PECASE) and the National Science Foundation (CAREER).
Beyond traditional measures of scholarship is the "shift in thinking" that Rogers has seen in his colleagues. Faculty have gone from arguing that engineering education is not a real discipline to seeking Wendell's instructional guidance. Their respect may stem from her stellar course evaluations—a perfect 5.0 in spring 2016, for example—and oversubscribed senior mechanical engineering capstone and other classes.
Wendell, 37, who is also McDonnell Family Professor in Engineering Education, contends such progress shows how targeted, evidence-based interventions "can make a difference without requiring faculty to make too many changes all at once." Rather than preach radical transformation, "the conversation is how to make active learning happen." Case in point: Adding a trained undergraduate "learning assistant" to a thermodynamics course enabled the professor to incorporate peer-to-peer problem solving during class time. "It sounds like a small ask, but it actually produces big change," she says.
Wendell "expected to be greeted with skepticism" at Tufts because she honed her engineering education chops in the K-12 arena, she says. A Phi Beta Kappa Princeton graduate with a bachelor's degree in mechanical and aerospace engineering, she experienced a "sustained vocational crisis" pursuing an M.S. in aerospace and aeronautics at MIT. Although she got to work on advanced spacesuit design—with an interlude as a National Academies policy fellow—she was drawn to education, particularly its ability to empower primary and secondary students from disadvantaged backgrounds. Wendell pivoted. She joined Rogers as a research assistant and pursued a doctorate in science education from Tufts. She found a "good match" at the University of Massachusetts, Boston, and in 2011 became a faculty member.
Wooed back to Tufts five years later, Wendell saw opportunities to apply "strategies and approaches that are working at the K-12 level" to strengthen engineering teaching practices at the college level. Her goal, says Rogers, is to have faculty in every engineering discipline researching their students' learning and adapting accordingly. He's convinced that Wendell, "one of the visionaries," will achieve it.
Image Courtesy of Tufts University
Michele Yatchmeneff


Native Uplifter



As an Unangax Alaska Native woman, Michele Yatchmeneff has encountered incredulity among professors and colleagues who assumed she owed her various fellowships to heritage and gender. "Then, when I got really good grades in the program, everyone seemed surprised," she says.
Now an assistant professor of civil engineering at the University of Alaska, Anchorage, Yatchmeneff, 38, conducts research into how a sense of belonging can encourage student success. She works with the Alaska Native Science and Engineering Program (ANSEP) to gather data and inspire new generations of indigenous youth. "I'm one case that made it through even though I didn't feel like I belonged," she says. "But I think that we can have hundreds of students consider science and engineering if they felt like they belonged there."
Part of what's required is helping everyone feel safe. "I also try to bring something that's exciting for them. I ask them what they want to learn from my classes and then try to tailor it to their needs," Yatchmeneff says. ANSEP'S high school students work through summers on courses like Calculus 1 and 2, "when they could be relaxing or out hunting and fishing. And they said they had fun!" What drove that enthusiasm? Relatedness. Not all Yatchmeneff's students find comfort among their native peers, she was surprised to learn. One didn't want to be included in ANSEP because she was ashamed of her heritage.
A child of two small Unangax villages on the Aleutian chain, Yatchmeneff grew up with one foot in the native world and another on an academic success path. She attended primary and secondary school in Anchorage, but in the summers would return to her hometowns to harvest traditional foods and live a traditional Unangax subsistence lifestyle.
After earning a bachelor's in civil engineering at UAA, Yatchmeneff initially worked as an engineer helping rural Alaska Natives access clean water and treat wastewater. Then UAA invited her back to help with ANSEP, a program she had attended as a student that helps native youth excel in advanced math and science courses. From a scholarship program for college students and high school seniors, it has grown to include students from middle school through grad school.
Yatchmeneff completed a master's in engineering management while working at UUA and then went for a Ph.D. in engineering education from Purdue University. On the tenure track in Anchorage, she combines teaching with education research, applying skills learned at Purdue. Her project on belonging won a $500,000 NSF CAREER grant. She also practices indigenous art and dance, helps with harvests, and trades fish for caribou.
Wujie Zhang


Blood Products Inventor



Never mind that the Milwaukee School of Engineering lacks aspiring Ph.D.'s and the laboratory accoutrements of a major research university. Assistant Professor Wujie Zhang seems to have no problem pursuing such biomedical breakthroughs as commercially promising red blood cells engineered from pectin-based hydrogel, improved delivery of cancer drugs to the colon, 3-D printing of liver tissue, and a treatment for infertile women over 40.
Research assistants? Zhang's undergrads performed well enough to be coauthors on eight peer-reviewed journal articles and five conference abstracts. Their lack of expertise compared with graduate students is less of a handicap than one might think. "We teach them how to learn," he says. "When it comes to research, everything is new." Supervised lab experiments feed his students' craving for practical, hands-on experience, Zhang says, and helped him win MSOE's 2016 Falk Engineering Educator Award. They also reveal research talent masked by lackluster classroom work. "I have students with low GPA whose lab skills are awesome," he says.
This wasn't how Zhang himself was taught. Reared in a rural community in China's Shaanxi Province, he was steered toward food science and engineering when he entered the University of Shanghai for Science and Technology, an institution of large classes and little direct exchange with professors. His fascination with biomedical engineering began during research for his master's at a hospital affiliated with Shanghai Jao Tong University. He subsequently earned a Ph.D. in biomedical engineering at the University of South Carolina and spent a year as a postdoctoral researcher at Ohio State before joining MSOE in 2012.
Zhang's patent-pending artificial blood cell technique dates from 2013, when he and his students discovered that a pectin hydrogel they were developing to deliver a colon cancer drug matched the structure of a red blood cell. Besides responding to crisis-driven blood shortages, artificial red blood cells could allow for universal blood typing, obviate the need for screening, provide a longer shelf life, and meet certain religious objections to human-derived blood transfusions, Zhang says. With a National Science Foundation Innovation Corps (I-Corps) grant, Zhang and a MSOE business school partner drew interest from Sysmex, an international manufacturer of medical diagnostic equipment, which is now testing it.
While meeting the firm's demand for more samples, Zhang is working on bioprinting of artificial organ tissue—starting with the liver—and collaborating with gynecologist Xiaolin Hua, at Shanghai's Xinhua Hospital, to help Chinese couples take advantage of relaxed official policies and have a second child. The partners are developing a nanofiber scaffold to regenerate damaged endometrial tissue that makes some women over 40 unable to conceive.
By Thomas K. Grose, Pierre Home-Douglas, Kathryn Masterson, Mark Matthews, Mary Lord, and Jennifer Pocock
Thomas K. Grose is Prism's chief correspondent, based in the United Kingdom. Pierre Home-Douglas is a freelance writer based in Montreal. Kathryn Masterson is a freelance writer based in Chicago. Mark Matthews is editor of Prism. Mary Lord is deputy editor of Prism. Jennifer Pocock is associate editor of Prism.
Print cover image by Francis Igot