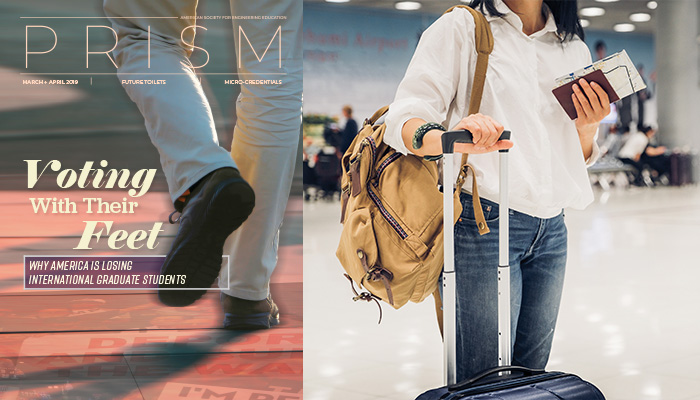 Engineering deans struggle to attract foreign graduate students discouraged by the tone of U.S. policies and rhetoric.
By Beryl Lieff Benderly
Well before he entered the White House, Donald Trump made clear that he'd head an administration less hospitable to people wishing to enter the United States from a number of nations. It didn't take long for engineering schools to feel the chill. Two years ago, Dartmouth College's then-dean of engineering, Joseph Helble, noticed "a very substantial decrease in international applications, particularly to our professional master's degree program." Conversations with fellow deans revealed that "something like three quarters of them were seeing something similar in their applicant pool," says Helble, who is now provost. Fall 2017 saw the first drop in over a decade in both international applications and first-time enrollments at the graduate level, according to the Council of Graduate Schools. A further decrease occurred the next year, CGS reports—"the first time we've seen declines across two consecutive years," says Council President Suzanne Ortega. "[W]hile we think it's too soon to consider this a trend, it is troubling."
If Muslims and immigrants from south of the U.S.-Mexico border constituted the president's main target initially, China is an object of growing distrust among politicians of both parties as well as the FBI and the national security establishment. Reasons for denying or restricting entry to the United States now include not only possible links to extremism, fear of immigrant crime, and a wish to discourage economic migrants but also concern about intellectual property theft and espionage. That means the impact on higher education, source of much of the nation's original research, could be deeper and longer lasting, some educators fear. "We're one bad news story away from significant legislation" imposing curbs on Chinese students seeking to enroll in U.S. universities, says Gregory Washington, engineering dean at the University of California–Irvine and chair of ASEE's Engineering Deans Council.
Given the vital role of international students—especially those from China, who accounted for 39 percent of Fall 2018 graduate applicants—in engineering programs at both the master's and doctoral levels, academic officials across the country are worried. Engineering colleges stand to feel the brunt of the falloff because of the high proportion of international students in their graduate student cohort. For some, the effects already are stark. Jean Zu, engineering dean at Stevens Institute of Technology, for example, reports a nearly 20 percent drop in applications from abroad and also "cases—not across the board—that people cannot get visas." Some students scheduled to attend a summer research program last year, for example, arrived late or not at all because visa approval came so slowly. The U.S. State Department last year rolled back an Obama administration policy that let Chinese students secure five-year visas. Now Chinese graduate students studying in fields deemed sensitive—reportedly including advanced manufacturing, robotics, and aeronautics—are limited to one year, with the chance to reapply every year.
Some schools have already had to reduce enrollment offers in master's programs to maintain quality in the face of declining applications. While others still have enough applicants to maintain enrollments and standards, at least for now, deans say that may change should declines continue.
There's little disagreement about the effect on students planning to come here. "Uncertainty over U.S. visa policies, political rhetoric regarding immigration, and strained relations with China have emerged as potential impediments to the continued free flow of international scholars and graduate students," CGS reports.
Tarek Sobh, dean of engineering at the University of Bridgeport in Connecticut, says both applications to and enrollment in professional engineering master's degree programs are down at his school. "The rhetoric, the restrictions, the proposed bans have really made many international students leery of coming to the United States to study," he says. "The U.S. has traditionally been known globally as the mecca of higher education, particularly in science and engineering, and schools of engineering across the country are more or less seriously dependent, particularly at the graduate level, on international students," he adds.
"Every one of the international students knows, or used to know, two things," Sobh continues. "No. 1 is that they can get amazing training, amazing research and development opportunities" in the United States. "An American credential is highly valued everywhere in the world [and] would make them incredibly stand out if they were to go back to their own country. No. 2, they [used to] know on top of that . . . they can get a wonderful job here" because offers are plentiful for holders of engineering degrees, regardless of their nationality.
A Challenge for Recruiters
Now, however, overseas students and their parents "look at the TV and see all of this news" about potential travel bans and longer waits for visas, and "start to question the value proposition [that] used to be a no-brainer," Sobh continues. On his recruiting trips abroad, he says, questions used to focus on academic opportunities. Recently, however, after he described opportunities for studying "amazingly cool" technologies, "a student or a father or mother is raising a hand and asking, 'Is my son or daughter going to be safe in the U.S.? Are they going to be treated well? Would they have to immediately leave?' That is what is on the people's mind."
"Our recruiters are saying they are doing double the work" to attract students from overseas, says Ruth Huard, dean of the College of Professional and Global Education at San José State University (SJSU) in California, which runs M.S. programs in software engineering, cloud computing, and battery and data technology sciences. Students ask whether they should study instead in Canada or Australia—"questions we never had to answer before because of our location in Silicon Valley." (Canada reports a 16 percent increase in international students in 2018 over 2017, following a 20 percent hike the previous year. Australia saw an 11 percent increase in international students in November 2018 over the same month in 2017.)
The ability to get a warm welcome and an initial student (or F) visa is not the only thing worrying prospective students. "There's been so much chatter about reduction in H-1B [high-skill guest worker visas] and the Optional Practical Training (OPT) STEM program [which allows international students who earn American advanced degrees to work for several years in the United States] that it's caused a lot of questions," Huard says. "We can't truly give reassurances, but all those questions have to be addressed, so we spend more time with the students and their families restating the value proposition here at SJSU." A recent change in the lottery that selects H-1B recipients will increase the odds that holders of master's degrees will snag one of the scarce and coveted visas, notes SJSU's engineering school dean Sheryl Ehrman. This may encourage more students to enroll, she suggests, though it's not clear that this can counter the general negativity.
Financial Threat
Paradoxically, engineering schools' current plight derives from their striking success in preparing undergraduates for a robust market for their skills. Unless they're "really, really interested in research," Helble says, domestic students finishing their bachelor's degrees overwhelmingly opt to take one of the well-paying jobs readily available to them rather than enrolling in graduate school, either in terminal master's or Ph.D. programs. "There is a financial cost that students have to pay to go to graduate school, and many students who don't have to make that trade-off"—namely U.S. citizens or permanent residents, who have unlimited access to the nation's job market—"decide that the financial cost isn't worth it," says Wendi Heinzelman, engineering dean at the University of Rochester. Only a few specialized programs in fields for which her institution is particularly renowned, such as audio and music engineering and optics, plus biomedical engineering, can claim a high percentage of domestic students at the master's level, she continues.
The numerous terminal master's degree programs that universities have developed in recent decades, however, "primarily target foreign students," which explains institutions' financial dependence on reliable flows from abroad, says Hal Salzman of Rutgers University, an expert on the STEM labor market. These programs' popularity, and the number of engineering master's degrees they award annually, have shot up in recent years, rising by 20,380 degrees to an annual total of 52,804 awarded, between 2008 and 2016, according to an analysis by Salzman of data from the U.S. Department of Education. Of the 2016 degrees, 29,713 went to nonresidents of the United States, up from 13,200 eight years earlier. International students, in other words, accounted for 81 percent of the increase in total degrees, which themselves grew by 63 percent over the period, with nonresident degrees jumping 125 percent.
That's because "in computer science and some fields of engineering, the terminal master's is the entry portal into the U.S. labor market," Salzman says. "For the price of a two-year master's degree you get, A, market skills, and B, ready entry into the U.S. labor market for at least three years [under the STEM Optional Practical Training program] "and six years if you get an H-1B." OPT provides three years for participants to "play the H-1B lottery" for a potential total of nine years working in the United States. "If you want to stay, you apply for a green card. If you don't, you go back with a lot of experience that makes you very marketable in your own country."
From the universities' standpoint, terminal master's programs are "a ready source of revenue in a time of declining public support and a lot of cross pressure," Salzman adds. Often, it's relatively "inexpensive to create these kinds of programs, [some with] part-time faculty, large classes." The loss of dependable supplies of students thus can represent a significant financial threat. (Editor's note: The author and Salzman are collaborators on a book project.)
Filling the Seats
So how have institutions responded to the drop in applications and, in some cases, matriculants? Putting more effort into recruiting and reassuring potential students is a widespread strategy. In addition, "to preclude any kind of negative impact, we are trying to get our offers out much earlier, because we know that the visa process is taking longer," says Rochester's Heinzelman, one of several deans who mentioned this approach. Students receiving those earlier acceptances are also advised to "go to the consulate and do everything earlier," adds Jelena Kovačević, dean of New York University's Tandon School of Engineering.
"We have been doing a lot of outreach to all of our applicants, but particularly trying to make sure that our international applicants are connected very quickly with our international services organization, which can walk them through the visa process," Heinzelman adds. "We've been ramping up" attention to admitted international students, connecting them with existing students through online group chats and other similar means.
At least one university has gone so far as to insure itself against a substantial loss of international enrollment. Students from China account for 10 percent of the nearly 50,000 who attend the University of Illinois–Urbana-Champaign (UIUC). In 2017, UIUC's engineering and business schools, both with high concentrations of Chinese students paying full freight in master's programs, teamed up to buy an insurance policy—thought to be the first ever—from Lloyd's of London, the international underwriter. It indemnifies them in case an event like an epidemic, political crisis, or visa limitation sharply cuts the flow of enrollees from China. For a premium of $424,000 a year, the schools would get up to $60 million in coverage should their income from Chinese students drop by 20 percent or more in a single year. "Hedging the risk … gives us more confidence to be able to continue proactively investing in the very strong relationships that we have in China," business dean Jeff Brown told Times Higher Education. The $60 million represents "roughly . . . our exposure across the two colleges," he added. "If demand had actually completely disappeared, we'd be 'made whole' for that year."
The threat of falling international enrollments "did make us take into account that we and our academic partners, basically all the engineering schools in the country, are overly reliant on international students, especially for master's degrees," says NYU's Kovačević. This sparked thinking about ways to "make ourselves less vulnerable." One possibility: recruiting more domestic enrollees. With engineering bachelor's graduates unlikely to sign up for masters programs, NYU hit on the idea of attracting students with degrees in other fields to seek the plentiful, well-paying jobs open to engineers. But how could anyone without an undergraduate grounding in engineering possibly succeed in engineering studies at the master's level?
The answer, Kovačević hopes, lies in an initiative called A Bridge to NYU Tandon, an intensive and "affordable" online program that prepares holders of nonengineering degrees to enter selected master's programs in such fields as cybersecurity and computer engineering. Four months studying online 30 to 40 hours a week, or six months of proportionately fewer weekly hours, plus $1,500 in tuition, can turn a nonengineer with a bachelor's degree into a viable candidate for a Tandon master's program, Kovačević says. "Other schools," she adds, "are very excited when they hear about" this approach.
What the Doctorate Ordered
In Ph.D. programs, dependence on international students takes a somewhat different shape. Universities need them not for a reliable flow of tuition payments but for a dependable source of labor to power professors' research. Any significant drop in the customary level of applications thus also spells trouble. Domestic students don't pursue Ph.D.'s "in the numbers that we need for the research enterprise that the nation has built up over the past 30 or 40 years," says Leo Kempel, engineering dean at Michigan State University.
For the professors running those labs, the current visa uncertainty is enough to cause problems, Kempel adds. "Over the last 30 to 40 years in the U.S., the basic research mission of the country has transitioned from being a multisource supply of knowledge and talent" that included major industry- and government-supported research centers to a single source: universities. "The challenge that the uncertainty in visas brings is the simple fact that there aren't enough domestic sources of graduate student talent to meet the demand." So much of U.S. research is performed in academic labs, says Rochester's Heinzelman, both graduate programs and the country's research productivity would be "devastated" if the nation suddenly closed its borders to students from particular countries.
The danger to research is only part of the problem. "All engineering colleges that I know of are expanding the size of their bachelor's degree programs" to enroll more domestic students "because the employment market is so robust," Kempel says. This requires hiring more professors. His institution, for example, "has increased the number of tenure-system faculty in our college by about 30 percent," adding approximately 70 new faculty members in the past five years. With many other engineering colleges doing likewise over that period, a large number of tenure-track faculty are "at the point in their career when it's most critical" to demonstrate the ability to maintain a productive research program. Doing that requires recruiting able graduate students, about one per professor per year, Kempel says. Therefore, "we're all competing for graduate students" at the same time. "We're right on the edge of not having enough supply to meet the demand, and that's when the uncertainty of visas becomes a real problem."
"There's not a research university in the country that is not looking for another source of talent" in case supply is disrupted, he continues. But "a single magic solution does not exist." Possibilities include establishing connections with countries that have not historically sent large numbers of graduate students to the United States, such as some in Africa, and seeking to interest more Americans in doctoral studies. One approach, says Dartmouth's Helble, is increasing stipends for research and teaching assistants, a possibility limited by availability of funds. Another is developing doctoral programs that deliver extra value, such as both research and entrepreneurship skills. In addition, "we are all engaging undergraduate students in research in ways that didn't happen in 30 years . . . in a blatant project to recruit them to graduate schools," Kempel says. And to find new sources of domestic talent, "we're expanding our partnerships with smaller colleges."
Failing to attract sufficient talent for doctoral programs threatens not only the pace of research and innovation but the quality of the engineering professoriate itself, Dartmouth's Helble notes. "If there are fewer Ph.D.'s being awarded, there are fewer talented individuals applying for postdocs, who are also principally international in engineering. You want the best Ph,D.'s to be postdocs, and you want the best of the postdocs to be the next generation of faculty." Speaking to the National Science Board February 12, Nobel laureate Barry Barish stressed the importance of the United States remaining "the place of choice" for future scientists and engineers to get their education and perform research. "It's the key, because we're not going to have more money to spend or always better technologies than everyone else."
Looking ahead, some educators are cautiously optimistic. Zu, of Stevens, has recently noticed a "big jump" in international applications for next fall. The overall pattern, however, will not become clear for some time, she cautions. Some suggest that word is getting back to the supplier countries that, despite alarmist media reporting, the atmospherics, and the longer waits for visas, very little has actually changed for international students once they arrive on campus. "We all continue to be hopeful," says Bridgeport's Sobh. "We do our best to educate everyone overseas" about the true state of conditions here.
Chinese graduate applications to and enrollment in U.S. universities remained unchanged between the fall of 2017 and the fall of 2018, CGS reports, despite the overall downward trend. But as warnings about China continue, that could change. For example, a 2018 report from Stanford University's Hoover Institution says: "China targets all sources of American innovation, including universities, corporations, and government labs, [and] takes advantage of the commitment to intellectual freedom on campus." Last June, Michael Griffin, the Pentagon's undersecretary for research and engineering, likened today's competition with China to the Cold War. Appearing before the House Armed Services Committee, he said, "We as a nation have choices. Do we wish to admit, as we have today, 30,000 Chinese Ph.D. students in STEM areas? Do we wish to do that? Do we think the benefits outweigh the gains? There is not a national decision in that regard as there was when we were competing against the Soviet Union. We didn't do those things." While Griffin noted that the choice was not his to make, his comment suggested someone might make it.
Beryl Lieff Benderly is a Washington-based freelance writer and a fellow of the American Association for the Advancement of Science.
Design by Nicola Nittoli