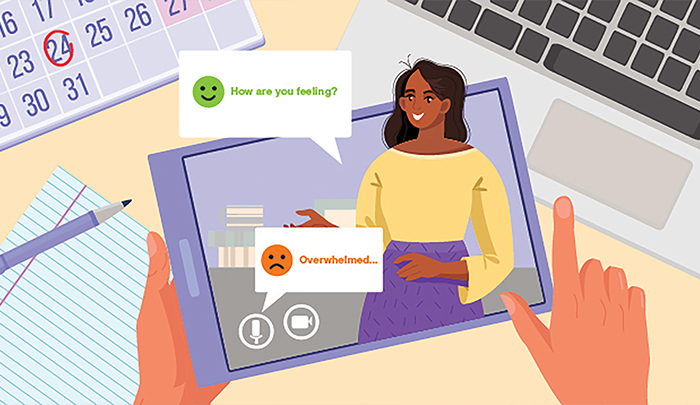 Teaching in the Time of COVID
Faculty have adjusted to virtual learning with creative ideas, technological tools, and an uncompromising commitment to their students.
By Gary Lichtenstein, Renee Clark, and John Chen

COVID-19 disrupted the education, work, and home lives of students, instructors, and administrators worldwide. Students moved off campus unexpectedly, returned to their home countries, lost jobs and financial aid, and became caretakers for their families. The dedication and innovation displayed by faculty—who were dealing with similar challenges—are reflected in a special issue of Advances in Engineering Education (Fall 2020) devoted to engineering educators' responses to COVID-19.
AEE received more than 100 submissions; close to a third came from authors outside the United States. Articles in the collection span themes ranging from course design and content delivery methods; self-directed learning and self-study; assessment; care, compassion, support, and the classroom environment; motivation; project work; senior capstone showcases and presentations; and remote laboratory work.
The themes are diverse, yet each article documents innovations that connected faculty to students and students to engineering content in ways that created not only extraordinary value but also stability for students and their institutions. The featured articles below each exhibit the creativity and resourcefulness exemplified across all 34 included in the volume.
In line with her commitment to promoting reflection within engineering education, Cindy Atman at the University of Washington used reflective activities in her online courses to convey her concern for students and develop community during remote learning ("Hope, Stress, Sketch & Kvetch: Emphasizing Caring Through Reflection in Online Teaching in the Pandemic"). She began each class period with a three-minute "check-in" slide, just as an instructor often checks in with students at the start of class to informally gauge stress or other concerns. Atman encouraged students to reflect on their emotions, including hope, despair, calm, or stress. Students then anonymously shared their reflections with their classmates. This built community within the class, supported engagement, and enabled Atman to adjust the pace of the course when needed. After the quarter ended, Atman continued to meet weekly via Zoom with interested students to stay connected. This "sketch and kvetch" group continued to reflect, share feelings, and maintain connections into the next term.
At Virginia Tech, Jessica Deters, Marie Paretti, and Jennifer Case studied the implicit beliefs that drive engineering education practices ("How Implicit Assumptions About Engineering Impacted Teaching and Learning During COVID-19"). They conducted semistructured interviews of faculty and students at two institutions to examine the assumptions that underlay COVID-19 pedagogies as well as their effects on students. The researchers identified three themes that shaped faculty's COVID-driven instruction and impacted students' classroom experience: fear of student cheating, valuation of rigor, and administrative flexibility. Faculty strove to preserve the "hardness," or rigor, of course material. Yet, fear of cheating drove many course-design decisions that imposed uncomfortable constraints on students. Not surprisingly, students were often frustrated by professors' strategies and preferred an alternate approach built on trust and flexibility. Importantly, students did not perceive courses that took the latter approach as lower quality or unchallenging.
Faculty at three institutions (Arizona State University, Colorado State University, and the University of Florida) implemented virtual capstone showcases using several previously untried strategies, including an online format designed to preserve the interactive quality of the in-person event, short video previews of team projects, and online judging. All institutions noted that virtual delivery provided opportunities for increased industry participation. Sessions prerecorded to share before and after the event, discussion threads posted in Canvas, and simultaneous broadcasts online are among the solutions that will continue after COVID restrictions are lifted.
The global pandemic required faculty to question the status quo—including their own beliefs and assumptions—and alter conventional instructional practices. Faculty worldwide demonstrated an entrepreneurial mindset, taking risks that students valued and that created impact in classrooms and beyond. COVID-19 certainly disrupted engineering education during the spring of 2020, yet many faculty found opportunity in the crisis to also disrupt educational norms by devising and implementing innovations that will outlive the pandemic.
Gary Lichtenstein is director of entrepreneurial mindset program effectiveness at Arizona State University's Ira A. Fulton Schools of Engineering; Renee Clark is research assistant professor of industrial engineering at University of Pittsburgh; and John Chen is professor of mechanical engineering at California Polytechnic State University. The authors are associate editors for Advances in Engineering Education. Access the special issue at https://advances.asee.org.
© Getty Images/Alexander Da Silva