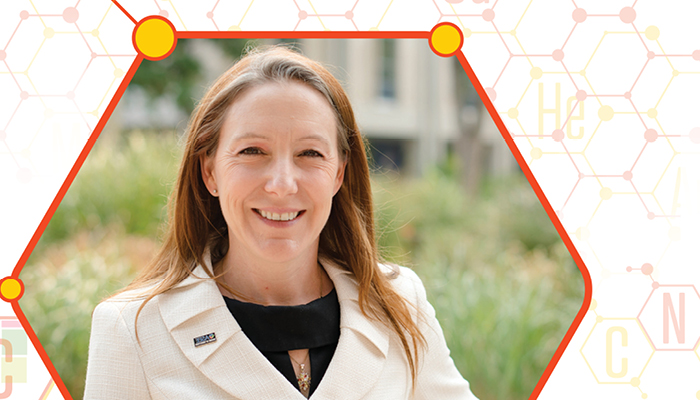 Reared in the Rockies, a once-aspiring military officer found her calling in engineering education as a warrior for equity, inclusion, and student success.
By Pierre Home-Douglas
At the "West Point of the West," Adrienne Minerick learned the importance of teamwork. "They'd drop you in the middle of nowhere with a map and say, 'Meet at the rendezvous point by 1500 hours,'" ASEE's 2021–2022 President explains about her time at the New Mexico Military Institute (NMMI). Small in stature, Minerick carried the same 40-pound pack as much larger classmates. "It was grueling," she admits. "When I was really struggling, it helped having a 6′ 4″ 250-pound recruit behind me lifting up on my pack to give me a chance."
In high school, Minerick had dreamt of attending a military academy. Her senior year, she transferred to NMMI, then after Army basic training at Kentucky's Fort Knox, attended college back at the institute on a full-ride ROTC scholarship.
The training there taught her to make the most of her abilities, master new skills, and not get flustered easily when life became a bit of a pressure cooker. "Whether you're practicing heavy artillery or sharpshooting, each week there is a different skill set you're learning," she says. "They instruct you, they give you some time to practice, and then put you or your platoon in a stressful situation and push you to the limit."
Early Inspirations
Minerick, 45, grew up in a scenic high-altitude mountain valley in south-central Colorado. Sandwiched between the Continental Divide and the Sangre de Cristo Mountains near Great Sand Dunes National Park, her hometown draws visitors with hiking trails, historic sites, and an alligator rescue.
STEM shaped Minerick's childhood: Her mother was a professor of biology at Adams State College, and her father, a mathematician, worked in the aerospace industry in Los Angeles. Minerick took all the chemistry classes offered at her high school in Alamosa, Colo., inspired by a female teacher with a master's degree in the subject. Once piqued, Minerick's curiosity never flagged. Instead of signing up for study hall in junior year, she became the teacher's assistant, mixing solutions for chemistry classes. Now a professor of chemical engineering, Minerick notes, "I'm still in touch with her today."
The reason ASEE's new President pursued engineering but not science, however, can be traced back to advice she received early in her career. "Someone once told me that if you wanted to study problems, become a scientist," she explains, "but if you wanted to solve those problems, become an engineer."
Throughout her career in engineering education, Minerick has been doing just that, as a teacher, researcher, administrator, and entrepreneur. She's taken the grit and teamwork she learned in her military training and applied it to help broaden pathways for women and other underrepresented students, supporting them in finding their own purpose and passions.
Making a Difference
After two years at NMMI, Minerick had managed to take every math and science course it offered. She realized it would be "scholastically boring to spend another year at the institute."
Meanwhile, her mother had moved to Michigan to take a job as dean of science and natural resources at Lake Superior State University on the Upper Peninsula. Minerick decided that Michigan Tech in Houghton, a four-hour drive from Lake State, was a good fit. By the time she finished her undergraduate degree in chemical engineering, she had met and married Rob, a computer science student, and both had been accepted into Ph.D. programs at Notre Dame.
But co-op experiences dissuaded Minerick from pursuing a career in industry. "I'd do an internship and go, 'Yup. Not what I want to do,'" she reflects. "I know it's kind of an odd dichotomy that I can excel at military school but I'm not necessarily the best company person. I go against the grain sometimes."
Combining research and teaching was an appealing calling. "I knew I wanted to have a positive influence on other people," Minerick says. "When I applied to military school I wrote about how I thought I could change the world. Same thing in grad school. I wanted to make a difference." She spent four semesters as a teaching assistant at Notre Dame and also volunteered in a middle school, running outreach programs for low-income underrepresented students. "I grew up low income—[with] a single underpaid mom far from family—so working with these students felt very comfortable for me."
Minerick wanted to start her career at a university that offered a good balance between research and teaching. She chose Mississippi State, where the department chair was one of her former professors at Michigan Tech, Kirk Schulz. He recruited Minerick to join the school's chemical engineering department. "There are students in your class who you feel are going to step up in their careers and make things happen, and that was certainly true of Adrienne," recalls Schulz, now president of Washington State University. "I thought she could do an outstanding job of building a great research program while still having a strong student focus … at Mississippi State—and that's exactly what she did."
But he also recalls the lighter side of his former student's personality, describing her walking down the hallways with a lizard draped around her shoulders. "I thought it was like a scarf. She walked around with that thing—it must have been three-feet long," Schulz says with a chuckle. "I'll never forget it."
It was at Mississippi State, too, that Schulz's wife and fellow faculty member Noel Schulz introduced Minerick to ASEE. "She took me under her wing, introducing me to the New Engineering Educators Division, showing me through the expo hall, and giving advice," explains Minerick. "That was in 2003 and I've been to every Annual Conference since."
But Mississippi State also provided a powerful lesson in engineering's persistent inequities in both the workplace and academia. Hired at the same time for the same pay as another assistant professor, Minerick was taken aback six years later to discover she was earning significantly less than the male colleague—despite having earned teaching awards and kudos from students as well as a prestigious National Science Foundation CAREER award.
Around the same time, Minerick received a fortuitously timed phone call from one of her Michigan Tech professors, Tony Rogers, urging her to apply for a faculty opening at her alma mater. Minerick had taken a graduate course that Rogers taught while she was still an undergraduate. "What I liked about her is that she wanted to expose undergraduates to research at an early stage to make sure they had some aspect of experiential learning," Rogers says, calling such hands-on learning essential to students' future success. "What distinguishes one undergraduate degree from another?" he asks. Not coursework, because everyone takes basically the same classes. It's elements like "participating in a co-op program or in a research lab with a professor like Adrienne."
No Place Like Home
Joining Michigan Tech's chemical engineering faculty in 2010, Minerick was glad to return to the university. She likens her previous situation to a frog that fails to recognize when "the temperature was becoming inhospitable" and risks perishing. "Once I did jump," Minerick says, "it was energizing to be in a place where people were collaborative and supportive, and my family and I could be our eccentric selves."
Back in Michigan, she continued fighting to solve problems and help people. She spent half of a sabbatical year in a microfluidics lab at the University of Michigan, after which her research group launched a project with the Gerber Foundation for a lab-on-a-chip device that could analyze human tears to detect vitamin levels. The CAREER award research also inspired her to cofound Microdevice Engineering Inc. in 2013 and, with funding from the NSF's Small Business Technology Transfer Program, develop a portable, point-of-care tool to provide rapid analysis of blood typing and hematocrit—the proportion of red blood cells in someone's blood. A 2014 write-up in Michigan Tech magazine pointed to the device's potential to help blood banks inexpensively determine if someone should give blood and, ultimately, "lower the cost of saving lives."
Minerick's Medical micro-Device Engineering Research Lab (M.D.-ERL) at the university focuses on developing diagnostic, point-of-care micro-devices that can diagnose and monitor diseases, particularly blood disorders. "The irony is that with my first job at Mississippi State, I wanted a good balance between research and teaching," she says, "but by the time I came to Michigan Tech, I was all in on research."
Challenge Barriers, Challenge Systems
Despite her teaching, research, and commercialization workloads, Minerick has continued her commitment to addressing barriers and inequities that keep far too many students—young women, racial minorities, first-generation college students, and members of the LGBTQ+ community—from succeeding in engineering. "I figure my role is to be really good at what I do to personally challenge barriers," she says, "then use positions of influence to lift up others experiencing disadvantages, and directly challenge the systems that endorse or fail to address inequities."
The ASEE President has conducted Safe Zone workshops for faculty who want to become better LGBTQ+ allies, led what's now the Society's Commission on Diversity, Equity, and Inclusion, and served as PI on two grants from NSF's ADVANCE program to improve gender equity in STEM fields. She believes that all this work is essential. "I look back in history and recognize how much talent and brainpower was wasted," she laments. "Our present society, technology, and health of the planet could be so much better balanced if a majority of intellect hadn't been squelched by labels and systems of worthy/unworthy designations."
The young woman who had wanted to be a positive influence has fulfilled that goal, with former students like Tayloria Adams. Working on her chemical engineering Ph.D. in Minerick's lab, Adams soon found herself and her young daughter invited for meals at the Minerick household. "[Adrienne] even helped my daughter buy me Mother's Day gifts," she marvels. Inspired by Minerick's efficiency at work and ability to then be "100 percent with her family" at home, Adams says, "I've tried to mimic that as an engineer and a single mother."
Adams went on to receive two postdoc fellowships and become the first Black female professor in the University of California, Irvine, engineering school, assisted by letters of recommendation from Minerick. She adds that after she was hired at UC Irvine, one of the people on the hiring committee said, "'Your recommendation letters were stellar. They made a big difference.' I try to put that into recommendation letters that I write today because I know the importance they hold."
Like Minerick, Adams also earned an early NSF CAREER award. And just as Minerick still keeps in touch with the chemistry teacher who put her on the path to STEM, Adams says, "Adrienne and I still talk together every month. She's still a mentor to me."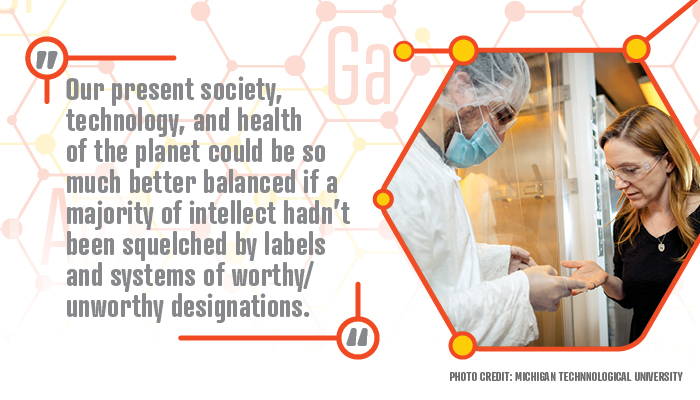 'A New Energy'
Minerick has now transitioned from learning about leadership at NMMI to practicing it, in a daunting array of roles. In July 2018, she was hired as dean of Michigan Tech's School of Technology. Five months later she was informed that the new university president was following through on recommendations that Michigan Tech needed to lead in computing. The university was sunsetting the School of Technology and creating a new College of Computing with Minerick as the dean. "I think it says a lot about the confidence the administration had in her ability that they gave her that responsibility for a brand-new college," says Tony Rogers.
Before she switched to her new role, Minerick spent an intensive six months ensuring that each of the degree programs in the School of Technology was positioned for growth and success. Some of the programs went into the College of Engineering; some went into the College of Computing. "And I am pleased to say that every one continues to grow and do well," Minerick says proudly.
Then in 2020 the founding dean of the Pavlis Honors College decided to retire, and Minerick was hired as interim dean. The work has been nonstop. "Shutting down a college, starting a new one, helping with the transition, supporting faculty, and then taking on a new role at Pavlis—frankly, I'm exhausted," she says. Still, she explains that she feels rejuvenated by the thought of spending 2021–2022 on sabbatical. "It's certainly nice timing. It coincides with my term as ASEE President, so instead of my trying to juggle everything, I'll be able to focus on this key role with ASEE. That will give me the time to do it really well."
High on her list of priorities for the term is working to embed systems perspectives in engineering culture (see her President's Letter on p. 40). This will require addressing barriers that impede the inclusion and participation of all individuals. Minerick admits that change is incremental at best. But just as she learned when she struggled on platoon hikes at NMMI, pushing forward with others is always easier than doing it alone. Plus, you may end up inspiring someone who's been standing still. Says ASEE's new President: "You don't always know who is watching and walking away with a new energy."
Pierre Home-Douglas is a freelance writer based in Montréal and frequent Prism contributor.