Letter from the President
Not Normal But Better
We must go beyond a "return to normal" to evolve our systems and ourselves.
By Adrienne Minerick
This letter is adapted from the incoming President's speech at ASEE's Virtual Conference in July.
I have been asked how ASEE will be moving forward as we come out of the pandemic. Some even use the phrase "return to normal." I don't like that phrase, and I'd like to share why.
The pandemic impacted different people differently. It, and the racially charged events of 2020–21, brought to the forefront that "normal" included habits, systems, and practices that kept the voices and perspectives of nonmajority individuals muted. Thus, I don't think it should be a goal to return to that normal. I think it should be a goal to evolve out of this pandemic to an inclusive better.
A return to normal is a desire—expressed by those who experienced inconvenience or discomfort but not tragic loss, fragmentation, or burnout—to go back to familiar ways. The phrase "return to normal" is an attempt to ignore those difficult realities, leaving people who bore the brunt of them to deal with the lasting repercussions alone, to go back to conforming to what is "normal," imposed by majority culture, while still being judged by the same yardsticks for career and life success, couched in the language of meritocracy. The truth is that the brunt of those realities has been life-altering and career-changing.
Over the last two years, I was founding a College of Computing; leading the search to hire a permanent dean of that college; serving as dean of an honors college in transition; and basically working around the clock to support the faculty, staff, and students destabilized by not only the academic transitions but also the pandemic. In addition, I'm a partner to my spouse and a mother to two grade-school kids also grappling with the pandemic and politics.
I also serve as PI on two National Science Foundation ADVANCE grants in a region (the Midwest) with increasingly unfriendly diversity, equity, and inclusion laws and overt public resistance. Whenever I advocated for inclusive strategies, the responsibility was placed on me to author those (and introduce them to the relevant gatekeeping body, who would then ignore them). This all sums to significant emotional and intellectual labor and what has now been termed compassion fatigue—and, in my case, has led to some health problems.
So here is the key question: Does that workload (excess because I voiced a nonmajority view of the system) and reaching my limit on the number of balls I could juggle mean I can't cut it and should exit the field? Many have felt this way and done exactly that. But they are the very people we need—individuals who expand perspectives, think differently, and bring a broad range of lived experiences and expertise. How many members of our community have a unique story that leads to a parallel state of deluge and drop in productivity? Does that mean they are also unworthy and should exit our profession? Does it mean our students should give up because, while living through that, they earned a blemish on their record?
Or does it mean that we as a community should recognize that, historically, standards are set by those with status and rank, and those with that power draw from their own profile of similar privileged lived experiences? This is a distributed and substantial imbalance of influence. The velocity for change traditionally is centered with those with lower rank, less power, and less status on our campuses and in our communities, while the protection of the status quo resides with the mass—those with higher rank, more power, and more status. To achieve momentum, velocity and mass need to work in tandem—e.g., be multiplied.
Unfortunately, this isn't broadly happening, not quite yet. So this year, the ASEE Board of Directors supported starting a COVID Recovery Action Force (www.asee.org/COVIDrecovery), a play off of task force, a collaborative with ASEE HQ that will push out resources, spotlight stories, and create conversation spaces on COVID recovery for our members while also shaping policies for the future.
Solutions Across Silos
The solutions that our built, natural, technological, and social worlds so desperately need from engineers require us to work across disciplinary and organizational boundaries, simultaneously leveraging our depth of knowledge in our subfields as well as systems-level thinking. However, I don't think our field has embraced the top of "T-shaped" graduates to the systems-level breadth that we should; nor have we, as professionals, truly practiced this ourselves. Systems-level thinking starts with an appreciation of and demonstration of respect for other fields and those fields' ways of knowing or framing their expertise.
For engineers, the built world tends to be our comfort zone: Engineers are involved in areas such as resource extraction, management, recovery, and regeneration; manufacturing; scaling; supply chains; transportation; and logistics. The repercussions for our approaches are global, and we are reaching—or have reached— capacity of resources in many areas.
Thus, I'd like to challenge us, as ASEE and engineers in a global ecosystem, to think across boundaries and redesign our culture to embrace these essential hybrid skills.
A few examples:
Natural environments. The sustainable human capacity of Earth has been estimated to be between 8–10 billion, and we are rapidly approaching 8 billion. Each human consumes resources, which decreases them for all other life-forms on the planet. We are only beginning to grasp the scale of our resource consumption/transfer; the engineered human world is now influencing climate patterns on a global scale. The effect is also local: Clearing forests for mega stores and their parking lots immediately increases the probability of flooding to lower elevations, which too frequently are lower-socioeconomic-status communities. Thus, engineering design must be completed in the context of natural forces, across disciplinary boundaries, in appreciation of sustainable and just perspectives and constructs.
Technological environments. Nearly all engineering products include a digitized component and generate data. Artificial intelligence is becoming a ubiquitous tool, touted as providing insights and advantages beyond traditional approaches. AI algorithms are predominantly pattern recognition: The training sets force patterns of the past onto future decisions. This demands our attention. As engineers know, utilizing technologies as if they are black boxes can have profound implications on outputs' quality, applicability, and versatility. Thus, I'd like to challenge each of you, as engineering educators, to include at least one computational thinking core course in your curricula so that it is leveraged and utilized properly.
Social environments. By and large, our students are leaps and bounds ahead of many of us professionals, demonstrating a much deeper and more sustained inclusion of social justice in their careers and professional development. Our creations have profound (and differential!) impacts on communities, so we need to embrace what our students and communities are showing us. We need to confront the culture of engineering—the exclusionary, elitist practices and the multitude of micro- and macroaggressions that deem ideas, people, and new approaches unworthy.
We engineer for society, for our built world, for our planet. Our engineering culture—what we say and how we go about doing it—determines whether the field of engineering can truly solve 2021 problems or just create even larger 2050 ones.
It's up to us as an engineering community to reauthor the portions of our engineering culture that make us less able to meet the challenges of today and the future. It's our responsibility because engineering has significant impacts on the broader infrastructure and health of our planet. It's a necessity that we rise to the occasion—and each subsequent occasion—using systems-level thinking to continuously evolve to better. In support of this need, the ASEE Board of Directors supported my request to charge a Task Force on Assimilating Systems Thinking into Engineering Culture (www.asee.org/EngineeringCulture) that will convene this year, wrestle with this complex challenge, and provide recommendations.
Addressing Racial Equity
It is time (really past time) for a Year of Impact on Racial Equity. ASEE's Commission on Diversity, Equity, and Inclusion (one of my former service homes) is leading a three-pronged effort to impact the engineering education experience by meaningfully incorporating diversity and equity into engineering culture and practice.
The Year of Impact on Racial Equity will move us beyond action to focus on the impact of the actions we take—impact in the form of organizational changes to address the culture, policies, and racial/ethnic representation within engineering student organizations, colleges of engineering, and precollege outreach efforts (see p. 44).
This Year of Impact on Racial Equity will dismantle structures founded upon (and still persisting with) White supremacy and racism. Efforts are aimed at empowering those who are not usually invited to this discussion (for example, engineering students and parents of K–12 learners). ASEE members will have a variety of professional development opportunities to participate in and resources to leverage as they engage with this effort.
The strength of ASEE lies in all of you. This is a fantastic community, and each of you is an important part of reauthoring our engineering culture to achieve our best possible future selves.
Thank you all for joining together behind these initiatives as we cultivate systems-level thinking in all fields of engineering, recraft our engineering culture to undo racial inequities, and embrace diversity and equality within engineering practice and society.
Adrienne Minerick is President of ASEE.
ASEE's 2021 Virtual Conference Highlights
Throughout the 2021 Annual Conference, ASEE members, staff, and other participants spread the warmth of Long Beach's sunny shores virtually, through camaraderie, laughs, and learning. Some freeze-frames of moments you may have missed: (1) ASEE's Chief Messaging Officer Nathan Kahl shares a joke with President-Elect Jenna Carpenter. (2) University of Georgia's Mark Trudgen demonstrates "the STAND" (Sensors and Transducers Active eNgineering Design-bench) in the "Bring Your Own Experiment" session. (3) Gary Bertoline, Senior Vice President for Purdue Online and Learning Innovation, announces the Task Force on the Engineering Mindset of the Future during a motivational Tuesday Plenary exploring innovation and creativity in the future of engineering education. Interactive slides in Monday workshops ranged from the simple: (4) a questionnaire during the session on maximizing interactivity in online classes … to the complex: (5) mutating diagrams evolve onscreen during the "New Digital Frontiers" workshop. (6) University of Maryland, College Park, President Darryll Pines delivered a rousing Tuesday keynote speech on combating the "Grand Challenges" of our time. (7) Jeffrey Abell of General Motors provided the ASEE Corporate Member Council keynote address during Wednesday's Plenary with panache and a flashy background. (8) Outgoing ASEE President Sheryl Sorby passed the gavel in person to her successor, President Adrienne Minerick, in Michigan. (9–10) Prism columnist Amman Asfaw introduced and interviewed 2021 ASEE Lifetime Achievement Award recipient Karan Watson, celebrating her distinguished career and honoring the new generation of innovators.
ASEE would like to extend a heartfelt thanks to all who attended online. We felt your spirit throughout the conference, and—fingers crossed—look forward to seeing you in Minneapolis next year!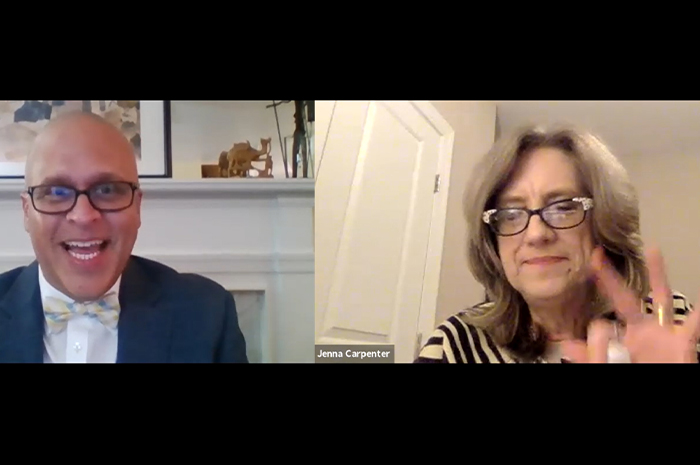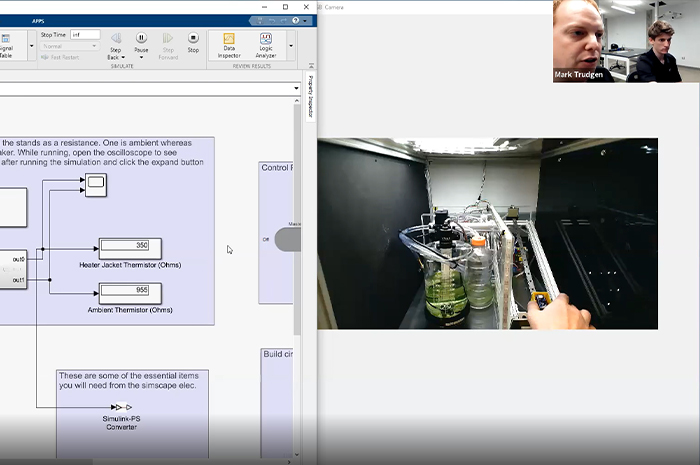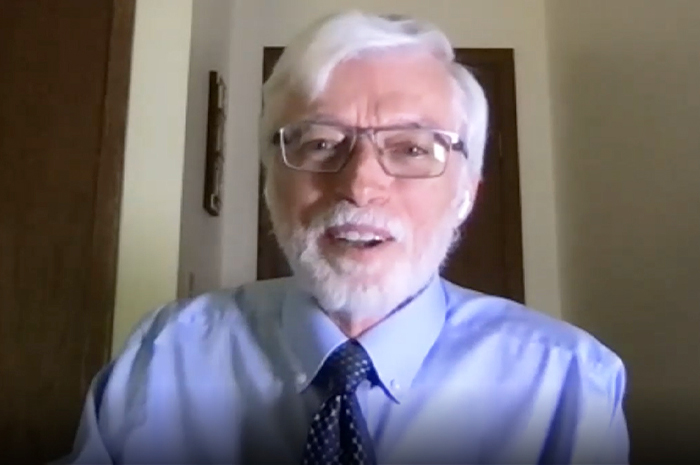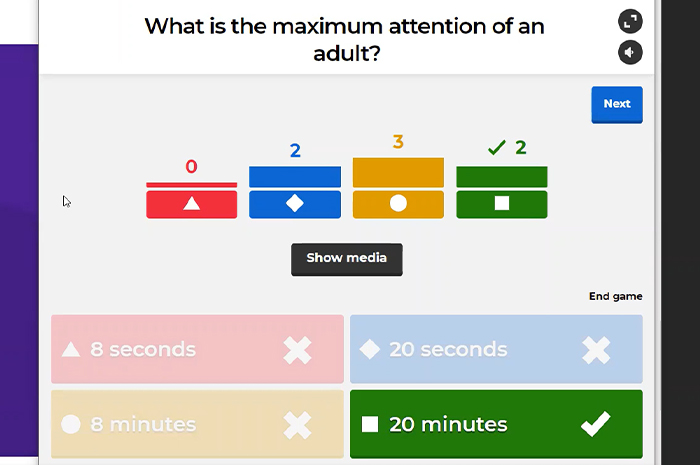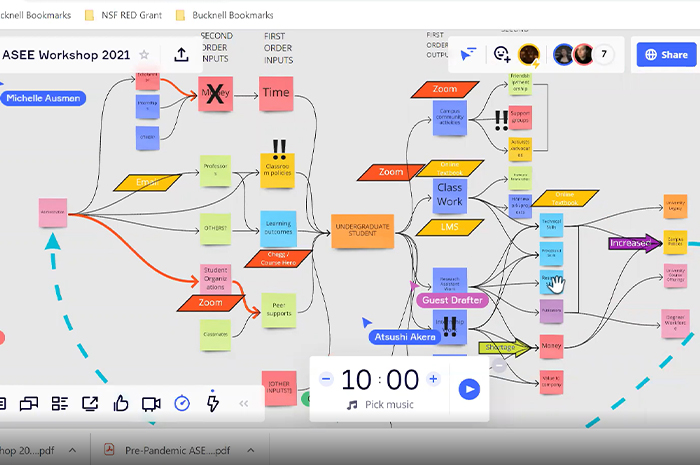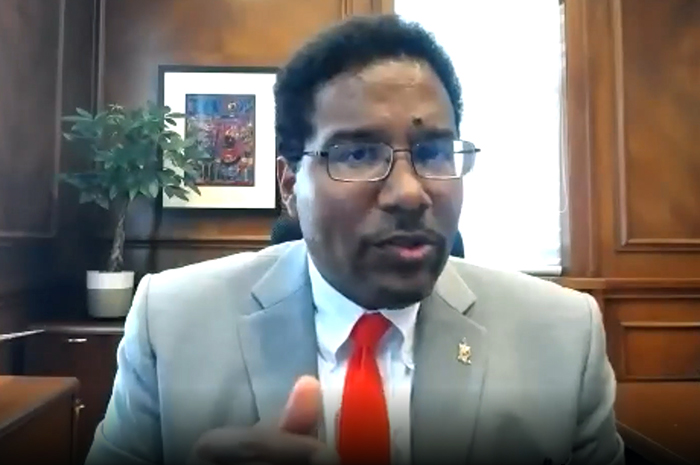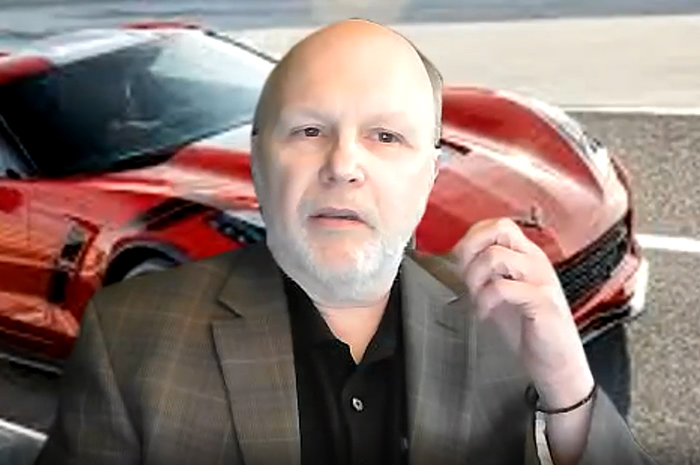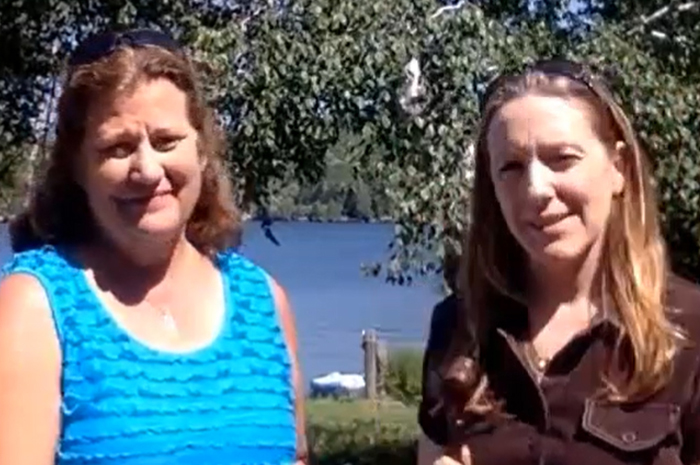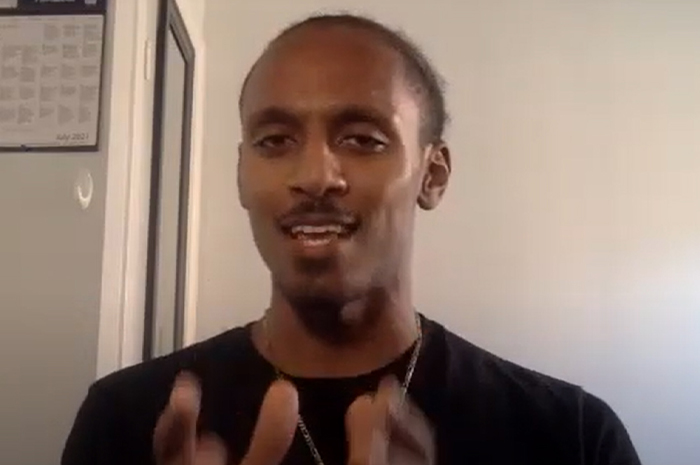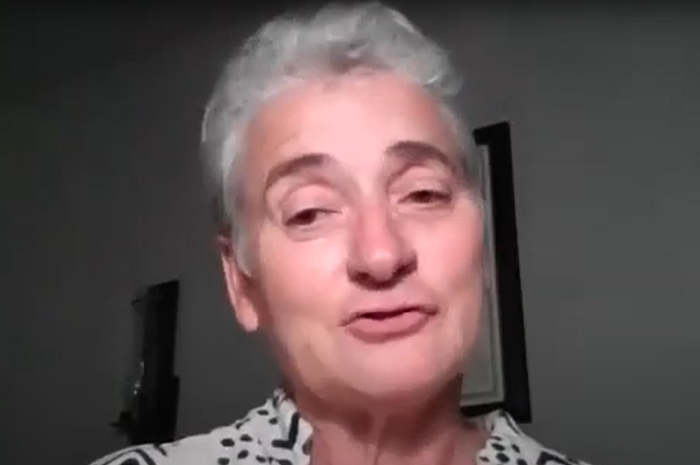 Norman's Notes
Ever Moving Forward
By Norman Fortenberry
Members,
Happy September to you, and I wish you the start of a successful, if unique, fall semester.
I am writing with the ASEE Annual Conference slowly receding in our rearview mirror. I am happy to report that, by nearly all measures, the conference was a success—and it is you who helped make it so. You presented your papers over Zoom, attended virtual plenary sessions and other talks, considered new concepts and asked questions from afar, and interacted with peers despite the hundreds of miles between you. The willingness of our community to come together for the 128th time, regardless of circumstances, is a testament to our resilience.
I want to let you know about the numerous active task forces underway at the Society. Some of you heard about the Task Force on the Engineering Mindset of the Future (Curriculum Task Force), which Chair Gary Bertoline discussed extensively at his Annual Conference Plenary. Also launching are the Task Force on Diversifying ASEE's Leadership, chaired by former ASEE President Stephanie Farrell and Board member Lily Gossage; the Campus Reps Task Force, chaired by former VP for Member Affairs Gary Steffen; and the Task Force on Faculty Teaching Excellence, chaired by ASEE Fellow Don Visco. Our Scholarly Publications Task Force, chaired by former Board member Maura Borrego, recently wrapped up its work and submitted a written report to the Board, which has resulted in the creation of a new standing committee. We will update you on the various progress milestones of the task forces over the next several months.
Contemplating the breadth of these activities, all launched while we were dealing with the challenges of COVID-19, suggests that our Society is ever moving forward and constantly seeking improvements in efficiency, inclusivity, pedagogy, and engagement. These task forces each align with a particular area of our Strategic Plan. As engineers, we want to identify problems and find their solutions, and it's clear that at ASEE we always strive for that.
On that note, 2021–2022 President Adrienne Minerick is launching two key initiatives of her own. Her Task Force on Assimilating Systems Thinking Into Engineering Culture will broaden perspectives in our institutions and our discipline, and her COVID Recovery Action Force will examine how the pandemic has impacted our colleagues and how we can best dig out from underneath it. Read more about these initiatives and her priorities in her President's Letter on pages 40–41.
Last January, the Board authorized 2021–2022 as the Year of Impact on Racial Equity, led by the ASEE Commission on Diversity, Equity, and Inclusion. During this year, ASEE members will focus on activities that engage three groups of stakeholders in the ongoing effort to make engineering education more equitable. The three primary groups of interest are parents of K–12 children; chapters of engineering student organizations at colleges and universities across the country; and faculty and administrators in colleges of engineering. The expected outcomes for this year include the following:
Increased participation and comfort among Black and Brown children in precollege engineering activities that communicate that an engineering career is an option for everyone;
Empowered engineering student organizations to make engineering education more inclusive; and
Actionable organizational policies and effective practices implemented in colleges of engineering that disrupt the status quo regarding who gets to participate in engineering education as a student and as a faculty member.
ASEE has also been increasing its focus outside the United States. We now have branches in India, Lebanon, Baghdad (Iraq), and Luzon (the Philippines). We are beginning to work with the Latin American and Caribbean Consortium of Engineering Institutions (LACCEI) to increase our presence in Latin America as part of our major push for non-U.S. institutional and individual members. Additionally, the Board has authorized new, more equitable individual and institutional dues that reflect the World Bank classifications of the economic status of various countries outside of the U.S. Finally, we are exploring the development of new opportunities for our members to engage in scholarly dialogue with other engineering educators around the globe.
Many of you are coming back to campuses this fall at a level approximating pre-COVID conditions. By the time you read this letter, ASEE headquarters staff will have begun the gradual process of returning to the office. Like you, we are concerned about the shifting circumstances (medical, societal, financial, and more) that face us for the rest of 2021. But as always, I expect us all to thrive and succeed.
Norman Fortenberry is the executive director of ASEE.
Racial Equity Series: 'None of our Hands are Clean'
The ASEE Commission on Diversity, Equity, and Inclusion (CDEI), with support from the ASEE Board of Directors, has designated the Society year 2021–2022 as the Year of Impact on Racial Equity (YIRE). CDEI seeks to build on the social and racial justice momentum of 2020 and equity work of ASEE members to truly effect change in engineering, engineering education, and our professional organization. However, we embark on this initiative with the understanding that, though important, racial equity work is not easy; it requires collaboration and intentional action.
Throughout the next year, Prism will feature a series of articles about the YIRE activities and outcomes, as well as other thought-provoking content. For example, the excerpt below highlights critical questions and challenges in efforts to improve racial equity in engineering.
This piece was adapted from "None of Our Hands Are Clean: A Letter to Engineers Committed to Racial Equity," a guest blog post for ASEE's Commission on Diversity, Equity, and Inclusion by Teirra Holloman and Walter C. Lee. Read the full post online: https://bit.ly/3rHCavf.
We come to you ahead of ASEE's Year of Impact on Racial Equity as engineers who often grapple with some version of the following question: How do we avoid becoming cogs in what Pamela Newkirk dubbed "Diversity, Inc."? She was referring to the billion-dollar business of "diversity initiatives" to which we all contribute: initiatives that make some people money, initiatives that make some institutions look more inclusive, initiatives that many students rely on. These initiatives often leave us wondering if our efforts are misplaced. While we don't have the answers, what we do have are questions:
What are your goals?
As you embark upon this journey, it is important to know what type of impact you want to have. A question to consider: What would it look like to make transformative contributions to racial equity in engineering? Regardless of your answer, your mission may seem more impossible as you learn about how systemic oppression and power are intricately set up throughout and beyond the higher education system.
What work will you do?
Figuring out where your time is best spent is a challenge. A question to consider: What types of roles won't be performative and will allow me to make an actual impact? Some initiatives will clearly be the wrong choice. However, you may often find yourself contributing to these initiatives nonetheless. Maybe because it'll look good on your resume or CV? Or maybe you'll think back to your original reasons for becoming an engineer, aiming to live up to this aspiration even if the other engineers around you don't always seem to be doing so?
Who or what will you become?
If you're serious about racial equity, you'll eventually be forced to submerge yourself in ugly truths about the United States. And, if you belong to any of the communities that you're fighting on behalf of, these issues will also be extremely personal. So, we offer the following question: Who will I become? This is a dynamic question that we recommend you revisit periodically. Check in with yourself often, as it's advisable to occasionally clean your hands.
Now what?
Divesting from that which perpetuates, reinforces, or legitimizes oppression will be required. If recent years have taught us nothing else, it's that none of our hands are clean. Choices will have to be made, and being neutral is not an option as it relates to racial equity in engineering (or the lack thereof).
Teirra Holloman is a doctoral candidate in engineering education at Virginia Tech, where she serves as a graduate research and teaching assistant. Walter C. Lee is an associate professor in Virginia Tech's Department of Engineering Education and director for research in the university's Center for the Enhancement of Engineering Diversity (CEED).
The Commission on Diversity, Equity, and Inclusion leadership team is Jeremi London, 2021–2022 chair, Virginia Tech; Elizabeth Litzler, 2021–2022 past chair, University of Washington; Homero Murzi, 2021–2022 incoming chair, Virginia Tech; and Susan Walden, 2020–2021 past chair, University of Oklahoma. Contact them at cdeichairs@asee.org.
Learn More
Access more information about the Year of Impact on Racial Equity at https://bit.ly/378PSy6.
Awards for Prism
ASEE'S art and editorial team has won a number of awards this year:
APEX Awards of Excellence
Mary Lord, Feature Writing, "Radical Inclusion." November 2020
Toni Rigolosi, Design and Illustration – Infographics, "Peak Experience." October 2020
The 27th Annual Communicator Awards
Award of Excellence:
Toni Rigolosi, Feature Design, "Don't Call it a Celebration." December 2019
Ron Gluckman, Feature Writing, "Under Siege." January 2020
Francis Igot, Cover Design, "Special Forces." Summer 2020
Awards of Distinction:
Francis Igot, Toni Rigolosi, and Miguel Ventura; Feature Design, Full Issue; "System Alert." December 2019
Mark Matthews, Charles Q. Choi, Pierre Home-Douglas, and Mary Lord; Feature Writing, Full Issue, "System Alert." December 2019
Nico Nittoli, Feature Design, "China Syndrome." Summer 2020
Mary Lord and Eva Miller, Feature Writing, "Fresh Perspectives." September 2020