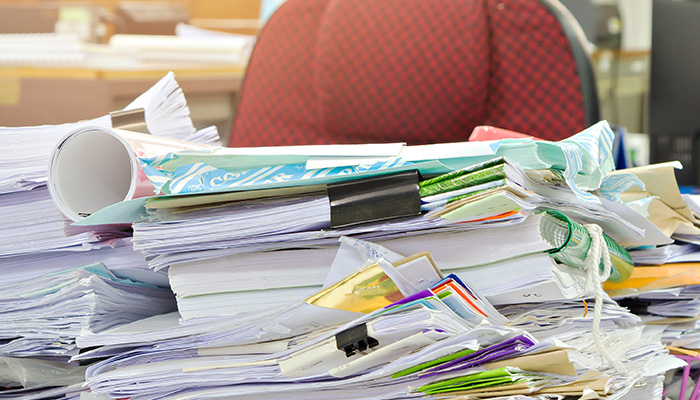 Up for promotion? These tech tips could help spare your portfolio—and schedule—from disaster.
Unlike many fledgling academics, Rebecca Reck knew to begin preparing her tenure and promotion portfolio the moment she joined Kettering University in January 2016. That's because two years earlier, as a Ph.D. student in systems and entrepreneurial engineering at the University of Illinois, Urbana-Champaign, she had chanced upon an ASEE Annual Conference panel for new engineering educators that underscored the need to start the process on Day 1. But what, exactly, did that entail?
Reck, who had worked for eight years as a flight-control systems engineer after earning a bachelor's degree in electrical engineering from Rose-Hulman Institute of Technology, asked colleagues how they kept track of their teaching, research, and service accomplishments. To her surprise, "no one had a really good system, except a three-ring binder on their bookshelf" into which they'd occasionally toss papers they'd authored, course evaluations, and other artifacts. Even a colleague whose career's work nearly washed away when the chemistry department flooded upstairs still preferred a binder.
Why can't we just scan all of this and put it on the cloud? wondered Reck, an assistant professor of mechanical engineering who can apply for tenure in August 2021, with a midterm review in spring 2019. The question is particularly pertinent given the growth of interdisciplinary and team-based research. Figuring she couldn't be the only one wrestling with how best to collect, store, and organize material for her portfolio, she consulted mentors and scoured books but found scant practical advice. So she conducted a survey, distilling the results from nontenured, tenure-track, and tenured STEM faculty members at 36 institutions into some basic "tips and tricks" for compiling, maintaining, and protecting portfolios from disaster.
Ditch the Paper—and Back Up Work!
At Kettering, all new faculty receive a copy of The Teaching Portfolio, which suggests creating a seven-to-12-page narrative with appendices of supporting data and keeping a hard copy in a binder. By contrast, Reck and the majority of her survey participants favor electronic teaching portfolios stored in the cloud or on their school's network. While a handful of respondents—9 percent—still clung to physical folders, a quarter stored everything on their computer's hard drive, where a crash could wipe out the entire archive.
Reck's solution: Store data and papers on Google Drive, which collaborators can access. Her own teaching portfolio includes a Google Doc containing a draft narrative, with additional folders for the appendices and the raw data used to create them. At the end of each term, she adds her syllabi, grade books, and evaluations to the raw-data folder. Reck, whose research focuses on engineering education and self-driving vehicles, also keeps a running list of courses and the number of students in each, jots rough notes about course improvements and their impact, and documents any new things she tried, such as typing out definitions or instructions so students can focus on problem sets and need not copy from the board. Several survey participants suggested video-recording lectures, both for improving instruction and as an addition to the teaching portfolio.
Such efforts "took a lot more work than I expected," Reck acknowledges—certainly more than the 12 to 15 hours that The Teaching Portfolio's authors estimate. Still, it's easier than trying to dig through two years of e-mail trying to figure out what committees you served on or whether more realistic problem statements increased student learning.
Kettering University mechanical engineering assistant professor Rebecca Reck surveyed 36 faculty members, each from a different institution, to learn their top organizational tools for tenure and promotion portfolios.
Call to Order
Time Management
Google Calendar 22%
Mail Software Calendar
(Outlook, e.g.) 13%
Calendar app on mobile device 9%
Paper-based planner 8%
Tracking Tasks and Reminders
Calendar 21%
Post-It Notes 12%
Phone app 8%
OneNote 4%
Paper 4%
Evernote 2%
Trello 2%
Storage Location for Teaching Portfolio
Cloud storage 48%
Hard Drive 24%
Local Network 14%
Physical folder 9%
All 5%
Cloud Storage Used the Most
Google Drive 42%
DropBox 36%
Box 11%
One Drive 8%
Reference Management
Mendely 41%
EndNote 24%
Zotero 14%
BibTex 7%
RefWorks 4%
Papers 4%
None 3%
Preserve Course Records
Most universities have Web-based learning management systems that let instructors create course content and monitor student progress. Don't rely on these repositories. "Data may become unavailable without warning," cautions Reck, who urges instructors to "download a local copy of any grade books." She was glad she heeded this advice after discovering that Kettering deletes students—and their grade-book entries—from Blackboard when they graduate. Scanned entries or screen shots also can capture grade histories.
Organize Your Research Pipeline
Publish or perish, the sine qua non of promotion, can overwhelm new faculty. Adopting a "pipeline" approach helps establish and manage the workflow of grants and publications from idea stage to draft proposals, manuscripts under review, and revisions. When Reck returned to graduate school, she "did some soul searching" about goal setting after leaving "a to-do list that never got done" at work. She read productivity gurus like Stephen Covey, and David Allen's Getting Things Done. The result: She now plots out projects from idea to delivery. On Evernote, a digital organizer accessible by phone or desktop, she creates a to-do list for every week of the term, providing a sense of accomplishment that comes with "checking something off" every day. Separate notes and pop-up reminders in Google Calendar alert her when grant proposals or paper abstracts are due. Lately, they include a daily writing nudge.
Reck aims to have at least two projects in the research phase, two in the data-analysis phase, and two near publication. To keep her research flowing, she surrounds her office with 11-by-17 pieces of paper, providing a visual portrait of where articles, abstracts, and other projects are in the pipeline—and looming deadlines. (Colored paper provides quick status updates on graduate students' work.) She also uses Post-it notes, which let her "glance up and see if there's a hole."
Manage Multi-Partner Workflows
How can researchers get credit for sharing ideas and collaborating across disciplines? "This is a big cultural change for engineering colleges," says Darryll Pines, engineering dean at the University of Maryland's A. James Clark School of Engineering, who called for confronting "boundaries" to help faculty from different fields "do great work" together. He spoke at a recent National Science Foundation workshop hosted by ASEE on center-based engineering research. At Maryland, which has several institutes, assistant professors doing joint projects have multiple leaders—including the institute's director—providing input on tenure and advancement portfolios.
Many faculty members may find Word documents or files sufficient for brainstorming ideas and recording individual contributions. To keep them straight, use consistent file names, sharing strategies, and directory structures. Reck currently is exploring a teamwork tool called Trello, which allows collaborators to shuffle task-based "cards" among several "stacks" on a digital dashboard. Instead of swapping marked-up documents by e-mail, the entire group can search and monitor these virtual sticky notes—which represent everything from data collection activities to drafts of papers to publication tracking—on their smartphones or computers. Collaborators receive an alert when their assigned cards change or need attention until the project is complete. Reck has found Trello's learning curve steep and pay walls frustrating, but she thinks the system could make it easier to coordinate with graduate students and track undergraduate research students.
Keep Tabs on Service
The most common advice most faculty receive about service is how to say no. Or, as one survey participant quoted the provost: "Nobody ever gets denied tenure due to a lack of service." Efficiency is key, notes Reck, a longtime outreach volunteer and officer with the Society of Women Engineers and former ASEE student chapter president. Seek service opportunities that reinforce your research, and collect letters requesting reviews of journal articles, commendations, and other accomplishments. Reck maintains a Google Docs log of committee work, with Google Drive and e-mail folders related to each and Evernote and calendars to track action items and upcoming meetings. Several times a year, she summarizes these activities and updates her CV.
Use Social Media
Self-promotion may feel awkward or unnatural, "but in the bean-counting world of citations" it's critical to tweet and post about your research and with whom you collaborate, says Reck, who has maintained a personal website (rebeccaee.com) since 2005 because she "never had a consistent place for a Web presence" when pursuing degrees at three universities and also working. It's the top hit to pop up after typing her name into a search engine—and far more informative than her official university profile, which doesn't show up for five screens. She updates her publications on both her website and CV at least once every three months, and also tweets about conference presentations and papers.
Lately, Reck has been receiving letters from faculty members saying that social media is an important part of tenure portfolios. Research-networking sites like Google Scholar and ResearchGate, for example, can raise the visibility of publications and potential for citations—and even impart a touch of celebrity status. That also can help tenure candidates accurately track citations and funding for their work. Reck maintains profiles on a number of sites, including ResearchGate, Orchid, IEEE Collabratec, Chronicle Vitae, and LinkedIn, and multiple mentors advised her to create a plan for whom to meet at conferences—and a system for tracking business cards.
Social media has potential pitfalls, however, including baring information that could influence a review panel's perceptions, such as keg-party photos or posts about having to care for sick kids. Reck doesn't know if her social media presence eliminates or exacerbates gender bias, but she strives to be "completely transparent"—about being married, for instance, or loving football and making tech-themed jewelry. One reason she returned to academia, she explains, was to be a role model for the next generation of innovators. Her message: "It's possible to be married, have a family, and still be an engineer."
By Mary Lord
Mary Lord is deputy editor of Prism.
Design by Nicola Nittoli