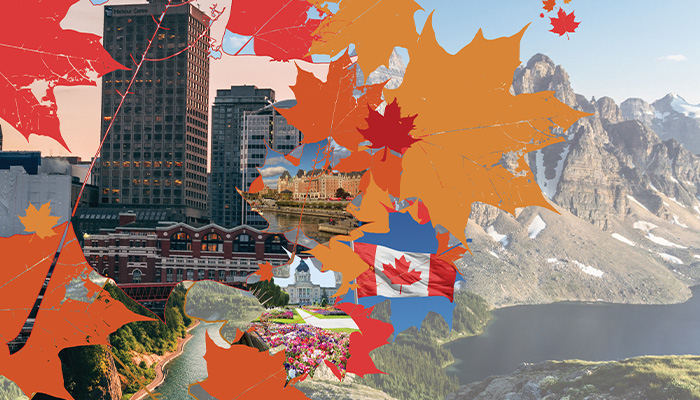 The Government's Innovation Superclusters idea is a winner with universities.
By Pierre Home-Douglas
A year ago, Canadian Prime Minister Justin Trudeau toured Silicon Valley, exhorting tech companies to move north. One lure, certain to tempt firms that annually snap up the 85,000 temporary work visas issued by the U.S. government, was Canada's offer of a fast-track visa for high-skilled, short-duration workers. But there's more to Canada's bid to bolster its competitiveness in various key technologies. At about the same time as Trudeau's California charm offensive, Canada announced plans to create five regional hubs across the country in which businesses and academic institutions would collaborate in spurring technological development and creating new business opportunities.
The concept isn't original. The Fraunhofer Society in Germany has been promoting an industry-academic collaboration for 70 years. It's now a $2.6 billion a year endeavor. In the United States, then Energy Secretary Steven Chu in 2009 launched a series of Energy Innovation Hubs, bringing together top researchers in multiple disciplines from academia, industry, and the government laboratories to overcome technological barriers to energy innovation. The Obama administration followed that with the National Network for Manufacturing Innovation—later called Manufacturing U.S.A. The network comprised 14 public-private partnerships, with university participation, in fields ranging from robotics to textiles, and composite materials to regenerative medicine, each intended to turn emerging technologies into manufactured goods. The Pentagon, in turn, formed the Defense Innovation Unit Experimental (DIUx, later just DIU), to capture innovation emanating from Silicon Valley and other high-tech centers.
But for Canada, the Innovation Superclusters, as the project has been dubbed, is a big deal. Navdeep Bains, minister of innovation, science, and economic development, calls it a "made-in-Canada Silicon Valley that will produce tens of thousands of jobs." The government says it will invest up to $715.5 million (U.S.) over five years to support the superclusters, money that will be matched dollar for dollar by industry. Bains expects substantial payoffs, estimating that the superclusters will add $50 billion to the country's economy over the next decade. Colleges and universities that want to have a seat on the board of a supercluster also have to contribute financially or in kind. While institutions are coy about how much they're prepared to provide, academics contacted by Prism sound enthusiastic.
Gail Murphy, vice president of research and innovation at the University of British Columbia, one of the founding members of the Digital Supercluster on Canada's West Coast, calls it "a true collaboration. Instead of simply working on individual projects, it's more a case of industry knowing where they see opportunities in the future and then being able to see where that collides with directions that our researchers are taking." The Digital Supercluster consists of 300 member companies in the health care, telecommunications, and natural resources sectors, as well as more than 20 universities and colleges. To foster a spirit of cooperation, workshops have been organized to bring the key players together regularly. "As the supercluster gets off the ground," Murphy predicts, "there will be more incubation of ideas."
'Challenging for Everyone'
Murphy and other university representatives admit they're still in the early stages of staffing, finalizing legal agreements, generating ideas for pilot projects, and figuring out how to work with the various partners. "We're all learning as we go," says Murphy. "It's challenging for us, it's challenging for everyone, but it's a great opportunity on which industry and academia are cooperating." According to Joy Johnson, vice president of research and international at Vancouver's Simon Fraser University—another member of the Digital Supercluster—there are early encouraging signs. "What is already positive is people are really talking to one another a great deal about how we can work together. The universities are talking more than they ever have about what research capacity we have and how we can align that with industry interests."
There are key issues that still have to be resolved. "It takes a leap of faith to work together and talk about areas you are pursuing," Johnson says. "How do we handle the intellectual property? How do you ensure that appropriate nondisclosure clauses are honored?" Still, she says, "I think across sectors of industries, they are having conversations they never had before. I think that is positive in terms of building a strong ecosystem not only for British Columbia but also for Canada as well."
Although the Canadian initiative bears more than a passing resemblance to the venerable Fraunhofer Society, there are some important differences. According to Digital Supercluster CEO Sue Paish, while both Fraunhofer and the Innovation Superclusters initiative are focused on commercial outcomes, the Canadian initiative adds another element into evaluating which projects get the green light: "capacity building," which includes what Paish describes as "scaling small- and medium-sized enterprises."
A Need to Expland Small Firms
Paish explains, "We have a very good track record in this country of producing start-ups and small enterprises, but then they dissolve and or get bought out. If we don't learn how to scale them, we are not going to improve the competitiveness of the country, so making that a criterion in the evaluation of a project is very important. This isn't about creating a platform where small businesses can get bought by large businesses." In order to achieve that goal, proposals must be made by consortia of a minimum of three companies, one of which has to be a small- or medium-sized enterprise (SME), which is defined as fewer than 500 employees. Evaluation of each project is done both internally and by external independent reviewers, including international organizations.
Despite the fact that the primary focus of the initiative is industry-led projects with definable economic benefits, there is still room in the superclusters for other types of capacity building—another difference from the Fraunhofer model—where commercial application does not have to be a priority. In the case of the Digital Supercluster, this includes training or retraining for people whose jobs are being supplanted or eliminated by the digital revolution. As Paish explains, "We know that the digital transformation of society is going to completely change the nature of jobs available. New jobs will be created, and traditional jobs will disappear. If we do not focus on employees who are in those traditional jobs now and make sure that they are trained for new-economy jobs, we will have people who do not have the skills to succeed in the future."
She adds, "For example, there are thousands of British Columbians who are drawing a physical disability pension. They are ready and willing to work, but they do not have to work for the job for which they are trained because of their disability and can't contribute the way they want to contribute. What if we developed a training program where they are brought into a virtual or physical environment—or both—where they are trained for specific kinds of digital jobs and at the end have internships that are specifically designated for graduates of this program with members of the supercluster?"
That training could even include additional social payoffs. Paish points out the fact that some of indigenous languages of British Columbia's First Nations people are slowly disappearing and are threatened with extinction once the few remaining speakers of various dialects pass away. One possible application she envisions: a project where people are trained on how to do digital recordings, where the focus of the project is training people to be able to master that skill and use it to digitize all the indigenous languages in BC so they are preserved for posterity—what Paish describes as "a social good that might not be completely connected to an economic good."
Jobs in Data Analytics
One of the benefits for academic institutions is the employment opportunities superclusters may provide to graduates in data analytics and engineering. Pearl Sullivan, dean of engineering at the University of Waterloo in Ontario, points out that the university already works with 1,000 industry partners and places more than 8,800 undergraduates in cooperative work-study positions every year. "Co-op is part of the DNA at Waterloo." Still, she believes that being a part of a supercluster may open new doors for interns not only at Waterloo but at other universities that do not have as developed a co-op program. "We need to provide opportunities for students to get work experience and companies to do early hiring. We need to engage companies early and set up relationships, and if the students like what they are doing, they will stay on. If talent is their largest challenge, companies can't wait for them to graduate and expect things to happen." It's one more reason she hopes "the concept of co-op and internship will be embedded in the superclusters."
Waterloo is a stakeholder in SCALE.AI Supercluster (Supply Chain and Logistics Excellence. Artificial Intelligence), which will focus on streamlining and improving how goods are transported, stored, and delivered with the help of artificial intelligence and robotics. Work has already been done in this area, but Andrea Lodi, holder of the Canada excellence research chair in data science for real-time decision-making at Polytechnique Montréal and a key member of the SCALE.AI team, believes that the new approach is different. "Industry will be the driving force to push academia to do the technology transfer, but the multiple players [the academic institutions and the small, medium, and large industries involved] will create a critical mass that will lead to something different from the past."
The other three superclusters are Ocean, which will concentrate on areas like marine renewable energy, fisheries, and renewable energy on Canada's East Coast; Advanced Manufacturing in Ontario, dedicated to fields like 3-D printing and next-generation manufacturing techniques; and Protein Industries, based in the agriculture-rich prairie provinces, which will focus on plant genomics and efforts to make the country a leading source of plant proteins.
As Sue Paish points out, although the superclusters are separate, they do not operate in isolation. "It's obvious that the boundaries between the superclusters are permeable. There is a lot of overlap between digital and AI. In fact, there's a lot of overlap between digital and proteins. There is a lot of connectivity between the five superclusters. We consider ourselves a family of superclusters. We share information. We share ideas. I expect in the future, although it's still early days, it's very conceivable that we will share projects too."
Pierre Home-Douglas is a freelance writer based in Montreal. 
Design by Toni Rigolosi