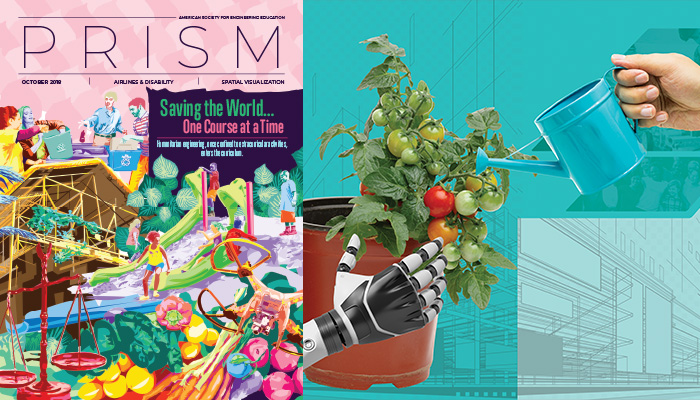 Community service moves from extracurricular projects into the engineering curriculum, attracting diverse students, tackling societal problems—and making some faculty members uneasy.
When Olga Pierrakos, a biomedical engineer and founding chair of Wake Forest University's new Department of Engineering, worked with colleagues to design its program from scratch, she knew it should be aligned with the liberal-arts school's motto: pro humanitate, or "for humanity." The best way to do that, she concluded, was to stress project-based service learning, in which students apply their engineering skills to societal problems in often distressed communities.
Wake Forest's motto finds a close match in the obligation recited by new graduates who join the Order of the Engineer: that their skills be used "to serve humanity." In the past, that injunction often got lost in designing engineering curricula, Pierrakos says. Now, however, social service and community action—once the province of extracurricular programs like Engineers Without Borders and Global Village Engineers—are finding their way into coursework. At Wake Forest and a number of other schools, a cohort of mostly young faculty members has come to recognize not only that project-based learning is effective but that showing how engineering can make the world a better place helps attract and retain students, including women and ethnic minorities. Their students tackle such topics as clean air and water, assistive technology, affordable housing, medical care, refugee relief, and social inequality. Meanwhile, established service-learning programs are seeing a steady and impressive rise in enrollments.
Many of today's students belong to "a generation that wants to save the world," says Pierrakos, whose first-year curriculum included service components in four out of five student projects. "They want impact; they want to do something that matters." Purdue University's William Oakes agrees: "They want to know, 'What's the point?'"
Community Partners
The program Oakes runs, Engineering Projects in Community Service (EPICS), was among the pioneers of embedding the concept within an engineering school. EPICS's interdisciplinary teams provide engineering, technology, and computing assistance to community organizations. These aren't short-term commitments; EPICS encourages participation for multiple consecutive semesters. Students can earn from two to six credits from a dozen or more programs in the College of Engineering and four programs in Purdue's Polytechnic Institute. While social justice isn't explicitly part of EPICS, Oakes says: "The types of partners we use typically service underrepresented communities that often lack resources, so they fundamentally lack social justice." Established at Purdue in 1996, a version of EPICS is now at 50 schools.
While accepted as worthwhile by multiple departments, EPICS is usually an elective. Such is the case with many service-learning programs. An exception is Service-Learning Integrated throughout the College of Engineering (SLICE) at the University of Massachusetts–Lowell. Established in 2004, it claims to be unique in integrating service learning into core required courses. Like EPICS, SLICE works with local organizations, which inform the program coordinator of an identified need. The coordinator then works with faculty members to incorporate the project into an engineering course.
No one has calculated or keeps track of the overall number of schools that offer courses with service learning as a main thrust. That's largely because some may just last for a few years, explains Christopher Swan, dean of undergraduate engineering education at Tufts University. But the evidence that service learning is becoming more popular is compelling. Indeed, one need look no further than ASEE's Community Engagement Division, which Swan chairs, and which draws service learning adherents. Created in 2012, it has become ASEE's fastest-growing division and now numbers more than 800. Meanwhile, 700 students enrolled this fall in Purdue's EPICS course, up from 300 five years ago. Of those 700, 300 are first-year students, who were selected from more than 500 applicants. The eight-year-old National Academy of Engineering Grand Challenge Scholars Program, which has a strong service-learning component, graduated 130 scholars last year, up from 10 in 2010. At Wake Forest, the department expected an initial cohort of 27 students last year but ended up enrolling 55. This fall, it has a freshman class of 80 and a wait list.
Some faculty members—environmental engineers perhaps foremost among them—have long made community engagement and service learning an important part of what they teach. In a 2002 ASEE paper, Swan and his colleagues called environmental engineering education and community service "a synergistic partnership." Swan subsequently ran a first-year project that had students develop a poster and presentation to use to inform community policymakers and citizens on recycling behavior in Massachusetts. The objective was to introduce students both to the technical and nontechnical aspects of recycling and to the research process. Another Tufts course had students evaluate urban brownfield sites in the Boston area.
'Food Deserts' and a Bamboo School
Projects can be local or draw students overseas, particularly to the developing world. One recent project at the Colorado School of Mines had students working on a solution to the problem of "food deserts," poorer urban neighborhoods where few stores, if any, sell affordable, nutritious, and fresh foods. At Wake Forest, a small group of first-year students trekked into the jungles of Ecuador to build a school from bamboo, and the entire class researched and analyzed the material properties of the plant.
Richard F. Vaz, director of the Center for Project-Based Learning at Worcester Polytechnic Institute, says students understand that all engineering involves problem solving, but they want to work on problems of pressing concern to them, including climate change, food security, and public health. "They say, 'I don't want to be defined as, say, a civil engineer, I want to work on sustainable energy.' "
The evidence that service learning holds a special appeal for women and minorities is mostly anecdotal, but even that is encouraging when the proportion of women, African-Americans, and Hispanics in engineering remains far below their representation in the population. The cohort of first-year students enrolled in EPICS at Purdue is nearly evenly divided between the sexes, and the class comprises more women and minorities than white males. Women accounted for 42 percent of Wake Forest's first-year intake of students and 45 percent of this year's. Additionally, around 20 percent of its students are ethnic minorities. Part of the appeal for women is that such programs reflect a "shift from a focus on things to a focus on people, seeing engineering as very much a human enterprise and a team-based enterprise," says Jacquelyn Sullivan, cofounder and codirector of the Integrated Teaching and Learning program at the University of Colorado–Boulder's College of Engineering.
Underlying service learning is project- and problem-based instruction, a method Vaz contends has shown that it "produces better engineers." Proponents say project work also helps students sharpen their teamwork and communication skills. The added dimension of service makes it obvious to students that engineering has the potential to help improve life for billions of people worldwide. A project may be worthwhile in itself, but when students learn that it can be used to help people, "it not only motivates them but also helps them retain what they're learning," Pierrakos says. Marguerite Walk, 20, a member of Wake Forest's first engineering class, says of the service components: "They're what's so cool about the program."
Tough Decisions
"The great thing about service learning is that it is a close approximation to engineering in real life," says Marybeth Lima, a professor in the biological and agricultural engineering department at Louisiana State University, which has two required service-learning courses in its curriculum. "Problems are often complicated, and solutions are messy. You can be forced to make decisions that might make you uncomfortable."
While many of the community-engagement projects students work on have clear social-justice implications, Juan Lucena, who heads the humanitarian engineering program at Colorado School of Mines, says too many courses and programs don't do enough to weave in the humanities and social sciences, so students don't fully understand the political, historic, and economic forces that shaped the communities they parachute into. "A lot of service learning is well-intentioned but naive, and does not pay attention to social justice," says Lucena, whose program offers two minors that are heavily infused with service learning. For the project on food deserts, for instance, he says students needed first to understand why there's such a shortage of healthy food and fresh produce in poor areas with minority populations. Students who enroll in his two minors must first take the gateway course, Engineering for Social and Environmental Responsibility, which examines questions involving technology and social justice through historical and contemporary case studies.
When help from humanities instructors is unavailable, some engineering educators have found other ways of getting students to understand the communities they'll be serving. For instance, Lima's first-year biological engineering students at Louisiana State take a course that requires them to design and build a playground at an elementary school in one of Baton Rouge's disadvantaged neighborhoods. Students are required to spend time at the schools talking to the kids and the principals. "It is more listening to communities with your ears and your heart," Lima says. Caroline Bergeron, 21, a senior who took the class three years ago, found it eye-opening. "It was a surprise to find out that so many schools did not have playgrounds. Every school I ever attended had one."
While extracurricular programs like EWB certainly augment classroom instruction, there are advantages to anchoring service learning in the curriculum, proponents say. One is that it makes sure design projects are linked to learning objectives of particular courses. Another is that, as Pierrakos says, "it sends a strong message to students: This is important." Still, Oakes acknowledges, "when you go the curricular route, it's hard." That's because "real community problems are hard to do in one semester; it's not just a one-shot in and out; it can change the view of what a course looks like." And revising a course imposes extra work on faculty.
Reenvisioning Engineering
To make it easier for more engineering schools to build in community engagement, six University of San Diego faculty members are working on a blueprint for an engineering curriculum focused on service learning and social justice and graduating "change-making engineers." The curriculum, they say, will be "rooted in the nexus of humanitarian practice, sustainability awareness, social justice, and professional practice." The team won a five-year $1.95 million grant from the National Science Foundation in 2015 as part of NSF's Revolutionizing Engineering and Computer Science Departments (RED) initiative. "We are reenvisioning what engineering is," says team member Susan Lord, professor and chair of general engineering and professor of electrical engineering. Interdisciplinary courses chosen as part of the effort include Engineering Peace With Drones; Diplomacy and Negotiations in Humanitarian and Environmental Engineering Projects; and Power and Power Module: Legacies of Apartheid in South Africa.
At least for now, most engineering students will graduate without ever taking a service engineering course, because the courses are not required. The kinds of students Lord and others hope to attract are self-selected. Consider Dorothy Walch, 22, a civil engineering major at Mines who is pursuing an engineering for community development minor. Her parents are Peace Corps alumni who have spent their entire careers working for nonprofits. "They are driven by the need to help people, and that's been instilled in me, too. My desire to help is pretty strong." The same attitude is prevalent among her peers, Walch adds. "For the most part, students in my classes really do care. They want to help people."
For many proponents, the long-term goal is to eventually persuade most mainstream engineering schools to require that all students take at least one community-based service-learning course. Domenico Grasso, chancellor of the University of Michigan–Dearborn, and coeditor of the 2009 book Holistic Engineering Education: Beyond Technology, says that despite some hurdles, engineering schools should be receptive to that idea, because "engineering is well-suited for service learning, because all students must do a capstone project." That said, Grasso adds, "how to get it into mainstream schools is the most challenging issue here," because those schools that see their mission as churning out frontline engineers may not think it's necessary.
Another big hurdle is that most engineering instructors are still reluctant to embrace service learning. "Probably 80 percent are not interested because they think it dilutes the content of engineering courses," says Lucena. "Quite honestly," says WPI's Vaz, "there are a lot of great excuses engineering educators come up with" for their rejection of service learning. "But the main reason is they don't want to move out of their comfort zone." A survey conducted by Lord's team to assess interest in a change-making curriculum found that "many of the faculty do not find this goal important, nor have a good understanding of how to infuse some of the context into their courses." Additionally, Swan says, many faculty members fear that if you're adding community engagement and social context to a course, it could diminish the learning of key skills. A growing body of research not only rebuts that but shows that service learning actually helps improve the technical skills of students. That evidence, he says, "is more accepted than it was 20 years ago, but it's still not universally accepted." USD's project aims to overcome such resistance. A workshop conducted as part of its curriculum development showed "how standard questions from core engineering topics such as statics can be reframed to include humanitarian and social justice perspectives," the team reported.
Working against enthusiasm for changing teaching practices is a reward structure built more on obtaining research grants than instruction. Age also seems to be a factor. Proponents of service learning say it's mainly younger faculty who are most receptive to joining their march. For instance, those who have volunteered to teach the courses that Lord and her colleagues at USD are developing are mostly early-career faculty. "Younger faculty are very committed to it, while older faculty are more uncomfortable, despite a lot of support from the school and dean," she notes. Among the new faculty members USD hired to carry out its RED goals is "a senior leader in social justice and engineering."
Vaz says "change will come, one retirement at a time." He predicts that project-based service learning will eventually become a fully required part of engineering education—just not anytime soon.
By Thomas K. Grose
Thomas K. Grose is Prism's chief correspondent, based in the United Kingdom.
Print cover image by Francis Igot. Design by Francis Igot.