Click above for complete view.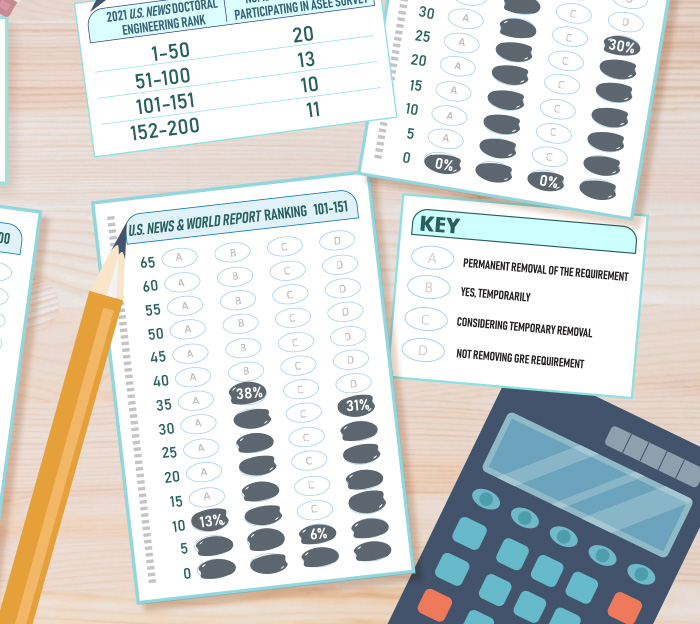 The Pandemic's Effect on Engineering Doctoral Admission Requirements
Compiled by Joseph Roy
ASEE surveyed the Engineering Deans Council in October to determine whether institutions had made or considered changes to their requirement for the GRE in doctoral admissions. Fifty-four of the 218 engineering colleges that submitted data to the 2021 U.S. News & World Report rankings participated in ASEE's survey. The most common response, particularly from institutions ranked in the U.S. News top 50, was the temporary removal of the GRE requirement, with some weighing its permanent abolition.
Several responses from deans, graduate program directors, and department chairs suggested unease with the GRE. Respondents cited three areas of concern: perceived bias in the exam's construction, use of standardized scores in different sections of the test diminishing the ability to rank applicants, and conflict between central campus policy and college needs. As institutions adapt to the pandemic, many have begun to reassess what is needed to identify applicants most likely to be successful in their doctoral programs.
This work is part of an ongoing project on the effects of COVID-19 on engineering education funded by NSF-EEC Award #1748840. Any views expressed are those of the individual author and do not necessarily represent the views of the National Science Foundation.
Design by Toni Rigolosi