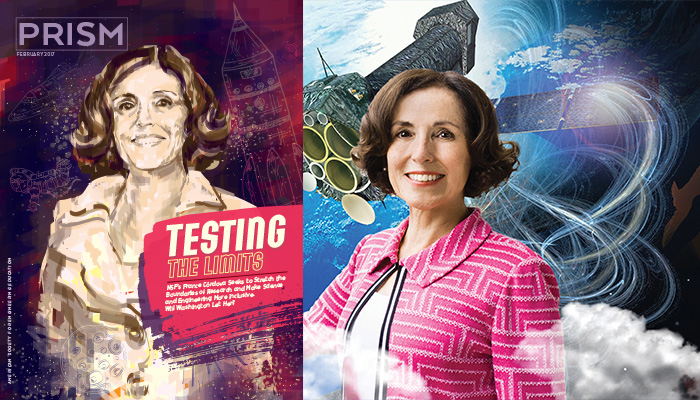 Astrophysicist France Córdova has built a career persuading nonscientists to support big and sometimes controversial goals. How will NSF's director fare in the Trump administration?
In the annals of blue-sky research, the National Science Foundation's gamble on the Laser Interferometer Gravitational-Wave Observatory in the early 1990s ranks as a doozy. Designed to detect ripples in the fabric of space-time that Albert Einstein predicted would result from cosmic cataclysms, the $1.1 billion, three-decade project is among the agency's most ambitious undertakings. With one outpost in Washington state and another in Louisiana, the facility marked NSF's first foray into construction and largest-ever investment at the time. LIGO, which now involves more than 1,000 scientists and engineers from over 80 institutions worldwide, could have fizzled. Instead, NSF's bet paid off spectacularly. On September 14, 2015, newly installed, ultrasensitive instruments recorded a faint chirp during an engineering run, capturing an infinitesimal jiggle caused by black holes colliding 1.3 billion years ago and opening a new window on the universe.
As an astrophysicist, France Córdova could readily appreciate LIGO's scientific achievement, likened by many to Galileo's revolutionary telescope. But as NSF director, she saw the breakthrough as an opportunity to showcase the role her $7.5 billion agency plays in inspiring innovation. "We support fundamental science and engineering at a point in the road to discovery where that path is anything but clear," she said in trumpeting LIGO's findings. "NSF funds trailblazers. It's why the U.S. continues to be a global leader in advancing knowledge."
Real-World Impact
That succinct summary was vintage Córdova, whose political acumen, skills of persuasion, and big-picture vision have made her an influential champion of the government's science and engineering enterprise. She came to NSF with a track record of overcoming resistance and gaining broad buy-in for major initiatives. She can frame complex, occasionally controversial research projects in terms of their societal benefits—often with a knack for narrative that lends a touch of glamour to the drabbest of data. As chancellor of the University of California, Riverside from 2002 to 2007, for example, Córdova made a convincing case for building a medical school during an era of lean finances by mapping where physicians lived (mostly on the coast) compared with their underserved patients deep inland. She has defended NSF's spending on social science research by noting it supported every winner of the Nobel Prize in economics since 1998, and linked climate research—a forbidden topic in some conservative precincts—to such urgent national challenges as agricultural and water sustainability. Opening the Washington Auto Show last month, Córdova steered credit to NSF for funding the basic research behind the sensors and other integrated technologies powering the self-driving Cadillac SRX from Carnegie Mellon University in Pittsburgh that accompanied her.
"She's such a clear thinker," says former NASA chief Daniel Goldin, who hired Córdova, then a professor and chair of the astronomy and astrophysics department at Pennsylvania State University, in 1993 to help him develop and communicate a new vision for the space agency as its youngest and first female chief scientist. "She does her homework, knows her facts, and doesn't speak until she knows what she has to do."
These attributes are sure to be tested as Córdova, 69, tries to secure NSF's place in a new administration whose relationship with scientific research has been tense. She was appointed by Barack Obama, who vowed, in 2009, to "restore science to its rightful place." Now, while midway through a six-year term, she will have to navigate the budget and policy shoals under a president, Donald Trump, who evinced contempt for scientific consensus by calling climate change a hoax and caused an uproar in academe with an executive order on visas and immigration that blocked travellers—including students and scholars—from seven predominantly Muslim countries. The move prompted ASEE and many other organizations to issue statements of concern about creating "an atmosphere of uncertainty" that might dampen the nation's ability to attract the best talent to engineering and science.
Córdova's signature NSF INCLUDES initiative will require especially delicate footwork. The $15 million program seeks, finally, to reverse decades of low participation in science and engineering by women and underrepresented minorities—demographic groups that disproportionately voted for Trump's Democratic opponent. INCLUDES, which stands for Inclusion Across the Nation of Communities of Learners of Underrepresented Discoverers in Engineering and Science, is one of 10 multidisciplinary "big ideas" for future investment that could radically transform engineering education and career pathways, from K-12 outreach to faculty development. It aims to build on and amplify existing efforts to broaden participation through novel collaborations among universities, industry, nonprofits, and community groups. "There's so much opportunity for creativity," says Córdova, who as the "team captain" helped structure the program and has begun visiting winners of first-round grants. Indeed, the initial cohort features such unusual alliances as Princeton University chemistry and astronomy professors working with community colleges and the New Jersey state prison system to create a seamless pathway, including research experiences, to bachelor's degree studies at Rutgers, the state university, for incarcerated students.
'She Always Wins'
Córdova's ability to listen, along with what Goldin calls her "steely determination" (an I-beam spine, he once described it), has served her well. "I literally threw her in the water, and she was swimming with perfection in Washington politics," marvels Goldin, most recently founder and CEO of a San Diego-based start-up, KnuEdge. "She's not an attack dog; she gets her way with persuasion. She always wins." The year after Córdova joined NASA, Republicans regained control of both chambers of Congress in the 1994 midterm elections, running on a Contract with America plank that called for smaller government. She just "la-di-dah'ed up there" to Capitol Hill, Goldin recalls, and argued the merits of such "really complex stuff" as NASA's sweeping program to discover the origins of the universe. Appropriators ended up increasing spending for NASA science over the previous year. "If you can't communicate with taxpayers and through their representatives about how frugal and effective you are with funds, you have no business being an agency director," Goldin argues.
When Córdova took the helm of NSF 20 years later, the House GOP had the agency in its crosshairs—but for reasons apart from money. Members viewed social science grants as frivolous and climate science as ideologically driven. Lamar Smith (R-Texas), chair of the House Science, Space, and Technology Committee, demanded details of 20 research grants he considered of little value. Faced with either rebuffing congressional oversight or violating the confidentiality of researchers and peer reviewers, both untenable options, Córdova worked out a compromise that protected the merit review process: Committee staffers could pore over the materials at NSF and take notes but no copies. Relations continued to improve during a nine-day visit she led to NSF's Antarctica research facilities for Smith and a congressional delegation that December. "I used to be a mountaineer," Córdova told Nature magazine after a year on the job. "It's all about looking at every move and how you can best do it so you don't take a fall."
Smith wasn't totally won over. His panel got the full House to approve a measure that many NSF supporters saw as an assault on researchers' independence. It would require for each grant a written justification of how it met one of seven "national interest" criteria. With help from its Washington community of advocates, including university representatives, NSF got Congress to dilute the provision. By the time the measure became law last December in the American Innovation and Competitiveness Act, it had bipartisan support.
"She has worked extraordinarily hard to communicate and build relationships" on Capitol Hill, says Pramod Khargonekar, vice chancellor for research and distinguished professor of electrical engineering and computer science at the University of California, Irvine, who led NSF's engineering directorate from 2013 to 2016. She often uses engineering examples to illustrate NSF's contributions to industry and society, he notes. Additive manufacturing, which enjoys broad support among lawmakers, promises to revitalize rust-belt economies thanks to early investment by NSF. Also popular are NSF's Engineering Research Centers, which have allowed collaborations to flourish among universities, industry, and entrepreneurs.
Congress wasn't Córdova's only firefight. In 2015, NSF's inspector general reported "serious accountability concerns" with the National Ecological Observatory Network, a $433.8 million project long plagued by steep cost overruns that compelled reducing the number of sites and eliminating an experimental component.
Humanities First
If Córdova quite cheerfully accepted one congressional complaint, the reason may lie in her broad education, with a hefty helping of liberal arts. The oldest of 12 children of an Irish-American mother and a Mexican-American father, Córdova was born in Paris and spent her early years in Germany, where her father, a West Point graduate, ran CARE's relief operations. She excelled at school while also enjoying theater, debate, working on the school newspaper, and editing the yearbook. A middle school science fair project on lasers drew her to physics. Einstein became a hero. But the science curriculum at her Catholic middle and high school "was not very rigorous," Córdova says, and "women were never talked about as being part of the field. . . . I was not getting any messages about careers in science. I never saw any role models."
Admitted to Stanford, Córdova checked out physics and English courses, "and guess which one was more fun—and had more women?" she recollects with a smile. She took introductory biology and astronomy but majored in English, studying poetry in Italy and conducting anthropological field work in a Zapotec Indian pueblo in Oaxaca, Mexico. "The Women of Santo Domingo," a short work of fiction, won her a summer guest editorship at Mademoiselle magazine, which sent her off to Israel on a travel story.
Her writing chops would come into play decades later when congressional critics cherry-picked NSF research abstracts to ridicule. Viewing the summaries with an editor's eye, Córdova found that too many simply couldn't be understood by the public and asked that, henceforth, they be written in clear, plain prose.
By age 22, Córdova was living in Cambridge, Mass., working on a Ford Foundation project and writing for the Los Angeles Times. That was the year U.S. astronauts set foot on the moon—twice. Between lunar landings, PBS aired a documentary about neutron stars. Riveted by the discoveries, Córdova decided to pursue astrophysics. She walked into the Center for Space Research at MIT and offered to work for free. Walter Lewin, the center's leader, was writing a review of X-ray astronomy, a new field at the time. "And he thought that, being an English major, I'd be a good person to edit what he had written." MIT accepted her as a graduate student, but she missed her family and returned to California, where Caltech physicist Gordon Garmire hired her as a computer programmer. "I had to learn on the job, but it was the early days of computing," says Córdova. She audited dozens of courses and won admission as a physics graduate student despite having no undergraduate science credentials. "You have to be in a place where people respond," she reflects.
Cosmos Girl

Conducting X-ray astronomy experiments as Garmire's research assistant, she learned from an amateur astronomer in Arizona that a system under study was brightening, indicating a transfer of matter between stars that could portend an outburst. At her urging, Garmire called NASA's Goddard Space Flight Center, which agreed to a costly repositioning of the High Energy Astronomical Observatory satellite. When Cordova went to the computer center to process the data a few days later, "there was just a huge signal. Absolutely unmistakable," she later told a Caltech interviewer. "It was one of those thrilling moments when you have a theory, you gamble on an experiment, and the evidence just comes through."
Her Ph.D. earned, Córdova began a steady upward climb, moving easily between government and academia—first to Los Alamos National Laboratory as a staff scientist and then to Penn State, where Garmire had since moved, as head of an otherwise all-male astronomy and astrophysics department. Goldin recalls her "sparkle" and "capability" when interviewing her for the job of NASA chief scientist—her next job after Penn State—and how handily she fielded questions about gamma ray measurements. "I tested the living daylights out of her, but she knew her stuff."
Black holes and other phenomena continued to absorb Córdova even when she became vice chancellor for research at the University of California, Santa Barbara. While there, she built the most powerful X-ray telescope ever sent into space. It remains in orbit today. But the job also required her to "look at every discipline in the university," says Anneila Sargent, a Caltech astronomy professor and friend since graduate school who serves on the National Science Board, NSF's policymaking body. Córdova promoted interaction among scientists, engineers, and artists, and encouraged student participation in research.
Taking on Inequities

Her successful campaign for a medical school at U.C. Riverside, where she was the first Hispanic female chancellor, served as a prologue to Córdova's current INCLUDES initiative. Both show her marshaling metrics in a bold move to correct longstanding inequities. The first required making the case that physicians typically settle in the communities where they do their hospital residencies, and that patients—in this case, mostly working-class Hispanics—respond better when treated by doctors from similar cultural backgrounds. In the second, she flashes Census Bureau projections that minorities will be 53 percent of the population by 2050, yet only 30 percent of people working in science and engineering today come from traditionally underrepresented groups. She also cites McKinsey findings that gender and racial and ethnic diversity can improve a company's bottom line. "Every individual without access to STEM represents a lost opportunity," Córdova tells a webinar audience.
A tougher case to make is that INCLUDES can succeed when, in engineering, for instance, decades of NSF-sponsored efforts to broaden participation have failed to expand the proportion of female students beyond 20 percent, and when 3 in 10 women leave the profession, compared with 10 percent of men. The share of engineering bachelor's degrees awarded to African-Americans (9 percent) and Native Americans (1 percent) has remained flat since 2000, with Hispanic graduates rising from 7 percent to 11 percent. Is there any reason to believe INCLUDES will budge the needle, given the three quarters of a billion dollars NSF spends annually to broaden participation?
"I'm optimistic," says Córdova, who points to the seismic shift in veterinary colleges from all men to equal numbers of women and men. She also notes the "tons of women" NSF has in leadership positions and the number of "rising stars" who are African-American.
"If you don't try, you won't get anywhere at all," says Caltech's Sargent. Córdova's record as the first female president of Purdue from 2007 to 2012 offers a precedent. While she made a tangible mark with new facilities—a renovated athletic center that bears her name, a new computer and electrical engineering hall, and a multidisciplinary Global Policy Research Institute—that period also saw an increase in student diversity thanks in part to a $304 million scholarship campaign for low- and middle-income students as well as a concerted effort to prepare first-year minority students for success. Retention rates also rose, as did diversity among faculty.
INCLUDES is not outreach-as-usual. For starters, it uses the framework of collective impact—much like crowdsourcing. Principal investigators need not be affiliated with a university, and partnerships can include businesses, nonprofits, and community-based organizations. Partners must agree on a common agenda and shared measurements, and unlike conventional collaborations, will interact with one another through "backbone organizations" that provide technical assistance, resources, and, eventually, a national network. Where effective models exist, INCLUDES seeks to identify, sustain, and spread them nationwide, starting with two-year grants averaging $300,000 per project to create design and development launch pilots.
Strange Bedfellows
"Please don't be afraid to take risks," Córdova urges INCLUDES program officers. They've accepted the challenge. One proposal that drew three excellent reviews and two "no ways" was re-examined to determine if the rejections were the result of an overabundance of caution. It got approved. The 40 projects funded so far range from Princeton's pilot to create a seamless math pathway for inmates to pursue a STEM bachelor's degree to a New York Hall of Science-led effort to establish a network of maker spaces and fab labs serving black and Latino high school students. The Quality Education for Minorities (QEM) Network is focusing on building the STEM research and teaching capacity at historically black colleges and universities as well as their Native American counterparts. And an Auburn University math professor is anchoring a project that builds on the existing Alabama Alliance for Students with Disabilities to form a southeastern regional alliance focused on training STEM students with disabilities across the academic pathway from high school through postdoctoral training and new faculty positions. Engineering programs should fit well with INCLUDES, argues Khargonekar: "In some ways, it's a systems problem, which is what engineers are good at."
It was clear to Kimberly Lawless, associate dean for research at the University of Illinois, Chicago's College of Education, that INCLUDES "could be a game changer." She pulled together an unlikely alliance of engineering professors, local advocacy groups, businesses, community colleges, and undergraduate "community ambassadors" to re-engage the many students who, for a variety of reasons, were turned off by STEM. To reach those disengaged students, Lawless took a community-centered, bottom-up approach. Rather than make kids come to campus, her rationale goes, engage them in working with local groups to solve a problem that's relevant to the community—with structure, expertise, and resources marshaled through local STEM Advocacy Centers that facilitate the process from identifying problems to developing talking points for presentations at City Hall.
"It's been a rude awakening," laughs Lawless, who was used to swooping in with answers rather than attending community meetings, as she and her team now do, to hear the public's concerns. "It's hard work that most of us haven't done before, including myself. We're all swimming in a new pool." The Pilsen neighborhood, site of her initial launch pilot, for example, is built on land contaminated with lead and zinc caused by factory fires in the 1950s. The community might decide to focus on soil quality, in which case the disengaged students might collect and analyze soil samples, then advocate for remediation and better enforcement of environmental protection laws.
Other INCLUDES participants also report entering unfamiliar territory. QEM's Althea Burns, for instance, says she and her investigators "don't know how to do video" but have had to find a way. NSF plans to post three-minute clips in an online showcase where the public can readily view them. Another discovery: Geography matters. When partners are spread across the country, as QEM's are, it's difficult and expensive to bring everyone together for monthly meetings.
The kind of culture shift INCLUDES hopes to achieve won't happen overnight. Nor has the process been without kinks. Some participants worried about a perceived bias toward proposals from big institutions over local groups. Others see some misalignments between the collective impact approach and the imperative to get everyone on board and act quickly.
Big Ideas

The push for convergence and cross-cutting collaborations propels much of NSF's latest research agenda, unveiled by Córdova last May. Framed around 10 "big ideas" finalized at a two-day retreat of senior managers, the list includes helping humans better interact with technology, harnessing big data, and handling the impact of a melting Arctic. The unusual plea for long-term federal investment—including creating a fund for researching large questions that bubble up outside of any particular directorate—was greeted with excitement. It showed "intellectual horsepower that's unparalleled anywhere in government that I have seen," enthused Dan Arvizu, chair of the National Science Board at the time.
Engineers and scientists can play a pivotal role in promoting, not just implementing, this bold initiative, starting with submitting ambitious grant proposals that don't fit inside the traditional boxes. Engineers and engineering educators are key to realizing several of NSF's big ideas, says Khargonekar, particularly on the human-technology frontier. "How do we ensure in this era of artificial intelligence that there will be jobs, good solid jobs?" he asks. "Human augmentation rather than replication is how we should think about the future of engineering and technology—how to help people do what they do better." This new paradigm will combine engineering, computer science, social and behavioral science, and education in novel and exciting ways, Khargonekar predicts, adding that today's crucial research problems, whether in health, the environment, or the economy, will require fresh "modes of thinking" as well as collaboration, Consider, for example, the testing of new cancer drugs. Traditionally, scientists would do in vitro testing on cell lines, then advance to animal testing and finally to human clinical trials. But NSF-supported engineering researchers working with National Cancer Institute researchers could develop high-fidelity, 3-D models to learn how real tumor cells might react to a therapy. Engineers wouldn't know what medically was critical for the simulated tumor to show, while physicians wouldn't have the modeling tools. The breakthroughs lie in the synergy of the two mind-sets and knowledge bases.
As LIGO demonstrated, breakthroughs require a stomach for risk—with no guarantee of success. Its triumph underscored how small advances can add up to big discoveries. It's a lesson worth remembering when reckoning the odds of INCLUDES and NSF's other long-term bets. "We have to be persistent and creative," says Córdova, but "if we make something happen where we are … others are going to see it and feel it."
By Mary Lord
Mary Lord is deputy editor of Prism.
Print Cover Illustration by Francis Igot
Design by Nicola Nittoli