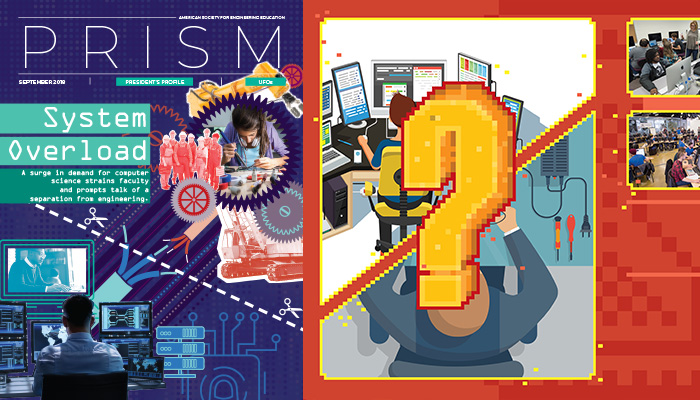 A huge demand for coding skills encourages a push for independent colleges or departments. But finding faculty won't be easy.
When chemical engineering major Katherine Steinberg struggled with a lab report that involved complicated graphing, her friends in computer science suggested she try the programming language known as R. "Shoot," she told them. "I don't know how to do that." It was one among many instances where Steinberg, now beginning her senior year at Case Western Reserve University, wished she had learned more computer skills. She's not alone. Students nationwide, in a variety of majors, have for years been recognizing the need for expanded computer expertise in their classwork and in the post-graduation marketplace. Many are adding it to their already burdensome course loads. The result is surging demand that poses major academic and organizational challenges for universities. Among them is the question of splitting computer science away from engineering.
The number of computer science majors at major North American universities has more than tripled since 2006, and interest in computer training among non-majors appears to be growing even faster, according to last year's annual university survey by the Computing Research Association (CRA). The reason isn't hard to see. College graduates who don't have sufficient computing expertise will have more trouble getting hired and face lower salaries when they do, according to a study this year by IBM, Burning Glass Technologies, and the Business-Higher Education Forum.
"Employers tell us they want certain skill sets," particularly in artificial intelligence, machine learning, and data sciences, says Darryll Pines, dean of engineering at the University of Maryland-College Park. All engineering and computer science students should have "some fundamental instruction" in those skills, he says. "We at Maryland have created a minor in AI/ML for students to get these skills and tools going forward."
Faculty Shortage
If the students can find the time for extra computer courses, their universities and their teachers often can't supply them. The CRA survey found that the number of tenure-track faculty is increasing only about a tenth as fast as the number of computer-science majors, with more than a third of the institutions already acknowledging a resulting drop in student performance.
It's a supply-and-demand dilemma with no simple solution: Students are flocking to computer courses because of the high pay and plentiful job options, and those same benefits make it hard for colleges to attract and retain faculty with valuable computer skills. "We have to actually admit this is a real problem," Charles Isbell, executive associate dean of Georgia Tech's College of Computing, told the National Science Board in July in a panel discussion on artificial intelligence. "We've had a 30 percent reduction in computer science Ph.D.'s who have gone into academia. They're all going into industry."
Universities are trying various solutions, including developing new methods for teaching larger groups, offering computer engineering minors and optional courses, reassessing computing-related degree and job classifications, charging more for high-demand majors, and developing private partnerships.
One potential remedy with support among some academic and industry experts seems to be especially difficult for many universities to pull off: organizational restructuring. The idea is that computing has grown so fast in so many parts of universities that institutions could achieve much greater efficiencies—and make themselves more attractive to students, faculty, and funders—by combining all, or nearly all, of their computer-related educational content into a single school.
That argument was put forward recently by two major studies of how to handle the boom in demand for computer science. One, soon to be published by the CRA, argues that computer science has grown markedly distinct from its traditional home in colleges of engineering, science, or liberal arts, especially in its wide applicability and value to other majors.
A single computing-focused school is easier to manage, expands opportunities for fund-raising and research grants, and helps build an institutional reputation for excellence in the field, says the association's executive director, Andrew P. Bernat.
A panel assembled by the National Academies of Science, Engineering, and Medicine to study how universities should handle the explosion in demand for computer science recommended that larger institutions, and in particular, research universities, "should reevaluate the organizational placement of the computer science department" and "consider whether a college of computing could help to improve organizational efficiency and benefit its students." The group's 252-page report, following two years of study, concluded that demand for computer science would continue to grow. It also noted: "Computer science and its related endeavors such as data science have produced powerful tools and software systems that are used by and affect every discipline, giving rise to exciting subfields, such as computational biology, computational economics, computational chemistry, and digital humanities, with more emerging."
The Rochester Institute of Technology, which unified its computing courses into a single school some 20 years ago, certainly has felt the benefits, says Ryne P. Raffaelle, RIT's vice president for research and associate provost. The change from having computer science courses taught "in six or seven places" led to more efficiency, less waste, and better faculty recruiting at an institution now more easily recognized as a computing powerhouse, according to Raffaelle. "Putting those pieces together really helped it bloom," he says of RIT's computing growth.
Breaking Up is Hard
For many engineering schools, however, jettisoning computer science would mean losing one of their strongest departments. Computer science inside engineering schools awarded more than twice the number of bachelor's degrees in 2017 as did computer science outside engineering and awarded the highest number of master's degrees of all engineering disciplines, according to ASEE's annual survey.
For engineering students like Katherine Steinberg at Case Western, where computer science is part of the engineering school, the problem is less one of departmental alignment than of integrating computer science into engineering programs. For a project she's been pursuing on energy efficiency, programming ability would have helped her handle large volumes of data. Modeling and simulation skills are as important as traditional physical tools in training engineering students to make decisions, Donald R. Falkenburg of Wayne State University argued in "Information Technology in Support of Engineering Education: Lessons From the Greenfield Coalition," a chapter in the National Academies' 2005 report Educating the Engineer of 2020.
Yet last year's National Academies report listed several leading universities that have managed to cultivate top reputations in computer science without implementing the organizational consolidations the Academies' study panel advocates. They include the University of Michigan and the University of Illinois at Urbana-Champaign, which house computer science in their engineering colleges; and the University of Texas at Austin, where it's in natural sciences, and the University of Maryland at College Park, where it's in the College of Computer, Mathematical, and Natural Sciences. Some leaders within such institutions, however, admit privately to be pressing for computer-related consolidations, while finding institutional inertia and fiefdoms to be chief barriers to such a change.
At RIT, the unification of computing courses is now regarded as a wise choice, but "it wasn't a popular decision" at the time, given faculty preferences to stay in their familiar homes, Raffaelle says. Many weren't eager to join a college "that didn't exist last week." Deans and department chairs also can be tough to persuade, given that new organizational alignments can mean whittling their power, financial or otherwise, Raffaelle says. While the National Science Foundation, a leading grant-making agency, increasingly encourages interdisciplinary collaboration and what it calls "convergence," it still maintains separate directorates for engineering and computer science.
Serving Nonmajors
Challenges associated with the massive demand for computer-related education extend beyond questions of organizational alignment. Regardless of which courses are located in which schools and departments, institutions increasingly see the need to incorporate advanced data-related training into virtually every major.
The CRA survey showed that between 2005 and 2015, the number of noncomputing majors enrolled in computing courses intended primarily for majors increased at least as fast as the number of majors did. In introductory courses, it found, majors increased by 152 percent while nonmajors grew by 177 percent. In mid-level courses, majors increased by 152 percent while nonmajors grew by 251 percent.
Yet progress in expanding computer education may be easier to accomplish than faculty members imagine, says one widely recognized expert, Rob A. Rutenbar. Now the senior vice chancellor for research at the University of Pittsburgh, Rutenbar previously headed the department of computer science at the University of Illinois at Urbana–Champaign. After joining Illinois in 2010, he promptly organized a departmental faculty retreat to consider how to cope with the surging demand for their expertise.
Illinois already had begun teaching a few "CS-plus" courses—tailored to specific outside majors—with partners in fields such as math and statistics. The computing faculty felt it should expand that concept across the campus. But they weren't sure how to go about it.
Rutenbar, with experience as a serial entrepreneur, told them to make a start-up-style "value proposition" assessment of what the university's other academic units most wanted and valued. The result wasn't a series of new tailored courses but a careful identification of what existing computer-science courses would be most useful to outside majors. For that process, the computing faculty simply needed partners in other departments who could help with that assessment process, says Rutenbar. "We designed zero new courses," he said.
Other institutions have created new courses, but with a specific, limited purpose. They include Harvey Mudd College, a small engineering institution that also emphasizes liberal arts. After years of giving its noncomputing majors a standard introductory computing course, Harvey Mudd realized it was the only computing course many of them ever ended up taking.
"It taught a lot of nuts and bolts that you would need in computer science, but might not be the things you would need if it was your first and only computer science course," said Ran Libeskind-Hadas, a professor of computer science at Harvey Mudd.
So Libeskind-Hadas and some other faculty members spent a summer brainstorming, reading about curriculum and best practices, and coming up with an entirely new introductory computing course that was as much about the technical basics as about excitement and possibilities.
Part of the new course, a three-week module on how computers work, is admittedly a "shameless sales pitch" for electrical engineering, Libeskind-Hadas says. But it also helps attract women and minorities, and in the past decade it's been adopted by colleges large and small.
And at an institution where engineering and computer science are separate departments, Harvey Mudd tries hard to encourage computer-science majors to explore engineering courses, Libeskind-Hadas said. That kind of cross-pollination will only gain importance in the coming era of the Internet of Things, when Web connectivity will be part of almost every new product and service, he said. "There's quite a few places in the field of computer science where you get pretty close to the hardware," Libeskind-Hadas says. "And at that point, you really better understand how it works."
Employers certainly understand that, says Brian K. Fitzgerald, chief executive officer of the Business-Higher Education Forum, a grouping of corporate chief executives and university presidents. At the same time, he adds, specialization matters and must be preserved. Different fields and different industries deal with their own types of data and face their own types of regulatory environments. In some cases, Fitzgerald says, computer science programs can be too rigid in their course offerings, and instructors forget that only a small fraction of jobs actually require extensive computing skills.
"One thing we've heard over and over and over again, from working with companies around the application of skills and data science, is that domain-specific expertise matters immensely," he says. For instance, working in highly regulated sectors such as health care and education means navigating tight restrictions on the collection and sharing of various types of data. That means efforts to innovate in such fields will require people who understand both computer processing and the specific needs of the sector where that processing is being used, Fitzgerald says.
There are different views, though, about how best to achieve that goal of domain-specific expertise. While Rutenbar advocated the campuswide use of existing computer science courses at a major institution like Illinois, Fitzgerald says smaller campuses might do better with computer science faculty helping their colleagues in other disciplines to cocreate and co-teach new concentrations and minors.
Industry's Wide Range of Needs
Curriculum redesign, however, is not a simple matter regardless of departmental boundaries, says Alexis Abramson, interim chair of electrical engineering and computer science at Case Western. And designing useful field-specific computer courses can be tricky, Fitzgerald notes, since workplace needs can be industry-specific, company-specific, and sometimes counterintuitive. A big manufacturer like John Deere needs a tightly blended mix of expertise to make industrial vehicles with complex embedded computerization. Yet advanced cloud computing has left major banks like JPMorgan Chase no longer hiring the teams of computer engineers they once needed when assembling their financial networks, Fitzgerald says.
There's an added complication for universities: Even as colleges strive to incorporate computer science knowledge across fields to satisfy employer demand, corporate appreciation of the humanities and social sciences remains strong. Tech giants, including Apple and Microsoft, are increasingly embracing majors from such fields as art and psychology, realizing that the human element will always carry high value in technology. Students see that and want colleges to offer any number of combinations of majors with computer science. Universities can comply, "but it has to be done very thoughtfully" to make sure students are getting a meaningful education, says Jared Cohon, a professor of civil and environmental engineering and engineering and public policy, as well as a former president, at Carnegie Mellon University. That's a conversation taking place right now at Case Western, Abramson says, as faculty weigh the tradeoff of "perhaps watering down the fundamentals, to have more breadth."
Another organizational challenge posed by computer education's fast growth is the right-sizing of faculty expansion, given that this is now the third recent computer-related enrollment boom, following jumps in the mid-1980s with the introduction of personal computers and in the late 1990s with the rush to Web-based applications. Many institutions fear they might overhire in computer sciences and be stuck with unneeded faculty once the current boom subsides. They shouldn't worry, Cohon says: "It's different this time," with computing becoming pervasive in practically every field and discipline.
Stripping away computer science courses from engineering schools also may provide engineering educators an opportunity to look anew at the core values and skills that their field represents, and to try to make them more accessible to other students.
Engineering is a process for solving problems that involves teamwork, systems-level thinking and modeling, and breaking down challenges with a fresh set of eyes, Rutenbar says. Computing, by comparison, is largely a tool, with fairly obvious applications in other fields. But, Rutenbar acknowledged, many of the concepts and approaches of engineering could be useful in other disciplines. "Maybe if engineers thought about it, they could create something like this," says Susanne Hambrusch, a professor of computer science at Purdue University, referring to the broad surge in appreciation throughout higher education that her field has been experiencing.
Meanwhile, the field of computer engineering—the purely hardware world of computing—appears to be universally accepted as belonging within schools of engineering, where it is sometimes paired in the same department with electrical engineering. Yet one dean noted recently that "companies want computer engineering to have more software."
Questions of organizational alignment largely reflect the needs of undergraduate students and their teachers, rather than the activities of researchers. Computing and engineering researchers certainly need interdisciplinary cooperation, especially as the Internet of Things comes to dominate their professions. But researchers can find partners relatively easily across disciplinary boundaries, whereas universities aim to establish schools and departments of manageable sizes to effectively recruit and assess their students and professors.
At Case Western Reserve, Steinberg personifies how students can suddenly find themselves at a disadvantage without coding skills. "It might be nice to have more computer science required," she says. "But at the same time, the engineering curriculum is just so heavy with classes already that we don't have a lot of time for electives. That makes it hard too." Her projects include studying which metals best handle the electro-deposition of zinc for use in battery development, and figuring how best to balance the load on power systems that use intermittent solar power. They require deep subject knowledge and the ability to process huge volumes of data quickly. But Steinberg is learning that for the engineer of 2020, both are essential.
By Paul Basken
Paul Basken, a member of Prism's editorial advisory board, is a longtime writer on higher education.
Print cover image by Francis Igot. Design by Francis Igot.