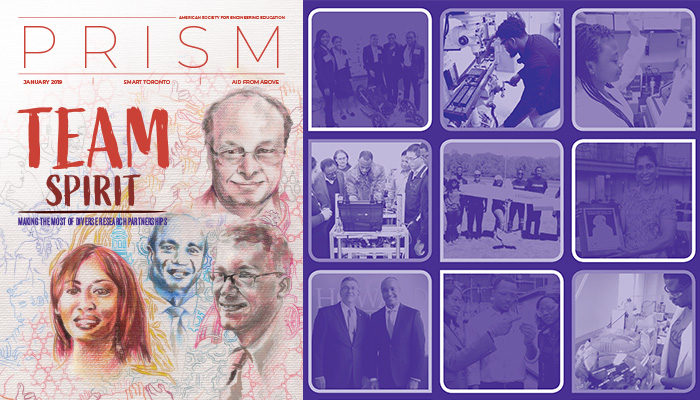 When they work well, collaborations between minority-serving and predominantly white institutions can strengthen and diversify the engineering talent pool.
By Mary Lord and Mark Matthews
As an electrical and computer engineer known worldwide for breakthrough microchip-testing methods, Shawn Blanton usually attends conferences to present his research. But nowadays, the Carnegie Mellon University professor is equally likely to be manning an information table just like any other vendor. His mission: Recruit potential applicants for a dual engineering Ph.D. offered jointly by CMU and Howard University. "It's almost selling itself," says Blanton, an African-American, noting that e-mail from interested students began arriving the day the program was announced in June.
The pairing of CMU with America's first engineering school for students of color is one of a number of collaborations between historically black colleges and universities (HBCUs) and primarily white institutions (PWIs) that could begin to alter the engineering landscape. Unlike past efforts, which sometimes enlisted HBCUs as bit players toward the end of the grant-proposal process, the latest alliances work in tandem on the shared imperative of dramatically expanding and diversifying the engineering talent pipeline.
"Strong partnerships" between research-intensive and minority-serving institutions (MSIs) was among the commitments made by engineering deans in a 2015 ASEE diversity initiative that has drawn 200 signatures. "Becoming more diverse isn't just the right thing to do; it's doing engineering right," contends signatory James H. Garrett Jr., Carnegie Mellon's newly installed provost, who as engineering dean championed the collaboration with Howard. "You can't solve a problem efficiently if you don't have a diversity of ideas." And thinking outside the box becomes difficult "if you look across the table and everyone looks like you."
Such collaborations can range from a pair of researchers sharing a project to regional compacts, like Georgia Tech's dual-degree cooperative agreements with Spelman and Morehouse Colleges and other minority-serving institutions, and the single engineering school at Florida State University and Florida A&M University. Research partnerships are encouraged by federal research agencies and congressional overseers worried that the nation's preeminence in research and innovation is slipping away. While international students still account for more than half of U.S. graduate students in engineering, the latest figures show signs of a decline in foreign attraction to American universities, underscoring the importance of preparing U.S. citizens and permanent residents who are now underrepresented in engineering to fill the gap. While the examples cited in this story mostly involve HBCUs, they represent just a fraction of collaborations between majority-white schools and minority-serving institutions generally.
Cultural Change
One model is a National Science Foundation-backed project spearheaded in 2010 by Northeastern University's Srinivas Sridhar to train Ph.D. students in medical applications of nanotechnology. Seeking to "catalyze a cultural change in graduate education," Sridhar decided that a majority of trainees would come from under-represented populations, and enlisted as co-principal investigators Tuskegee University's Tamara Floyd Smith and Oscar Perales-Pérez of the University of Puerto Rico–Mayagüez.
Floyd Smith, then an associate professor of chemical engineering, was no stranger to collaborative projects, having already partnered with faculty at Cornell and Auburn universities. Still, she didn't feel certain of success when she joined Sridhar's $3 million, five-year, three-campus, interdisciplinary venture. "We were a new team. It was a first-time collaboration, and there's always a risk of a personality mismatch," she recalls. Also, she foresaw a challenge in preventing "drift"—the tendency among doctoral students to be lured away from their original research plan by a new discovery. The curriculum was ambitious, with four specialized courses and a weekly seminar—all conducted online—plus an internship requirement and K-12 outreach. Floyd Smith found Sridhar, a professor of physics, to be "just very easy to work with and very comfortable working with minority-serving institutions. We were able to meet our goals" in recruitment and retention. As for her students, "somehow we were able to stay on topic." The project produced 14 Ph.D.'s, 45 peer-reviewed published manuscripts, 125 conference presentations, and five patents.
If the Northeastern-Tuskegee matchup exceeded Floyd Smith's expectations, as she says it did, even more desirable for minority-serving institutions are projects where they assume a lead position as principal investigators. Tuskegee recently received an NSF grant to establish a "world-class collaborative research program" in multiferroic polymer nanocomposites with the University of Nebraska–Lincoln's Materials Research Science and Engineering Center. Investigators envision a two-way exchange that includes extended summer research experiences for Tuskegee undergraduates, workshops, and even the creation of cross-institutional courses. Prairie View A&M University in Texas, meanwhile, is the lead institution on a five-year National Science Foundation-funded project to develop, implement, and study a model with four Texas A&M system universities to help historically underrepresented minority STEM doctoral candidates successfully complete their degrees and transition to postdoctoral work and faculty careers.
"There's a lot that an MSI can learn from a majority institution, and vice versa," says Floyd Smith, currently on leave from Tuskegee, where she is now associate provost and a full professor, to serve as a program director at NSF. While some HBCUs have acquired sophisticated laboratory equipment in recent years, major research universities offer "every resource you can think of" as well as feedback. This is important particularly at smaller schools, where a researcher might be the only one working in a particular discipline. "They don't have clusters. They don't have critical mass," she says. On the flip side, researchers in large institutions "learn how to be more creative when they see how people work in under-resourced institutions, and to be culturally relevant. It's probably fair to say they develop as citizens."
Avoiding Tokenism
Not every MSI-PWI collaboration matches Floyd Smith's experience. Cajetan M. Akujuobi, the former vice president for research, innovation and sponsored programs at Prairie View A&M University, has learned to be careful. He has enjoyed successful collaborations with, among other schools, Arizona State and Texas A&M universities. Any meaningful collaboration must be a win for both sides, he says. Akujuobi recalls times when a funding agency demanded diverse participation, and a majority institution "chose to use us to make up that number. They get the money, you give them a token number of students, and all you get is peanuts."
S. Keith Hargrove, dean of engineering at Tennessee State University, would like to see more research collaborations between HBCUs, such as his, and major research institutions, but he cautions: "It's important that the partnerships be genuine, with resources equitably allocated and distributed. Sometimes there are shortcomings with regard to that." Too often, he says, expectations of a shared significant role and impact aren't met. "Once the [funding] award is made, the level of engagement sometimes seems to disappear…I would definitely conclude that the full benefits (of collaborations) have not been realized."
In her first couple of years as engineering dean at North Carolina A&T State University, Robin Coger would get calls from majority white institution faculty as they were poised to submit a grant proposal, inviting her school to sign on. "Thank you for thinking of us," she would reply. "We only embrace actual collaborations." (Coger is a member of Prism's Editorial Advisory Board.)
Floyd Smith has found that worthwhile partnerships tend to spring not from the need to add a partner to a proposal but from relationships—often begun at conferences—based on common research interests. But not everyone is ready for such joint ventures. Ivory Toldson, who led the White House Initiative on Historically Black Colleges and Universities under Barack Obama, conducted a focus group of HBCU faculty for the Negro Education Journal, which he edits. Participants "indicated that racial biases and racialized hegemonies between HBCUs and PWIs can influence the mind-set of HBCU researchers," he writes. "Candidly, some focus group participants admitted that some HBCU researchers have an inferiority complex. Some reported resistance to ask for help when faced with challenges for fear of reinforcing racial stereotypes. They also exhibited fear and skepticism about collaborating with neighboring PWIs, or PWIs in general, because of fears of losing autonomy and suspicions about the motives of PWIs who are interested in working with HBCUs. 'They feel like they have to put an HBCU in, so it will look like they're doing something diversified; instead of saying these are our strengths, these are your weaknesses, and this is what we can do to help, and vice versa.'"
"Historically, HBCUs have not been supported in an equitable manner and have been undervalued as possible collaborators," says Trina Fletcher, an assistant professor at Florida International University's College of Engineering and Computing who studies STEM education at HBCUs. "By improving collaborations and increasing resources given to HBCU efforts, we could see the numbers (of minority engineering graduates) increase drastically."
Federal government attempts to address the PWI-MSI imbalance have brought, at best, mixed results. As far back as 1950, Congress found that "minority-serving institutions provide important educational opportunities for minority students, particularly in science and engineering fields," the Congressional Research Service reports. More recently, lawmakers have specifically authorized spending to strengthen graduate education at MSIs. Of the nation's 700 or so MSIs, the 101 HBCUs are most closely identified with the struggle against racial discrimination. Concentrated mainly in the South, they include private colleges begun by former slaves like Tuskegee's first principal, Booker T. Washington, and public land-grant institutions created under the 1890 Morrill Act to educate African-Americans barred from Southern state colleges in the Jim Crow era. A common characteristic is that they "meet students where they are" and work to overcome gaps in preparation. Punching above their institutional weight, they graduate 27 percent of African-Americans with STEM bachelor's degrees and are the institute of origin for almost 30 percent of blacks who earn doctorates in science and engineering. Illustrious HBCU graduates include NASA aerospace engineer Aprille Ericsson-Jackson, the first African-American woman to receive a Ph.D. in mechanical engineering from Howard, one of 15 ABET-accredited HBCUs, and Super Soaker inventor Lonnie Johnson, a Tuskegee alumnus who worked as a systems engineer on NASA's Galileo and Cassini missions.
The primary mission of most HBCUs as teaching institutions means their faculty generally have less time for research than their PWI peers. While the joint FAMU-FSU engineering college treats faculty from both parent institutions the same when it comes to research-teaching balance, "in the past, for various reasons, (the college) hadn't submitted much from FAMU" in research proposals, says engineering dean Murray Gibson. That's something he's working to correct. "Most of our funding nowadays is collaborative."
Government R&D
Congress recognizes the role of minority-serving schools preparing a cadre of U.S. citizens to perform classified research and development. Lawmakers have instructed the Pentagon to work on increasing the number of MSI graduates in fields important to national security and "encourage research and educational collaborations between such institutions and other institutions of higher education, government defense organizations, and the defense industry."
Yet congressional intent—and tens of millions of dollars spent on broadening-participation initiatives—have yet to turn MSIs into research powerhouses. A National Academies panel that examined MSIs found "only scattered examples of federal agencies that have made intentional efforts to establish MSIs as leading members of government-funded research partnerships." The panel reported that a large portion of MSIs "do not engage in high levels of research activity, and typically federal investments are geared toward training programs rather than research grants or contracts." Toldson made the same point in a paper published on the Department of Education website: "In recent years HBCUs have mainly received funds for educational activities."
There are exceptions. A few HBCUs perform cutting-edge research while expanding educational programs. NC A&T, the nation's leading producer of African-American engineers, for instance, has led a multi-institution $36 million NSF engineering research center, Revolutionizing Metallic Biomaterials (RMB-ERC), which developed the first ABET-accredited bioengineering degree program at an HBCU while generating scores of publications.
If African-Americans are underrepresented in engineering generally, they earn a minuscule 3.89 percent of doctoral degrees, training ground for new faculty and industry experts. One way to draw more African-American students is to have more faculty members who look like them. "If you see an article regarding minorities and STEM, they focus on the bachelor's-degree level," comments Nadir Yilmaz, mechanical engineering chair at Howard. "The country needs minority Ph.D.'s in academia." This is where the revolutionary CMU-Howard partnership promises to make a difference. This fall, the inaugural cohort of engineering graduate students will arrive on Howard's campus in the nation's capital and Carnegie Mellon's at Pittsburgh to begin a fully integrated dual-degree Ph.D. program. All had to apply and be admitted to both institutions—though departments could differ—and must spend at least three semesters in each location. An adviser from each school will collaborate on research and help select relevant coursework that satisfies both Ph.D. program requirements. Students will be able to transfer course credits, submit a single dissertation, and ultimately graduate—in two separate ceremonies—with a doctorate from each university.
"We are creating a paradigm that does not yet exist," says Achille Messac, Howard's engineering dean. Like many flashes of inspiration, this unique partnership emerged from a "confluence of events"—beginning with a dinner conversation between Messac and his old friend and fellow optimization researcher Jon Cagan, a professor of mechanical engineering and associate dean at Carnegie Mellon. With both colleges committed to improving equity and excellence, initial discussions led to a memorandum of understanding around the "synergistic objective" of increasing the number and diversity of engineering Ph.D.'s. Both colleges hosted visits in June and July for faculty to showcase their research and explore the logistics.
"We wanted the partnership to be a win-win-win—for students, Howard, and Carnegie Mellon," Garrett tells Prism, noting the mutual respect on which it was built. For students, the benefits include access to a wider variety of courses and opportunities to conduct research in advanced facilities on emerging technologies that range from self-driving cars to cybersecurity to biofilms. The collaboration, which will include a summer bridge program for eligible undergraduates to conduct research at the other institution and coaching for students transitioning into the dual-degree Ph.D. program, is expected to develop joint research projects and ratchet up the supply of highly trained African-American engineers and faculty.
Starting Small
Messac hopes this new partnership "will break the mold" of traditional collaborations, which award crumbs to HCBUs while doing "precious little" to change the "appalling" underrepresentation of women and minorities in engineering. "I intend to be results oriented," he says—and inching up from a tiny, tiny fraction to slightly larger sliver simply won't do. "You have to be in repeated doubling mode!" But Messac also is "aggressively patient" and believes that selecting a small, stellar group of initial dual-degree students—he has perhaps five or six potential candidates—will enable exponential growth as the program matures. "I want to get it right," he explains.
Both engineering schools can boast measurable progress in one diversity metric: In 2017, women made up 43 percent of Carnegie Mellon's first-year engineering students, up from 32 percent four years earlier. At Howard, 43 percent of the bachelor's degrees in engineering were awarded to women—twice the national average.
"Diversity doesn't come as a compromise in performance," insists Messac, who as chair of mechanical and aerospace engineering at Syracuse University saw the department's rankings rise after he hired its first female and minority faculty members. Success of the Carnegie Mellon-Howard partnership will be gauged on such measures as the increase in African-Americans earning Ph.D.'s and the quality of research and publications. While setbacks inevitably loom, poverty and poor academic preparation aren't among Messac's top concerns. "If you take students of humble means and humble backgrounds and put them in a situation of high expectations, they live up," he says. He cites his own humble upbringing in Haiti, where people stayed and tackled problems, to encourage struggling engineering students to stay the course.
Funding remains a big challenge. A true two-way street, as Messac envisions, will require "serious investment" so faculty members can bring students in on research projects with tuition and a stipend. Ultimately, growth of the program will require a shift in priorities—and sense of urgency—at the national level, with tech companies contributing more. "The universities themselves must change their game," concludes Messac. The Carnegie Mellon-Howard collaboration could prove a catalyst. Other colleges, including Texas A&M, have expressed interest in replicating the model, and both partners expect the dual-degree program to spawn new research initiatives.
"Just running the numbers up is not sufficient," says Carnegie Mellon's Blanton. "You have to create an environment to be successful."
In keeping with the CMU partnership, Howard's own environment is increasingly looking both techie and entrepreneurial. The university is leading 11 MSIs working to gain a foothold in Silicon Valley, building on Google in Residence, which placed engineers from the tech giant on Howard's and other HBCUs' campuses, and a 2017 pilot in which 26 students spent a summer at Google headquarters learning algorithms, software engineering, machine learning, and other computer science topics. An expanded program, called Tech Exchange, lasts a full year and includes 65 students and five faculty from participating schools.
Grant Warner, associate professor of mechanical engineering at Howard, has joined forces with George Washington and Hampton universities in stimulating student entrepreneurship. Warner, who has start-up experience, secured a $350,000 NSF grant to establish a Howard-Hampton Innovation Corps (I-Corps) site, which is part of a DC I-Corps "ecosystem" that also includes the University of Maryland, Virginia Tech, and Johns Hopkins Universities. DC I-Corps is one of eight regional I-Corps nodes. At GW, Warner mentors many students preparing to pitch new-venture ideas. He and Daniel Kunitz, GW's I-Corps director, co-teach short courses at each other's schools. Warner welcomes the access to the broader network that DC I-Corps offers. "The node institutions have offices dedicated to entrepreneurship and can share that capacity—events, competitions, speakers—with the Howard community," he says. One Howard student who has caught the startup bug is Kymberlee Hill. A computer science major, she co-founded Curl IQ, aimed at women of color with natural hairdos. The company applies data analytics and computer vision technology to customers' photos to determine their hair type and recommend appropriate products.
Yilmaz, for his part, maintains a strong relationship with Sandia National Laboratory, which assigns projects for Howard seniors to work on as part of their capstone. The students present their work at the New Mexico lab, where some are hired as interns. But he wants the relationship to move beyond undergraduate training. "My dream—sometimes dreams require money—is to create a pipeline of STEM professionals who eventually get Ph.D.'s in mechanical engineering and get employed at national labs, NNSA (the National Nuclear Security Administration), and in national defense." Students would do their coursework at Howard with government support, perform research on an agreed topic at a government lab, and then return to Howard to defend their dissertations.
Heavy Teaching Load
Given the paucity of minority engineering Ph.D.'s, MSIs haven't been shy about seeking collaborators overseas or tapping the large cohort of highly qualified international postdocs to boost their research chops. NC A&T welcomes students from Henan Polytechnic University to complete their degrees at its Greensboro campus and, through its RMB-ERC, partners with research centers in the Republic of Ireland and Ulster. Among Prairie View A&M's successful hires is Lijun Qian, professor of electrical and computer engineering. A product of Tsinghua University, the Technion-Israel Institute of Technology, Rutgers University—where he earned his Ph.D.—and Bell Labs, Qian leads a multidisciplinary team of researchers at Prairie View's $5 million Air Force-sponsored Center of Excellence in Research and Education for big military Data InTelligence (CREDIT), which aims to "transform our ability to effectively address and solve many complex problems posed by big data."
"The fact that they are doing good research with a heavy teaching load is impressive," remarks Barbara Chapman, a professor at Stony Brook University who runs a high-performance-computing research lab. She and Qian began a long-distance collaboration at the urging of a former student of Chapman's who joined the Prairie View faculty. She was a keynoter at a CREDIT workshop, has hosted interns from Prairie View, and served as an adviser to Qian's team. She welcomes the chance to encourage more diversity in her field, where she says African-Americans are severely underrepresented.
While academics at majority-white institutions, such as Chapman, gain appreciation for MSIs' role in training engineers, word is slow to reach industry, says Coger, who chairs the HBCU Engineering Deans Council. "Companies put millions into PWIs" to promote diversity "with relatively low returns, compared to the consistent successes of HBCUs in producing diverse engineers," she says. With whatever else is on their plate these days, MSIs will have to add another challenge: branding.
Mary Lord is deputy editor and Mark Matthews is editor of Prism.
Design by Francis Igot