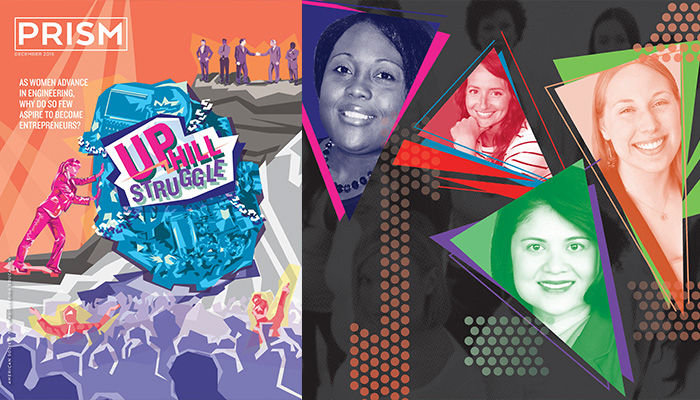 Women face a number of hurdles in entrepreneurship, including – for many – their own reluctance.
Kate Groot has many enthusiasms. An industrial engineer who minored in psychology, the 2012 Ohio State University grad is now working with the Red Cross, redesigning a Veterans Administration mental health facility to accommodate team-based treatment. "It can range from looking at the flow of patients and where people need to be located together, all the way down to how wide does the hallway need to be to accommodate wheelchairs and the Americans with Disabilities Act, and everything in between," she says. This work, she feels, uses her training to improve people's lives.
But Groot's real passion is smoothies. She has been making them since high school, with fresh fruit and juices, and has it down to a science. "I find myself getting very frustrated with what's out there in existing smoothie businesses. You get either a generic, industrialized mix of ice and high-fructose corn syrup from some mass-produced thing, or if it's fresh, it costs 10 or 11 dollars."
Her "industrial engineer's dream" is to launch her own firm, applying all she knows about efficiency and process improvement to produce smoothies that are fresh, healthful, and affordable. She would develop a supply chain of seasonal fruit; calculate prices that draw customers, yield a profit, and afford a selection of added ingredients without lengthening checkout times; devise optimal workflows and use of machinery; and explore "interesting labor practices to make the job a worthwhile employment option for more than students."
That dream, however, is on hold. "I am distinctly avoiding starting a business—at least during the first 20 years of my career."
Why? She wants to start a family before she turns 30, a work-life balance struggle many women face. And she worries that starting such a firm would remove her – perhaps permanently – from the engineering career track. But the biggest issue is money. "I'd want to start it with my own money," she says. Although she might be comfortable seeking outside funds for a project that makes a well-understood contribution to society, selling smoothies is different. "It seems silly to try to take money for that kind of a business."
Underrepresented
Groot, 24, isn't alone in putting down, putting off, and generally pushing away her passion project in favor of something more stable, or one that puts others' needs before her own. While entrepreneurship draws increasing attention among engineers both on and off university campuses, it is, to date, an overwhelmingly male phenomenon.
Women-owned businesses account for about one-third of all types of businesses in the United States, generating $3 trillion annually and creating or maintaining 23 million jobs. But many of these are one-person operations. Among firms with paid employees, women-owned businesses account for about 16 percent of the total, and their share of revenues and employees is in the single digits, according to a 2014 paper published by the Ewing Marion Kauffman Foundation. In addition, women usually represent less than 10 percent of founders of high-growth firms, the study says. If women participated in entrepreneurship at the same rate as men, the employment and revenue numbers could increase sharply and make a big economic impact. That's because small businesses already account for nearly half the nation's private, nonfarm economy. And they're a growth sector: Since the Great Recession, small businesses have been responsible for 60 percent of the country's job expansion, with science- and engineering-oriented firms accounting for an increasing share.
The reasons for the relative paucity of women entrepreneurs are many: Fewer women enter the high-tech pipeline; many still fight the old stereotypes that they are less capable than men; and many others reach the age and expertise level to start a business at about the same time as they are considering starting families and the burden of care for children is still much higher on women than on men. They lack mentors and role models. They're short of capital, often tapping personal savings. The risk factor is also important: Many women seem less drawn to the prospect of wealth and success than they are fearful of failure and debt. A final barrier is that many feel they need to know everything about business and start on their own.
"I was not confident about my product, didn't know if it was a good idea," recalls Anastasia Angelopoulou, founder of AdvancedModSim, which produces simulation software that anyone can use to visualize data and space. "I was also not confident in my presentation skills, or if I had enough knowledge to start my own business by myself." While completing her Ph.D. in modeling and simulation at the University of Central Florida, Angelopoulou joined UCF's Innovation Corps (I-Corps), the National Science Foundation-backed program for scientists who want to commercialize their research. I-Corps required her to step out of her comfort zone and make weekly presentations, and also approach potential customers for feedback.
A similar lack of confidence echoes in scholarship on women entrepreneurs. A 2014 report from Babson College, for instance, reports that only 46 percent of women believe they are capable of starting a business, compared with 61 percent of men. As a result, many seek more stable employment situations with traditional benefits and reward structures, like medical insurance, family leave, and raises or promotions.
"Depending on where you are in your career, especially in engineering," Kate Groot says, "if you get out for too long, it can be hard to get back in. Yes, I'm young, and yes, I don't have the financial responsibilities yet, but I would be afraid to go and start something and then set myself back two or three years in engineering in an organization by the time I get mid-career. I've invested four years into my education."
Joyce Ho describes herself as both "fairly risk averse" and lacking in business savvy. Even while working close to Silicon Valley at Lawrence Livermore National Laboratory, "I never wanted to do a start-up." But she changed her mind while pursuing a doctorate in data mining and machine learning at the University of Texas – Austin and saw the potential for data analytics to improve healthcare. Together with one of her thesis advisers, Sriram Vishwanath, and recent Texas Ph.D. Yubin Park, she co-founded Accordion Health, Inc., which uses data analytics to help healthcare organizations make decisions that both improve patient outcomes and lower costs. The young firm got a boost with a federal Small Business Innovation Research grant and won second place in the Health Data Consortium's 2014 Code-a-Palooza contest. Now it has attracted an investor and is preparing to grow, but uncertainty persists as to whether "healthcare is ready for us. I hope healthcare companies are ready to innovate."
This would seem just the right moment for Becki Lanter to put her energy management experience to work in her own consulting business – something she's always wanted. With degrees in physics and mechanical engineering, she has revamped energy systems for a grocery chain and is now working to reduce energy costs and use throughout the Northern Kentucky University campus. "I love getting to see what different businesses and organizations do—and how energy management can fit in with that," she says. But Lanter just had her first child this year, and says, "Financial stability is a big piece of my personal life and what I need for my family right now. If I were to start my business, it would be a while down the road because of that." Having performed contract work in the past for various Kentucky school districts, she's familiar with the risk that would accompany going solo, and doesn't want to subject her family to it.
Breaking out of a familiar career path can be hard for female university researchers who might want to commercialize their discoveries. Women already face a challenge of proving themselves capable in a still heavily male academic environment, argues Ari Turrentine, who was, until recently, a research and evaluation analyst with VentureWell, formerly the National Collegiate Inventors and Innovators Alliance. "Just when the financial and status rewards of years of academic research are about to be realized, it can be a major decision to dilute this competitive specialization with commercialization," she wrote in a paper presented at the 2015 ASEE Annual Conference. "[T]he fact that women have to struggle harder to establish a career and move up the promotion ladder makes this even more important for female academics."
Turrentine is one who made the leap. She is now vice president of operations at Next Thing Co., a startup that aims to make disruptive technologies widely accessible. Her company's current project is a Kickstarter-funded $9 computer. Like Raspberry Pi, it's designed to be simple and affordable and enable anyone to use the device. A roommate of hers from college, Dave Rauchwerk, started the company and recruited her.
The 'Ick' Factor
An Ohio State University study published in 2014 highlighted several other common problems that women in academia face. One is that their plates are already completely full. "While all faculty can claim to be busy," it says, "women expressed great reluctance to add work onto already overfull schedules." Teaching, research, family, and extracurricular university obligations leave little time to think about commercialization.
The choice of an academic career, for women, often means a rejection of business. In their study, Academic Women: Underrepresented Entrepreneurs, Ohio State researchers interviewed women STEM faculty about their decisions to enter teaching positions at a much higher rate than industry and entrepreneurial activities. They found that "a strong prejudice against business thinking prevails, which produces a parallel distaste for commercialization—the 'ick' factor. One faculty member even described venture capital funding as 'dirty money.'"
Michelle Fennessy encountered a less-than-warm welcome at Ohio State's College of Nursing when she arrived armed with a patent she had secured for software that tracks a patient's treatment in real time. "There's a lot of misunderstanding, I think, in the academic world about intellectual property," she says. Although she had sought a patent to protect her idea, "I spent a good part of my first year as a tenure-track faculty member defending why I was doing what I was doing in terms of my research. It's almost like they think you're tainted [for being in business]. . . .You're not glorified as someone who is an innovator. You're seen as a Darth Vader."
While such attitudes may keep some women from courting investors, even those who seek venture capital (VC) come up short in comparison with men. Women-led businesses receive only around 5 percent of VC funds, even though one venture capital firm (First Round) found that its companies with a female founder performed better than companies with all-male founding teams.
"Venture capital is a biased system," says Vivek Wadhwa, a Duke University-based scholar of entrepreneurship whose column, "Leading Edge," appears in Prism. "It's typically old men who achieved success in the past, who think that they are very smart and can find other people like them who can do it in the future. But inherently, when you're talking about innovation, they're out of touch."
Wadhwa, who has written extensively about the need to encourage women entrepreneurs, adds: "The VCs believe that the next generation of technology is a boy's game—young [men] dropping out of college and changing the world. The stereotypes are all wrong; the models are all wrong; so the deck is stacked against women and against really world-changing innovation." VC firms in Silicon Valley have generally been unwelcoming to women, although that's starting to change in the face of criticism, Wadhwa says. "They started looking in the mirror and thinking, hey, maybe they're right. Maybe we are doing something wrong."
Women's lack of participation represents a loss not just for them but for the economy, argues a Ewing Marion Kauffman Foundation report. "By addressing the gender gap in entrepreneurship, policymakers can unleash a wealth of ingenuity and creativity that can spark a new era of entrepreneur-led growth," the report says, citing research showing that women bring "a more nuanced view of risk"; show greater ambition to become serial entrepreneurs; and that their presence in business leadership correlates with increased returns.
In some academic fields, entrepreneurship could become a career enhancement alongside scholarly publications. A November report by the Association of Public and Land-grant Universities urges: "Technology transfer activities should be explicitly included among the criteria relevant for promotion and tenure, at the university, college, and department levels, as appropriate to the discipline." The report argues that, when successful, "technology transfer can invigorate the university and establish relationships with other private and public sectors that affirm the value of a research university."
Engine of Growth
According to the U.S. Small Business Administration, small businesses paid for and performed over 18 percent of U.S. industry R&D in 2010 alone, totaling more than $4 billion. That same year, small businesses held 37 percent of U.S. industry patents and employed 382,000 R&D scientists—31 percent of the industrial research workforce.
Men with advanced degrees in science and engineering are more likely to get positions with high-revenue R&D programs that nurture and encourage patenting and entrepreneurship. Women Ph.D.'s are more likely to go into academia and, if they start businesses, to do so in a consulting rather than innovation capacity. Academia and consulting tend to be more traditionally welcoming of women and lead to more stable positions.
Turning a laboratory discovery into a marketable product can be tough for women and men alike, notes Phil Weilerstein, president of VentureWell. "You're by definition doing something innovative—something that's never been seen before," he says. "People will often believe that you're doing something that doesn't make sense, particularly as you're early on and you don't have your proof points in place. I've observed that sometimes the difference between someone who sounds like a crackpot and a visionary is often a relatively small amount of factual proof."
Still, in high-tech and engineering fields, women in academia are patenting at significantly lower rates than their male colleagues: Fifteen percent of women pursue patents, compared with 28 percent of men, according to the Small Business Administration.
This gap may be traced partly to "different types of exposure among men and women to entrepreneurial opportunity experiences," suggests a Kauffman report, citing a paper from the SBA's Office of Advocacy. "In fields such as mechanical engineering, where women represent a small share of graduate students, male and female students still have different experiences when it comes to their faculty advisors, interaction with private industry, and entrepreneurship."
Even when successful, some women can be reluctant to accept the fact. Take the example of one high achiever interviewed for this article, a tenured engineering professor at a prominent university and author or co-author of more than 150 papers, whose patents number in the double digits. She is currently starting her third business with a biomedical innovation that she developed and patented, financing it with her own money and grants, rather than investor funds. Now on her way to breaking $2 million in her first year, she asked not to be identified because she does not believe her company is successful enough yet.
This woman's path to profit was unusual in that she recognized her own business limitations and yet was not deterred by them. Instead, she built a team to take care of the business side so that she could focus on research and publications. Some research indicates teams tend to be more successful than lone-wolf companies.
For women reluctant to take the plunge into entrepreneurship, help is available both at universities and through government programs like I-Corps. At the University of Florida, the Empowering Women in Technology Startups program offers training in developing a business plan and managing a startup, pairing participants with female mentors.
For women faculty, Ohio State's REACH for Commercialization conducts workshops to explain how the university's technology commercialization office "can help turn research, ideas, inventions and technologies into business opportunities and products that make an impact in the local and global marketplace." Joining REACH was a source of relief for Michelle Fennessy. "I had started almost thinking, 'Well, maybe I don't belong here. Maybe I belong in Silicon Valley.'" With REACH, she was able to network with other enterprising faculty and local entrepreneurs, develop business plans, pitch ideas, and strategize about seeking funding. Nonprofits like VentureWell help connect people with funding for their ideas. Other engineering programs are attracting women at an earlier age by implementing entrepreneurship and humanitarian engineering courses starting freshman year. Crowdfunding, too, has been beneficial for women. Sites like Kickstarter successfully fund more projects led by women than by men.
Women-led angel investor networks like Golden Seeds, Springboard, and 1776 actively seek out women to fund. This is making some headway, but Turrentine and others argue that men themselves need to speak up more on behalf of women entrepreneurs. "The inherent problem is that we are all created equally, and we should be judged by our gray matter and not by our exterior," says T. D. Lowe, founder of EnovationNation, based in Palo Alto, California.
Lowe's company operates a website where an innovator can publish an idea for just $10. That publication – called defensive publishing – reserves the idea and gives the person a year to develop it, seek funding, and file a patent. The process is aimed at discouraging "patent trolls" – firms that buy up unused patents and then sue others for infringement. EnovationNation doesn't single out women, but it helps them – and underrepresented minorities as well – by giving them inexpensive entry into entrepreneurship. When it comes to the gender disparity in funding, Lowe advocates not for equal gender representation but for all ideas and innovations to be considered on their merits. That, she says, is what will lead to true diversity. "I think to combat any problem – whether of sexism or discrimination – it can only be combated with experience," Lowe says. "In your entire life, if all you've ever laid eyes on is a strawberry, you'll think the only fruit in the world is a strawberry. But when you discover that there are oranges, and peaches, and star fruit, that there's this whole vast array, having the experience of feeling, tasting, touching the fruits – it adds a whole different perspective. . . Have (investors) experience one woman, one underrepresented minority, one transgender, lesbian, bisexual person who doesn't fit the mold of what they're looking for. It will only take one person for the entire paradigm to shift. We're seeing it more and more with women, definitely."
As it happens, varied ingredients also produce a great smoothie.
By Jennifer Pocock
Jennifer Pocock is assistant editor of Prism.
Print cover illustration by Francis Igot
Design by Francis Igot
Images courtesy of T. D. Lowe, Ari Turrentine, The Ohio State University, Kate Groot, and Thinkstock