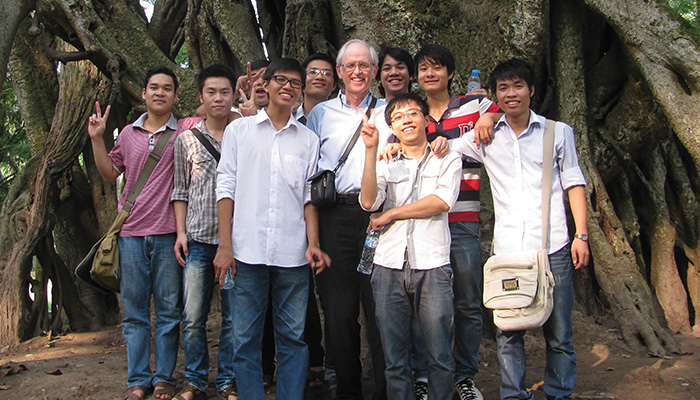 In an unusual partnership, University of California, Davis educators are helping Vietnam bootstrap its economy by training the next generation of petrochemical engineers.
Normally, University of California, Davis undergraduates spend 10 weeks in Klaus van Benthem's Properties and Materials course—required of all chemical and mechanical engineering majors. But one extraordinary group hurtles through the same lectures, homework assignments, two midterms, and final exam in just two weeks. What sets these students apart is not aptitude but address: They're Vietnamese, taking van Benthem's accelerated Engineering 45 at the Hanoi University of Mining and Geology (HUMG).
Four decades after America ended its costly and painful war in Southeast Asia, U.S. engineering education relations with Vietnam are flourishing, thanks in no small part to pioneering partnerships like the one UC Davis's chemical engineering department established with HUMG nearly a decade ago. The rapid-fire "advanced program" goes way beyond a handful of visiting lecturers teaching a course or two. Instead, with funding from Vietnam's Ministry of Education, UC Davis faculty members developed the entire chemical engineering curriculum and now teach at least 75 percent of the courses—in English. The goal: Train chemical engineers for Vietnam's evolving oil and gas industry.
"The main reason our faculty do this is a service to the global community of chemical engineers," says Tonya Kuhl, vice chair of chemical engineering at UC Davis.
The effort has its roots in a long history of cooperation between UC Davis's College of Agricultural and Environmental Sciences and Vietnamese universities. "A fellow at our agricultural program had a chance to meet the head of the chemical engineering program at the Hanoi University of Mining and Geology, who said he wanted to modernize their curriculum and asked if he knew anybody who could help," explains James Shackelford, a professor of chemical engineering and materials science. The Hanoi contingent ultimately got in touch with Bob Powell, then chair of Davis's chemical engineering and materials science department. A delegation that included the rector of the Hanoi University of Mining and Geology and the chair of the department of oil refining and petrochemisty visited the California campus in the summer of 2010, and the advanced program formally began in 2011. Davis faculty "have really taken this program to heart," says Powell.
Economic Engine
Vietnam has large oil fields off its southern coast that for many years provided its leading export. Other sectors, including a robust electronics industry, have overtaken energy as the country continues to transition from a rigid, centrally planned economy. A growing middle class, annual GDP growth of 6.2 percent, a strong manufacturing sector, and a commitment to global trade mean that petroleum will play an increasingly vital role in spurring and sustaining development. "It's a huge, growing industry in Vietnam, and there are a lot of employment opportunities for students, particularly chemical engineers," says van Benthem, noting that all the large oil companies, including BP and ExxonMobil, have drilling platforms in the South China Sea. A new refinery is coming online this year.
That's a big deal. "I'm not sure when the last time a refinery was constructed in the U.S.—many are a hundred years old or so," says Kuhl. "Vietnam wants their own citizens operating this kind of facility. They want their citizens to become leaders there so they can do it themselves."
Intensive Training
That's where UC Davis comes in. The school's faculty teach all of the Hanoi university's upper-division chemical engineering courses as well as some lower-division courses. Advanced program enrollment has grown over the years, to 279 today. Of some 50 or 60 graduates so far, 90 percent are in career jobs, Kuhl estimates.
While classes, which include thermodynamics, kinetics, and mass transport, cover the same material as their American counterparts, the Vietnamese versions are taught in three-hour daily bursts for two weeks rather than three or four weekly 50-minute slots over 10 weeks. Advanced program students typically are "a very hardcore sort—only the best students get into it," says van Benthem. His Engineering 45 class is considered hard at Davis, he notes, "but in Vietnam they not only do it in a fifth of the time but also do it in a foreign language. The classes are taught in English, they have to do exams in English, and the office hours are in English. But from what I can see, it's been hugely popular and very successful."
The Vietnamese undergraduates also are "very eager to learn," adds van Benthem. "My first experience walking into the classroom there was of the students all jumping to their feet like they were standing at attention. I said good morning, and they all loudly replied, 'Good morning, teacher.' It was really cool." The fact that classes are taught in English is part of the draw. "They want to get exposed to the English language and international interactions," van Benthem says, noting that there are lots of highly paid jobs in international companies operating in Vietnam, "and while English-language knowledge is not necessarily required, it's very much appreciated."
Exposure to the give-and-take of Western-style teaching, versus just sitting and listening in lectures, also is "a huge selling point of the program," says Kuhl. It not only helps build the Vietnamese students' confidence, she observes, but also improves their English skills. Kuhl also finds her students "are very motivated to help their country and want to make sure the environment is protected."
Warm Welcome
The cultural experience works both ways. "I can certainly endorse the fame of Hanoi street food," says Shackelford. "It's spectacular food in a very beautiful country. Being there is like living in an Anthony Bourdain show."
About eight Davis instructors have gone to Hanoi, which Kuhl describes as a "dynamic, vibrant, high-energy city" that is both "very safe" and very friendly. She usually teaches there in March or April, during UC Davis's spring break, when the climate is a comfortable 80 to 85 degrees. The Vietnamese are equally agreeable. "The people are very warm and open—they are excited to talk to Americans and are very welcoming," says Kuhl.
The Davis team's five-day workweek starts about 8 a.m., with a half-hour car ride from their hotel near the heart of Hanoi to the campus on the city's periphery. They return to the hotel in the afternoon after lunch. Each instructor typically has about 30 students, although some have up to 60. In the middle of their stay, their Vietnamese hosts take them on a weekend sightseeing trip "that's always a lot of fun," says van Benthem.
Vietnam's Ministry of Education picks up the entire tab. "They buy the flight tickets, pick us up from the airport, put us up in the hotel, drive us to and from the campus, feed us lunches, and also pay us a modest stipend to spend on meals in the evenings," says van Benthem. Their campus hosts are equally generous. Before instructors head home to California, faculty, staff, and students typically want to take them out for a drink. "The students have so little money, but they insist on paying for beer as a token of appreciation," says van Benthem. "It's always sad to leave Vietnam."
Expansion Team
Parting may be sweeter sorrow in the future, if students from Hanoi get recruited to graduate programs at UC Davis. So far, three Vietnamese undergraduates have taken courses for a year or two in California, although their degrees still come from HUMG. One graduate landed a local job and is looking to apply to UC Davis for his master's.
The Davis team seeks to develop a lab course for the advanced program, hopefully with equipment donated by the Vietnamese petroleum industry, says van Benthem. He also envisions taking graduate students to Hanoi to help teach classes. "We typically think of graduate students doing teaching assistantships at our university, but we think an international opportunity could help build their portfolios in industry or academia," van Benthem explains.
Meanwhile, HUMG would like to expand the program to other engineering disciplines, such as computer science and materials science. Faculty also have requested UC Davis help with a research proposal. "If that were to be funded, we could involve graduate students both here in Davis and in Hanoi, giving us an additional dimension to our collaboration," says Shackelford.
The lure of visiting Vietnam for the first time may have initially propelled many members of the UC Davis team to teach in Hanoi, but the loyalty they feel toward students has kept them returning. "My personal reason for doing this is just to give back," explains Kuhl. "Now I go to help contribute to improved education there." Powell, the former department chair who launched the advanced program, sees benefits for both sides. "There's a lot of mutual respect between our faculty and their faculty," he says. "Everyone deserves a lot of kudos for making life better for a whole lot of students."
By Charles Q. Choi
Charles Q. Choi is a freelance writer based in New York.
Design by Francis Igot
Photo © James Shackelford, University of California, Davis