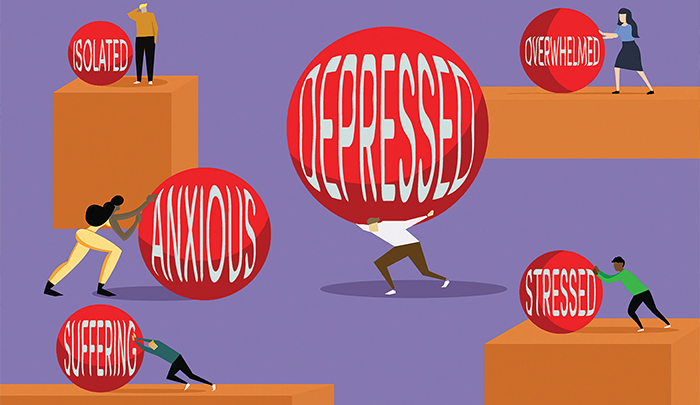 Stress Test
Engineering educators must address the urgent issue of student mental health.
By Karin J. Jensen and Kelly J. Cross

A growing number of college students face mental health challenges. Although research on engineering students is limited, some studies suggest that these students may experience higher rates of mental health issues than their non-engineering peers, while being less likely to seek help. Our recent study contends that the narrative of rigorous engineering programs—in which students often pull all-nighters, discuss weed-out classes, and endure the "math death march"—contributes to an expectation and normalization of high stress that can be detrimental to student mental health.
Our research sought to quantify engineering students' views of mental health challenges. We surveyed more than 1,000 undergraduate engineering students at a single institution, examining self-reported measures of stress, anxiety, depression, engineering identity, and perceptions of inclusion within engineering departments.
Participants reported moderate to extremely severe levels of stress (29 percent), anxiety (36 percent), and depression (35 percent). Female students reported higher rates of stress and anxiety than their male counterparts, while first-generation students reported higher rates of depression than their peers. In addition, we found students with higher stress, anxiety, and depression perceived lower levels of inclusion in their engineering departments. This finding underscores the importance of cultivating inclusive environments where students feel supported and valued.
In the open responses, students expressed a belief that engineering contributed to poor mental health or that poor mental health was an expectation in engineering. While our study took place prior to the onset of the COVID-19 pandemic, early research suggests that it has created and exacerbated stressors for students, further necessitating faculty members' increased awareness.
Our research has several implications for engineering education programs. We implore engineering educators to advocate for mental health resources and training to support students and to be aware of how students from different backgrounds may experience both stress and stigma about seeking mental health help. We recommend that engineering educators consider ways their courses, policies, and dialogue regarding mental health reinforce the idea that high stress is normal and expected in engineering. Specifically, we argue that educators have a critical role in disrupting the notion that high stress is a requirement for success in engineering by actively creating inclusive cultures where all students can thrive, not just survive.
While additional research is needed on factors that influence student mental health, engineering departments and colleges can immediately adopt proactive approaches to support students. For example, generate an institutional strategic plan, develop targeted interventions for known vulnerable populations within the student body, and establish or enhance mental health and crisis prevention services to increase access to mental health professionals and reduce wait times.
Individually, engineering educators should be aware of the location of counseling centers on and off campus, along with the procedures for referring students. By educating ourselves about student mental health and actively listening to students and organizations—for example, campus chapters of Active Minds, a nonprofit focused on young adult mental health—we can support students facing these challenges. Engineering faculty could also incorporate mental health statements in course syllabi; share information about campus wellness events and counseling services; and normalize prioritizing wellness by integrating it into the classroom, offering mindfulness activities or stretch breaks during classes, and minimizing expectations of constant e-mail connectivity.
The growing issue of student mental health demands our collective and individual efforts in research, resources, and advocacy. We must change the engineering culture to one that promotes mentally healthy engineers.
Karin J. Jensen is a teaching assistant professor in the department of bioengineering at the University of Illinois Urbana–Champaign. Kelly J. Cross is an assistant professor of chemical engineering at the University of Nevada–Reno and a culturally responsive practitioner, researcher, and educational leader. This article is based on "Engineering Stress Culture: Relationships Between Mental Health, Engineering Identity, and Sense of Inclusion" in the May 2021 issue of the Journal of Engineering Education.
© Getty Images / Alexander Da Silva