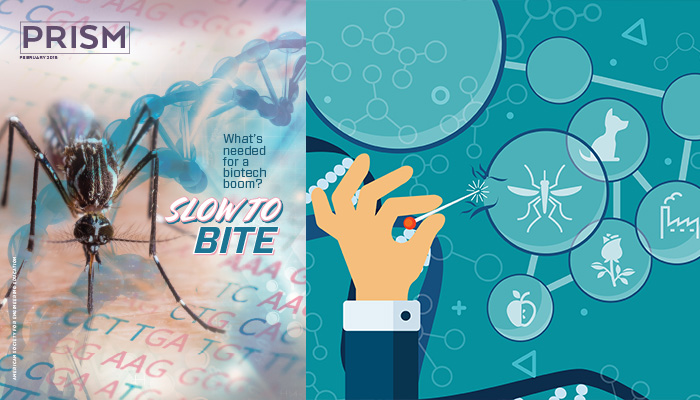 Why the biotechnology boom is still a work In progress.
Randal Kirk leads a company that industrializes genetic engineering. Intrexon develops insects that can shrink the population of bugs carrying disease and damaging crops. It produces apples that won't turn brown when sliced, salmon raised in tanks on land in half the time it takes the ocean variety to grow, bacteria that convert methane to high-value fuels and industrial chemicals, and a variety of medical innovations, including treatments for cancer and heart disease. Oh—and Intrexon also cloned Baxter, a fluffy brown toy poodle.
When explaining the science driving his 20-year-old Maryland-based firm, Kirk is apt to liken it to high tech in terms that sound more Silicon Valley than Salk Institute. "We're now able to harness the power of nature's software in meaningful and responsible ways," he said in videotaped remarks in Singapore. Before a San Francisco audience, he said, "I think we know what the world is now: It's a supercomputer." Thomas Reed, Intrexon's founder and chief science officer, expands on the theme: "Cells and organisms are 'living devices' which we can reprogram to generate valuable products as well as use to protect humans and the biosphere from both existing and emergent biothreats." The job of genetic engineers? "Tech support," concludes Kirk.
Alas, the electronics analogy works only up to a point. However stunning its discoveries, biotechnology lags far behind the world of computing in getting results to the marketplace, contends Jay Keasling, a professor of chemical engineering and bioengineering at the University of California, Berkeley. He's a leading pioneer in synthetic biology (Prism, Summer 2007), which he defines as "the design and construction of new biological entities or the redesign of existing biological systems." Keasling thinks biotech could bring nothing short of "a renewable economy." But research and development is costly and time-consuming. His own laboratory's breakthrough in re-engineering yeast to yield a drug for malaria took $25 million and 150 person-years.
"We need to turn the crank faster," Keasling says, and shrink the lab-to-market timetable to one tenth or even one hundredth of the period now required. "We really need the next generation of the biotech industry to look more like the microelectronics industry."
'Unimaginable Future'
Biotechnology's promise is widely seen as huge—not only for economic growth but as a means to mitigate a range of problems facing humanity: disease, demand for energy, pollution, manufacturing capacity, and food shortages. The Obama administration and European Commission made the "bioeconomy" a priority in 2012. While a force for decades in agriculture, biotechnology research and development has gained momentum across a range of fields in recent years as a result of advances not only in genomics, but in artificial intelligence, computing, and big data. These gains "have brought us closer to the threshold of a previously unimaginable future," the 2012 White House report declared. Beyond that threshold lay "ready to burn" liquid fuels produced directly from carbon dioxide, "biodegradable plastics made not from oil but from renewable biomass, tailored food products to meet specialized dietary requirements, personalized medical treatments based on a patient's own genomic information, and novel biosensors for real-time monitoring of the environment." A 2016 government study predicted that new biotechnology products derived from biomass could cut U.S. greenhouse gas emissions by 400 million tons per year, or 8 percent.
Biotech already is a growing industry. The market research firm Global Market Insights (GMI) put the worldwide value at more than $330.3 billion in 2015, with the United States accounting for $137.4 billion of that total. GMI predicts the global market will reach $775.2 billion by 2024. "The industry has managed to maintain strong growth compared to other industries," says Paul Winters, communications director at the Biotechnology Innovation Organization (BIO), the industry's leading trade group. Synthetic biology alone represented a $3.02 billion market in 2016 and should leap to $8.84 billion by 2022, according to research firm MarketsandMarkets. Industrial giants DuPont and Dow Chemical are engaged in synthetic biology projects.
No Slam Dunk
Still, the path to profitable production can be long and at times bumpy. Take just one of Intrexon's multiple ventures: gas-to-liquid conversion. The company has developed an industrial fermentation process in which bioengineered methanotroph bacteria consume and convert methane to a wide range of high-value fuels and chemicals, including the building blocks for "synthetic rubber, acrylics, resins, and spandex," the company says. Intrexon's source of methane, natural gas, costs less than oil, the more common building block for industrial chemicals, and is abundant in the United States. Robert Walsh, a chemical engineer who heads Intrexon's industrial products division, calls it "a game-changer in the gas-to-liquids industry."
The process, still in the pilot phase, "came as the result of nearly five years of effort by some very, very brilliant and confident people," Kirk told investors in a conference call last May. While the company plans to break ground on a small-scale commercial facility by the end of this year, Walsh's team faced an unspecified technical hurdle in its conversion of methane to one of the chemicals, isobutanol, requiring more work in the lab. In a paper presented last year before the World Congress on Industrial Biotechnology, Bryan Yeh, Intrexon vice president for process technologies, described the complexity involved: "To successfully bring this technology to commercial scale, consideration must be given not only to optimizing the bacterial metabolic pathway but to key issues in the fermenter design, downstream processing, scale-up, and overall plant economics."
The company's medical products, such as gene-based personalized immunotherapy for cancer patients, have to get past regulatory hurdles. In a break for the company last year, the U.S. Food and Drug Administration transferred to the Environmental Protection Agency jurisdiction over for a mosquito engineered to suppress the Aedes aegypti mosquito, which spreads the Zika and dengue viruses. The technique modifies male Aedes mosquitoes, which don't bite, to produce offspring with a "self-limiting" gene that causes them to die before reaching adulthood. The trademarked Friendly™ mosquito was developed by an Oxford University spinoff, Oxitec Ltd., that Intrexon acquired in 2015. The transfer to EPA may result in a clearer approval process, says Thomas Bostick, Intrexon's chief operating officer: "We're not making a health claim; our goal is to suppress the mosquito, and now the regulatory pathway will reflect it." A retired Army three-star general, Bostick served as commanding general of the U.S. Army Corps of Engineers before joining Intrexon in 2016.
When innovations are slow to yield profits, markets can be unforgiving. Hours after going public in 2013, Intrexon's price per share jumped more than 50 percent, to $24.73. As of January 18 of this year, it was down to $13.63. In a New Year's letter to employees, Kirk acknowledged that the stock market "rates our performance for 2017 at 'F', " explaining: "Our shareholders expected us to gain rapid adoption of our technologies and even significant transactions."
In a report last July, the nonprofit Council on Competitiveness said the biotechnology industry "currently has a disconnected development pipeline in which the many stages within the development-deployment cycle often include multiple destinations or transportation of materials, unnecessarily lengthening the overall process." The council went on: "The ideal future of biotechnology is one in which bio-based products are designed with a greatly accelerated research and development process with less trial-and-error."
Computer-Chip Model?
Keasling, at Berkeley, wants the biotech field to adopt the practice that helped supercharge the microelectronics industry. Microelectronic devices were originally designed and produced by the same company. Eventually, manufacturing techniques became standardized to the point where chip designs could be sent off to a foundry to be built. The Taiwan Semiconductor Manufacturing Company launched the first foundry in 1987, but there are now a number of others around the world.
DNA synthesis is a bit like silicon wafer processing, Keasling says. "Just like we have silicon foundries, we need to have biological foundries that will allow any user to come in, design on a computer what they want, send it off to a foundry to be built" and have it "work as planned." Development would also be hastened by a catalog of biological parts, devices, and software that enable rapid prototyping, he says.
One recent start-up has found a way to accelerate part of the R&D process: delivery of DNA to bacterial cells. Currently, scientists mix minuscule batches of cells and DNA in a fluid, then zap it with electricity to open pores in the cell walls that allow the DNA to flow in. It's a very slow process. "There's a lot of manual labor and a lot of pipetting," explains Cullen Buie, an associate professor of mechanical engineering at the Massachusetts Institute of Technology (Prism, November 2014). "Speed and efficiency are big bottlenecks." Buie and MIT research scientist Paulo Garcia have developed a process with the potential to speed up the delivery of DNA to bacterial cells by a factor of 10,000. Their method uses a continual flow of fluid to deliver the DNA to the cells. As the fluid courses through tiny channels no wider than a human hair within the tip of a pipette, it's hit by short pulses of electricity. That process allows scientists to run multiple configurations in parallel through 96 pipette channels. Last June, the pair cofounded Kytopen, which has since received seed money from The Engine, a new MIT investment fund.
Both traditional genetic engineers and synthetic biologists could use Kytopen's technology. So one business option is to become a service company to design, manufacture, and sell the technology to other biotech firms. "Services is where the greatest recent growth has occurred," says BIO's Winters. Employment in this sector expanded by a blazing 70 percent between 2001 and 2014. "It's a kind of economies of scale," Winters says. "It is able to service the other sectors with products like genes and cells." Among the bioservices leaders are Atum (formerly DNA2.0), which provides products and services to synthetic biologists; Caribou Biosciences, a pioneer of CRISPR gene-editing technology; and Ginkgo Bioworks, a synthetic biology company that designs and sells bespoke microbes to a variety of industries ( See accompanying article).
Bet the Farm
While a growing trend, this business-to-business model can rarely match blockbuster consumer products. Besides its capacity for rapid development, the microelectronics industry has prospered because "the closer you are to the consumer, the more money you make," Keasling notes. Apple created "an incredible following. We don't see that in bio right now," he says. Intrexon's Kirk recognizes this. The marketplace challenge, he says, is "anticipating—and applying technologies to—the products people will demand in the future." Bill Gates and Steve Jobs, he points out, "had to create the demand [for desktop computers]. They had to convince us." Kirk thinks consumers will want to put appetizing, non-browning apple slices into kids' lunch boxes, and Intrexon is betting 4 million trees on the project. The company hopes consumers will also recognize that salmon grown without antibiotics in Intrexon's environmentally controlled tanks is far superior to fish farmed in disease-prone ocean cages.
One drawback, particularly for bioagriculture and food producers, is consumer resistance to genetically modified organisms (GMO), particularly in Europe. This has caused some reluctance among investors to put money into genetically engineered agricultural products, says Brad Fabbri. He's chief science officer for TechAccel, which invests in new technologies and academic research in agriculture and animal health. The Council on Competitiveness recommends increasing education and outreach efforts to the public and policymakers. "The public perception of bioscience as a whole is incredibly important to moving forward, and scientists must remain ethically grounded to gain public trust," it states.
Concerns about public acceptance also were highlighted in the National Center for Biotechnology Information's 2015 report. It urged continued efforts to counter anti-GMO legislation and "ensure that the regulatory framework is updated so that synthetic biology products do not fall into regulatory gaps."
Fabbri sees "a lot of potential for investors" in genetically engineered agriculture. With arable land decreasing as the global population rises, farmers will need more efficient ways to grow crops and raise animals. "We don't want to place under cultivation more virgin rain forest," Fabbri says. To hear Keasling tell it, biotech's prospects are almost limitless, starting with the wide range of chemical products now derived from petroleum, including mouthwash, perfume, carpets, and paint. "There's a ton of products we can make with biomass," he says. Biotech can also enable lighter-weight materials for everything from cellphone screens to autos and aircraft.
Global Competition
There's no time to waste. While America holds the lead in biotech, China is catching up fast. In its most recent annual report, the congressionally established U.S.-China Economic and Security Review Commission reports that, in seeking to improve treatment and reduce unnecessary drug use, the Chinese government clearly "hopes to leapfrog existing biotech firms and become a global leader." Buoyed by a $1.58 billion line of credit from the China Development Bank, for example, the private Beijing Genomics Institute (BGI) bought 128 advanced DNA sequencing machines from California-based life-science toolmaker Illumina to become the world's largest genetic sequencer, accounting for roughly a quarter of all DNA data sequenced in the world in 2014. And while U.S. researchers publish more than a third of the clinical and foundational research papers in top-tier journals, compared with 1.4 percent for China, the share of genome-related papers by Chinese scientists surged from 4.5 percent in 2010 to 17.3 percent in 2014.
China's investment—including more than $3.2 billion in U.S. biotechnology and pharmaceutical sectors, according to the commission—already is paying off. In October 2016, for example, Chinese researchers began the world's first clinical trials using genetically modified immune cells to treat patients with advanced lung cancer. A year earlier, Beijing announced plans to invest around $9 billion in precision medicine by 2030. The United States also launched a precision-medicine initiative in 2015, the commission report notes, but with just $215 million in initial funding. The contrast prompted Eric Schadt, director of the Icahn Institute of Genomics and Multiscale Biology at Mount Sinai, to express frustration "at how aggressively China is investing in this space" while America is "not moving with the same kind of purpose."
The playing field isn't exactly even. Unlike its Chinese counterpart, the U.S. federal government is barred from funding embryo research or conducting clinical trials with inheritable genetic modifications. Chinese drug safety rules, quality control, and enforcement also are weaker. Moreover, state control means Chinese agencies and researchers enjoy far greater access to genetic information without privacy laws or other regulatory encumbrances. Testifying before the commission last year, Federal Bureau of Investigation special agent Edward You cited claims by China's Ministry of Public Security that it had compiled the world's largest DNA database—more than 40 million individuals. "Whoever has the largest, most diverse data sets of different populations wins the day," testified You. Genetic information, like disease, apparently knows no borders. China's state-owned life sciences investment firm WuXi Healthcare has been contracted to do genetic sequencing and diagnostic testing for Americans, the commission notes.
Intrexon, for one, isn't standing still. Founder Reed sums up the firm's strategy in four words: "invent, acquire, integrate, optimize." The firm's scientists pore over journals and attend conferences to find promising technologies and explore new products that can be integrated with its own processes.. For instance, its method for suppressing disease-spreading mosquitoes is now being applied to insects that destroy crops. "The more we establish an understanding of defined biological realities, the better we can render a more accurate and thorough model of biological systems that can be engineered into novel, high-value products," Reed says. If biotech can speed up product development, it will have at least one big advantage over the existing chemical industry: It needs less capital-intensive infrastructure. Instead of requiring machinery to process a chemical by heating it to 400° Celsius, Intrexon is able to create manufacturing processes from enzymes in living organisms.
While other investors may grow impatient for results, Kirk, whose net worth Forbes estimates at $3 billion, is wagering on an Intrexon upswing. He recently expanded his stake in the company by $26 million.
By Mark Matthews with Thomas K. Grose and Mary Lord

Mark Matthews is editor of Prism. Thomas K. Grose is its chief correspondent, based in the United Kingdom, and Mary Lord is deputy editor.
Design by Nicola Nittoli
Disrupting DNA
A synthetic biology firm aims to revolutionize an industry—one custom-made organism at a time.
Imagine engineering a microbe to convert carbon dioxide into useful fuels, grow self-fertilizing crops, or diagnose and treat disease. Entrepreneur Tom Knight does more than just dream. The synthetic biology trailblazer and his team at Ginkgo Bioworks—the Boston-based start-up he cofounded in 2008—are working toward the day when, he predicts, the design, manipulation, and fabrication of organisms for specific purposes will usher in a "technological revolution" as transforming as the industrial and digital ages.
"Biology is the ultimate manufacturing technology," observes Knight, a former MIT computer engineer and artificial intelligence researcher who developed an early tool for assembling DNA sequences called BioBricks. "You start with sugar and sunlight or carbon dioxide and end up with an array of very complex and sophisticated products. There's nothing in industry like it—no comparable engineering platform." The closest equivalent to such a broadly applicable technology is silicon, says Knight. "But biology is better because it reproduces itself and you don't need to build a billion-dollar facility" as manufacturing chips requires.
Like Intel and other semiconductor pioneers, Ginkgo Bioworks is focused on building the sophisticated software tools and "robust foundry" needed to turn custom-designed organisms into useful products on a large scale. The company, launched with local and federal support, has since attracted some $429 million in private investment. It has already shown success in areas as diverse as nutritional probiotics and scents for cosmetics. A recently announced $100 million partnership with pharmaceutical giant Bayer aims to develop plant microbiomes that could allow corn, wheat, and rice to draw and use nitrogen from the air as fertilizer—potentially upending the $80 billion-a-year fertilizer industry while dramatically reducing pollution from farm runoff.
Success is by no means guaranteed. "We were—and are—in it for the long game, not to make a splash and go public," says Knight, who foresees it taking another decade to realize the "important goals" he and his team seek to accomplish. Indeed, Ginkgo Bioworks illustrates the serendipity of start-ups — and the helpful role that government intervention can sometimes play. The idea for the company first hatched back in 2008 at MIT's Computer Science and Artificial Intelligence Laboratory, where senior scientist Knight, two of his doctoral students, and another pair of engineering Ph.D.'s were working at the nexus of engineering, computer science, and biology to develop a way to "intentionally engineer a biological organism" for a specific task.
Knight, a seasoned entrepreneur and Defense Advanced Research Projects Agency grantee, determined that "venture funding would have been a very, very bad match" for the fledgling firm, given the quick returns investors typically demand. Plus, venture money principally goes to start and scale up production on existing products, and Ginkgo Bioworks was "very far away from that." Was it ever! The team operated out of a cofounders' apartment. Knight and his four younger colleagues, doctoral degrees now in hand, spent the first year planning, seeking research grants, and "finding and fixing equipment" they had scavenged from the labs of departed MIT professors, including a deceased Nobel laureate. Then the Great Recession hit.
In 2009, the Boston Redevelopment Agency offered Ginkgo BioWorks lab space in a new innovation zone in city's south seaport — along with a $150,000 loan. Knight added a $140,000 personal loan to the company. Around the same time, he heard about an ASEE/National Science Foundation fellowship, funded under the American Recovery and Reinvestment Act, that enabled companies to hire recent doctoral graduates on a temporary basis. "Oh my God, how could I get so lucky?" Knight recalls thinking. He scrutinized the eligibility requirements and discovered his four post-docs fit the bill. "The stars were aligned, that's all I can say," he reflects, calling the $200,000 in stipends "a very important thing in the first year."
Ginkgo BioWorks has come a long way from its Dumpster-diving past. Today, 31 robots enable a handful of technicians to test prototypes and develop such products as yeast that makes rose oil—advances that would require dozens of scientists at conventional biolab benches. The company, the "largest consumer of DNA fragments in the world," according to Knight, will soon open a third foundry, supported by $275 million in private investment. And while the joint venture with Bayer on self-fertilizing crops ultimately could fizzle, another synthetic biology initiative from Knight's MIT lab is yielding results. Now in its 14th year, the nonprofit International Genetically Engineered Machine (iGEM) Competition attracts 305 university and high school teams from around the world. Students spend a year on a synthetic biology project, then present their work at a jamboree. Some 2,500 showed up for the 2017 showcase. "It's absolutely a mechanism to push the technology out the door," says Knight, calling iGEM the "most important undergraduate education program out there in this field." It also deepens the DNA talent pool that Ginkgo Bioworks and other biotech innovators will need to advance their fledgling field.
By Mary Lord
Mary Lord is deputy editor of Prism.