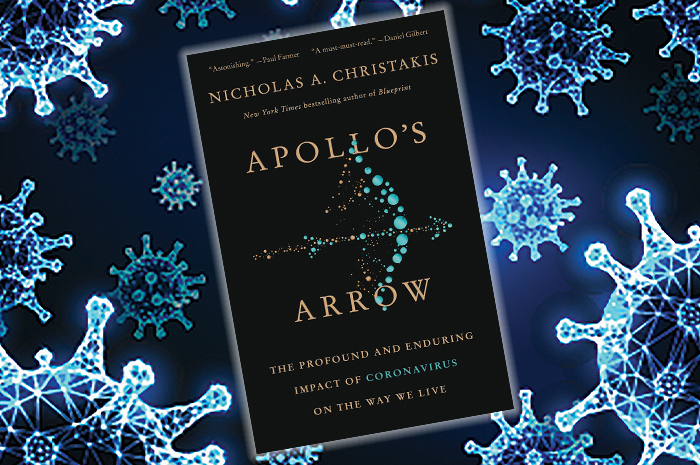 The Plague Years
A sociologist and physician taps history for insights on surviving and recovering from pandemics.
Review by Robin Tatu
Apollo's Arrow: The Profound and Enduring Impact of Coronavirus on the Way We Live
By Nicholas A. Christakis.
Little, Brown, 2020.
384 pages
Literary references to plagues and their human toll stretch back to antiquity. This compelling new book, for example, takes its title from the beginning of Homer's Iliad, when "frequent funeral piles of the dead were continually burning" after an enraged Apollo emptied his quiver of affliction on the offending Greeks during the siege of Troy. In recent years, warnings of the current global crisis—including a now-famous 2015 TED Talk by Microsoft cofounder Bill Gates—abounded. Yet because truly global scourges strike just once every century, we lose our collective memory. As a result, writes Yale University sociologist and physician Nicholas Christakis, "despite the advances we have made in medicine, sanitation, communication, technology, and science, this pandemic is nearly as ruinous as any in the past century."
His wide-ranging study asserts that the coronavirus is a threat "both wholly new and deeply ancient" that challenges society to marshal modern forces of science and technology as well as lessons from the past. Apollo's Arrow does both, exploring at length the medical aspects of COVID-19 and other pandemics while referencing historical precedents. Christakis, an expert on social networks, draws heavily on his work overseeing research on individual and collective interactions at Yale's Human Nature Lab and supporting interdisciplinary collaboration at the university's Institute for Network Science. Early last year, work at both labs pivoted to COVID-19 efforts, from helping Chinese researchers track the disease's spread using cellphone data to developing an app "based on network science and machine learning techniques" to assess people's risk of infection.
Written between March and August 2020, Apollo's Arrow doesn't seek to keep up with unfolding developments in vaccines, protocols, or school openings. Instead, the author mulls how societies suffer and survive pandemics, offering insights to help people "understand what we are confronting, both biologically and socially," and "explain how we will get to the other side." We have the social and political will to defeat the virus and recover from its economic, educational, and psychological impacts, Christakis believes. Yet when and how we reach that point will define us "and our own moment facing down this ancient threat."
The book opens with the December 2019 outbreak in China and the response from scientific communities worldwide as the novel coronavirus—officially known as SARS-CoV-2—spread. Chapters elaborate on the return of "an old enemy" and the rapidly contained 2003 epidemic of SARS-1 (severe acute respiratory syndrome), a close relative of today's disease, before diving deep into discussions of infection, spread, and virus mortality rates. Medical history buffs will find the examination of the 1918 and largely forgotten 1957 flu pandemics, and the waves of bubonic plague in the sixth, 14th, and 19th centuries, particularly riveting. "Plagues are a feature of the human existence," Christakis reminds us. "What happened in 2020 was not new to our species. It was just new to us."
Three core chapters—"Pulling Apart," "Grief, Fear, and Lies," and "Us and Them"—explore the fault lines of pandemics, from economic disruption to resistance to mitigation measures such as masks and limited gatherings. A key public-health lesson for today's outbreak can be found in the 1957 flu pandemic, which infected nearly a quarter of the U.S. population but was quickly quelled through widespread vaccination. In other chapters, Christakis examines the rapid spread of conspiracy theories, including that 5G cellphone towers caused COVID-19, and ways for societies to address the epidemic of misinformation. The book closes on a cautiously optimistic note, asserting faith that our "collective will for disease control" ultimately will prevail over this and future pandemics that surely will strike.
Though COVID-19 continues to rage, there already are lessons emerging for the next pandemic. Among them: the urgent need to address social, economic, and racial inequities exposed by the crisis and the importance of public health institutions, science, and international collaborations. Like the myth of Apollo's arrow, epidemics "have been a part of our story all along," writes Christakis, "yet humans survive, armed with knowledge and hope."
Robin Tatu is Prism's book editor.
© Amazon/Getty Images