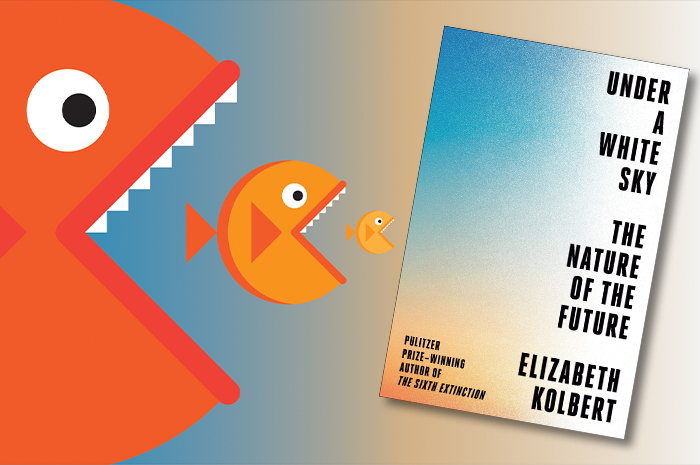 Unintended Consequences
An award-winning science writer examines environmental problems caused by humans and proposed technological interventions.
Review by Robin Tatu
Under a White Sky: The Nature of the Future
by Elizabeth Kolbert.
Crown, February 2021.
406 pages.
In the children's story The King, the Mice, and the Cheese, the monarch of a rodent-infested palace is advised to bring in cats only to see them overrun his realm. To handle successive scourges, he imports dogs, then horses, lions, and elephants, which ultimately are brought under control by … mice.
Such escalating complications dominate science writer Elizabeth Kolbert's latest look at Earth's ecological crises, which profiles "people trying to solve problems created by people trying to solve problems." Even before last month's United Nations climate-change report declared "code red," the Pulitzer Prize–winning journalist emphasized the importance of continued intervention to address the extremes of human-caused damage. Applying technology to tackle species extinction, rising sea levels, and extreme weather strikes many as repugnant, Kolbert writes in Under a White Sky—but to do less could ensure planetary collapse. As Ruth Gates, a marine biologist known for her assisted-evolution projects to save coral reefs, put it in her discussion with the author: "A future is coming where nature is no longer fully natural."
Kolbert's book takes us into research labs racing against the clock to address climate impact, demonstrating the collective ingenuity of engineers and scientists as well as the complications of playing God. The author opens with a literally electrifying example of cascading consequences. In the late 19th century, the U.S. Army Corps of Engineers redirected the Chicago River to divert sewage from Lake Michigan. Celebrated at the time as a technological triumph of man over nature, the Chicago Sanitary and Ship Canal linked the drainage basins of the Mississippi River and the Great Lakes, opening a passageway for invasive Asian carp that, half a century later, were introduced as a "natural" replacement for toxic chemicals used on aquatic weeds in local Mississippi River tributaries. The hardy fish quickly escaped to other rivers, unbalancing ecosystems and driving many native fish and mollusk species to extinction.
Today, should they reach the Great Lakes, the carp could wreak havoc on up to 80 percent of North America's fresh waterways. To prevent this, the Corps has deployed a series of heavily electrified defenses along the canal whose pulses shock smaller fish and electrocute larger ones in the hope of blocking "public enemy number one," the carp, from moving through the passageway. The solution was considered both safer and more humane than other proposals, including poison, irradiation, and giant filters. The remedy remains imperfect, however, and carp continue to proliferate. Since decoupling the two waterways could take up to 25 years and cost some $18 billion, the issue now is how to control mankind's once-vaunted "control" of nature.
Subsequent chapters examine efforts ranging from preserving Nevada's prehistoric pupfish to breeding coral for Australia's rapidly bleaching Great Barrier Reef and using gene editing to revive the extinct American chestnut tree and reduce Pacific Island mouse populations. The researchers work with dedication but also with a "techno-fatalism," Kolbert writes. For most, these are not optimum solutions but "the best anyone could come up with given the circumstances." This is particularly true for those striving to combat global warming through massive carbon-capture systems and solar geoengineering projects aimed at reflecting the sun's energy away from Earth—the focus of the book's concluding section.
No geoengineering solution has managed to balance the need for wide-scale implementation with practicality, cost, and political capital. "How do you go about creating a $100 billion industry for a product no one wants to buy?" asks Kolbert. Moreover, the unintended consequences loom large. As Harvard geologist Dan Schrag, a solar geoengineering proponent, observes, the highest priority for researchers "is to figure out all the different ways this could go wrong."
Surprisingly, Kolbert only flicks at the importance of political and global collaboration in ensuring substantive change in a few concluding remarks. An index also would benefit serious readers. Nonetheless, the author's assured reporting, thorough research, and timely topic should inspire engineering academics to pursue bold ideas for rescuing our planet from ourselves.
Robin Tatu is Prism's book editor.
© Amazon/Getty Images/Alexander Da Silva