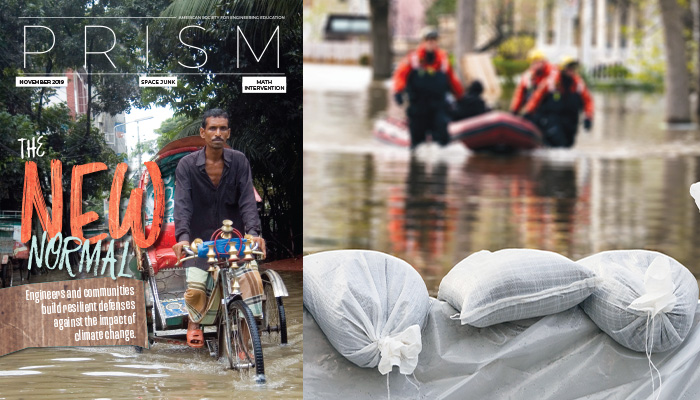 As climate change brings more erratic and extreme weather, engineers join interdisciplinary community-based efforts to build resilience.
By Jennifer Pocock
In June and July of 2012, when a series of three sudden, intense downpours—called microbursts—inundated Washington, D.C., the Bloomingdale neighborhood two miles north of the Capitol experienced catastrophic flooding. Water levels rose as much as 24 inches. Sewers backed up and carried waste into homes, causing up to $18,000 in damages per household, according to city officials.
This past July, another microburst struck the capital region, dumping a month's worth of rain—3.5 inches—in a single hour. Area waterways rose as much as seven feet in 30 minutes, flooding streets in Alexandria, Va. Commuters abandoned cars. A ceiling collapse sent water gushing into a subway station. Puddles formed in the White House basement, and sinkholes opened in suburban Potomac, Md., and Falls Church, Va. Yet Bloomingdale and other previously flooded parts of the District came through unscathed, avoiding millions of dollars in damage. Why?
Between 2012 and 2019, the District completed a major phase of a combined storm-water drainage and wastewater treatment project. The First Street Tunnel, a 2,700-foot-long, 23-foot-diameter underground water repository, sequesters up to 8 million gallons of storm water and sewage waste, which then flows into the Blue Plains wastewater treatment plant. "These tunnels serve as rain barrels," says Tommy Wells, director of D.C.'s Department of Energy and Environment. "They take the storm and sewage runoff and drain them by gravity so they can be treated later."
The First Street Tunnel, together with 17 more miles of tunnels being built under the Anacostia River and an expansion of wastewater treatment, result from a 1999 federal lawsuit against the local water authority. The suit was initiated by environmental groups alarmed at the amount of sewage ending up in the Potomac and Anacostia rivers during heavy rains due to antiquated sanitary sewers and storm drainage. The U.S. Environmental Protection Agency joined as a plaintiff in 2002. The region's waterways, once the source of abundant seafood—George Washington ran a thriving Potomac fishing business at Mount Vernon—are only now starting to recover from decades of harm wrought by urban sewage, rural agricultural runoff, and toxins from streets and parking lots.
While water pollution provided the impetus for what kept Bloomingdale dry this year, the multibillion-dollar infrastructure improvement by the District also serves as a layer of protection against the ravages of climate change. Microbursts, which used to be 25-year events in Washington, are now expected every five years. "We're looking more and more like Miami and New Orleans with these challenges," says Wells. Determining the new normal "is somewhat of a moving target," he says, and the reason behind a $5 million flood-modeling effort.
As storms increase in frequency and fury and droughts drain groundwater and invite wildfires, cities and towns around the country are taking a hard look at whether their infrastructure, building codes, and business and community groups are up to the challenge. Among questions they face are how to plan for sea level rise and whether to invest their money in early warning systems or infrastructure improvements. Participating are prominent organizations like the Rockefeller Foundation, which runs the 100 Resilient Cities project and a Resilience Accelerators program; interdisciplinary academic clusters of engineers, architects, and urban planners; and enthusiastic students.
"Students are really leading the way in a lot of these areas," says Thaddeus Pawlowski, an architect who is managing director of Columbia University's Center for Resilient Cities and Landscapes. "A lot of them are taking a strong stance with an enormous moral clarity that people in my generation have ignored for too long."
Color-Coded Infrastructure
In the nation's capital, steering stormwater is just one of several approaches to resilient infrastructure, which the city breaks into gray, blue, and green categories. "Gray" is building codes and bridge repair. "Blue" infrastructure relates specifically to water, and "green" is vegetation systems. Taking guidance from Copenhagen, which has similar weather and infrastructure, the District of Columbia is considering a "blue-gray" solution—cloudburst roads, which dip slightly inward at the center, funneling water away from buildings—and a blue-green-gray retention alley. That's a dipped channel beside the road, with grass and other vegetation, that funnels water from the road into the soil. A blue-green solution would be a floodable park—grassy recessed parkland that collects water in the event of a major storm. Purely green infrastructure—another District approach—includes roofs planted with water-absorbing grass, rain gardens over concrete surfaces, and permeable pavement. Green projects replenish groundwater and ease the urban heat island effect caused by concrete radiating heat.
Researchers at ReNUWIt (Re-Inventing the Nation's Urban Water Infrastructure), a National Science Foundation-backed engineering research center (ERC), have devised a natural form of protection against storm surges eroding coastal zones. Their Living Levee, which broke ground in Spring 2016, comprises a dense berm of brackish wetland vegetation, a freshwater swale, and an impermeable wall of gravel. The plants are nurtured by gray water from the Oro Loma Sanitary District just south of Oakland. The levee not only uses vegetation to break the flow of rising tides and sequester excess water, but it also acts as a natural filter for the gray water, stripping toxins and complex compounds—like trace medications from human waste—and adding to the area's wetland bird habitats. If adopted nationwide, the Living Levee has the potential to save trillions of dollars by reusing, treating, and sequestering water, ReNUWIt says. A 90-second elevator pitch for the project won $5,000 for Angela Perantoni, a Ph.D. student researcher at the University of California, Berkeley, ReNUWIt's lead institution, at the ERC program's biennial meeting in October. [Watch video of the pitch competition; Parantoni's comes at 50:02.]
Resilience is "more than just the physical and electrical and water infrastructure systems," says John van de Lindt, a professor of civil and environmental engineering at Colorado State University and codirector of the Center for Risk-based Community Resilience Planning. "It's the social and economic institutions. We have more than engineers in our programs; we also have a team of sociologists, urban planners, and economists." One of the projects at the center, which began in 2015, is a "computational environment," called IN-CORE, which offers communities ways to make "optimal changes and investments to achieve resilience over time." As van de Lindt explains: "In the next 30 years, there will be an earthquake in San Francisco. We want to minimize disruption and eliminate population migration." IN-CORE would look at the socioeconomic conditions, as well as infrastructural conditions, and help the city know where to best place its assets, whether that be in bolstering buildings and bridges, supporting the food supply, or protecting homes. "It's not about wanting 10 more buildings; it's wanting a quality of life" as quickly as possible following a disaster.
An engineering and sociology team from the center has followed the recovery of Lumberton, N.C., from Hurricane Matthew in 2016. The team's work represents what van de Lindt calls the first quantitative study documenting what the recovery from a disaster looks like over a long period of time. "We've been going back for the past three years and will go back again this spring to document housing and business recovery," he says. Teams will also interview households and track their finances, schooling, and ability to get food. From the beginning, the center has worked on effective communication—"the terminology of community resilience" between the disciplines involved. "One of the first things we noticed was that the economists called everything a 'shock,' [while] engineers think of a shock as a physical hazard."
Ground Truths
Also taking a data-based approach is the First Street Foundation, a group of cartographers and computer modelers pursuing a major upgrade—dubbed Flood IQ—of what's known about flooding. Flood maps from the Federal Emergency Management Agency (FEMA), once considered the gold standard for allocating flood insurance and risk, can be woefully out of date, the foundation found: "Seventy-five percent of FEMA flood maps haven't been updated within the past five years, and are therefore out of date; 11 percent date back to the 1970s and 1980s. In addition, many areas in the U.S. are still unmapped by FEMA, and none of the mapped areas have future environmental changes incorporated into the risk projections."
The aim of Flood IQ is to put the kinds of detailed information available to insurance companies into the hands of the average homebuyer. Tapping government data sources such as USGS (the U.S. Geological Survey), NOAA (the National Oceanic and Atmospheric Administration), and USDA (U.S. Department of Agriculture) for digital elevation models, tide gauge readings, and inland stream gauge readings, the team hopes to develop the most accurate model of "what's going on now—not just what happened in the past," says Sharai Lewis-Gruss, First Street's lead adaptation specialist.
The researchers feed all of these details, along with known infrastructure adaptations such as levees and seawalls, into cloud-based supercomputers, where they use future climate scenarios to come up with their predictions. What really stands out, however, is their field work. "One thing we really believe in is 'ground truthing' our models," Lewis-Gruss says. In statistics and machine learning, "ground truthing" means checking the results of machine learning for accuracy against the real world. "We're relying on supercomputers to enact our methodology, but models are just that—a representation of the real world. In order for that model to become even more accurate, we compare that to what we see in the field, and use those readings to recalibrate our models."
Verification in the field has found Lewis-Gruss wading through a number of tides in South Carolina, New Jersey, Connecticut, Florida, Virginia, and New York. "We take those flood measurements and bring them back to the office and say, 'At this tide gauge reading, we should see x amount of water on land.' Then with those readings, we can go back into our model and recalibrate them to be more reflective of the real world."
One real-world truth is that many areas most vulnerable to extreme weather are also the poorest—and the people most likely to feel the greatest impact are the ones least responsible for the greenhouse gases that contribute to its cause. "In so many of these places where we're working, there seems to be these twin threats of global warming and the weirding of weather, and at the same time a widening gap between rich and poor. These things push on each other and lock up the most at-risk communities and ecosystems," says Pawlowski. He oversees urban planning architecture students, but also works with students of engineering, business, and policy, government leaders, historians, and ecologists. Social justice and environmental problems are interconnected and must be dealt with together, he says. "One of the things that we've learned in the profession of urban planning and design is that when we think we're solving one problem, we're exacerbating another." His center runs the Resilience Accelerator program in tandem with the recently concluded 100 Resilient Cities project, both funded by the Rockefeller Foundation. The center takes ambitious projects for cities at highest risk and works with officials to bring those projects into fruition, making sure to get buy-in from community groups. A street-raising project in Miami Beach, for instance, faced significant resistance from residents. The accelerator project not only helped streamline infrastructural programs, but also worked with the community to win enthusiastic support. "We then heard from the City of Miami that they were going to use the same format to apply to all of their infrastructure projects going forward. That's helpful because, basically, the entire city needs to be raised, street by street, building by building," says Pawlowski.
Return on Investment
Red Hook, Brooklyn, where Pawlowski lives, looks out on Upper New York Bay and is vulnerable to sea-level rise and severe storms. In 2012, Hurricane Sandy damaged public housing there and elsewhere in New York. "People lost power and gas for months. There was mold growing in lots of the walls," he says. In the aftermath, money came in from FEMA, "so we're making the most of it." Public housing residents are getting not just more resilient buildings but also landscape improvement. And the local community is developing a model of working together that will help Red Hook become more resilient in facing future disasters. This means coming up with an adaptation plan that combines hard solutions, like built-up coastlines, with consideration for social infrastructure—hospitals, schools, transportation, and law enforcement. "At the same time that we're building things, we need to be building community. It isn't just about what engineers can do; it's also about what educators can do, and artists and activists working on this problem," says Pawlowski, noting that every dollar spent on disaster mitigation saves more in recovery costs. "Unfortunately, a lot of the money for resilience is only there after a disaster."
Manish Bapna would agree. As executive vice president of the World Resources Institute, he has witnessed how investment in resilience can make a huge difference in lives saved. When Cyclone Bhola hit Bangladesh in 1970, the death toll topped 300,000. In response, the country formed the Ministry of Disaster Management and Relief and began investing in early warning systems. In 1991, Cyclone Marian, comparable in severity, killed 138,000 people. The government created disaster management councils, and in 1997 issued standing orders on disasters, creating evacuation routes and cyclone shelters, strengthening buildings, and boosting civic awareness. In 2007, Cyclone Sidr struck—again comparable to Cyclone Bhola. This time, there were 3,363 deaths. The country continued to improve disaster management plans and in 2012 adopted the Disaster Management Act. This spring's monster storm, Cyclone Fani, claimed just 17 lives.
An MIT-trained electrical engineer with graduate degrees in business and political and economic development from Harvard, Bapna says investment in resilience and adaption strategies before a community is hit not only saves money and lives but also creates future profit. "We looked at the economics of five different types of adaptation to climate change—early warning systems, mangroves, resilient infrastructure, more efficient water allocation, and dry-land agriculture systems—and we looked at investments that would build resilience. The benefit-cost ratio was 4 to 1, 5 to 1, on average. For every dollar we invest in resilience, we get $4 to $5 of net economic benefit in return. Over the next 10 years, if we invested $1.8 trillion in these five areas, [we would see] $7.1 trillion in net economic benefits."
The benefits aren't just derived from saving lives and buildings, either, Bapna explains. "Many investments in adaptation can improve economic productivity and create stronger social environments. Think of drip irrigation: really useful when you have a drought. But even when you don't have a drought, you're using water more productively," he says.
One place where lack of advance planning and investment is painfully visible is Puerto Rico, where two years after Hurricane Maria, its mostly rural residents—U.S. citizens—continue to struggle with broken power and water systems, destroyed homes, and buckled roadways. The island's immediate problem is that although Congress appropriated $42.5 billion dollars for recovery efforts, only a tiny fraction has arrived. But, "looking forward, it is imperative that Puerto Rico and Congress spend the remaining money on resilient and sustainable infrastructure projects to better protect against future hazards," says Héctor Colón-De La Cruz, chair of the American Society of Civil Engineers' forthcoming Puerto Rico infrastructure report card. Mitigating current conditions "won't solve the long-term capacity issue," he says.
Tomorrow's Experts
Carla Lopez del Puerto and her team are thinking long term. An associate professor in the department of civil engineering and surveying at the University of Puerto Rico–Mayagüez, she has helped launch a program connecting the engineering, construction, and architecture departments at three UPR campuses (Mayagüez, Rio Piedras, and Ponce) with the goals of training professionals and examining infrastructure needs so as to prevent a recurrence of the islandwide collapse that followed Maria. "After the hurricane, we knew that we needed to design and build better infrastructure. Out of those conversations, we came up with RISEUP."
The acronym stands for Resilient Infrastructure and Sustainable Education Undergraduate Program. The group obtained a $1.5 million NSF grant to develop a curricular sequence in resilient and sustainable infrastructure for students in engineering, architecture, surveying, and construction. Their curriculum is a two-year course that includes an internship and research opportunities with faculty spanning civil, electrical, and materials science engineering, as well as architecture and surveying. The first year will focus on fundamentals of sustainable infrastructure, case studies of structural damage, the basics of microgrids, and GIS systems, and then move to advanced work. The first cohort of 30 students started this fall. Still in the inaugural semester, Lopez del Puerto's team is in the process of figuring out how the curriculum can be most useful and finding partner companies where students can complete their internships next summer. "What we're trying to teach them is there's no discipline that's more important or has priority. If we want to have good infrastructure, everybody's voice is equal," says Lopez del Puerto.
Others at UPR–Mayagüez are helping local communities build simple engineering solutions to vital problems. Christopher Papadopoulos, a professor of engineering science and materials, was approached by Pamela Silva, a graduate student at MIT's D-lab, to put together do-it-yourself workshops to help remote communities. It started small, with making simple stove burners from metal cans and water filters from plastic jugs and sand followed by a boiling process. They teamed up with Nathalia Opsina, a recent UPRM graduate with her master's in civil engineering and project management.
"Then it got more elaborate," says Papadopoulos. The team took surveys that Oxfam had conducted across the island and found that the biggest problem was water—not drinking water (the residents were receiving bottled water) but water for laundry, handwashing, and other hygienic activities. "Out of that came the idea of making a washing machine out of two 5-gallon buckets and a toilet plunger, and making your own handwashing station powered by a foot pump."
In spring 2019, more people got involved and they developed a course. Marcel Castro, professor of electrical engineering, and Héctor Huyke, a professor of philosophy, helped design, develop, and coteach a course called Design and Practice for Community Resilience. "We wanted to give students direct experience with how they could do things for themselves with the community."
In the class, they developed some workshops teaching students how to build these devices. The culmination of the project was that the students had to organize and run their own workshops in the community, where they taught people how to make these things themselves. And the new knowledge extended beyond the nuts and bolts.
"In some communities, women were not accustomed to knowing how to use hand tools or power tools," Papadopoulos says. "This was an empowering workshop for people to feel that they could also do these things for themselves. Many of the workshops had a high number of women." Even a devastated community can find a reason for optimism.
Jennifer Pocock is associate editor of Prism. Mary Lord, deputy editor, contributed reporting.
Design by Francis Igot