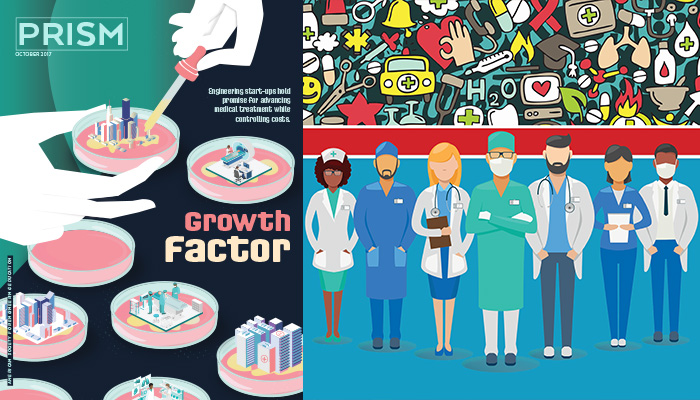 Biomedical engineering start-ups strive to plug the gaps in U.S. health care with advances in treatment, more effective delivery, and cost savings.
Surgeons who perform minimally invasive laparoscopic procedures can't see diseased organs with the naked eye and must rely on images. And that presents a problem. Often, they need two or more images, taken from different angles at different times: one to show where a surgical needle is headed, another to pinpoint the exact location of the target, and perhaps others to reveal a tumor or lesion at various stages of disease. Merging these images with the right alignment—a process called registration—is complex, tedious, and slow. But University of Maryland spin-off IGI Technologies says it has a solution: a computing device that produces accurate registration of two or more 3-D images in a minute or less and can work with most organs and types of images. Cost to manufacture? About $20,000—a small fraction of the price of current high-end Positron Emission Tomography or Magnetic Resonance Imaging machines.
Developing and marketing such a relatively low-cost device makes IGI Technologies something of an outlier in the medical technology field. While biomedical engineering has improved diagnosis and treatment in myriad ways, the machinery required is often expensive—and becoming more so. "The general trend has been for cost-increasing rather than cost-decreasing innovation, as the payment mechanism has rewarded that," says University of California, Berkeley economist James C. Robinson. For years, hospitals, practitioners, and patients encouraged the trend by seeking out the most sophisticated treatments. Economists say the cost of technology is a leading driver of America's ever rising annual health-care costs: at $3.4 trillion, the world's highest.
But change is in store—and campuses where engineering and medical researchers can nimbly turn lab results into safer, cheaper treatments or technologies have the whip hand. "The market for medical technology is ready for disruptive innovation," Robinson suggests in Purchasing Medical Innovation: The Right Technology, for the Right Patient, at the Right Price. The biggest demand in coming years, he predicts, will consist of "cost-effective products that fit within constrained budgets." In an email exchange, Robinson adds, "The biggest single disruptor, right now, comes from new technologies that permit care to be shifted from high-cost acute settings to low-cost, less-acute settings, from inpatient to outpatient hospital departments, from outpatient hospital to freestanding surgical clinics, from clinics to physician offices, from offices to the home."
Incubators of Opportunity
A market for more economical technology could reward the myriad health-care-focused engineering start-ups forming in biomedical centers around the country—companies like IGI Technologies. "What I have noticed, and we've done a fair amount of market research, particularly with talking to hospital administrators, as well as clinicians and nurses, and other people in the industry… is that cost of health care is being considered more now than ever before," says Will Plishker, an electrical engineer who cofounded IGI Technologies with medical imaging expert Raj Shekhar. "So for us, that emphasis on cost has been a real boon because we can go in and say, 'Look, you can get the benefits of that big, expensive machine at a much lower cost.' "
In the complex biomedical field, weighing equipment expense against the benefit of lives saved is just one of many ways to gauge value. Another is success in preventing complications that arise from chronic ailments. The National Council on Aging estimates the country could save $6 billion a year if only 10 percent of adults with one or more chronic diseases learned how to manage them properly.
Among the most common chronic conditions is diabetes, which affects more than 400 million people worldwide. While it can be controlled with regular insulin injections, the wrong dose can lead to serious complications, including amputations and blindness. Zenomics, a spin-off of the joint biomedical engineering department at North Carolina State University and the University of North Carolina, Chapel Hill, aims to relieve both the pain of injections and regulation of blood-sugar levels with its Smart Patch. This marvel of miniaturization, invented by associate professor Zhen Gu, combines dose control and the insulin-injection mechanism in a square patch the size of a coin that is affixed to the patient's skin. When glucose-sensing elements respond to elevated blood-sugar levels, hundreds of microneedles automatically release their tiny wells of insulin into the body.
Complications from moderate to severe asthma can frequently send children to the emergency room and sometimes require hospitalization. Symptoms are tough to recognize and manage. In a nightmare for parents, flare-ups are most evident at night. So Tueo Health, a start-up headed by fellows at the Stanford Byers Center for Biodesign, has developed an early-detection system. It combines an off-the-shelf sensor in a child's bedroom that monitors breathing and movement, analytics on a child's condition, a mobile app that apprises parents of symptoms and delivers data in a form they can understand, and an "asthma coach" to help them treat the symptoms at home.
Time is Money
The Byers Center increasingly emphasizes the economics of health care as it trains biomedical engineers and physicians in entrepreneurship. Fellows must have a "very explicit awareness" of the value proposition in all their projects and a good idea of their cost implications, says cofounder Paul Yock. "That's a major transformation from the way we were operating even five years ago."
Anything that can cut a patient's time in intensive care saves money and therefore adds value, as Byers Center start-up Awair seeks to demonstrate. Patients who require a breathing tube are often heavily sedated so they can tolerate the constant discomfort. This sedation, in turn, can produce delirium. It also slows down recovery when patients are once again able to breathe on their own, keeping them in intensive care when they ought to be sitting up and moving as much as possible. Awair founders Rush Bartlett and Ryan Van Wert discovered that simply numbing the back of a patient's throat made the breathing tube more tolerable, obviating the need for heavy sedation. They developed the Wyshbone Catheter to apply a topical anesthetic continually.
One of the hazards of long hospital stays is hospital-acquired infections. A 2013 study led by researchers at Harvard Medical School and Brigham and Women's Hospital in Boston estimated that the United States spends $9.8 billion a year treating surgical site infections, Clostridium difficile, infections associated with ventilators and tubes, and other hospital scourges. Biotia, a start-up formed in 2016 at Cornell Tech, in New York City, has a way to fight the bugs, which pose a particular threat to cancer and burn patients whose immune systems may be compromised. Drawing on genetic sequencing and its own proprietary software and database, Biotia will swipe a hospital danger zone, rapidly determine what pathogens may be lurking there and the extent of antibiotic resistance, and design a plan to combat and prevent infections. Two pilots are underway: at Weill-Cornell Medical Center, and Memorial Sloan Kettering Cancer Center.
Other innovators have come up with entirely new treatments that promise lower costs and fewer complications. This is the aim of an esophagus-regeneration technique developed by Derek Dashti, a Berkeley- and Tulane-trained biomedical engineer. Currently, a badly damaged or cancerous esophagus requires a partial or total esophagectomy, or gastric pull-up, in which a surgeon removes and reconstructs the affected tissue using part of the stomach or intestine. The patient risks bleeding, leakage, and pneumonia, among other complications. Dashti's start-up, D&P Bioinovations, proposes implanting an off-the-shelf scaffold of absorbable polymers loaded with stem cells on which esophageal precursor cells can "robustly" regenerate the organ.
Grow Your Own
LifeSprout began after two plastic surgeons approached cofounder Hai-Quan Mao seeking efficient, cheap, and synthetic material for reconstructions after tumor surgery such as mastectomies, or treatment of trauma wounds. "Cost was an issue on our minds since Day One," says Mao, a professor of materials science and engineering at Johns Hopkins University. Plastic surgeons now typically replace the lost tissue with tissue grafted from another part of the patient's body, such as the back or belly. It's a long procedure—eight hours, frequently—that doesn't always work and causes patients pain and distress.
Mao's team came up with a hydrogel filled with biodegradable nanofibers. The gel can be injected into the wound—a procedure that takes just minutes in a doctor's office. It then forms a porous scaffold that lets real tissue infiltrate—a natural process of regeneration that usually starts within a week. "It is strong enough to keep the space intact, but porous enough to allow the host tissue to integrate with it," Mao says. The scaffold disintegrates within three months.
Depending on how much tissue needs to be replaced, it would likely take several treatments every three to six months before the wound is eventually filled with regenerated tissue. But several visits to a doctor's office will cost much less than hours of surgery.
Cheap Shots
A potential game-changer in drug development is the organ on a chip, intended to bypass the animal testing phase and shrink the time and huge cost involved in bringing new medications to market. The technique artificially replicates human organs on a small plastic computer chip. One of the firms seeking to market a version of the technology is Orlando, Fla.-based Hesperos, cofounded two years ago by Michael Shuler, a professor of biomedical engineering and chemical and biomolecular engineering at Cornell. "Our goal is to make drug development more efficient, so it produces more drugs, that are more likely to work, at reduced costs," he says.
Hesperos calls its product body-on-a-chip, because it re-creates as many as six human organs on one palm-size device. It could potentially add cells from even more organs. Each chip has interconnected chambers that may contain beating heart cells, liver cells, and nerve cells. After an experimental drug is injected, the chip tests its efficacy and potentially toxic side effects. "The chips are more likely to predict what happens than animals are," Shuler says. If organ-on-a-chip technology can increase success rates of new pharmaceutical development, "the cost of drugs will decrease significantly."
Some start-ups are built around making the health-care system work better. Over the past decade, the industry has seen a strong push toward electronic health records, which increase productivity and enable providers to share patient information. "The thing is that most of the content in the electronic health records is text—electronic text. And text is really good for humans to generate and read, but not good for machines to do any automatic processing with," says Stephane Meystre, a physician and biomedical informatics specialist at the Medical University of South Carolina. Using natural-language processing, his company, Clinacuity, can extract information from all of the notes in an electronic record to generate a patient profile containing such important information as what diseases or allergies a patient has and what medications he or she is currently taking. "So we make it easier for physicians to have a quick understanding of the patient record—much faster than what we can currently do."
Fertile Ground
Born in innovation centers like North Carolina's Research Triangle, Pittsburgh, Palo Alto, and Cambridge, Mass., where engineering colleges and medical schools share researchers and ideas, biomedical and health-care start-ups fill an important niche. They occupy the space between university-based, government- or foundation-funded research and development, and the manufacturing sector. Many receive investor support during development. Those that show persuasive signs of future profitability are often acquired by established companies.
"Big business cannot innovate," contends Alexander Oraevsky, a biomedical engineer whose Texas start-up, TomoWave, developed an optoacoustic imaging machine for early detection of breast cancer. "It's really not affordable to them. That's why small businesses have a chance to make it big in this world, by developing something radical and new, something revolutionary, developed with a huge risk of failure." Bloomberg's Pitchbook counts 3,358 deals between health technology start-ups and venture capital investors since 2012, with a median investment of $1.2 million, peaking in 2015 with 750 deals. CB Insights, a software-based firm that also tracks investment in private companies, counts 2,652 medical device equity-funding deals totaling $20 billion since 2013.
If academics once frowned on juxtaposing medicine and company creation, more now adopt the credo articulated by Stanford Biodesign cofounder Josh Makower in a 15-year retrospective video: "If you really want to change the world and do something that has vast potential, it actually also has to be a great business at the same time." The latest entrant is the Runway Startup Postdoc Program, part of an institute funded by Qualcomm founder Irwin Mark Jacobs at the joint Cornell-Technion campus on New York's Roosevelt Island. Biotia, cofounded by postdoc Niamh O'Hara, along with Christopher Mason and Rachid Ounit, is one of several young health-care-related companies nurtured at the institute.
The widely recognized dean of biomedical start-ups is MIT's Robert Langer, who has been involved in more than two dozen new companies during a nearly 40-year career. Lyndra, a recent venture emerging from his lab, has developed technology that allows any type of oral medication to be released in the gastrointestinal tract over days or even weeks. Around half of U.S. patients don't follow their prescriptions, leading to otherwise avoidable hospitalizations and costing the health-care system around $100 billion a year. But research shows that people are much better at sticking to their regimen when they can take pills weekly or monthly. "I think that Lyndra will save ultimately a lot of cost because of patient compliance," Langer says. However, saving money is not usually foremost in his mind. "To be blunt, the first thing you want to do is to find the drug. I think the issue with cost is after people discover the drug, then everybody worries about how much it costs. But the first thing we consider is can we even make the drug at all, because we want to save and improve people's lives."
Even before clinical trials begin, Lyndra has an agreement with drug giant Allergan that the Boston Business Journal reports could be worth up to $105 million. For engineer-entrepreneurs with less of a track record than Langer, the time between an invention and actual sales is long and risky. Zhen Gu, who cofounded Zenomics two years ago and has been named one of MIT Technology Review's 35 Innovators under 35, doesn't expect his Smart Patch to reach the marketplace for two to three years. First, he and his team will test it on pigs, whose weight and skin resemble that of humans. Clinical trials on human subjects would follow, says Gu. Prospects for the firm are improving. Zenomics recently raised $5.8 million in investment financing from MicroPort Scientific Corporation, a biomedical device company, allowing Gu to hire scientists and technicians to expedite potential commercialization.
Debt and Doubters
Dashti and his cofounders hope for grants and seed funding to propel D&P Bioinnovations through trials with six pigs, which Dashti expects to take four to six months. Going into debt is "on the table," he says. "We've gotten a lot of interest from investors, but they wanted to see the pig data" before making a commitment. Once his esophogas-repair prototype is approved for human trials, he hopes for an expedited review by the Food and Drug Administration for life-threatening disease treatment.
Neither FDA clearance nor promised efficiencies ensure that a start-up will become viable, as Andrew DiMeo learned the hard way. The N.C. State biomedical engineer launched Novocor Medical Systems in 2013 to license a technology that induces therapeutic hypothermia with chilled saline. The treatment has been found to increase neurologically intact survival rates in patients who suffered cardiac arrest. Hospitals are equipped to do it, but the likelihood of success diminishes the longer a patient must wait. DiMeo's senior design students discovered that first responders were using bulky refrigeration units or ice-filled containers, which often required holding on for a second emergency vehicle. Their solution: a compact, transportable device that cools saline on demand at the point of care using an endothermic reaction.
DiMeo and his team secured a patent and won FDA approval to market their device. Yet the company failed. DiMeo blames a missed funding round and market trends at the time. So, was it a wasted effort? Hardly. "I wanted to show the students, 'You can do this,' " says DiMeo—that is, identify a patient need, design a product, start a company based on intellectual property, and follow the process through the government approval and funding stages. Students need to know not only design but also product risk assessment and the intellectual property landscape. "As far as a teaching tool, it's my No. 1 example that this is an iterative process," he says. "Maybe with one more iteration we might have nailed it."
Explaining the gantlet of steps between lab bench and patient's bedside is also part of the mission of VentureWell, a nonprofit that promotes entrepreneurship among engineering students and faculty. Many of the projects it funds as a result of competitions are related to health care. "In the work that we do, one thing we bring to the fore is to try to understand the full context," says VentureWell President Phil Weilerstein. That context includes not only intellectual property and regulatory hurdles but also an understanding of how providers—from nurse practitioners to hospitals—get paid and by whom. "Reimbursement is critical to getting a product to market," he says.
The undergraduate years are none too early for this training. Thanks in part to the availability of increasingly sophisticated computer technology, "the level of technical expertise is growing very, very fast," Weilerstein says. He has watched teams of undergraduates, using lab-on-a-chip technology, come up with a working product prototype in less than a year.
If these budding entrepreneurs can't find a market for lower-cost, more efficient health-care technology in the United States, they can follow the example of recent Yale engineering graduates Charles Stone and Katy Chan and look to the developing world. Their start-up, PremieBreathe, which VentureWell helped launch, designed a respirator for premature infants that sells for one tenth the price of U.S.-manufactured machines using the same technology. A finalist earlier this year in a competition run by Massachusetts General Hospital and GE Healthcare, PremieBreathe has partnered with biomedical engineers and pediatricians at a teaching hospital in Ethiopia to design and test a prototype—providing an inspiring example of healthcare disruption.
By Mark Matthews, with Thomas K. Grose and Jennifer Pocock

Mark Matthews is editor of Prism. Associate editor Jennifer Pocock and chief correspondent Thomas K. Grose contributed to this article.
Design by Nicola Nittoli
Sticking to It
A University of Pittsburgh spin-off technology revolutionizes procedures from tummy tucks to colon repair.
Like many inventions, TissuGlu—a biodegradable, easy-to-apply surgical adhesive designed to reduce the need for postoperative drains—was discovered by "serendipity," says Eric Beckman, a polymer researcher and chemical engineering professor at the University of Pittsburgh. He and a Pitt surgeon stumbled on the sticky material in 2001 when they teamed up to create a tissue-regeneration membrane.
Liquid bandages were catching on at the time, but no equivalent existed for closing internal cuts. So Beckman and his colleague, oral and maxillofacial surgeon Michael Buckley, spun off a company in 2006 to develop a biocompatible replacement for staples, sutures, and other techniques to close large flaps of tissue. Today, Cohera Medical Inc., is one of the world's top players in the $1.87 billion market for surgical sealants and adhesives. "It's about opportunity identification," Beckman explained in 2015, the year Cohera's urethane-based TissuGlu won U.S. Food and Drug Administration approval. "More than half of all products fail because opportunities were not investigated."
The market Beckman and Buckley targeted was abdominoplasty, or tummy tucks, a procedure more than 127,000 Americans undergo annually. Recovery typically involves surgical drains that prevent patients from showering or driving and must be removed by a physician. The next hurdle was turning their technology into an easy-to-use product that could pass regulatory muster. "User-friendliness is not something that comes up in academic research, but it's critical," Beckman says. The resulting glue gun is a sleek, sterile, vacuum-packed, swivel-headed device that can be opened in the operating room and used to instantly deposit a precise row of three equal, pea-size dollops on any shape of patient—regardless of how hard the surgeon squeezes the trigger or whether she's left- or right-handed. Since TissuGlue needs no mixing, the applicator cuts 30 minutes of surgical team prep time.
The biggest bonuses, however, were recovery speed and a reduction in complications. TissueGlu shortens healing time to a week or two—and degrades after the tissue heals. In clinical trials, 73 percent of TissuGlu patients needed no postoperative treatments for fluid buildup, and a simple needle aspiration sufficed for nearly all of the others. Those results helped Cohera win approval in Europe as well as the United States. While its initial market is in cosmetic surgery, TissuGlu also holds promise for use in mastectomies, treating bed sores, and colon repair.
Beckman, codirector of Pitt's Mascaro Center for Sustainable Innovation, notes that most technologies "never make it past the publication stage" because the route from lab to market "is so tortuous." Beckman took a three-year leave of absence, hiring medical industry veteran Patrick Daly to assemble a business team. Daly and chief scientific officer Dottie Clower, the neuroscientist and chemist he recruited from Pitt's Office of Enterprise Development, now oversee a thriving enterprise. Unlike so many inventions that get trapped in the "valley of death," unable to find a market, this one landed at the end of the rainbow.
By Mary Lord
Mary Lord is deputy editor of Prism.