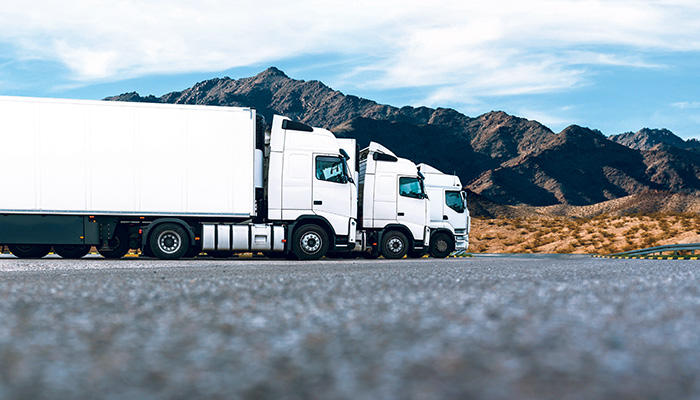 Engineering researchers refine truck designs to meet ever stricter fuel-economy targets.
They're celebrated in country music, deliver nearly 70 percent of all domestic freight, and log more than 100 billion miles each year. Forget America's love affair with the car. Trucks – especially heavy-duty Class 8 haulers – remain king of the road. And that poses a problem as environmental and health concerns drive regulators to seek stricter limits on greenhouse gas emissions.
Fueled by engineering research, a solution soon may come barreling down the highway. Its legend-inspiring name: SuperTruck. Under development since 2009 as part of the federal-industry partnership to introduce fuel-saving and other truck technologies, these prototype heavy-duty vehicles have achieved impressive results. According to a new National Academies report, one experimental vehicle boosted freight efficiency 115 percent by incorporating a more aerodynamic chassis, a hybrid diesel/electric low-friction engine, and a waste-recovery power system that harvests thermal energy from exhaust. Another doubled fuel efficiency to 12.2 miles per gallon.
Nigel Clark, the George B. Berry Chair of Engineering at West Virginia University, has a bird's-eye view on such breakthroughs in tractor-trailer technology. An authority on truck engines and a member of the Academies' Committee to Assess Fuel Economy Technologies for Medium- and Heavy-Duty Vehicles, he has seen "a steady progression of improvements" over the past 10 years.
Many of those gains have emerged from research conducted at one of WVU's signature facilities: a mobile laboratory so big it takes two tractor-trailers to move it. The lab can measure the efficiency and emissions from a truck or bus as it is driven on the road, get real-world measurements of fuel consumption and CO₂ production, and then compare them with models. "We do a lot of engine work in conjunction with engine manufacturers," working through WVU's Center for Alternative Fuels, Engines, and Emissions, says Clark. Engineering students get involved, and "many of them go on to work for engine and truck manufacturers," he adds.
A 40 Percent Hike in Fuel Economy
University labs like WVU's will have to put pedal to the metal in the next few years. The U.S. Environmental Protection Agency and National Highway Traffic Safety Administration have jointly proposed regulations to cut greenhouse gas emissions from heavy-duty trucks, requiring as much as a 40 percent increase in fuel economy by 2027 compared with 2010 levels. By then, according to projections by the American Trucking Associations, the number of Class 8 trucks will have grown from today's 3.56 million to nearly 4 million.
A tractor-trailer now averages 5 to 6 miles per gallon of diesel fuel. The new regulations, which cover almost any truck larger than a standard pickup and come as part of President Obama's Climate Action Plan – an integral part of his environmental legacy – would set the bar at 9 miles a gallon. The proposal could cut millions of tons of carbon dioxide pollution while saving millions of barrels of oil. This will require extensive investment and innovation, with engineering schools playing a key role in the research effort.
Tom Wallner, manager of fuels, engine, and after-treatment research in the Center for Transportation Research at Argonne National Laboratory, says recent goals have been to improve the freight fuel efficiency of heavy-duty trucks by at least 50 percent in miles per gallon. A sub-goal has been to improve the engine efficiency to a peak of 50 percent with a pathway to achieving 55 percent. "All three are very challenging goals," he observes.
How will researchers reach such lofty targets? "I don't think there's a silver bullet," says John Woodrooffe, a research scientist and mechanical engineer at the University of Michigan Transportation Research Institute who served on the just-released National Academies' review of the 21st Century Truck Partnership. "It's going to be a systems approach. The four major elements are the engine and drive line, aerodynamics, rolling resistance of tires, and size and weight regulation." Actually, the fourth component depends on who is speaking. WVU's Clark says the fourth piece is "sophisticated integration of control of all the components." Either way, it involves a piecemeal cumulative approach, adding many small gains from all facets of the trucking realm.
Shifting Gears
Aymeric Rousseau, manager of the systems modeling and control group at Argonne National Laboratory, says it's important to maximize the efficiency of the entire power train. His own group does "a lot of work on the engine side" with modeling, computer simulations, and testing. One of the main challenges in researching heavy-duty trucks, he explains, is the "incredible number of combinations" – thousands, or even hundreds of thousands – of technologies that each application can entail. "Using either full simulation or a mix of hardware and software, we can go through a wide range of iterations quickly and efficiently," says Rousseau.
WVU's Clark cites a prime candidate for such a systems approach: gears. "People have been looking at selecting gear ratios more carefully to match the engine and looking at the whole power train as an integrated unit," he explains. Improved control of transmission shifting and careful gear selection can increase fuel efficiency by a few percentage points.
The approach can work hand in hand with changes in truck manufacturing, says Woodrooffe. Traditionally, truck companies procure components from varied sources and assemble them according to customer orders. "There was not a lot of room for R&D there," notes Woodrooffe. "Now, we're getting more into vertical integration. This can be something as simple as matching the engine to the transmission." Clark concurs: "We have worked with truck and engine manufacturers, and they have become more integrated. There are more companies producing both trucks and engines."
The past 30 years have seen great advances in engine efficiency, and experts consider it a mature field. But tweaks remain. One is reducing engine friction even more, meaning better, lower-viscosity lubricants that result in lower energy loss. Another area involves "downspeeding," or making engines more capable when running at only partial load, at lower speed.
Beyond Diesel
Fuels are another area of study. Argonne's Wallner says the lab is developing a hybrid system that uses gasoline and diesel, yielding efficiencies "above that for a single fuel." The fuels are fed at various ratios depending on engine load and speed.
A relative newcomer to the fuel mix is natural gas. Compressed natural gas is better suited to short-haul business, meaning vehicles like garbage trucks, buses, and delivery trucks, while liquefied natural gas has been adopted for long-haul applications because more fuel can be stowed on board. Either approach involves further developing the infrastructure and vehicle components needed to handle the gas. The University of Dayton Research Institute's Multi-Scale Composites and Polymers Division is developing compressed-gas storage vessels for the trucking industry. The goal is an affordable, lightweight, high-strength fuel tank that can be mass-produced.
Another area of engine improvement involves capturing waste heat from exhaust streams. Researchers can run separate loops with Rankine cycles that, for example, harness steam from a boiler and recover the energy to generate electricity. One SuperTruck prototype integrated a Cummins waste-heat recovery boiler bypass in the exhaust system, minimizing the need for cooling fans and saving energy.
Such efforts have helped spur collaborations between universities and the national labs. "One of the unique abilities of national labs is that we have a wide range of expertise that encompasses the areas that require simulation," says Rousseau, noting that Argonne has developed a simulation tool that it licenses to about 175 universities worldwide. "At the university level, they may be very good in specialized areas, but they may not have a large group like we have here. We leverage and complement that specific expertise."
Wallner cites the EcoCAR competition Argonne developed and manages for the Department of Energy as an example. Some 17 U.S. and Canadian universities send teams of 30 to 40 students to participate in the four-year collegiate contest to build an advanced technology vehicle. Argonne partners with several schools on engine projects, and in some cases, students are assigned to work at Argonne for a year or so, and they can use research results for their own theses. "That's mutually beneficial since they get access to cutting-edge data, and we get access to the students and their know how as well as their facilities at the university," says Wallner. Argonne works with and recruits from schools like the University of Michigan, Michigan Tech, Mississippi State, the University of Wisconsin, Madison, UC Berkeley, Ohio State, Purdue, Clemson, and Stony Brook. Other leaders in truck fuel-efficiency research are the University of California Riverside, and the Texas Transportation Institute at Texas A&M University.
Smooth Operators
The tractor side of heavy-duty vehicles has received considerable focus in the past two decades. Most engineers know that the aerodynamics of a moving vehicle relate heavily to its drag coefficient, a measurement of how stealthily it slips through the air. Engineering to optimize the shape of the cab to reduce the speed drag coefficient "has been remarkably successful," reports Woodrooffe. Many truck cabs on the road now have fairings or spoilers on the roof that smooth the airflow transition between truck and trailer.
Trailers haven't attracted the same degree of attention as the tractor, Woodrooffe adds, because they are utilitarian and often not owned by the tractor's owner. Thus, the benefits of modifications that would make trailers more aerodynamic – and save fuel – don't accrue to the trailer owner. "Call it a disconnect in the incentive system, a primary area for regulatory action to help encourage trailer manufacturers to optimize the aerodynamics of the trailers," says Woodrooffe, who notes one improvement: the skirt placed under trailers to improve airflow.
Even tires are changing. Industry has long strived to produce designs with lower rolling resistance by improving both the carapace and the tread. Now, the dual-tire group typically seen on trucks is being replaced with the wide-base single tire. Energy is lost in sidewall deflection, and the wide-base tire eliminates two of the traditional four sidewalls. Dual tires also use more energy in turning because they're locked together, with the outside wheel rolling on a different radius than its partner.
Such advances come with a price tag, of course. The stricter fuel efficiency and emissions rules could add $12,000 to $14,000 to the manufacturing cost of a new tractor-trailer, although EPA studies estimate that will be recouped after two years by fuel savings. Meanwhile, the industry isn't waiting for SuperTruck to shift gears. Trucks with skirts are now "pretty much a given," notes Rousseau. Single tires are starting to appear, and one fleet owner solved a problem with run-down lift-gate batteries by installing solar panels on top of the trucks. These tributes to the research efforts of engineering schools across the country promise to pay off in cleaner air, greener vehicles, economic growth, and perhaps even a hit tune or two.
By Tom Gibson
Tom Gibson, P.E., is a consulting mechanical engineer and freelance writer based in Milton, Pennsylvania. He publishes the online magazine Progressive Engineer, www.ProgressiveEngineer.com.
Image courtesy of Thinkstock
Modest Study, Explosive Findings
West Virginia University's $50,000 research project exposed deceit that will cost Volkswagen billions.
The Volkswagen emissions scandal that grabbed world headlines in September was old news to faculty and students engaged in a modestly funded research project at West Virginia University. It had been 15 months since their discovery of huge discrepancies between the pollutants emitted by VW diesel vehicles in laboratory tests and on the open road. Their findings caught the attention of the Environmental Protection Agency (EPA), which determined that the global carmaker installed illegal "defeat devices" to override emission controls and boost the cars' driving performance and fuel economy. WVU's work offers an example of small-scale independent research with an outsize impact on public health and corporate accountability.
How WVU became David to Volkswagen's Goliath dates back to the late 1990s, when pioneering researchers at the school developed ways to measure emissions from vehicles being driven under actual conditions on the highway rather than being tested on a stationary laboratory dynamometer. The researchers found then that manufacturers of heavy-duty diesel engines were equipping them with emission-control devices that produced passing performance during lab tests but did not function in the same way when the vehicles were on the road. In a settlement with the EPA, the manufacturers paid stiff penalties.
Smooth Operators
Years later, Volkswagen apparently thought it could get away with a similar but more subtle deception through the use of invisible proprietary software rather than visible deceitful hardware. The software could sense when a vehicle was being tested on a fixed laboratory platform rather than driven on the open road because in the lab situation the steering wheel would remain stationary and the speed constant for periods of time specified in testing protocols. This signaled the software to engage the emission-control system to comply with regulatory standards.
The West Virginia researchers happened upon the discrepancy between lab and highway performance of the Volkswagens tested under a $50,000 grant to the university's Center for Alternative Fuels, Engines and Emissions (CAFEE), whose interim director is Daniel Carder. The granting agency was the International Council on Clean Transportation, a nonprofit organization that was seeking to persuade regulators in Europe to model restrictions on nitrogen oxide and other emissions after U.S. EPA standards.
The principal investigator for the project was Gregory Thompson, who is also chairman of WVU's mechanical and aerospace engineering department, in which CAFEE is housed. The research team included, in addition to Thompson and Carder, Arvind Thiruvengadam, a research assistant professor of mechanical and aerospace engineering, and mechanical engineering Ph.D. students Marc Besch and Hemanth Kappanna. As is the case with virtually all funded projects in universities, the graduate students played an important role: providing essential manpower, learning by doing, and developing the skills and understanding to become experts in the area of their research.
A Stunning Comparison
With funding in place, members of the small research team went to the West Coast, where they could test cars with the desirable kind of emission-control systems. These included two VWs (a Jetta and a Passat) and a BMW X5. The researchers were stunned when they compared data collected while they drove around Los Angeles, San Diego, and San Francisco and in one case all the way to Seattle with the EPA certification emission levels determined in the testing laboratory of the California Air Resources Board. Both Volkswagen models emitted quantities of pollutants an order of magnitude above those expected, with one case producing real-road emission levels as much as 35 times lab levels. The BMW, on the other hand, performed within certification levels.
At first, the researchers questioned their own results, thinking they must have made some errors in collecting or analyzing data from the Volkswagens. But checking and rechecking their equipment and procedures confirmed their validity. European research had also found similar discrepancies between highway and laboratory tests for diesel-powered vehicles sold on the Continent.
In the spring of 2014, the West Virginia results were presented at a workshop in San Diego that was attended by representatives of the EPA. The results were also published online by the sponsor of the research. However, at the time reporters and editors who routinely cover automobile developments apparently did not pick up on the significance of the results and so did not bring them to the attention of a larger audience.
In the meantime, researchers at the EPA scrutinized the results and their own testing protocols, concluding that there were indeed discrepancies between testing and driving performance of the vehicles involved. With the compelling evidence that something was amiss, the EPA approached
Volkswagen, which initially denied any wrongdoing but under threat of having its cars banned from being sold in the U.S. admitted having cheated.
Within days of its becoming headline news, the behavior — unethical at least and possibly criminal — led to the cessation of sales of the affected vehicles and the resignation of the corporation's chief executive. Further changes were expected to occur in the organization and operation of the automaker, which only months before had surpassed Toyota as the world's largest. Volkswagen has set aside $7.3 billion to deal with the repercussions of the scandal, but could face penalties of up to $18 billion.
By Henry Petroski
Henry Petroski, who writes the Refractions column in Prism, is the Aleksandar S. Vesic Professor of Civil Engineering and a professor of history at Duke. His forthcoming book, The Road Taken: The History and Future of America's Infrastructure, will be published in February.