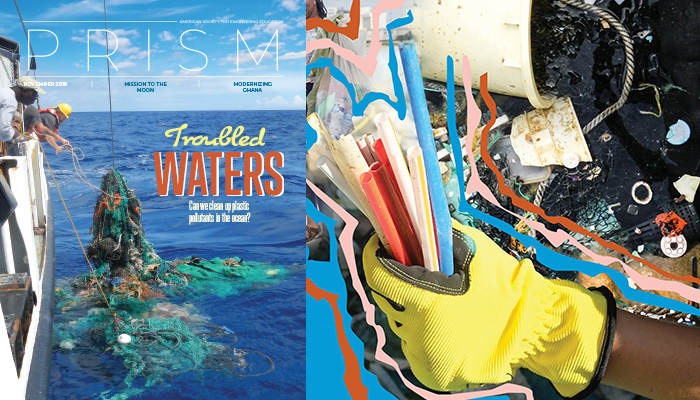 As the world wakes up to damage caused by petroleum-based plastics, engineers strive to develop Earth-friendly substitutes and remove debris from the oceans.
Among this year's more surprising activist campaigns is the avalanche of support for a ban on the single-use plastic straw. Social media images of straws being surgically extracted from a sea turtle's nose and of whales and birds killed by pounds of plastics lodged in their guts have prodded companies and government officials into action. Starbucks Coffee, Disney amusement parks, and American and Alaska airlines are just a few of the corporate brands vowing to do away with straws by 2019. California now requires restaurants to make straws available only when customers request them. Oakland, Malibu, and Berkeley have imposed citywide restrictions. Other countries are taking further steps. Southeast Asia is the biggest producer of plastic pollution, with China and Indonesia leading the way. India is taking the lead in reducing this impact by vowing to eliminate all single-use plastics by 2022.
Straws represent only a tiny fraction of the 8.8 million tons of plastic that makes its way into the ocean each year, but they're a convenience product that most people can easily do without. "Straws are a good example of an item that consumers don't think about. They're free. You buy a drink, you get a straw," says Jason Locklin, an assistant professor of chemistry and engineering at the University of Georgia. "The ban on straws that's happening is really more about raising awareness of the use, the misuse, and the overuse of these materials. You can't completely ban straws, though," he says, noting there are many places where straws are necessary, including hospitals, helping disabled people receive nutrients.
Packaging and Single Use
Locklin, founding director of UGA's multidisciplinary New Materials Institute, is working to develop materials for straws that he says offer "the same performance but a different end of life." In the context of plastic, "end of life" refers not to someone who is terminally ill but to what happens after a product is discarded. Collection facilities aren't enough, he says—that's too reactive. "One of the obvious areas for us to target is packaging and single-use plastics. Roughly 40 to 50 percent of the plastic that we manufacture on this planet each year goes into packaging and single-use items." Only 9 percent of plastics ever get recycled.
Together with Branson W. Ritchie, a microbiologist and researcher from the College of Veterinary Medicine, and Daniel Carraway, the director of the RWDC Environmental Stewardship Foundation, Locklin has developed a degradable bio-based plastic material, sourced from vegetable oil, that performs as well as or better than petroleum-based plastic and is competitive on cost—"which can be a challenge."
The team's research, backed by $719,000 from Singapore's Temasek Foundation Ecosperity and the RWDC Environmental Stewardship Foundation, revolves around a new fermentation technology that turns "cooking oil, vegetable oil, or oil from a variety of sources" to bioplastics called polyhydroxyalkanoates, or PHAs. "PHAs have been around for a long time in the research world," he says, and many companies have tried to commercialize them. They've had problems with processing, however, because "their degradation temperature is really close to the processing temperature. So you have to heat it up to a certain temperature, and that material will start to degrade as it's being processed." Locklin's team has come up with a way to process PHAs at lower temperatures.
He likens the PHAs to a library book. "If you put a library book on the shelf and take care of it, many people can read it for hundreds of years," he says, but if the pages are exposed to water and bacteria, they will start to break down. That's how these packaging materials will work. "Organisms that eat PHA are pretty ubiquitous on the planet," he says. If exposed to a marine environment or a compost pile, those organisms will break down the PHA plastic quickly and easily.
PHA can be produced from a variety or mixture of different oil sources—peanut, palm, canola, and corn. Locklin says this is critical because it can be manufactured anywhere. "You can locally source the feedstock, which might make it sustainable and economically viable. If you build a facility in Canada, you might use canola oil; if you put a facility in Indonesia or Malaysia, you might use palm oil."
His bio-straw is just one high-profile project that the institute is currently testing for commercial viability; his team hopes to have it in stores later this year or early next year. In reality, though, Locklin's team has been more focused on making plastic coatings for paper board. "When you think about a hot coffee cup or a cold beverage cup, they have to have a plastic coating on the inside," to prevent the paper from absorbing liquid. Coatings that allow paper cups to stand up to liquid also prevent them from being compostable or recyclable. "Generally these coatings are made from polyethylene, which makes it very difficult to repulp or recycle that paper packaging material. That plastic part gums up the shredders and pulping machines."
Besides drinking straws and cups, the PHA fermentation process can also be used in paper burger wrappers, which have to be coated in plastic to contend with the condensation, grease, and other food byproducts. By adjusting the fermentation organism and the feedstock, "you could essentially make a plastic that's like polypropylene, polyethylene, and even polyesters like PET. That's one of the really awesome things about PHAs. They're not just one material; they're a class of materials that can be used in a variety of different single-use applications."
Institute cofounder Jenna Jambeck, an associate professor in UGA's College of Engineering, has seized on strong interest among undergraduates in finding ways to end plastic pollution. A leader in marine plastics and environmental engineering, she teaches a sophomore engineering design class where end of life is considered at the product-design stage. Last semester, her students worked on projects like plastic foam cups made from mushroom or fungi-based materials. Other students performed a survey of all of the restaurants and chains in Athens, Ga., on alternatives to the use of straws, spurring a citywide movement in which some of the restaurants voluntarily stopped giving out drinking straws.
Clear Plastic from Crab Shells
Once seen as a miracle product, plastic has become an environmental hazard because of the very qualities that made it so popular: low cost, convenience, and durability. "Plastics are wonderful materials," says Meisha Shofner, associate professor in the School of Materials Science and interim executive director of the Renewable Bioproducts Institute at the Georgia Institute of Technology. "The problem is that we don't use them responsibly."
Shofner is part of a team led by J. Carson Meredith, professor of chemical and biomolecular engineering at Georgia Tech, working to create clear plastic packaging made from thin layers of crab shell fibers (chitin), tree fibers (cellulose), and polylactic acid (a bio-based plastic). They are still conducting final testing but believe that, when finished, it has the potential to be compostable and stable for shelving food products. Not only that, but it will outperform existing packaging materials in keeping oxygen out.
The team currently derives chitin from waste crab shells thrown out by food processing companies. "We're able to take what would be a waste product and convert it into a much higher-value product," Shofner says. While insisting that "there would be no raising crabs for plastic," she acknowledges that "there are people who would not want to use this product because it's made from an animal" and says that they are looking into alternative sources of chitin, such as fungi.
Micro-Pollutants
While substitutes are in development, Earth's oceans and landfills still hold billions of tons of plastics, the result of 60 years of mass production. In the Great Pacific Garbage Patch, the infamous giant debris field between California and Hawaii, plastic waste is reported to be 180 times more prevalent than marine wildlife at the surface. That means surface feeders like sea birds are that much more likely to swallow plastic than to ingest fish or plankton. (No reliable measurement exists, but some reports say the patch is twice the size of Texas.)
"More than 70 percent of marine debris comes from land-based sources," says Jenni Brandon, a postdoctoral fellow in biological oceanography at the Birch Aquarium, part of the Scripps Institution for Oceanography at UC –San Diego. "That's from dirty rivers, harbors, and beaches, and that trash gets into the ocean. The trash that floats gets caught in ocean currents and pulled in by these things called gyres, which are large current systems that pull trash into the center of the ocean. When people think about the Great Pacific Garbage Patch, that's actually the center of North Pacific Subtropical Gyre. Once it's in there, it can stay there indefinitely." Large plastic pieces break down into micro plastics, she says. "Over 90 percent of the plastic in the ocean is smaller than a centimeter." Brandon works with micro plastics and microfibers, trying to quantify the smallest micro plastics in the environment. The smallest nets out there can only catch plastics up to one third of a millimeter. Anything else slips through. "I try to quantify the plastics that are smaller than that," she says, by capturing the plastics in a nonporous metal bucket and using fluorescent microscopy to count the plastics in the water.
She also looks at plastics found in the guts of plankton to see just how pervasive the plastics have become, as well as plastics in sediment to observe how much the materials have become part of the earth. "It turns out that we're using so much plastic that we're leaving it behind in our fossil record," Brandon says.
Her work with plankton was particularly alarming. "I looked at a plankton called salps, which are really interesting because they're constantly filtering the water around them. They feed at the surface, and then once they die, their bodies sink down to the bottom, and that's one way that plastics are transported from the surface to the ocean floor." She studied salps from the coast of California all the way out to the middle of the gyre. "I looked at different species and different life stages, and it didn't matter what salps I looked at—every single one had plastic in its stomach. I got a 100 percent ingestion rate, which is really uncommon in research. I mean, they are really eating a ton of plastic."
When plastic gets to the bottom of the ocean, she says, it's much harder to clean up and quantify. "We need an engineering breakthrough in cleaning up the small stuff."
Catch the Trash, Leave the Fish
Boyan Slat plans to start at the surface. In 2015, Slat, then 19 and an aerospace engineering student at Delft University of Technology, in the Netherlands, presented a TedX talk on using a massive ocean array system to clean up the garbage patch. The talk made a huge splash. Slat went on to form a foundation, Ocean Cleanup. He raised $35 million in donations from, among others, Salesforce.com chief executive Marc Benioff and PayPal cofounder Peter Thiel, and dropped out of school to pursue the project. In Slat's TedX audience was Arjen Tjallema, a recreational sailor who had studied marine engineering at TU Delft. When Tjallema was looking to change jobs and focus on sustainability, he joined the Ocean Cleanup crew as its lead engineer.
The project's design has changed radically from Slat's initial proposal. It originally called for a 100-kilometer-long mechanism anchored to the seabed, says Tjallema. Instead, the crew landed on a smaller, freely drifting array system. It will work like an extended beach line—long, U-shaped booms will stop and collect trash in the gyre, funneling the garbage to the center of the U. The currents move faster at the surface than they do just a few feet down, so a weighted skirt hanging from the booms will keep the system in place with the slower currents. "The philosophy of the system is that it behaves in the same way as the plastics that remain in the area. If you can create a little speed difference between the plastics and the system, you can catch the plastics."
The debris will then be bound using an "inverse fishing" method. "We use a net that we circle around the plastics," says Tjallema. "What a fisherman normally does with such a net is to close the bottom so that the fish can't escape anymore and then close the top of the net, and then you have a bag full of fish. We do it the other way around. First we close the top of the net to trap the plastic, but the bottom remains open so that the fish can swim out—the natural response of fish in that sort of situation is to dive to the bottom. We'll then check to see if there are any fish remaining, and if there are, we can drive them out. Then we'll close the bottom, and we have a net full of plastics instead of a net full of fish."
The plan calls for collected trash to be brought ashore and recycled into products that can be sold to raise more money for the cleanup. Slat already sports a pair of sunglasses made from recycled ocean plastic. Tjallema and Slat launched their first big test of the cleanup design in early September 2018. So far, Tjallema says that the mechanism seems to be keeping its shape and acting in the way they predicted. It is also working with the currents as their models predicted. They are currently performing stress tests on the system. They hope that they can shrink the garbage patch by half in the next five years.
Scripps's Brandon doubts the Ocean Cleanup method will catch even half the Garbage Patch. "They'll certainly encounter some large buoys and plastic nets and that kind of stuff there, but the majority of the plastic is less than a centimeter. I don't think that plastic is going to be cleaned up. Any system of theirs that will filter it would also clean up plankton and fish eggs and small fish and other organisms," she says.
Harbor Cleanup
The best way to contend with ocean plastic, Brandon says, is to remove it from rivers and streams, the source of 80 percent of plastics in the sea. That's why she's a fan of the Baltimore Trash Wheel, a solar- and water-powered device that funnels garbage into its maw by booms that collect the trash as it flows down the Patapsco River and into the Baltimore Harbor. A conveyor belt powered by the water wheel (in rainy weather) is, in turn, powered by the river. In nice weather, solar panels affixed to the back of the device keep it churning. The garbage flows into a dumpster, which is then switched out as it fills up. Most of the debris that goes into the dumpster gets incinerated.
The Trash Wheel is the invention of John Kellett, who has guided school tours on the water, directed a maritime museum, and built and repaired boats. "Every day when I was going to the harbor for work, I would hear the visitors at the harbor reacting to the trash. Baltimore has a beautiful harbor, but trash has been negatively impacting it for a long time. I wanted to change the fact that trash was the first impression that visitors had."
Kellett, whose background is in environmental studies, says that the "vast majority of the trash doesn't come from people walking by and throwing trash directly in the harbor." Instead, it gets washed from alleys and streets into storm drains, and from there into creeks and rivers. "I realized that, when it's raining harder, the river is flowing faster, and that's when you have the most trash." The most efficient trash-removal mechanism, he decided, would be one powered by the river itself: "If we powered it with the flow of the river, we'd get the power when we most needed it." The water-wheel-powered conveyor belt was born. Placed in the harbor in 2008, it didn't become a public sensation until Adam Lindquist, director of Waterfront Partnership's Healthy Harbor Initiative, posted a video of it on Reddit in 2014. Baltimore Harbor now has three trash wheels, each adorned with googly eyes and dubbed, in turn, Mr. Trash Wheel, Professor Trash Wheel (a woman with giant eyelashes), and Captain Trash Wheel (gender neutral). Water wheel volunteers help dig through the trash to quantify the number of bags, bottles, cigarette butts, and plastic foam containers it collects. This data contributed to the adoption of a recent city-wide Styrofoam ban. While still polluted due to an antiquated sewage treatment system that overflows during heavy rain, the harbor is no longer known for its surface debris.
"Usually, the way city water waste works is that it flows out into the ocean, and it becomes somebody else's problem," says Kellett. "Once you decide to make it your problem, you have to deal with permits and who's going to collect the debris, who's going to operate it, and who's going to pay for it."
A Capstone with Results
Kellett, who formed a company, Clearwater Mills, and consults with major cities around the world, remains committed to education. He partnered with Subha Kumpaty, professor of mechanical engineering at the Milwaukee School of Engineering, to get a new senior capstone design project off the ground—or rather, in the water. For the second year in a row, a team of engineering students is working with Kumpaty and Milwaukee's Harbor District to bring a trash collector to the Kinnickinnic River, which, together with the Milwaukee and Menomonee Rivers, flows into the harbor and Lake Michigan. "Most students want to do something real," Kumpaty says. "They would prefer to see the results that will be useful right away so that it feels worthwhile."
Senior mechanical engineering major Kaylee Craft is one of four women on the design team. "I was interested to see the environmental impact of this project because the Milwaukee River is not the best river," she says. "If we can improve the quality of the water in the river, we can improve the quality of life in the city."
The team's engineering challenges aren't limited to building a trash collector. "There's a bridge that's really close to the water level," says Brett Samuelson, another mechanical engineering student on the design team. They'll have to build the trash collector to not only withstand Milwaukee's extreme winter weather, but also design it to go under the bridge when the river freezes and the Harbor District authorities want to remove it. "We're still early in the design process, but we know that the design needs to be either under 8 feet tall, or it needs to be able to collapse on itself so that is within the height of 8 feet," she says.
They also need to plan for irregular river flow. Because the Kinnickinnic joins with two other rivers and the lake, "its flow is kind of all over the place," says Samuelson. "It flows into Lake Michigan, but it also sometimes will have no current, and other times will back flow from the lake into the river." Unlike the Baltimore wheel, the Milwaukee collector won't be able to rely on the current to pull in the trash. "That's one thing that we're going to have to get really creative about" and probably find an alternative to the wheel design, Samuelson says. The team hopes to build and test a model by the end of the school year and patent the design.
Brandon thinks that, in addition to collectors like the Baltimore trash wheel, bioengineering might be the future of waste cleanup. "There are some organisms like caterpillars, meal worms, and wax worms that can break the plastics down into something usable. For example, we've never really known how to deal with Styrofoam. But there's a mealworm that can break it down into usable monomers. We would be able to compost Styrofoam." She also sees fuel potential in plastic waste. "There's petroleum energy trapped in those plastic bonds, and finding a way to release them could be promising to turn plastic back to fuel."
In the meantime, the problem of what to do with recovered plastic waste has been exacerbated by the recent decision by China, which used to conduct 45 percent of the world's plastic recycling, to stop accepting other countries' refuse.
Ambitious ocean cleanups and substitutes for petroleum-based packaging notwithstanding, most experts agree that the problem defies a purely engineering solution. Straw bans may help, along with plastic bag taxes, plastic foam bans, and litter laws. Then there's the option of buying and consuming less stuff.
By Jennifer Pocock
Jennifer Pocock is associate editor of Prism.
Design by Nicola Nittoli