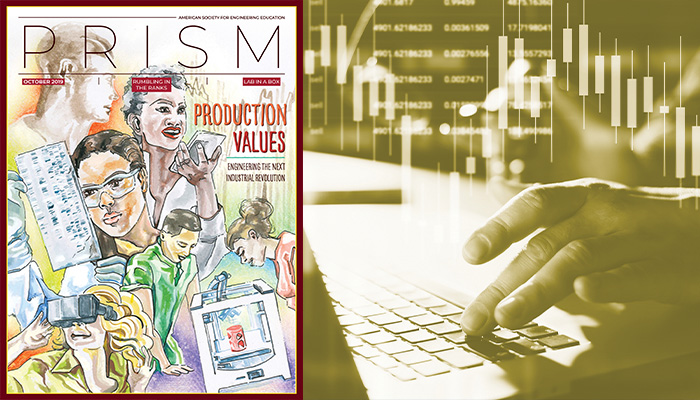 Industry 4.0 promises to add nearly $1 trillion to the global economy by 2025. Can America claim its share, and will engineering graduates be prepared?
By Thomas K. Grose
Canvass Analytics is a software company based in Toronto. Its main product is an advanced analytics platform driven by machine learning that takes shop-floor data gleaned from myriad sensors over many years and crunches the information to build predictive models that businesses can apply to improve production, cut energy use, and limit downtime. "Ideally, we want to use up to 10 years of data," explains Dudon Wai, a Canvass product manager. "Ten years' worth is a lot of data points that humans can't really make sense of." But Canvass's software can. For instance, most manufacturers have preventive maintenance timetables, according to which they shut down machines, say every quarter, for an overhaul. "But if we can predict failure beyond three months and show they can continue to use them well beyond that before having to shut them down, that amounts to less downtime," Wai explains.
Energy is another area of potential savings. Many manufacturers, particularly steel, oil, and agricultural companies, continually run a couple of boilers to provide steam. Intuitively, operating two boilers simultaneously on a 50/50 basis makes sense. "But that's not the most effective way to use the natural gas" that heats the boiler, Wai says. The most energy-efficient method, Canvass's algorithm discovered, is to run one boiler at 70 percent and the other at 30 percent.
Canvass's artificial intelligence (AI) platform is just one example of the transformative technologies that are fueling what has been dubbed Industry 4.0, or a fourth industrial revolution. These engines of change include AI, cloud computing, big data, the Internet of Things (IoT), 3-D printing, cybersecurity, biotechnology, nanofabrication, robotics, regenerative medicine, and visualization and immersive technologies powered by virtual reality (VR) or augmented reality (AR). Together, they represent a merging of the physical and digital realms in manufacturing—and the potential to link together multiple innovations and streamline operations while reducing waste and costs. Globally, Industry 4.0 technologies are poised to generate nearly $1 trillion in economic value by 2025, according to Automation Alley, a Detroit consortium of colleges, industry, government, and nonprofits that researches ways that industry and academia can make the most of this revolution. "A lot of these technologies have become much cheaper, while sensors and electronics are much more powerful," says Karthik Ramani, a mechanical engineering professor at Purdue University. "Now we are bringing them down [in cost] for people to use."
The fourth industrial revolution "heralds a series of social, political, cultural, and economic upheavals that will unfold over the 21st century . . . driven largely by the convergence of digital, biological, and physical innovations," writes the Encyclopedia Britannica, listing the previous three as the steam engine and mechanization, which enabled a shift from an agrarian and handicraft economy to machine manufacturing; mass production and electricity; and "electronic and IT systems [and] automation."
Industry 4.0 is not only reconfiguring factories and supply chains worldwide but also is pushing engineering schools and training programs for technicians to come up with new ways to better prepare graduates for the "smart" workplace's relentless pace of change. "It is disrupting both industry's business models and the traditional academic approach to engineering education," says David Pistrui, a clinical professor of engineering at the University of Detroit Mercy and lead researcher on the talent portion of Automation Alley's recent report, "Industry 4.0: From Vision to Implementation."
Antidote to Economic Ills
In much of the 20th century, manufacturing served as an important pathway to the middle class for high-school graduates and helped to grow a black middle class in the urban North and Midwest. But as MIT academics William B. Bonvillian and Peter L. Singer note in their 2017 book, Advanced Manufacturing: The New American Innovation Policies, a third of manufacturing jobs disappeared between 2000 and 2010. For many workers, those have been replaced by lower-paying service jobs. As a result, between 1990 and 2013, median income fell 13 percent for male high-school graduates and 20 percent for males without a high-school diploma. Manufacturing's slide partly explains why U.S. wages have barely crept up despite unemployment's hitting a 50-year low.
That erosion, Bonvillian and Singer posit, also has spurred the growing income inequality that is fraying the nation's social fabric and endangering its democratic values. "Advanced manufacturing, with its potential for gains in productivity and employment [systemwide] and its core role in the innovation system, would seem to be a top target for addressing the nation's economic troubles," they write. Washington policymakers generally agree. Advanced manufacturing has been among the administration's research-and-development budget priorities under both President Trump and his predecessor, Barack Obama. And Congress gave its support in December 2014 with the passage of the Revitalize American Manufacturing and Innovation Act.
After losing a large chunk of its manufacturing and innovation capacity through outsourcing, however, the United States has struggled to regain a leadership role. "The problems have developed over decades but have become worse with time, now reaching the point where we have lost the ability to scale emerging technologies because of a weak industrial commons, lost supply chains, and lost production knowledge," Sridhar Kota, a professor of mechanical engineering at the University of Michigan, and Tom Mahoney, associate director of MForesight, a nonprofit think tank in Ann Arbor with a focus on technology and industry, write in the forward to a June 2019 report. Meanwhile, other countries are racing to seize the lead. Indeed, the term Industry 4.0 may have been coined in Germany in 2011 to describe a government strategy to digitize manufacturing.
All About Data
While Industry 4.0 includes myriad technologies, its two biggest powerhouses are data analytics and the Internet of Things. Even decades-old machines can be outfitted with powerful, inexpensive sensors that collect, process, and communicate information. "Most companies generate a lot of data, and if it is captured in useful forms that can be analyzed, that is the central part of Industry 4.0," says Kota, founding executive director of MForesight. While the IoT can include machine-to-machine or machine-to-product communications, Kota says that for now you still need humans in the loop to make decisions. "You don't want to automate everything just because you can."
The World Economic Forum projects that the number of IoT devices will exceed 20 billion by 2020, owing to continued technological advances and the plummeting costs of computing, storage, and connectivity. The group believes industrial IoT could be "one of the biggest drivers of productivity and growth in the next decade." For now, there's no clear leader in the IoT field, but this past July, China's controversial telecom Huawei predicted it soon will be battling to lead the revolution in smart manufacturing and IoT, the Financial Times reported. The newspaper noted that while Huawei has the deepest range of products, it's unlikely any one company can offer a complete range of industrial IoT solutions.
Kota points out that many technologies associated with Industry 4.0 aren't new. Modeling and simulation, for example, have been around for decades. "What is new is bringing it down for real-time use on the shop floor" at affordable prices, says Kota. For example, Upskill, a Vienna, Va., company, sells augmented reality software that overlays digital information onto workplace environments via devices like smart glasses, smartphones, and tablets that can be used to improve machine maintenance, worker training, and other tasks.
Return on Investment
Getting small- and medium-size companies to understand and employ such technologies can prove challenging. That's why Purdue's Ramani is overseeing a four-year, $2.5 million National Science Foundation-funded Factory of the Future project to help companies implement technologies most suited to their operations. The plan is to build an AR platform that can simulate technologies and let managers determine in advance if the benefits justify the costs. For example, a company could see, virtually, if a new type of mobile robot would boost productivity and how the machines and human workers would interact. The tool also could identify ways to rearrange shop floors to better accommodate new technologies. Another big use would be to train, or "preskill," workers on new equipment before it's installed. "We can train people on virtual machines," Ramani says, "because entire factories can't be shut down to train employees."
One part of the Purdue study is being overseen by MIT economist Daron Acemoglu and focuses on productivity. The gains that computers and information technology were supposed to deliver in the 1990s proved short-lived, and U.S. productivity has been increasing at a snail's pace. Indeed, economist Robert Gordon, who is cited by Bonvillian and Singer, maintains that the IT innovation of the late 20th century failed to deliver the enduring, high productivity and growth rates that sprang from innovations in the preceding 100 years, including the internal-combustion engine, modern telecommunications, and electricity. Accordingly, demand for manufacturing labor has been weak, and too many automation technologies have replaced workers rather than complementing them.
The hope for Industry 4.0 is that it will finally make good on IT's promise. That's because computing has become massively more powerful, and sensors more sophisticated and inexpensive. So, potentially, industries now can collect and make optimum use of the huge amounts of data they generate. That includes linking multiple technologies—including artificial intelligence and augmented reality—via the IoT in ways that truly accelerate productivity gains. Acemoglu's research zeros in on the labor market implications of Industry 4.0 technologies to determine if they actually will boost productivity and lead to more, not fewer, jobs. Ideally, Ramani says, advanced technologies will do the most mundane tasks, freeing humans to do harder, more complex, and more interesting jobs beyond the ken of robots. Listing technologies and disciplines "likely to hold the most promise" in boosting productivity, the Information Technology and Innovation Foundation, a research nonprofit, recently cited robotics, autonomous vehicles, artificial intelligence, additive manufacturing, materials science, microelectronics and advanced computing, and life sciences.
What to Teach and How
The Factory of the Future project also seeks to prepare pre-college students for employment in smart industries by coming up with innovative ways to teach them design, coding, fabrication, electronics, and sensors—teaching methods that go beyond traditional STEM education. One possible option is an experiential course for the ninth through twelfth grades called Design & Prototyping of Smart Toys and Robots. "We are trying to fill the skills gap, in manufacturing in particular," says Ramani, who has taught the popular toy-design course at Purdue for years. He and his team are concentrating on schools in rural areas where "a large portion of people are left behind," not skilled but keen to work.
Finally, the project aims to better prepare engineering students for industrial jobs being reshaped by digitization. "There is a need for more flexible education," Ramani says. "Industry 4.0 technologies are forcing us to change ourselves."
Detroit Mercy's Pistrui agrees. The fourth industrial revolution is not about AI in isolation, he explains, but about how it works in tandem with things like the IoT, big data, robotics, and cloud computing. "It is the intersection of these technologies. Silos, traditional hierarchies, are less relevant today because of the rate of technological disruption," he says. Engineering schools, Pistrui adds, "are still operating in an Industry 2.0 or 3.0 mind-set, and the old silos remain. And they are not relevant to industry." As a result, he says, industries complain that newly hired graduates understand the theories behind these technologies but not how to combine or implement them. "They're not work-ready." The solution, argues Pistrui, is more input from employers: "Schools need to be more receptive and engaged with their customer, and that's industry."
Dan Sayre regularly hears the same thing. He is executive editor for engineering and geosciences at Oxford University Press and also chairs ASEE's Corporate Member Council. New technologies are changing how products are created and delivered, he says, "but these subjects are not included anywhere in engineering education." For faculty members, the task of revising a course to update it "is far down on their to-do list," he notes, in part because it will do little to further their careers. And faculty have a valid argument in saying they are supposed to be educating students for a professional career, not teaching them the latest technologies—which may be out of date by the time they graduate. Kota, for his part, insists that "universities should continue to educate, not train."
If universities won't provide the training, they can design appropriate curricula to train those who need it, such as technicians. That's the aim of Ross Higashi, head of educational outreach at Carnegie Mellon University's Robotics Academy. He sees Industry 4.0 factory floors "transformed into networked cyber-physical systems controlled by specialized artificial intelligence (AI) software." Recognizing that technicians will need to understand such systems to troubleshoot them, he recently secured a $1 million NSF grant to develop a hands-on, bootcamp-style curriculum in machine learning "for technician trainees with little or no STEM background." He has partnered with researchers at the RAND Corporation to come up with principles for rapid development of updated training schemes in fast-moving fields like ML and AI that can be used by community colleges and technology centers.
The quandary for engineering educators is figuring out how to inject new technologies and skills into a four-year-degree curriculum, keeping pace with changes without tossing out legacy systems, says Darrell Kleinke, a mechanical engineering professor and director of professional engineering programs at Detroit Mercy and an associate researcher at Automation Alley. "Are there ways of delivering on-demand, short micro-courses within the current accreditation models?" he asks. Another challenge is bringing faculty and professional societies on board, "because people don't like change, and there is a natural tendency to avoid it."
ASEE's four institutional councils agreed in June to commission a survey of recent engineering graduates with four to five years in the workforce. It will ask what skills they learned that they never use on the job, which ones they were taught and regularly use, and which others they use daily but weren't taught at all. "We'll use that feedback to draft possible changes," Sayre says.
One solution, Ramani suggests, is for engineering schools to set up three-month certification seminars during the summer in which students work with local small-to-medium-sized companies in areas like robotics, sensors, data analytics, cloud storage, and modeling and simulation. "You combine local companies that could benefit from these technologies with students who know the theories behind them and can use that knowledge to design tools. Students would learn and understand how companies use these technologies in the real world. And it can open the eyes of companies to what's behind Industry 4.0." More than a capstone course, it would give students "a real work experience," Ramani says.
Automation Alley has developed a number of research-based engineering curriculum changes over the past few years in collaboration with several universities, community colleges, and industry. These will be at the heart of an ASEE-led conference in the fall of 2020 in Washington, D.C., on how to better prepare students for Industry 4.0. The plan, says Pistrui, the program chair, is to develop a consensus among academics, business executives, policymakers, accreditors, and professional societies on curriculum changes that could help ensure that associate's and bachelor's graduates in engineering, engineering technology, and engineering technician programs are oven-ready for their future jobs.
While curriculum change will likely come in "short, small steps at first," says Kleinke, in a few years "we'll see real-time, dynamic curriculum morphing as quickly as technologies change." If he's correct, engineering students will contribute to awakening "a sleeping giant." That's how Humera Malik, CEO of Canvass Analytics, referred to manufacturing during a Milken Institute forum last November. "Data-rich, information-poor," she says, manufacturing is ripe for a revolution.
Thomas K. Grose, who is based in the United Kingdom, is Prism's chief correspondent.
Design by Francis Igot