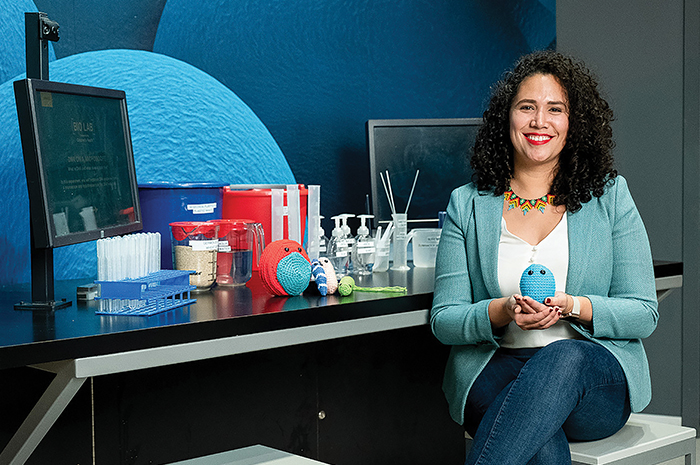 Fuzzy Logic
This biomedical engineer uses soft skills—that is, crocheting—to make STEM concepts go viral.
By Deborah Lee Rose
Ana Maria Porras's crocheting career began when she was a shivering graduate student at the University of Wisconsin–Madison, where she earned her M.S. and Ph.D. in biomedical engineering. To a transplant from Colombia, the winters were numbingly cold, so she started making warm accessories. Now a presidential postdoctoral fellow in Cornell University's Meinig School of Biomedical Engineering, Porras is weaving her beloved craft into her efforts to inspire future engineers—and into the fabric of her own research.
Porras studies how geographic differences affect the human gut biome. Gut microbes differ between people from Global North (high-earning) countries versus Global South (low- and middle-earning) countries. She often collaborates with scientists, doctors, and nutritionists in countries such as Fiji and Guatemala to study the differences.
In the lab, she engineers in vitro biomaterials-based models of disease to illuminate how host–microbe interactions, for either beneficial or pathogenic microorganisms, regulate human health. "I want to teach people that microbes aren't just bad for you," she explains. "They are really good and fundamental for our own health and our planet's."
In 2019, Porras was selected as an American Association for the Advancement of Science IF/THEN Ambassador. This diverse group of professional women showcase STEM careers, communicate to the public about their work, and encourage girls to pursue STEM studies.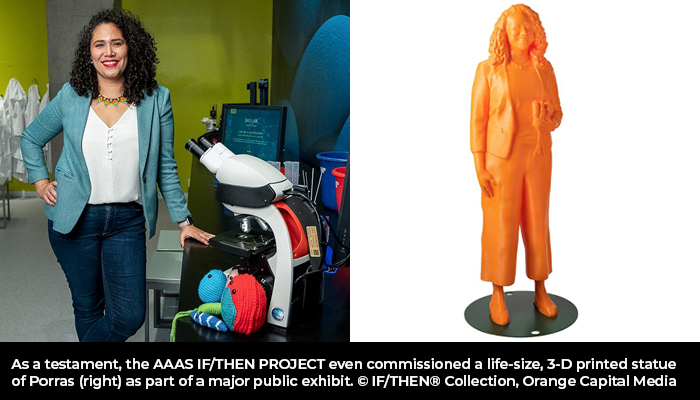 That's where her "soft skills" come in. The biomedical engineer engages young people with a unique component—three-dimensional, crocheted microbial models. "It is sometimes really hard to get people excited about microbes," Porras admits. "My crocheted microbes allow kids or adults to visualize the organism and have a better grasp of what it is I am talking about." Before the pandemic, Porras crafted her yarn-art pieces as hands-on teaching tools in the United States and Latin America. She even taught kids to crochet. She will continue both when in-person events can start again worldwide.
"Yarn arts like crocheting and knitting rely on a lot of different STEM concepts," she says, such as geometry and materials science. Teaching kids her favorite soft craft helps reveal and strengthen their skills in these areas, allowing young people to build the confidence and perseverance necessary to pursue STEM studies and careers. "Whether you are an artist, a scientist, or an engineer, we all need creativity to succeed in our endeavors," Porras says. "In our modern world, we sometimes lose sight of the importance of doing things with our own hands."
Porras also wields her crochet hook, and her social media accounts, to reach an international audience. She shares her fuzzy microbes—including a deep-purple-with-lime-green-spikes SARS-CoV-2—on Instagram, telling short stories in English and Spanish about each microbe's biology and, for pathogens, the diseases they cause. Most recently, she has aimed a felt-tipped hypodermic needle at teaching how the new mRNA vaccines work and convincing people that they are safe and effective.

© IF/THEN® Collection, Orange Capital Media
Sharing her craft to educate others has, in turn, impacted Porras's work. "In researching the things I want to crochet, I often end up learning new microbiology facts that spark new research ideas," she explains. "The conversations I have with people all the time now about the microbes around and within us force me to think much deeper about the things I think I know."
In August, Porras will move to the University of Florida, taking a position as an assistant professor of biomedical engineering and enlisting her crochet hook and skeins of yarn to help shape her and her students' work. The STEM advocate will also continue to mentor future engineers who could someday work in fields that don't yet exist. As a testament, the AAAS IF/THEN project even commissioned a life-size, 3-D-printed statue of Porras as part of a major public exhibit.
"I'm a biomedical engineer pursuing a career that didn't even exist in Colombia when I was growing up," she says. "That's why I tell kids, 'Let your imagination be the limit.' "
Deborah Lee Rose (deborahleerose.com) is an award-winning author based in Silver Spring, Md. Her 16th book, Astronauts Zoom!, will be released in April 2021.
© IF/THEN® Collection, Orange Capital Media
Visit Porras's website at www.anamariaporras.com.