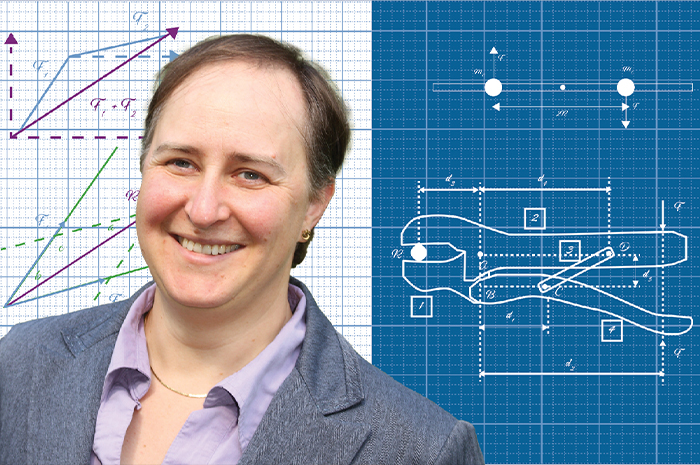 Personal Best
ASEE's national outstanding teacher practices what she preaches about active learning and continuous self-improvement.
By Mary Lord
As an instructor and faculty teaching fellow at Cornell University, Hadas Ritz aims to transform undergraduate engineering education. For the past 13 years, she has taught courses from calculus to statics with such an engaging infusion of brainstorming and real-world examples that students dub them "Ritz classes." She brings the same signature zest to professional development, whether coleading an initiative to increase active learning in the Sibley School of Mechanical and Aerospace Engineering, where she is a senior lecturer, or co-running a teaching workshop every semester for new faculty.
Ritz's efforts have earned her sterling evaluations and multiple accolades, including ASEE's 2021 Outstanding Teaching Award. Students, however, value a more prosaic hallmark: office hours.
"Wonderful," is how former advisee Rebecca Jiang, now pursuing a doctorate in aeronautics and astronautics at MIT, recalls the weekly sessions that enabled her to succeed in a large class. "I always left feeling excited about the course material and confident in my deep understanding of it." Other instructors' students have benefited from Ritz's explanatory powers, too. One group learned so much from video tutorials she'd made for the introductory mechanical engineering course she'd helped to redesign and teach that they asked if they could attend her office hours.
"I live for the interactions of the students and watching as they start to make connections," explains Ritz, who strives for "continuous improvement" of her own courses and pedagogy as well as teaching and learning collegewide. "If I could describe my perfect job, this would be it."
Ritz's learner-centered approach was particularly important last fall as COVID-19 pushed classes online. She and her co-teacher pared topics and reduced homework to focus on key concepts. They also checked in regularly with students about how they were doing personally. Ritz, who found it difficult "to lecture to no one" since "hardly any" students kept the camera on, even hit on a face-to-face workaround: She rolled a whiteboard onto the quad and held outdoor office hours. These weekly sessions became the highlight of the semester for students and Ritz alike.
A "townie" from Urbana, Ill., where her father was a professor at the flagship state university, Ritz was "one of those kids who was good at math and physics." She found her calling in mechanical engineering, graduating with highest honors from the University of Illinois, followed by M.S. and doctoral degrees from Cornell.
In college, Ritz always enjoyed collaborating with classmates to solve problems. As a graduate assistant, she wound up spending all her time teaching. "That was the signal to myself that [the classroom] was where I should be," she reflects.
A proponent of active learning, Ritz has been developing curricula and redesigning courses—from foundational (Calculus for Engineers) to upper-level (Spacecraft Engineering)—with such proven techniques as demos and poll questions to identify common misconceptions. She also uses student feedback to make midcourse adjustments. "I just want to keep it interesting for myself," she says with a laugh.
Indeed, the self-improvement aspect is why Ritz continues to love teaching. An ASEE member since 2016, she regularly participates in ASEE conferences, implementing new techniques she's gleaned. She also has "an insatiable appetite for talking with colleagues about teaching." Her new faculty trainings, for example, focus on how to make the best first impression in those first crucial minutes of the opening lecture. (Hint: don't start with the syllabus!)
Students' glowing letters of support for Ritz's ASEE teaching award nomination show their appreciation. "One of the best," attests an undergraduate who had "met countless educators" while being schooled in four countries. Faculty are equally positive. "As excellent as they come," enthused Cornell mechanical and aerospace engineering professor and former chair Mark Campbell.
Beyond thoughtful, active practice, Ritz also inspires by example as an openly gay woman. "Representation matters," she notes, recalling the calculus and introductory mechanical engineering course she taught years ago. Seated in that "sea of 60 to 100 people" were a handful of LGBTQ students. She "felt good" to be teaching their technical classes during that first critical semester of college and "showing that they belong in engineering."
Mary Lord is deputy editor of Prism.
© Getty Images/Alexander Da Silva