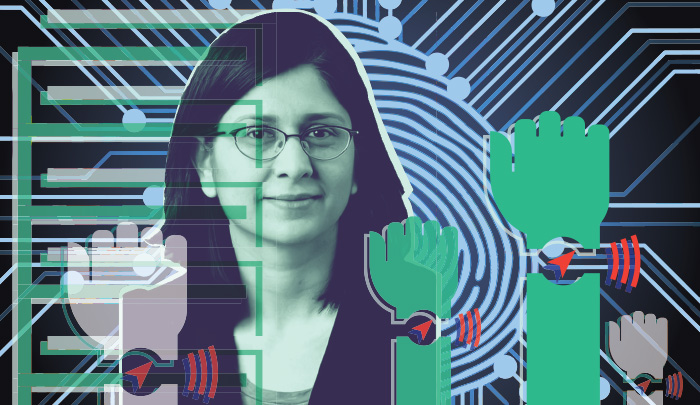 Sensors and Sensibility
In developing nanosystems to improve health care, a pioneering engineering educator breaks down barriers separating departments, schools, and industry.
By Mark Matthews
Young fitness buffs are quick to adopt the latest wristbands that monitor body heat, calories burned, sleep cycles, and sweat. People over 65? Not so much. And that's a missed opportunity to improve health care for the population that could benefit the most, argues Veena Misra, a professor of electrical and computer engineering at North Carolina State University. "One major reason is the hassle of taking it off and charging it," she says. "If it's not robust and reliable, it can create a lot of anxiety." Her answer, now in the demonstration stage at the Nanosystems Engineering Research Center for Advanced Self-Powered Systems of Integrated Sensors and Technologies (ASSIST), which Misra heads: a device powered by body heat and motion that can be worn non-stop, measuring not only the wearer's physiological state but also exposure to pollutants.
Besides letting patients and physicians shift from "managing illness to managing wellness," ASSIST monitors could supply doctors with important data on a patient's heart rate or blood pressure leading up to sudden illness, Misra says. Of the approximately 325,000 cases of sudden cardiac arrest outside of hospitals in the United States each year, nine in 10 victims die. A fourth of these patients show no symptoms beforehand. Doctors "would love to have a history of EKGs" (electrocardiograms) to better understand the source, Misra says.
ASSIST's complex wristwatch-size devices and chest patches draw on medicine, biology, computer and electrical engineering, and data analytics, but their essential element is nanotechnology. Nanocomposites enable the energy harvesting. Carbon nanotubes form the base of the energy-storing supercapacitor, which is coupled with a lithium-ion battery with a nanoscale pore. Nanowires make the sensors flexible, nanoelectronics drive the data collection, and silver nanowires send data via radio to a smartphone. If an extra power boost is needed, there's a tiny solar-cell attachment.
For the patient, key characteristics are comfort, convenience, and durability. All this is no small undertaking. Funded in 2012 with $18.5 million from the National Science Foundation, ASSIST has engaged 27 faculty members from nine universities and 90 graduate students. But the timing seems right, as the nation struggles to control medical costs while ensuring adequate health care for aging baby boomers.
Born in the United States to two scientists who raised her in New Delhi before the family returned to this country, Misra feels a connection to ASSIST's target population as her parents age. "Right now there are lots of wearable devices, but the effectiveness is not that great," she says, a hint of India in her clipped voice. A third of users quit. Industry recognizes ASSIST's potential, as evidenced by its 27 corporate partners, including Raytheon, Samsung, and Coca-Cola. So does the Pentagon, eager to monitor the physical condition of soldiers in combat.
With 11 intellectual-property disclosures – a step toward a patent or copyright – so far, ASSIST research could lead in a variety of directions. One that shows promise is biochemical sensing, starting with cortisol, a marker of physical or psychological stress. Simultaneous monitoring of the body and environment will allow long-term data collection on the health effects of pollutants, such as ozone or carbon monoxide, increasing understanding of allergies and autoimmune diseases.
Whatever its impact on Americans' health, ASSIST already has expanded options for NCSU students while at the same time breaking down departmental barriers. NSF expects engineering research centers to have a strong educational component. Led by Mehmet C. Ozturk, ASSIST's interim deputy director, the curriculum includes an undergraduate minor in nanoscience and technology that taps faculty from six engineering disciplines – some with experience as ASSIST researchers – and explores nanotechnology's societal and ethical dimensions. A graduate-level Translational Engineering Skills Program (TESP) seeks to instill seven competencies, including systems thinking, entrepreneurship, mentoring and teamwork, and familiarity with manufacturing, so students can turn their research in nanotechnology into marketable products. "There's a lot of hype about nano," says Ozturk, "but it's not trivial to take nanowires and compete with conventional technology." Manufacturing challenges "need to be part of discussions early on."
Misra knows something about manufacturing challenges, having cut her teeth at Motorola's Advanced Products Research and Development Laboratory before joining the NCSU faculty. But NSF is giving ASSIST and its corporate partners time to work out the kinks before production starts. The current grant goes until 2017 and is renewable.
Mark Matthews is editor of Prism.
Design by Francis Igot/NSF Nanosystems Engineering Research Center for Advanced Self-Powered Systems of Integrated Sensors and Technologies/Thinkstock