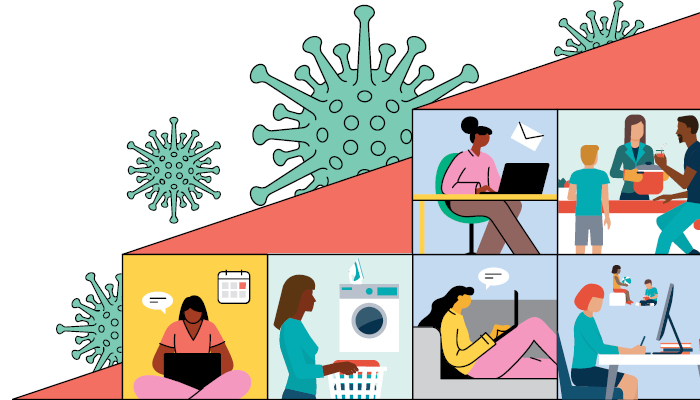 Female science and engineering faculty have borne a disproportionate share of COVID-19's career side effects.
By Beryl Lieff Benderly
The pork tomatillo stew dinner was supposed to be a treat amid the pandemic blahs for the family of Pamela Kreeger, an associate professor of biomedical engineering at the University of Wisconsin. But like so much during these unprecedented times, unexpected complications arose. A circuit blew as she was cooking, torching the stove along with electrical wires. Adding to her stress, days passed before she could arrange for repairs amid the extra work and home responsibilities imposed by COVID-19. The ordeal inspired Kreeger to think deeply about the additional pressures on female academics, culminating in "Ten Simple Rules for Women Principal Investigators During a Pandemic." Her guide for regaining balance, coauthored with eight other female engineering academics, clearly struck a chord, receiving over 47,000 views since it appeared in PLOS Computational Biology last October. Domestic disasters are not "abnormal for anybody right now," Kreeger told a UW publication. "This one little extra thing, you're just teetering so close to the edge that it shoves you right over."
Universities have strived for decades to boost the representation of women in STEM. As a result, ASEE data show, women now constitute about a quarter of the country's engineering assistant professors and 20 percent of engineering associate professors. The progress has not been even across racial and ethnic groups, however (see "Databytes," p.18–19). And a new report from the National Academies of Sciences, Engineering, and Medicine (NASEM) reveals how fragile those advances remain. Just one year after showcasing "promising practices" for addressing the gender gap and "opening doors," NASEM's latest consensus study confirms what Kreeger and her coauthors experienced first-hand: The pandemic has exacted a disproportionate toll on female engineering academics at every level, from postdocs to department chairs to deans.
As noted in its preface, The Impact of COVID-19 on the Careers of Women in Academic Sciences, Engineering, and Medicine might well have been subtitled "Keeping Doors Open." The report details the "intensified complications related to work-life boundaries" that have led to "increased workloads, decreased productivity," and a diminished sense of professionalism. The onus of juggling has fallen especially heavily on women who do significant caregiving for children or elders, while the "omnipresent stressor of structural racism" places additional burdens on women of color. Moreover, the report continues, institutional responses to the pandemic can exacerbate inequities and have highlighted the need for fresh, more equitable strategies to support female faculty throughout their careers.
Home Fires
In academia, the pandemic "threatens to wipe out decades of progress in closing the gap between men and women in labor force participation," Felicia Jefferson, an associate professor of biology of Fort Valley State University, noted at one of several NASEM symposia. Among the "most stressed groups" are women on the tenure track, Ellen Kossek, the Basil S. Turner Professor of Management at Purdue University, tells Prism. In studying STEM and medical faculty during the pandemic as part of the NASEM project, Kossek found that such women, with their many years of stringent preparation and professional identities at stake, "are terrified."
Reasons for angst, explained Sarah Trainer, a Seattle University anthropologist who presented her research on COVID-19's consequences in academia at ASEE's 2021 Collaborative Network for Engineering and Computing Diversity (CoNECD) virtual conference in January, include "pervasive worry about student evaluations, external reviewers, tenure clock delays, promotion delays, and expected levels of productivity." Teaching from home also brings unique pressures, such as dealing with children's tantrums right before a Zoom class.
Female academic engineers report particularly difficult challenges and lower professional satisfaction than their peers in industry. A July 2020 survey of Society of Women Engineers members, for example, found that 52 percent of female engineering and technology educators were dissatisfied with their work-life balance during the pandemic. By contrast, 68 percent of overall respondents—ranging from industry engineers to engineering undergraduates—declared themselves satisfied.
For Alice Pawley, an associate professor in Purdue's School of Engineering Education, COVID-19 quarantine has meant simultaneously meeting professional expectations and the unpredictable needs of two children, 5 and 8, who normally would be in school. Long periods to focus on one task is a pipe dream. "You're trying to do the intellectual work in between feeding the kids or dealing with the requests for printing off coloring pages, or fixing the Internet because the [Zoom] call has gone down for the eight-year-old in school, or helping someone go to the potty and change their clothes because they've had an accident," she explains.
The "biggest" pandemic measure that many universities have undertaken to aid parents is extending the tenure clock, says Kossek. Yet that "doesn't help non-tenure-stream faculty" who hold adjunct positions or other easily terminated, short-term jobs and constitute 73 percent of the academic workforce. University furloughs and budget cuts have hit contingent and nontenured faculty members harder, the NASEM report emphasizes, and these positions are more often filled by women—especially Black, Indigenous, and Latina women.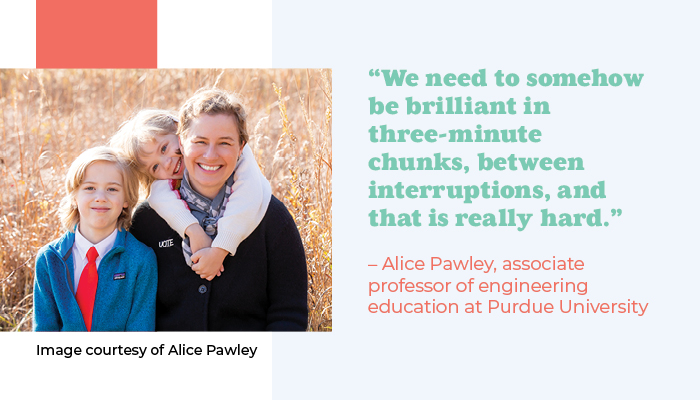 Nor do such assists extend to labs. A survey of principal investigators led by Kyle Myers of Harvard Business School found that female bench scientists, especially those with small children, "experienced a substantial decline in time devoted to research" that "could have important short- and longer-term effects on their careers." The study, published in Nature Human Behaviour, reported drops of 30 to 40 percent in research time in fields relying on physical labs and time-sensitive experiments, such as chemistry and chemical engineering. Research time fell about 20 percent in electrical and other engineering fields, and 10 percent in computing. "All else being equal," the authors calculate, "female scientists reported a 5 percent larger decline in research time" than males—with mothers of children 5 and younger experiencing a 17 percent bigger drop than colleagues without small children.
This lost research time has translated into fewer publications and citations for women. Cassidy Sugimoto, associate professor of informatics at Indiana University Bloomington, surveyed publications in several fields and found falling proportions of female authors. First authors—generally early in their careers—declined more than last authors, usually the paper's most senior participant. Sugimoto told Nature she fears "long-term consequences" because "the best predictor of a publication is a previous publication." The pandemic compelled Purdue's Pawley to push pause entirely. "I survived this year by throwing my research out the door," she says. "That's the only way I could make it through this."
Vanishing Boundaries
Though the time bind is tighter for mothers of young children, the struggles of toggling between work and Zoom kindergarten are not just an "under-5" thing, Kossek cautions. The study coauthored by Harvard's Myers, for example, found that scientists with elementary-age kids spent less time at the bench, while having multiple children trimmed research time by an additional 3 percent. Between parenting "emotionally fragile" children while trying to keep up with research; writing reports, papers, and proposals; and talking to students, "the day is completely filled," lamented an anonymous respondent in a University of Georgia survey about the pandemic's impact on engineering faculty.
Pawley's juggling act precipitated a brutally honest automatic reply on her work e-mail. "During the COVID pandemic, my partner and I are working from home with children," it begins. "I am not working for Purdue Fridays so I can watch the kids, and instead work Saturdays when my partner can do the childcare."
Pawley says she hoped to provide an "honest understanding" of what working from home entails for parents and to "make visible the private work of caregiving," which normally would be invisible. Even so, she pulled her punches. "I did not have the nerve to tell you in my away message that my then four-year-old was trying to get out of pullups and we were literally cleaning up poop, multiple times in a day," Pawley confides. "How is my dean or my provost asking me to do things for my job, and they have no clue that my day is spent not thinking of 'the next brilliant grant proposal' but cleaning up poop?"
To reinforce the point, Pawley's out-of-office message includes a link to a Washington Post article in which two parents record how often their children broke their concentration while working from home. The tally: 45 interruptions in 3 hours. The longest uninterrupted interlude lasted just under 20 minutes. The shortest? Mere seconds. "It wasn't just people complaining; it was data," explains Pawley. "We need to somehow be brilliant in three-minute chunks, between interruptions, and that is really hard."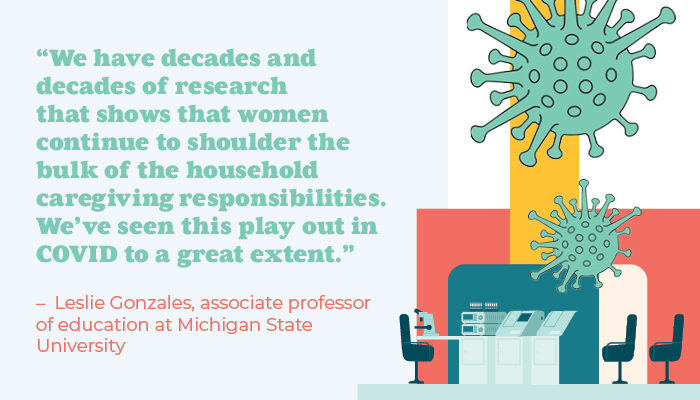 Remote instruction has also added to the "non-work workload" for every faculty member "because you had to redesign all your classes," points out Purdue's Kossek. "If you taught anything that was hands-on, you also had to rethink it all." As a result, Trainer and colleagues note in their survey, "teaching and administrative service have overwhelmed research and writing time for most faculty." Since women typically are tapped for service more than men, even those without children can find themselves saddled with unexpected extra duties. "I am single and have no children, so therefore my free time is seen as more expendable than those with children," writes one tenure-track faculty member on the SWE survey whose "work hours have increased astronomically." Moreover, as a young woman, she is expected to help "older colleagues navigate new technologies, even if I don't know how to use those technologies myself."
The myriad, often conflicting demands on their time have eroded the ability of many female faculty members to control the temporal and spatial boundaries separating work and home life—which even in the best of times were hardly rigid, underscores Kossek. This "collapse of the professional into the personal," as Trainer and coauthors call it, has caused many women extreme stress. "My life is work now. When I wake up, I go to work, which is my living room," said Kayla Nguyen, a materials science and engineering postdoc at the University of Illinois, Urbana-Champaign, describing her new normal at a NASEM conference. Though her lab closed, rendering it impossible to accumulate data and hindering a lot of her progress, she felt compelled to "push very hard because I'm going up for faculty this year…. I'm just trying my best to do what I can."
"Barely Making It"
Chronic stress can adversely affect physical and mental health, C. Neill Epperson, a professor of psychiatry at the University of Colorado School of Medicine, explained at a NASEM symposium. Symptoms might show up as exhaustion, lack of motivation and interest, or curtailed accomplishments. They can appear particularly pronounced in environments that women perceive as "chilly" and unwelcoming—a longstanding reality in some male-dominated, hard-core science and engineering disciplines.
In addition, for women of color, racism and the unequal impacts of COVID-19 on their own health and that of relatives and friends serve as compounding stressors. The NASEM report highlighted these additional effects, particularly for Black women, and emphasized the need for institutions to recognize and address "challenges faced by those with multiple marginalized identities."
Overall, mental health conditions such as depression, anxiety, and insomnia arise more frequently in women. And with 2020's concurrent crises (the report spotlights "terrorist attacks, natural disasters, racialized violence, and infectious diseases"), it follows that women would be more heavily affected.
Trina Fletcher, an assistant professor in Florida International University's College of Engineering and Computing and chair of ASEE's Minorities in Engineering Division, worries about her colleagues who are "barely making it." Mental health is "one of the most under-focused areas right now," she says. "I'm very concerned about engineering faculty."
In addition, women trying to complete degrees and become academics often face unique mental health challenges. Fletcher recalls a student, trying to matriculate to a doctoral program during the pandemic, who was diagnosed with severe anxiety and had to wait "forever" to get a mental health appointment—a reflection, she believes, of the growing number of people seeking help.
Unequal Loads
While gender disparities are a perennial issue in STEM, their impact often is magnified in "times of acute stress such as the COVID-19 pandemic," Kreeger and her coauthors observe. Women typically occupy less lofty academic positions than men and command fewer financial and institutional resources for adapting to the disease's disruptions. There's a domestic pecking order as well. A number of male faculty members interviewed for Trainer's study reported "substantially increased childcare" duties but only one said he was the primary caregiver and was "suffering" under the dual roles. "Even in the most feminist households," noted Leslie Gonzales, an associate professor of education at Michigan State University, at one of the NASEM workshops, "we have decades and decades of research that shows that women continue to shoulder the bulk of the household caregiving responsibilities. We've seen this play out in COVID to a great extent."
Additional responsibilities fall on women of color. Before the pandemic, many Black women—who embody two underrepresented groups in engineering—already were overloaded with service tasks. As Fletcher puts it: "We're asked to sit on committees to meet a quota." Black women also find themselves pulled in multiple research directions on both the pandemic and social justice issues. Turning down such opportunities to elevate and address inequities is not an option. "As much as I want to say no, I also know if I don't get in there to help [the department] achieve these goals, we're going to be talking about the same stuff next year, and I don't want to talk about the same stuff next year," explains Fletcher. "We want to be talking about what we achieved and how things are different."
Women also are often sought out as mentors and role models. This additional labor goes unrecognized in traditional measures for faculty advancement. That can lead female faculty, especially those of color whose tiny percentages make them particularly leaned on, to become "emotionally depleted, burned out, and in need of additional support for their well-being," warns the report.
Vision for the Future
The NASEM report is preliminary, covering March to December 2020, and its charge was to inform rather than make recommendations. Still, its authors point to additional research questions that require investigation. Those include the short- and long-term effects on the careers of women of color and the management of work–nonwork boundaries for different demographic subgroups, by variables such as by race, ethnicity, socioeconomic or immigration status, and gender identity.
Moving forward, Kossek foresees a cumulative impact on women's status in engineering. Along with a tight job market due to furloughs or hiring freezes, she predicts the supply of women in STEM will dip from "women dropping out"—especially untenured or non-tenure-track faculty. Many have persisted in "struggling to carry their dual burden because being an engineer is part of who you are." But she believes "there will be some who say, 'I give up.'"
As Kreeger and her coauthors disclose in their survival guide, each of them "hit her individual breaking point at least once during this crisis." To restore balance, they advise saying no to unnecessary tasks and responsibilities, keeping expectations realistic, and offering compassion and support to others. "When you have energy to do more than the minimum, use that in support of women and underrepresented groups," they urge, acknowledging the additional challenges for women with multiple marginalized identities.
Although gender disparities are an often-discussed topic in STEM, "Ten Simple Rules" considers the pandemic an opportunity to normalize conversations about work-life balance. Ideally, the authors hope, lessons learned from this "unprecedented challenge" could lead to "a more equitable and welcoming environment" in engineering.
Beryl Lieff Benderly is a Washington-based freelance writer and a fellow of the American Association for the Advancement of Science. Prism assistant editor Yara Palin contributed reporting.