Breakthroughs and trends in the world of technology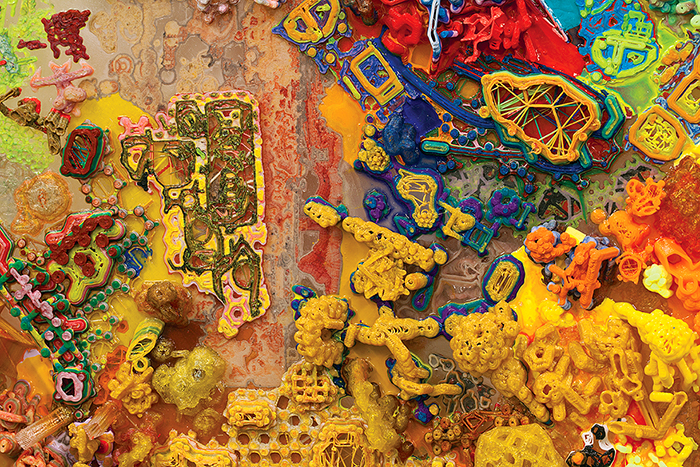 3-D Manufacturing 
Beautiful Glitches
Artists have long looked to industrial processes and materials to break through the constraints of oils, brushes, marble, and chisels. For his drip paintings, Jackson Pollock turned to Duco®, a quick-drying lacquer developed by DuPont in the 1920s for the auto industry. Louise Nevelson and others found that U.S. Steel's Cor-ten lent the right patina to monumental outdoor sculpture. So it was just a matter of time before artists drew inspiration from 3-D printing. For large works that call to mind undersea coral, Brooklyn-based Shane Hope employs several kinds of software depending on the task. He starts by massaging files from a protein data bank into colorful maps, which serve as his base. Then he manipulates the plastic ingredients, joining different colored strands. Hope seems a bit hard on his equipment, adjusting printer speeds at various points to witness the aesthetic potential of a system crash. But the results, writes Joseph Flaherty in Wired, "are massive, dazzling assemblages — beautiful in the way that spectacular computer glitches can be."
Image Courtesy of © Shane Hope. Detailes of Nano-Nonobjective Noo-Zoos. 24" x 24"


Thermoelectricity
Comfort Zone
Would you like to feel toasty warm in a cool room or properly chilled in a hot one? Some MIT students thought you might. And so they invented Wristify, a thermoelectric bracelet that they say can create that effect. Wristify sends quick blasts of cool or warm air to the wearer's wrist, depending on what the outside temperature is. The device recently won the team the $10,000 top prize in MIT's Making and Designing Material Engineering Competition. Ultimately, the students hope it will help ease the need for the air conditioning and heating of buildings, which would greatly reduce energy use. Led by materials engineering senior Sam Shames, the team worked on the principle that human bodies are easily tricked into feeling hot or cold and quickly acclimate to temperatures. For example, if you dive into a cold swimming pool, after the first shock of hitting the icy water, your body soon gets used to it. By keeping the jolts of cool — or hot — air short and coming at regular intervals (5-second blasts every 10 seconds) your entire body can be fooled into constantly feeling either chilled or warmed, whichever is called for, even though the air blasts target only the wrist. The bracelet's key technology is a copper-alloy-based heat sink that lowers the device's temperature by dissipating heat. It also includes thermometers to measure outside temperatures and body temperatures so it can automatically make adjustments. Now, if they're really clever, they'll stick a smartwatch on the band, as well. – TG
Image Courtesy of © Wristifyme


Biomimicry
'Crash Happy' Flight
Drones have become ubiquitous. But a flying robot designed by researchers at Switzerland's École Polytechnique Fédérale de Lausanne is a bit out of the ordinary. Gimball, as it's been nicknamed, can bounce off walls, trees, and other usually unforgiving obstacles. Encased in a 13-inch, spherical, rotating, and flexible roll case fashioned from carbon fiber, the "crash happy" robot was inspired by mosquitoes, which often don't bother to maneuver around obstacles. Drones have sensors that help them negotiate their way around obstacles, but accidents do happen. Adding more sensors didn't seem like the right solution, say the researchers. Instead, they gave it an ability to ricochet off walls.  Its guts include a gyroscope and an accelerometer to help it know which way is up when it needs to right itself after a collision. With fewer sensors, it's lightweight — a mere 13 ounces. In practice, Gimball, which is also equipped with a camera, would be used to fly into areas too dangerous for humans — burning buildings, say — and send live video feeds to first responders. OK, guys, just follow the bouncing drone. – Thomas K. Grose 
Image Courtesy of © Alain Herzog / EPFL. 


Agriculture
Desert Veggies
A blooming miracle? Not really. The Sahara Forest Project's goal of using sustainable, clean, and proven technologies to grow useful crops in the desert has exceeded expectations at a 2-1/2-year-old pilot plant in Qatar. The two-acre facility, which has around 6,500 square feet of growing space within its solar — and sunlight — powered greenhouse was able to produce 75 kilograms of vegetables per square meter, in three crops annually. That's a production level equal to European commercial farms, according to Science magazine. The greenhouse is cooled by prevailing winds that blow through a veil of seawater, which cools and moistens the breezes. Fresh water is produced from condensation that occurs when the air hits a collection of pipes filled with cold seawater. Power for the plant comes from a concentrated solar power plant, some of which is used to desalinate salt water for irrigation. The pilot plant, partly funded by two Qatari fertilizer companies, is a proof of concept, its backers say. A large, commercial plant with 120 acres of growing space could produce all the cucumbers, tomatoes, peppers, and eggplants that Qatar now imports annually.  The project hopes to eventually build a 40-acre pilot plant in Jordan to prove  commercial viability.  – TG
Image Courtesy of © Thinkstock


Ship Design
Under the Radar
Stealth aircraft are so last century. In October, the U.S. Navy quietly launched its first stealth ship, the USS Zumwalt, the first of three Zumwalt-class (DDG 1000) destroyers, which are longer and faster than current destroyers. The Zumwalt — named after Adm. Elmo "Bud" Zumwalt Jr., a former chief of naval operations — has a top speed of 30 knots and stretches 300 feet, 100 feet longer than current models. It was built by General Dynamics, which started construction in 2009, at a cost of more than $3.5 billion — a lot of cash, but it pretty much came in on time and on budget. What makes it stealthy? The boat's design uses unusual angles, and it  also sits quite low in the water. Together, these features make it 50 times as hard to be spotted by radar as conventional ships. The Zumwalt bristles with state-of-the-art weapons, including 80 Tomahawk missiles that can blast targets more than 60 miles away. It'll have a crew of around 158, which is small. But it is so laden with robotics and computers that it requires fewer hands on deck. The ship can also generate up to 78 megawatts of power, enough for 78,000 homes – or, in future, an electromagnetic rail gun capable of firing missiles at seven times the speed of sound. If the 14,500-ton Zumwalt sounds like a seaworthy version of Star Trek, it's also  commanded by a Capt. (James A.) Kirk. – TG
Image Courtesy of © U.S. Navy


Ultrasonic
Bomb Detector
Roadside bombs have been the weapon of choice among insurgents battling U.S. and NATO troops in Afghanistan, just as they were in Iraq. But researchers are coming up with more and more ingenious ways to thwart them. One new possible solution comes from a professor of ultrasonics and underwater acoustics at England's University of Southampton who was inspired by dolphins. Dolphins send out a pair of sonar signals to help them detect fish from bubbles in water. In fact, if the water's not bubbly enough, dolphins have been known to encase schools of fish in nets of bubbles to better target their prey, since their sonar is useless if it can't distinguish between bubbles and fish. So Professor Tim Leighton wondered if the same technique would work on land using radio waves. Radar pulses are typically sent out one at a time. But Leighton's team created a device to send out twin pulses, with the second having a reverse polarity to the first. When the second pulse hits something electrical, it emits a very strong signal. The team tested the device — which is just under an inch wide and costs only around $1.60 to make — by trying to locate an antenna (a type typically used to fashion bombs) that was surrounded by clutter metals. The signal from the antenna showed up 100,000 times as powerfully as the other metals. Beyond scoping out roadside bombs, Leighton says, the device could be used to search for surveillance devices, or to find people buried in snow or rubble by picking up signals from their mobile phones. – TG
Image Courtesy of © Thinkstock


Tracking Devices
Low-Speed Chase
Apparently, there are about 100,000 high-speed police chases a year on U.S. roadways. A 2012 report found that about 300 people a year die as a result, but one watchdog group says the true death toll is likely two to three times higher. A 007-like technology developed by Virginia company StarChase could make many high-speed chases unnecessary. StarChase's system instead uses a minicannon tucked within a cop car's grille to fire a GPS-enabled bullet that sticks to a suspect's car. Once the car is tagged, the police can slow down and instead track the fleeing car's speed and location in real time on a dashboard screen. Moreover, once a suspect no longer thinks he's being pursued, he'll often slow down too, to avoid drawing further suspicion to his car. Police in four states — Florida, Iowa, Colorado, and Arizona — have successfully used the technology, and the BBC reports that StarChase is keen to sell it to U.K. forces. The cost of outfitting a police car with the device is around $5,000, and each GPS bullet costs $500. It could be a lifesaving investment.  – TG
Image Courtesy of © Thinkstock


Social Media
Circles of Love
Married or in a relationship, and on Facebook? Well, the more disparate your shared friends are, the more likely it is that your union is a happy one. Cornell University computer scientist Jon Kleinberg and Lars Backstrom, the Facebook senior engineer who oversees the social network's News Feed, are about to publish a paper based on 1.3 million Facebook users — all selected randomly and unnamed — who were older than 20 and had anywhere from 50 to 2,000 friends. The researchers had to analyze 379 nodes and 8.6 billion links to reach their conclusion that the total number of mutual friends partners shared offered a poor indicator for snooping out romantic relationships, the New York Times reports. But if the couple's mutual friends are highly disconnected, that's a measurement — they call it dispersion — that can be used to frequently identify who someone's mate is. Among married couples, their algorithm measuring dispersion was able to correctly pick out a person's spouse 60 percent of the time. That's better than a 1 in 2 chance, and much better than guessing, which is correct, at best, only 1 in 50 times. Among couples "in a relationship," it correctly determined someone's partner a third of the time, the Times says. Moreover, the pair found that couples with a low dispersion rate were 50 percent more likely to break up within two months than those whose dispersion rate was high, it reports. Isn't it comforting to know that Facebook might be able to know before you do that you're headed for divorce court?  – TG

Image Courtesy of © Thinkstock

Power Generation
Winter Wonder
Urban ski slopes are pretty rare. But one that is expected to open in Copenhagen in 2017 will be positively unique. The 280-foot-high, manmade run will actually be part of the roof of the $389 million Amager Bakke power station. Danish architect Bjarke Ingels says he was inspired by a nearby waterskiing park to turn the plant into something that was a "clear benefit to the community." The 60 megawatt waste-to-energy plant will incinerate trash to produce heat for 160,000 households and electricity for 62,500 residences. It's replacing a 40-year-old incinerator that had two generators, a 20 MW one and a 9 MW one. According to National Geographic, waste-to-energy plants have become very popular in northern Europe because of a 1999 European Directive that greatly slashed how much rubbish could be dumped into landfills. Newer incinerators use costly filters that largely scrub most hazardous pollutants from flue gases. The Copenhagen power plant will be fueled in part by  biowaste, which is considered a renewable fuel. Still, it will emit climate-changing CO2. To remind residents their energy consumption has an impact on the environment, Amager Bakke's smokestack, if the technology can be worked out, will pump out a giant smoke ring each time a ton of CO2 is released – or about 200,000 of them a year. Skiers, though, would be wise to keep eyes on the trail. -TG

Image Courtesy of BIG and Ramboll, Amager Bakke waste-to-energy facility, Copenhagen, © BIG and Glessner.


Aerospace
Close Enough
Dream Chaser, a prototype commercial spacecraft designed by Sierra Nevada Corp., had a highly successful maiden test flight in late October. Its maiden landing, however, was a bit, um, bumpy. The unmanned, autonomously controlled spacecraft was hoisted to an altitude of 12,500 feet by a helicopter, and then perfectly flew itself down to the landing strip at California's Edwards Air Force Base a minute later. Unfortunately, one of its three landing gears failed, causing it to skid off the runway into the desert sand. Nevertheless, Sierra Nevada called the test a great success. Why? Mainly it proved that the plane's unusual design was air worthy. Dream Chaser uses a "lifting body design" that creates lift from the entire fuselage, not just the wings. Additionally, the company says, it got so much telemetry data from the flight it will likely speed up plans for a manned test flight next year. NASA plans to contract with a private company to ferry U.S. astronauts to the International Space Station (ISS), and has so far given Sierra Nevada $212.5 million to develop Dream Chaser. Rivals Boeing and Space X are working on capsules that would use parachutes to alight to Earth instead of gliding down to a runway like Dream Chaser. Whichever craft is finally selected, it will journey to the ISS — or other near-space destinations — atop a NASA Atlas 5 rocket. — TG

Image Courtesy of © NASA

Containers
Pack to the Well
While on a trip to Haiti after the devastating 2010 earthquake, Jerry Fischer was alarmed to see women and children lugging water in filthy jerricans cans, each weighing up to 48 pounds. Water toting is a daily, primary chore for many women and children in developing countries. UNICEF says women and kids in poor nations spend 200 million hours a day collecting and transporting water, often in unsanitary containers. Fischer, who is CEO and president of Greif Inc., a U.K. multinational producer of industrial packaging, decided to do something about that. "We knew this was a problem we could help solve," he says. Greif's engineers set about inventing the PackH2O. It's a backpack designed for safer carrying of water. Like a jerrican, it holds 20 liters of water, but it's seven times lighter and smaller. Even better, its liner is removable and can be sanitized by laying it out in sunlight. Working with the charity Habitat for Humanity, Greif field-tested PackH2O in 20 countries in 2011. It's now working with the charity to distribute 100,000 of the packs in a number of developing countries worldwide. PackH2O won the 2013 People's Design Award from the Smithsonian Cooper-Hewitt National Design Museum.  — TG

Image Courtesy of © PackH2O/Thinkstock