Breakthroughs and trends in the world of technology.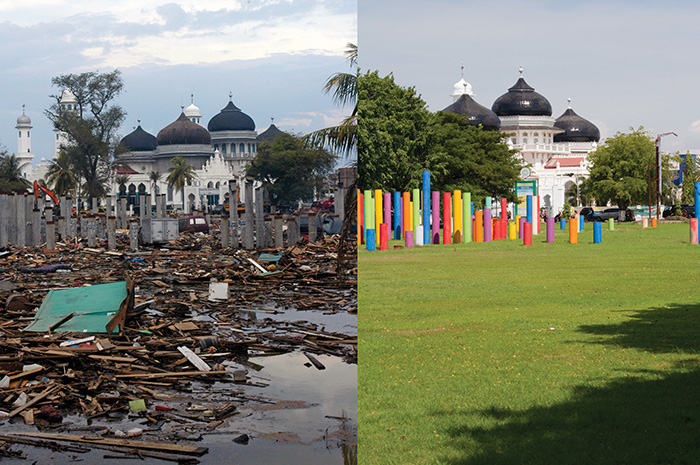 Humanitarian Engineering
Recovery Lessons
Ten years ago, a magnitude 9.1 Boxing Day tsunami cut a swath of destruction through the Indian Ocean, killing more than 227,000 people in 14 countries. Millions more were left homeless. In the days and months immediately following the disaster, local and volunteer civil and structural engineers helped solve problems ranging from inadequate sanitation and access to potable water to constructing safe shelters with limited resources. Each area faced unique difficulties. In Indonesia, for instance, government efforts to prevent exploitation of forests meant timber had to be imported. In Sri Lanka, tens of thousands of people needed to reestablish residences further from the coast, but much of the land was studded with landmines from decades of civil conflict. Before contractors could start building, every acre had to be assessed and declared landmine-free. In the ensuing years, engineers have helped construct thousands of inexpensive, durable homes by using cheap, innovative materials such as precast, prestressed columns, precast pocket foundations and concrete door frames, and concrete walls mixed with local materials. Among restored sites is the park in front of the Mesjid Raya Baiturrahman mosque in Banda Aceh, Indonesia – shown in 2004 (left) and now. A National Academy of Engineering report found that construction quality and design allowed many mosques to withstand devastation. Their steel-reinforced concrete frames could resist loads, while domes and open arches let water surge through without causing serious damage. – Jennifer Pocock
©Stephen Boitano/Polaris/Newscom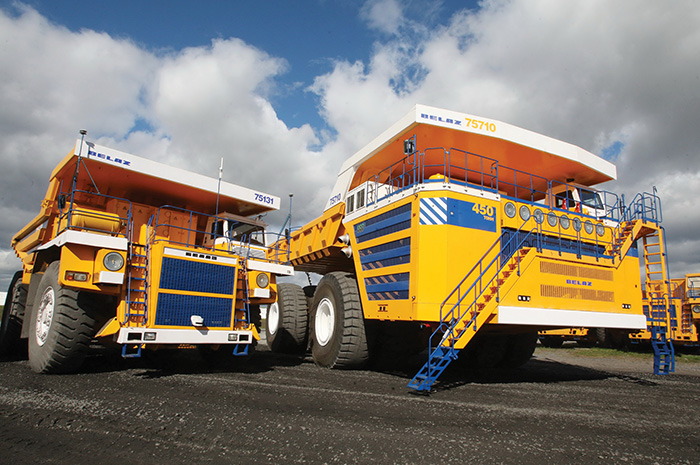 Automotive Engineering
Jolly Green Giant
Dump trucks are massive machines by design, but the latest iteration out of Belarus has claimed the title as the world's biggest. The BelAZ 75710, developed for open-pit mining operations by truckmaker BelAZ, weighs more than a fully loaded Airbus 380, according to the BBC, and is as long as two London double-decker buses. It can haul more than 500 metric tons, the equivalent of 350 Volkswagen Golfs. Now operating at a mine in Siberia, the behemoth is also an electric hybrid, to help cut running expenses – a big selling point in the mining industry, which faces uncertain commodity prices and rising costs. The eight-wheel, all-wheel-drive truck has two 16-cylinder diesel engines that provide electricity to a generator that powers four electric motors. When not loaded, the monster machine can run on just one engine, saving fuel. BelAZ worked with Siemens to develop a truck that could carry large loads at a lower cost per ton than previous models. Though bulky, it's also fairly peppy, with an unloaded top speed of about 39 mph. – Thomas K. Grose
©BelAZ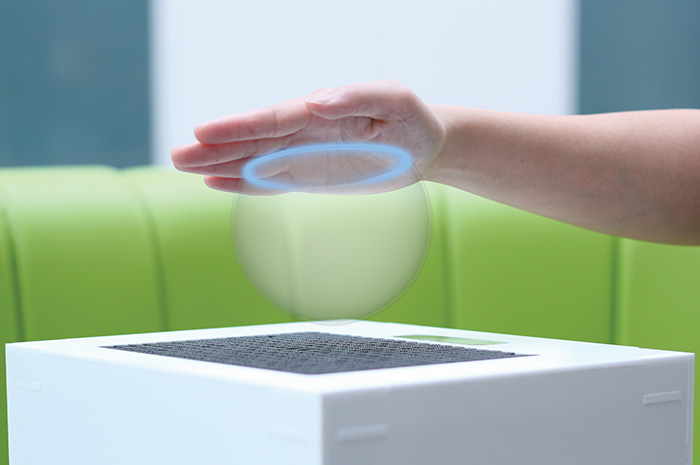 Ultrasound
Touchy-Feely
New technology out of the University of Bristol's department of computer science could render the admonition "look but don't touch" somewhat obsolete. Using ultrasound, the super high frequency sound waves that are best known for their use in medical imaging, the British researchers have created a device that focuses the waves on hands, and the air disturbances they create allow the user to "feel" the 3-D shape of an imaged item, as if it were floating in the air before them. They can also match a picture of the actual object being rendered to its invisible 3-D shape, so a user has the sensation of holding it. Medically, it could be used to allow surgeons to "feel" tumors that are scanned. It also has wide-ranging entertainment industry possibilities: virtual-reality games that allow players to feel the virtual world around them, holograms that are touchable, and museum displays that allow visitors to feel ancient and brittle artifacts. – TG
©Bristol Interaction and Graphics Group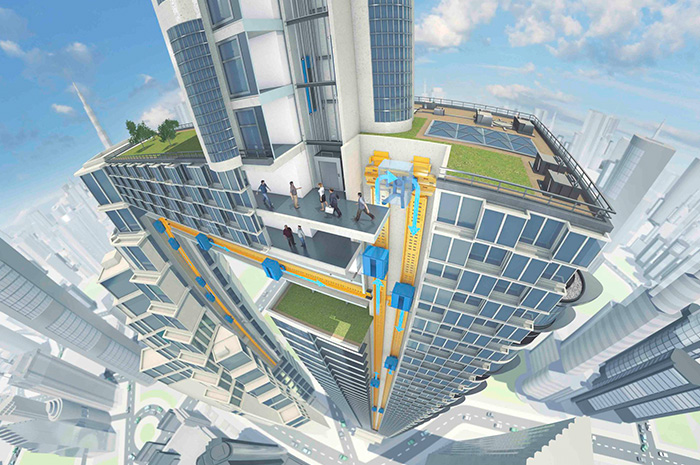 Building Construction
Uplifting Technology
Elevators were invented in 1854, and their basic engineering has not changed much since – they're still hoisted up and down by steel cables. As engineers figure out how to build taller and taller buildings, elevators remain a barrier to soaring architectural visions. Around 40 percent of space in today's tallest spires houses elevator shafts, and waits can be long. Inspired by Star Trek turbolifts, German engineering firm ThyssenKrupp says it's ready to replace cables and pulleys using maglev, or magnetic levitation technology, that enables the world's fastest trains to hover just above their tracks. That will allow more, smaller cars to run in vertical loops from the bottom to top floors inside narrower shafts. The firm says this should reduce by half the amount of space needed for elevators while still whittling waiting times to between 15 and 30 seconds. What's more, maglev lifts also could travel horizontally and could be designed to whisk passengers from one side of a building to another as well as from floor to floor. Will it work? Check back next year. That's when a pilot version is slated to begin operating in a new, 787-foot tower under construction in Rottweil, Germany. But won't an elevator that can travel sideways need a new name? – TG
©ThyssenKrupp
Inventions
Mom Knows Best
Each year, around 15 million babies worldwide are born prematurely or are low weight, and a million of them die, often because of inadequate medical facilities that lack incubators. The World Health Organization estimates that 75 percent of these infants could be saved if they were incubated. That problem vexed James Roberts, 22, a recent industrial-design graduate at England's Loughborough University, who set out to invent a low-cost incubator. His creation, dubbed MOM, recently won the top James Dyson Award, an annual international engineering prize from a foundation created by Dyson, inventor of the bagless vacuum cleaner. Roberts's incubator uses ceramic heaters to keep a baby warm and is controlled by the open-source electronics platform Arduino. Its inflatable walls act like double glazing to keep the warm air intact and stable. MOM also has a phototherapy device to treat jaundiced babies. Roberts says he'll use the $47,000 prize money to tweak and improve his prototype. Incubators used in Western hospitals can cost upwards of $25,000. Roberts estimates MOM could be manufactured, tested, and transported in flat packs for around $400. – TG
©Dyson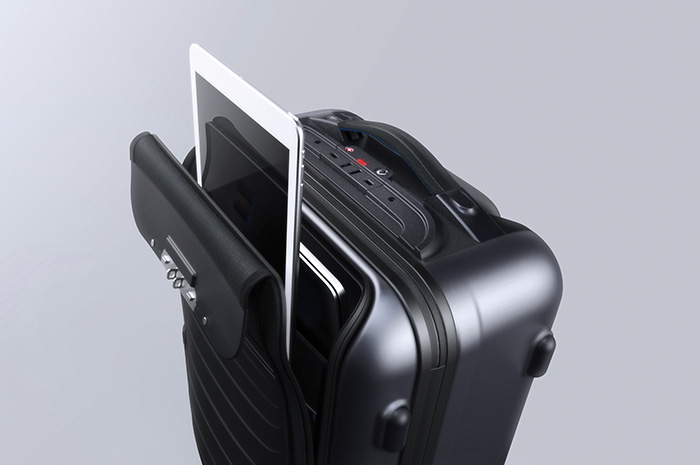 Student Enterprise
Savvy Traveler
Aerospace engineering doctoral student Martin Diz's future is in the bag. Or so it would seem, given the early success of Bluesmart, his start-up that produces Bluetooth-enabled smart carry-on bags. Diz, who studies at the University at Buffalo, co-founded Bluesmart with four other students and designers. The team took their product to crowdfunding site Indiegogo hoping to raise $50,000. Instead the campaign, which closed in late November, received nearly $1.66 million from 6,273 investors. The Bluesmart suitcase features a built-in digital scale to eliminate overweight bag issues; a location tracker; a digital lock controlled by a smartphone app; a battery with three USB ports to charge a cellphone or tablet; and a data display that offers useful travel information, such as the weather forecast at one's destination. Expected to retail for around $400, the bag is still available on Indiegogo for $280, plus shipping, with delivery in August. Diz, whose research focuses on autopilots for planes and space vehicles, may have to put his aerospace career on autopilot if Bluesmart truly rockets to success. – TG
©Bluesmart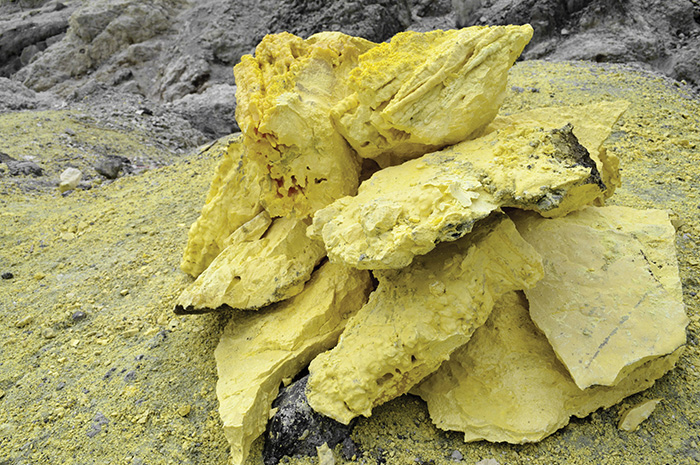 Atmospheric Research
Hot Topic
Geoengineering, the use of engineering science to counter global warming from greenhouse gases, is getting more media attention. Both Newsweek and The Economist recently ran lengthy features on the subject. Newsweek's was mainly a roundup of proposed geoengineering concepts. The Economist article focused on efforts by scientists to get funding for small pilot experiments. One would spray a small area of clouds with sea-salt particles to increase the water droplets in them, thus causing them to reflect more sunlight back into space. Another would use the so-called volcano effect. Sulfur spewed into the atmosphere by volcanoes can temporarily cool the Earth, so one idea calls for creating an artificial haze in the stratosphere. That might, however, deplete the ozone layer, so some researchers want to do a small experiment to assess the risks to see if they can be limited. Newsweek quotes Stanford University environmental scientist Ken Caldeira as saying that's probably the most workable theory, but he also tells the magazine that geoengineering is overall a bad idea because none of the proffered solutions can be tested on a large scale. That's why many activists and scientists loathe it. They fear too many people will think there is an alternative to curbing emissions. Those doubts are also a reason that funding agencies have so far not shown any indication of wanting to finance even small-scale experiments. – TG
©Thinkstock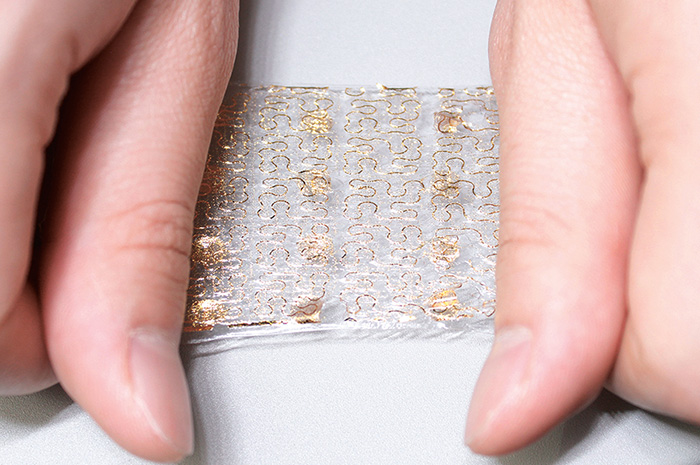 Bioengineering
Feeling Groovy
Prosthetics have advanced dramatically. Some artificial limbs can even be controlled by human thought. But haptics remain a problem. When a real hand touches something hot, cold, hard, soft, or fragile, nerves just beneath the skin swiftly transmit that information to the brain. Artificial hands convey no such sensory information. A step toward solving that problem may have come from an artificial skin developed by researchers at South Korea's Seoul National University and MC10, a Massachusetts company that makes stretchable, wearable electronics. The skin is made of thin layers of elastomers, or soft polymers, imbued with tight networks of sensors made from ultrathin gold and silicon that mimic nerves in the hand. That's a neat feat because silicon is naturally brittle. To overcome that, the researchers used silicon molded into sinuous shapes that give it elasticity. The artificial skin can stretch by 20 percent. The hurdle now is figuring out how to feed the data collected by the sensors to a human nervous system. The Korean-U.S. team has demonstrated with rats that that might be possible, but more research on larger animals is needed to determine if their sensitive artificial skin actually is feeding its sense of touch to the brain. – TG
©Dae Hyeong Kim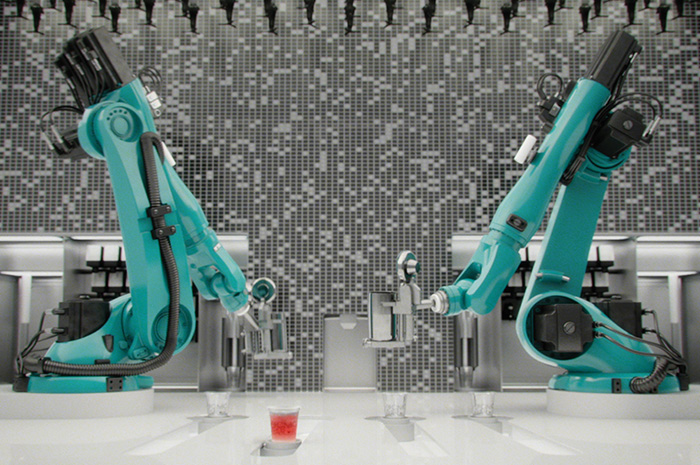 Robotics
Cheers!
Bartenders range from dyspeptic beer slingers – think Moe in The Simpsons – to hunky mixologists like Tom Cruise in the 1988 film Cocktail. But a robot barkeep? That's the 4,180-passenger Quantum of the Seas' big selling point. The cruise ship features two robot mixmasters in its Bionic Bar. Created by MIT's SENSEable City Lab from industrial robots more typically used on automotive assembly lines, the Makr Shakr robots first debuted last year at a Google conference. Now they're permanent fixtures on the Royal Caribbean liner, which launched in November. The two 'bot bartenders, named N1-C and B1-C, are essentially mechanical arms. Each can produce two cocktails a minute for passengers who order their drinks via tablet computers. The New York Daily News notes that while the metal barmen won't listen sympathetically as you pour out a sob story, they occasionally will utter corny pick-up lines or break into a dance – their movements partly choreographed by American Ballet Theater dancer Roberto Bolle. Will technology make bartenders obsolete? Perhaps. Royal Caribbean has ordered Makr Shakrs for three ships under construction. – TG
©Makr Shakrs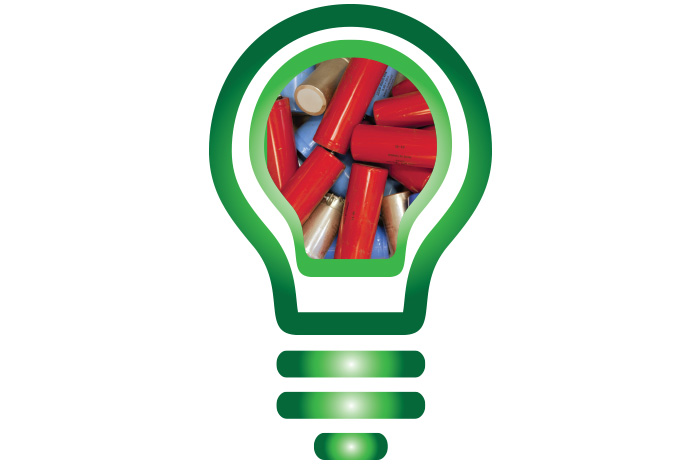 Energy Conservation
Bright Idea
E-waste is a big problem, particularly in India, where a thriving IT industry produces a prodigious amount. Add what other countries dump there, and total accumulation could reach 35 tons a day, by some estimates. One partial solution could be the UrJar, a prototype power source developed by IBM Research in Bangalore that takes discarded lithium-ion batteries from landfill-bound laptops, separates out cells that still have some life, and reuses the batteries to light an LED or run a small fan. Its developers say that 70 percent of dumped batteries can provide enough energy for four hours per day of LED lighting for a year. That could be of big use in India, where 400 million people live with little or no power, including 45 percent of rural residents. In places that lack electricity, users will be able to recharge the UrJar – a pun on urja, the Hindi word for "energy" – at solar-power stations. IBM says it could build 1,000 UrJars packaged with a charger and a 3-watt LED light for about $10 each. But costs will fall if production ramps up. Ultimately, IBM seeks to give the devices away to the poorest residents in developing countries. – TG
©Thinkstock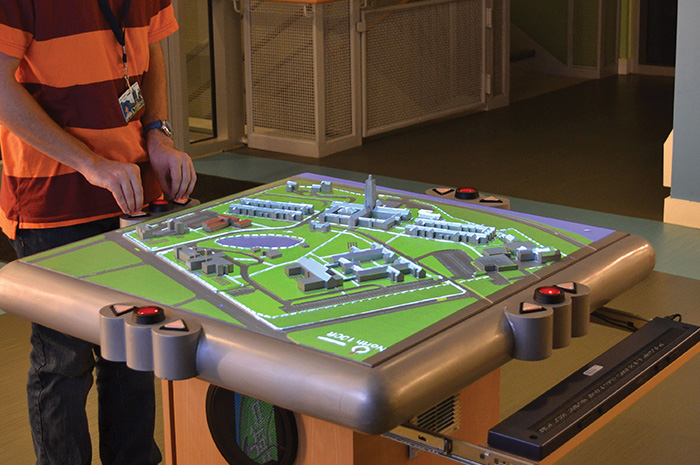 Adaptive Technology
Route Cause
Blind people typically excel at navigating familiar places, and GPS technology can help them get around unfamiliar outdoor areas. But visiting new buildings or complexes can be daunting. A possible solution is the 3-D talking map developed by researchers at the University at Buffalo's Center for Inclusive Design and Environmental Access, and a company called Touch Graphics. The map, which rests on a pedestal, looks a bit like a game board with plastic buildings on it. When a visitor touches one of the miniature buildings, which are coated in conductive paint, the map's sensors react to the finger's pressure and the map begins giving directions and other details about the site, including its directory. A prototype of the map has been installed at the Perkins School for the Blind in Massachusetts, made famous by Helen Keller. The maps are handy for sighted users, too. They can be fitted with an overhead projector that shoots Google Earth aerial views onto the model, helping folks remember where they're heading. – TG
©University of Buffalo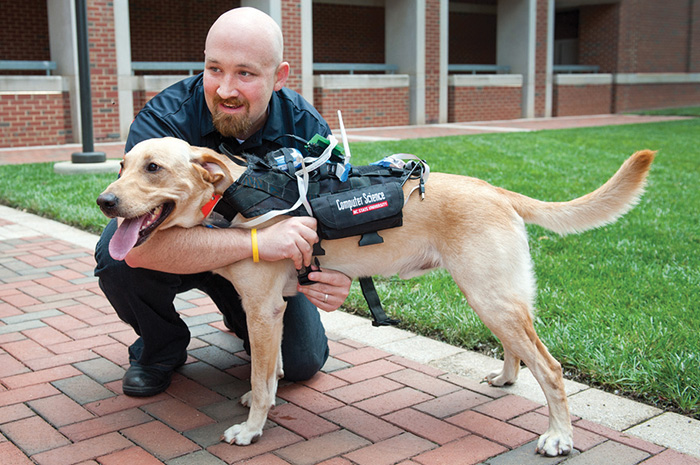 Sensors
Wag the Dog
David Roberts, an assistant professor of computer science at North Carolina State University, is also an unabashed dog lover and amateur dog trainer. Which helps explain why he co-led a team that recently developed a prototype haptic harness that can better help dogs and their handlers understand each other. Roberts notes that dogs use body language as their primary means of communication, so the harness is fitted with sensors and a small computer – about the size of a pack of cards – to wirelessly send body-movement data to software that the team designed to collect and interpret the data for human understanding. The software can also translate human commands into physical ones and send them to vibrating motors in the harness that help handlers give orders to dogs beyond using hand signals and voice commands. Roberts sees the harness as a means to help better train guide dogs, military and police dogs, and dogs used for search-and-rescue efforts. The harness also measures a dog's stress levels. Guide dogs, for instance, are trained not to show stress. But if handlers can tell when a dog is upset, they can work to relax the animal, which could help it live longer. Fido, chill! – TG
©NC State University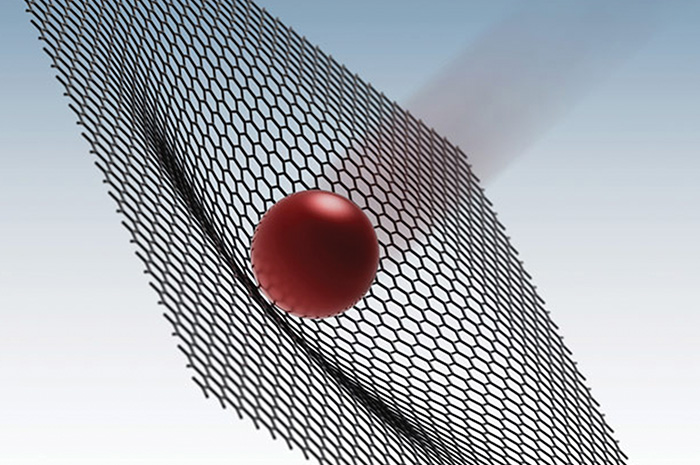 Nanoengineering
Bulletproof Lab Coat
Discovered only a decade ago, the wonder material that is graphene continues to impress researchers. Sturdy, lightweight, and flexible, the honeycomb lattice of carbon atoms is the strongest material known. Now investigators at Rice University have discovered another amazing attribute. Graphene is a superstar at dissipating kinetic energy – 10 times better than steel, on average. A team led by Edwin Thomas, a professor of materials science and nanoengineering, invented a laser-induced projectile impact test that uses a laser to send microscopic projectiles into layers of sheets of graphene at speeds close to 3 kilometers a second. That's faster than a bullet from an AK-47. By finding out how resilient graphene is at the nano level, Thomas reckons he can project how strong it would be in macroscopic applications. His team fired the microbullets into test sheets ranging from 10 to 100 nanometers thick, or up to 300 sheets of graphene. The bullets did puncture the graphene, but the experiments showed that the kinetic energy from the bullets interacts with the graphene, which stretches and slows down the projectiles. In 3 nanoseconds before it punctures, the material distributes the stress caused by the bullet over a wide area. Thomas says this proves that controlled layering of graphene could make it an excellent candidate for body armor and protecting spacecraft. – TG
©Rice University