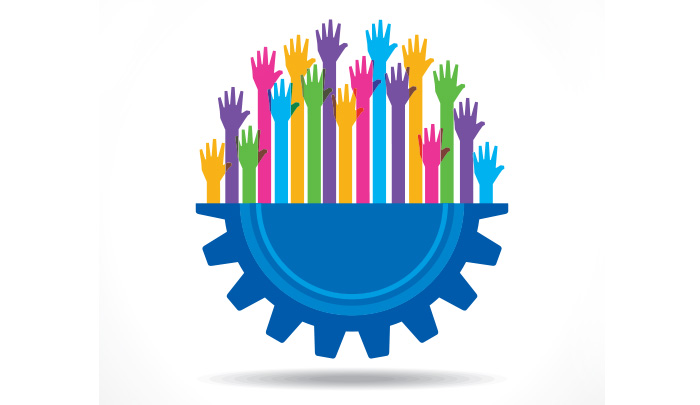 Social Appeal
Service activities may attract a more altruistic, broad-minded group to engineering.
By Kaitlin Litchfield & Amy Javernick-Will
Opportunities for engineers to combine technical and social facets of their profession have grown rapidly through avenues such as service learning, community development, and Engineers Without Borders. The population of engineers involved with these service activities appears more diverse in gender and interests than typically is found in engineering classrooms and workplaces. This difference in demographics has led some to propose that service activities offer a new solution for increasing participation and diversity within engineering. However, little research has been done to understand why this population of engineers seems more diverse.
To better understand why some engineers pursue service activities, our research compared the personal attributes of engineers involved in engineering service activities with those who were not involved. Career motivation theories, in particular Expectancy-Value Theory and Social Cognitive Career Theory, posit that career decisions are significantly influenced by personal attributes. Therefore, we compared two specific personal attributes of our populations of engineers: personality traits and motivations to study engineering.
We conducted interviews and focus groups with 165 engineering students and practicing engineers, and collected survey responses from over 2,000 participants. Our sample included both those with and without experience in Engineers Without Borders USA, a prominent U.S. engineering service organization. We combined variable-oriented qualitative analysis with multiple logistic regression models to compare the two groups.
Our results showed that engineers involved with service activities shared some similarities with other engineers. Based upon the five-factor model of personality traits, both groups of engineers expressed equivalent strengths in attributes that are common among engineers, specifically conscientiousness (i.e., being careful, organized) and emotional stability (i.e., being calm, secure). Both groups also expressed equally strong intrinsic motivations to study engineering.
There were notable differences between the two groups, however. Engineers involved with service activities expressed significantly stronger personality traits of agreeableness (i.e., being friendly, flexible) and openness to experience (i.e., being curious, broad-minded), two qualities that are not common among engineers. In addition, engineers involved with service activities expressed significantly higher altruistic motivations to study engineering. These results persisted even when controlling for demographic differences between the two groups. It appears that higher female participation, higher undergraduate grade-point average, and younger mean age among those involved with engineering service were not the sole factors for differences in personality traits and altruistic motivations.
Our findings indicate that engineering students and practitioners involved with service activities are similar to other engineers in important ways that fit public perceptions of engineers, namely, some personality traits and intrinsic motivations for the subject. These engineers share personal attributes of typical engineers. In addition, our findings indicate that engineers involved with service activities differ from other engineers in some personality traits and motivations. These differences suggest that offering engineering service activities in engineering schools and workplaces may attract more diverse groups to engineering. These service activities also may help broaden participation in engineering beyond the traditional gender and ethnic categories to include individuals with more social interests and altruistic motivations.
Kaitlin Litchfield is a postdoctoral research assistant in the department of civil, environmental, and architectural engineering at the University of Colorado, Boulder, where Amy Javernick-Will is an assistant professor of civil engineering. This article is excerpted from "I Am an Engineer AND: A Mixed Methods Study of Socially Engaged Engineers" in the October 2015 Journal of Engineering Education. It is based on work supported by the National Science Foundation Grant 1129178.