Breakthroughs and trends in the world of technology.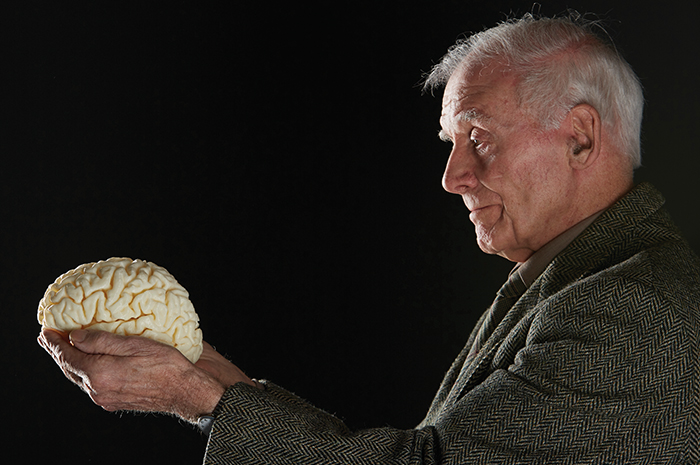 Neuroscience
Mind Over Gray Matter
John Scott, a retired Scottish miner who will turn 80 later this year, is one of more than 1,000 former students taking part in one of the longest-running studies of human cognition in the world: the Lothian Birth Cohort 1936. Scores of children born that year—including Scott—were given a mental ability test at school at age 11. Over the years, many members of the group agreed to take part in follow-up studies at the University of Edinburgh. Participants' thinking skills and health were regularly tested during the past decade, including fitness tests and brain scans, yielding valuable information on the effects of aging on mind and body. When the National Museum of Scotland in Edinburgh decided to create a display to tell the cohort's story, it asked the university to find a member willing to have his or her brain modeled and put on display. Scott readily agreed. Data from his scan were converted into a 3D virtual model, which was then 3D printed. The scan also was used to create a laser-sketched model in crystal of his neural connections. Scott, who was recently photographed holding this artistic replica, looks amused—and impressed. And why not? Few of us will ever come face-to-face with our brain. – Thomas K. Grose
©John Scott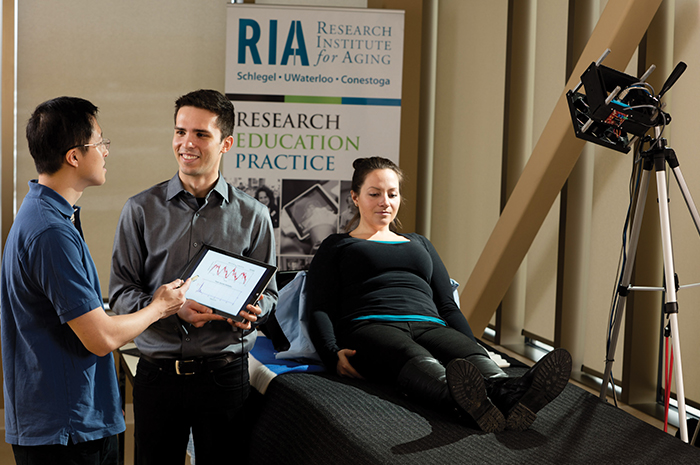 Medical Technology
Easy Reading
Systems now in use to monitor vital signs require touching the skin and take a reading from just one location on the body. But a new device invented by Robert Amelard, a Ph.D. student in systems design engineering at Canada's University of Waterloo, uses a touchless scanner to take readings, and it can also monitor blood flow at multiple arterial points. The Coded Hemodynamic Imaging technology could be used to find heart problems, such as arterial blockages, that might otherwise go undetected, and help to assess the health of patients with highly contagious diseases or bad burns and infants in neonatal care. The device can also scan several patients at once, so it could be a useful tool in long-term-care facilites. – TG
©University of Waterloo/Fred Hunsberger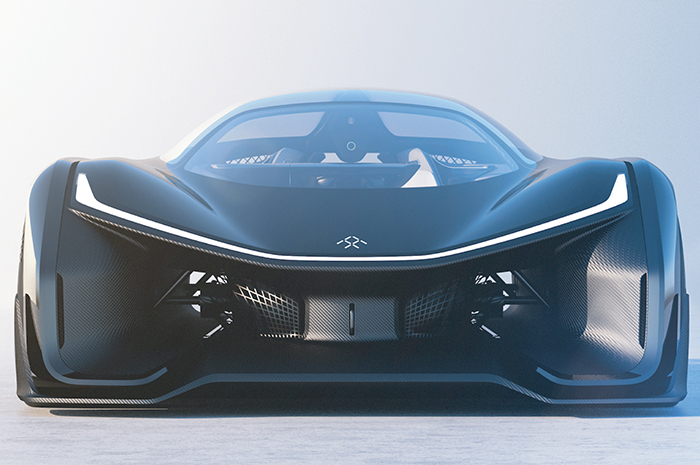 Automotive Design
Superhero's Ride
The shroud of mystery that's surrounded Faraday Future, the Los Angeles-based electric carmaker backed by Chinese billionaire Jai Yueting, lifted a bit during last month's Consumer Electronics Show in Las Vegas. The company unveiled a prototype supercar, the Zero1—really a one-seater race car—that's clearly inspired by the Batmobile. While some of its top executives attended the show, it's not clear who runs the company—and that's ginned up speculation that Faraday Future is a front for Apple, which is widely expected to enter the EV market. But Richard Kim, the company's design chief, told the BBC the rumors are false. "Our partnership is with LETV," he said, referring to the streaming video service operated by Yueting, whose wealth has been estimated at $6 billion. Kim says it's not certain if the Zero1 will ever be built—it's a concept car. The CES presentation, Kim says, was designed to highlight its flexible, modular platform, which can be reconfigured to have electric motors at two wheels or all four. The chassis is also fully customizable, so various body types can be snapped on to it, including SUVs, luxury sedans, pickup trucks—and even race cars for superheroes. – TG
©Faraday & Future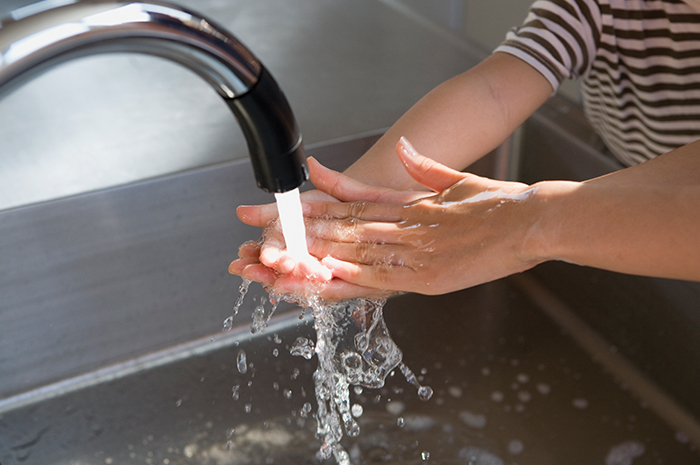 Water Filtration
Better than Carbon
Water filters are usually made from activated carbon. While easy to work with, because it can provide a large surface area to trap pollutants, activated carbon is not as effective in binding pollutants as is cyclodextrin—the chemical used in air fresheners. Now a team led by Will Dichtel, an associate professor of chemistry at Cornell University, has come up with a technique to make large-surface-area polymers from cyclodextrin that in some cases are 200 times as effective as activated carbon. Dichtel says the material can remove pollutants from flowing water in seconds. Moreover, the cyclodextrin polymer can be cleaned at room temperature with methanol or ethanol, whereas cleaning activated carbon filters requires intense heat. Dichtel, who last year was awarded one of 24 MacArthur Foundation "genius" awards, led research in 2013 to create a polymer that can detect the key chemicals used in many roadside bombs and land mines. His research group also works on materials that quickly store and release a charge, and could form the basis of better, cheaper batteries. – TG
©Thinkstock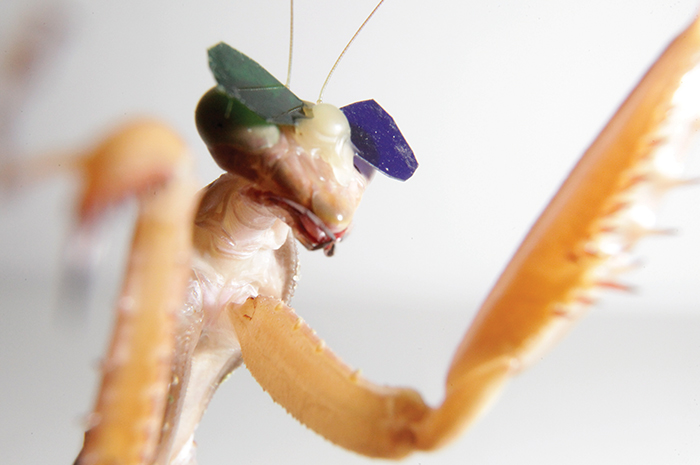 Stereo Vision
Bug-Eyed Hunters
For creatures with such tiny brains, praying mantises are surprisingly agile hunters. Now we know why: These invertebrates use sophisticated three-dimensional vision, similar to vertebrates', to snatch their prey. Researchers at Newcastle University in England fashioned a pair of tiny 3D glasses and attached them to mantises using beeswax. Next, the little critters were placed in a mantis movie theater and shown images of bugs moving around on the screen. In 2D, the mantises were, like, so what? But when the films were shown in 3D, and the bugs were seemingly floating in the air around them, the mantises tried to grab them. Now that it's proven that mantises have stereopsis, the researchers want to use them to better understand how 3D vision evolved, and also develop new types of depth-perception technologies for computers and robots. Oh, and the research proved something else: Mantises look really cool wearing 3D glasses. – TG
©Newcastle University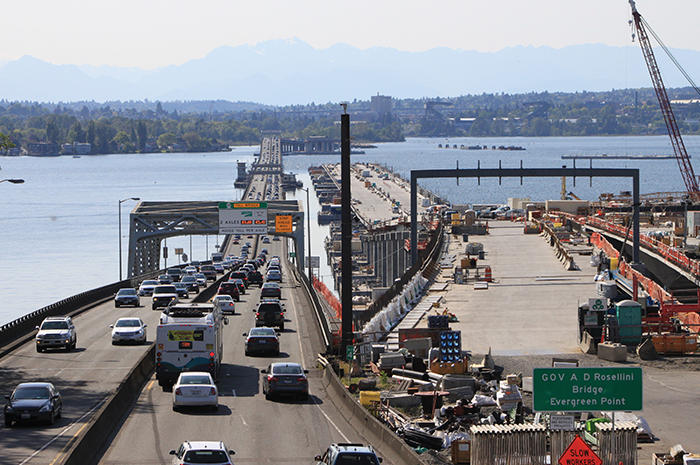 Civil Engineering
Floating a New Record
The world's longest floating bridge, a section of Highway 520 crossing Lake Washington in Seattle, is set to open in April. The $4.56 billion span will stretch 7,710 feet, making it 132 feet longer than the existing champ, just happens to be the old Highway 520 Bridge, which was built in 1963 and slated to remain in use a while longer. The new six-lane, 116-foot-wide bridge is built on 77 pontoons and secured by 58 anchors. It was designed to carry motor vehicles and also accommodate future light rail service. Highway engineers opted for a floating rather than suspension bridge because the connection across the lake requires a curved route, and suspension bridges must run in nearly straight lines. Moreover, the lake is deep (214 feet at its deepest) and has a soft bed. A suspension bridge built to handle those conditions would require massive towers and cost considerably more. – TG
©CC-by-2.0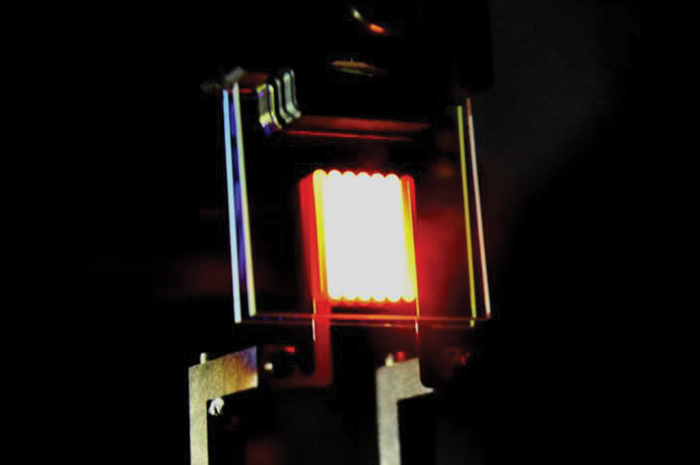 Photonics
Bright Idea
The incandescent lightbulb remains in use more than 130 years after Thomas Edison demonstrated his practical design by lighting up a street in Menlo Park, N.J. But it's being phased out in many countries and replaced with compact fluorescent bulbs and light-emitting diode (LED) bulbs, which are much more efficient. The Achilles' heel of the Edison bulb is that just 2 percent to 3 percent of its energy is converted to visible light; the rest is wasted as heat. Modern LEDs use 5 percent to 20 percent of energy produced. However, a breakthrough by a team of physicists and power engineering researchers at MIT could herald the return of the incandescent bulb. They devised a bulb that uses a flat tungsten filament surrounded by a nanophotonic crystal filter, which captures the waste heat and reflects it back to the filament. There it is absorbs and reemitted as visible light. The lab prototype has an efficiency of 6.6 percent—which is already pretty impressive—but the team's theoretical modeling indicates it could reach a whopping 40 percent. Perhaps incandescent light has a bright future after all. – TG
©Ognjen Ilic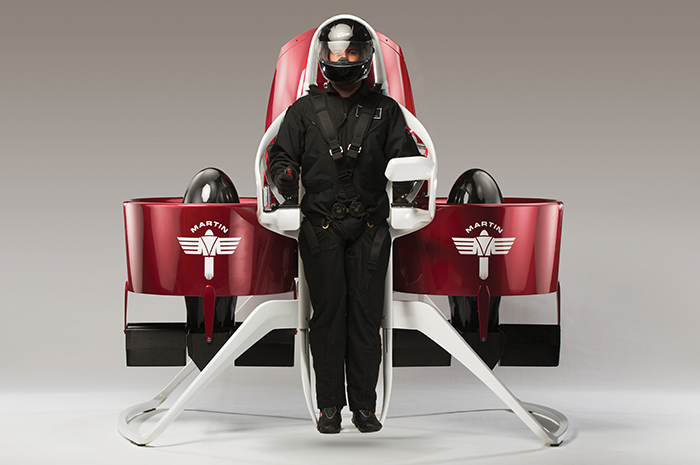 Flying Machines
Leap Tall Buildings
The long-time dream of many sci-fi and adventure-film fans of taking to the skies with a jet pack strapped on their backs is closer to reality. When Prism last reported on New Zealand's Martin Aircraft Co., in 2013, the firm said it was close to bringing its jet packs to market. Now comes word that Martin has an order for up to 20 of its jet packs from Dubai's civil defense force. The catalogue price for each pack is $250,000. The agency tells the BBC it will use the jet packs, at least initially, for rescue and fire-fighting duties. Dubai has many skyscrapers, and since 2012, three of them have been hit with major fires, including this past New Year's Eve, at the 63-story Address Downtown Dubai Hotel. The Martin jet pack is fitted with a two-liter, two-stroke, 200-horsepower V4 engine and can hit a top speed of 45 mph, the company says. It can reach an altitude of 3,000 feet and has a flight time of 45 minutes—a big advance, given that historically jet packs could typically fly for just a few seconds. Martin tells the BBC its jet pack, which is largely made with lightweight carbon fiber, has two ducted fans and is more like an individual helicopter than a jet pack. Meanwhile, in late October of last year, Australian inventor David Mayman unveiled a prototype of his JB-9 jet pack—which is closer in look to the jet pack James Bond used in Thunderball back in the '60s—in spectacular fashion with a short flight around the Statue of Liberty. The JB-9 is capable of 10 minutes of flight. For now, Mayman says, it's not for sale; he's working on a consumer-ready version with more safety features. – TG
©Martin Aircraft Co.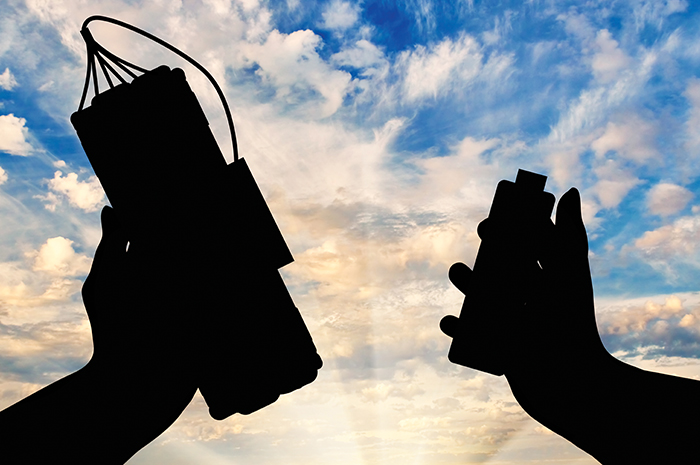 Counterterrorism
24/7 Bomb Sniffer
Terrorists' bombs can be made pretty easily. They often use the explosive triacetone triperoxide (TATP), a mix of chemicals available at drug and hardware stores: hydrogen peroxide and acetone. Finding these crude weapons before a deadly blast is usually the work of specially trained dogs and handlers. But Otto J. Gregory, a chemical engineering professor at the University of Rhode Island, may have a better method. His team has invented a sensor that picks up the vapors released by TATP. Inside the device, a tin oxide catalyst causes any TATP molecules within the gases to decompose and release heat. If the amount of heat reaches a certain level, it triggers an alarm. Gregory says the device works around the clock and could be used to monitor public areas, including airports and subway stations. Meanwhile, computer scientists at the University of Pennsylvania say they've developed a suite of surveillance algorithms that can pinpoint targeted terrorist suspects within social networks without compromising the privacy of everyone else. The algorithms are designed to pick up on information bits of only those people who are members of a targeted group. In tests, the Penn team says it was able to search a network and discover targeted individuals without revealing information on non-suspects in the network. – TG
©Thinkstock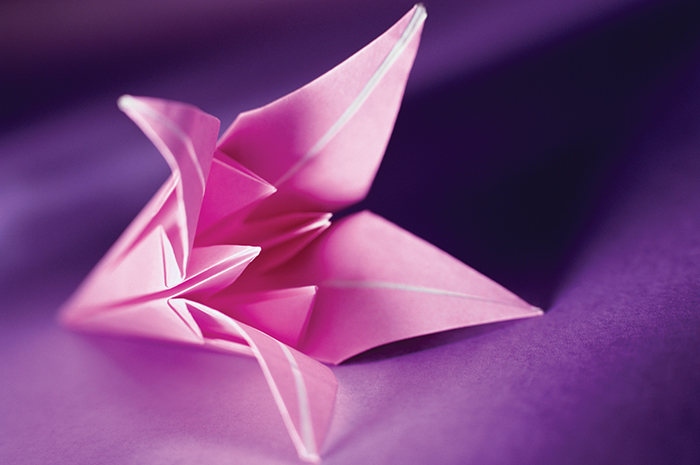 Polymers
Return to the Fold
A shape-shifting polymer that can fold itself into myriad constructs without having to first be melted down has been developed by Tao Xie, a materials scientist at China's Zhejiang University. A video of the smart material shows a star-shaped, paper-thin piece of the plastic folding itself into an origami bird, a boat, and a windmill each time it's blasted with heat. The material is programmed like a computer. It's physically folded into different objects at different temperatures, and when subjected to those temperatures again, it pops back into the programmed shapes. Potential uses could be medical implants or electronics that morph into different shapes. But Plastics Today reports that Skylar Tibbits, director of a self-assembly lab at MIT, says that while he's seen the work, it's not clear if Xie's material does anything new or different from materials Tibbetts's lab has already created. And, he says, the need to manually fold the material first is a drawback. Well, whether his plastic is a first or not, Xie is moving ahead to improve it. He tells Science magazine that his team is now working on a version of the polymer that would work at lower temperatures. It will be fun to see how all this unfolds. – TG
©Thinkstock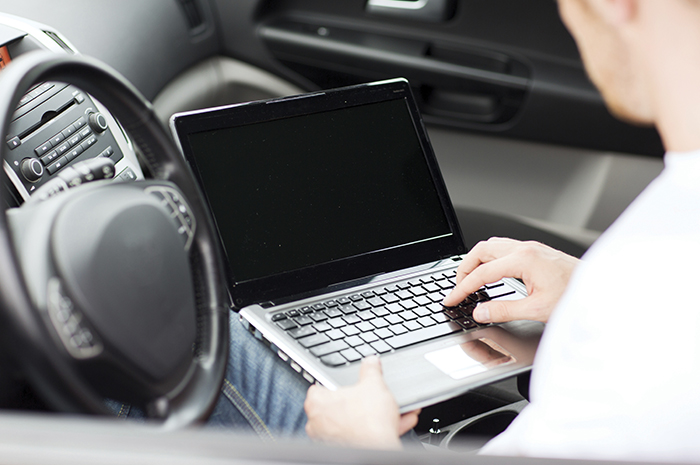 Software Security
Car Hacking
Last fall, when a pair of good-guy hackers gained control of a 2014 Jeep Cherokee's brakes, steering, and transmission via its entertainment system—prompting a 1.4 million-vehicle recall—they did more than expose a software glitch. They also revealed a gap in the auto industry's security controls. Bug-bounty programs, in which companies pay researchers to pinpoint security flaws, are fairly widespread in the tech industry. Apart from Tesla, the auto industry has avoided bug bounties, but that may be changing. General Motors has aligned with HackerOne, a bug-bounty platform, and is inviting hackers to help it find software vulnerabilities. GM is not paying bounties, but it is promising not to sue researchers—with a few caveats, including these: Hackers cannot endanger customers, violate their privacy, or break any laws. Still, HackerOne tells Wired that it's "thrilled" with GM's action, which it hopes is a first step toward wider auto industry acceptance of bounty programs. GM is also getting better at fixing flaws more swiftly. In 2010, a team of academic researchers showed how GM cars' brakes could be disabled through the OnStar security system. GM took until late 2014 to fix the problem. More recently, when a hacker proved to GM he could use the OnStar smartphone app to remotely unlock and start its cars, the automaker made fixes within days. – TG
©Thinkstock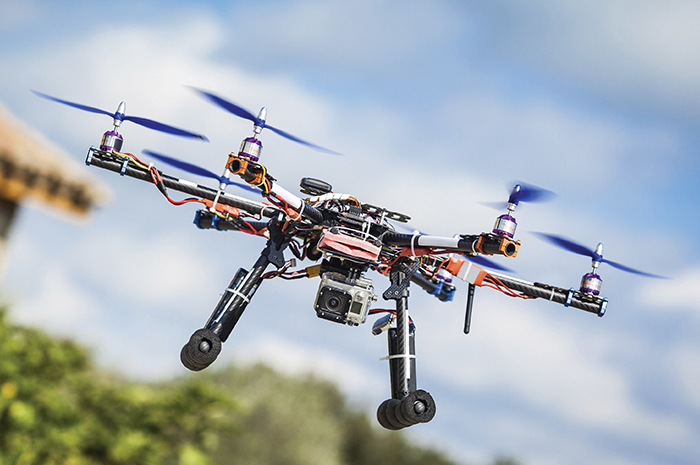 Robotics
Drone Trapper
Drone operators can get into mischief—startling the nations capital, for instance, or buzzing a rally attended by German Chancellor Angela Merkel—but they can also pose a serious threat. That's why at a World Cup soccer match, snipers were positioned to shoot down any potentially trouble-causing drones. Mo Rastgaar, an associate professor of mechanical engineering at Michigan Technological University, thought the idea of shooting down a drone was a mistake—what if the drone were laden with explosives? So he came up with an alternative: a drone catcher. Actually, it's a large drone that can be flown either remotely or autonomously. It hovers in wait. If a rogue drone is spotted, it gives chase, then shoots out a net attached by a string. The net entangles the renegade drone, which can then be pulled to a secure area. Rastgaar and grad student Guilherme Ribeiro hope to commercialize the invention, which they've dubbed the Robotic Falcon. – TG
©Thinkstock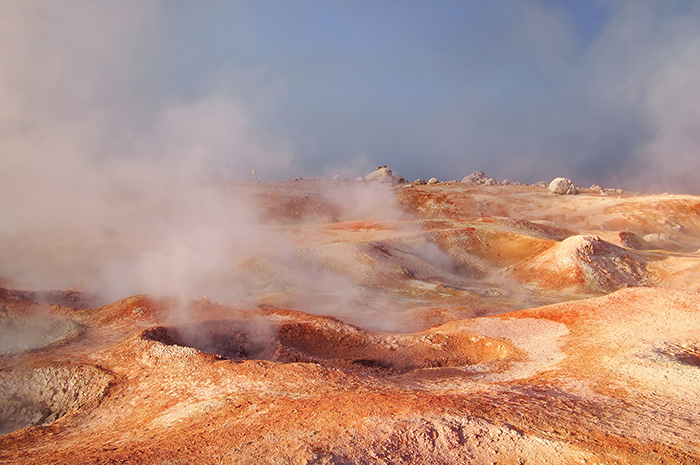 Materials Engineering
Martian Habitat
Any future colonization of Mars will require durable buildings for Earthlings to live and work in. But the cost of lugging heavy construction materials to Mars would be astronomical. So why not build on Mars using Martian materials? A team led by Lin Win, a civil engineering Ph.D. student at Northwestern University, says recent experiments show how this might work. Win's crew came up with a recipe for Martian concrete that uses ingredients that are plentiful on the Red Planet and doesn't require water. Mars is sulfur-rich. And sulfur liquifies when heated to 240 degrees Celsius, bypassing the need for water. Martian soil, Win figured, could be used as the aggregate. So her team concocted some simulated Martian soil that, like the real stuff, is heavy in silicon dioxide and aluminum oxide. Back in the 1970s, according to Technology Review, NASA scientists considered using sulfur to construct buildings on the moon, but that idea collapsed when it was determined that in a vacuum atmosphere, sulfur changed from solid to gas. But Win says her concrete would work just fine in the Martian environment and is nearly as strong as conventional concrete. It's also recyclable. – TG
©Thinkstock