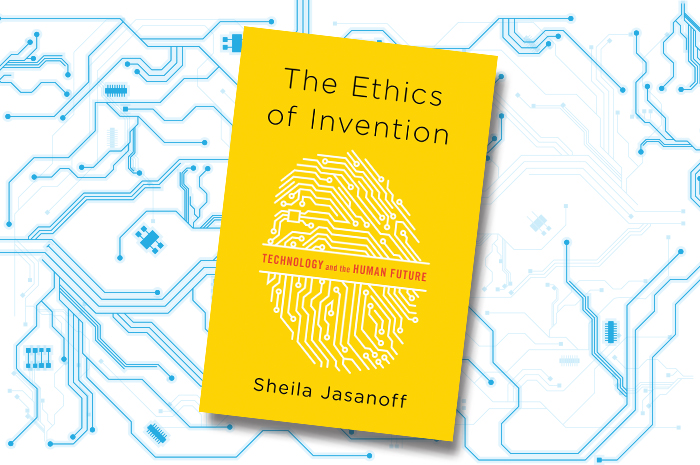 Innovation's Dark Side
Society needs better protections against the perils that can accompany progress, an author argues.
The Ethics of Invention: Technology and the Human Future
By Sheila Jasanoff.
W.W. Norton, 2016. 306 pages.
Considering that both major party candidates of the 2016 U.S. presidential campaign confronted ethical issues linked to media use—audio clips, e-mail, and even Twitter—this book is timely. Concerns over media privacy rights and responsibilities, seemingly undeletable Internet histories, and the collection, commoditization, and weaponization of cyber information form only one part of The Ethics of Invention; but, as is true for the book as a whole, this part is thoughtful, thorough, and disquieting.
As director of Harvard University's Program of Science, Technology, and Society at Kennedy School of Government, and with a background in law, Sheila Jasanoff approaches technology through a legal and ethical lens. She argues that technology has advanced so rapidly and has been so strongly embraced for its benefits that its complex challenges have been neglected. Societies, governments, and individuals need to recognize that tech is "neither self-propelling nor value free," and appropriate protections must be put in place against its potential harm.
The book explores three areas of concern: the risks of catastrophic technological disasters and the narrow legal protections set in place to guard against them; the unequal distribution of benefits and widening economic divides that technology creates; and "the meaning and value of [human nature]." Jasanoff begins her discussion by examining the inadequacies of regulatory risk assessment. This is a technical study of laws, detailing how risk assessment is determined, who is involved in evaluation, and the criteria of evidence required in cases of catastrophic failure. Examining the 1986 Challenger and 2003 Columbia space shuttle disasters, as well as the risk assessment framework established by the National Research Council, Jasanoff concludes that assessments operate "with a shallow awareness of the complexities of socio-technical systems," with a strong bias in favor of technological advancement. Typically, focus is placed on potential physical and environment harm, and the social behavior that contributes to technological failure is overlooked. Most guns, cars, and chemicals "fail" in the hands of humans, so that "the risks of modernity…are not purely technological—mere malfunctions within the machines—but hybrid, dynamic, and sociotechnical."
Shifting to the unequal social impact of disasters, Jasanoff cites the 1984 Union Carbide disaster in Bhopal, India, as a stark demonstration of how limited liability favors multinational corporations over individuals. In the fallout from this toxic gas leak that killed over 2,000, the Indian government and U.S. courts wrangled over legal recourse for the 200,000 victims of gas-related injuries. India mandated that all complainants join a single class action suit to be tried in the United States, but an American judge barred the case, arguing that it would place an "unjustified burden" on the U.S. judiciary. Ultimately, survivors were awarded $470 million, a mere 15 percent of the initial demand. Any number of actors were never held accountable, including those who designed the factory and faulty processes for producing the pesticide Sevin, "one of the chemical industry's most lethal compounds," as well as those who allowed the plant to be located in such a densely populated region. Today, the Union Carbide website merely labels the 1984 disaster a result of sabotage by a disgruntled employee.
Other concerns about technological advances are raised in chapters entitled "Remaking Nature," about struggles over genetically modified crops, "Tinkering with Humans," which explores genetic testing and cloning, and "Information's Wild Frontiers." Once genetic testing leaves the lab, Jasanoff notes, it explodes with broadening applications and imagined uses. Ethical and regulatory analysis, meanwhile, adheres to a linear path, oblivious to "creative extensions that occur as productive inventions embed themselves into the complex and dynamic social contexts." Innovations "penetrate our bodies, minds, and society interactions," altering how we relate to others and our world, the author declares. Even modest developments "create new normative rights and obligations." To address accompanying ethical, legal, and social quandaries, "deeper analysis and wiser response" is needed. Jasanoff offers no specific prescriptions for action, but urges greater ethical and political engagement in governing technology.
Review by Robin Tatu
Robin Tatu is Prism's senior editorial consultant.
Image Courtesy of W. W. Nortn and Company/ThinkStock