Breakthroughs and trends in the world of technology.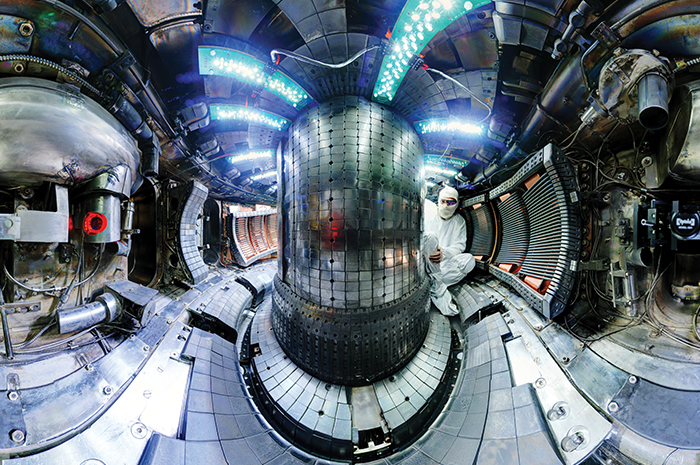 Fusion Technology
Exit in Style
Nuclear fusion remains the ultimate sought-after source of clean energy, given that it's safe, renewable, and offers an unlimited supply of power. It's how our sun, and all the other suns in the universe, produce energy. One form of fusion comes from superheating gases to create a plasma inside a vessel and containing it with powerful magnetic fields so that the fuels' nuclei fuse. Over the past few decades, scientists and engineers have worked to control fusion inside tokamaks, doughnut-shaped containment tanks. Now one of the pioneering tokamaks has been shuttered after losing funding. But it went out with a bang, figuratively speaking. MIT's Plasma Science and Fusion Center's Alcator C-Mod tokamak set the record for plasma pressure in late September, just before it closed. For fusion to work, energy released has to exceed the energy required to keep the reaction going, and when pressure—the product of density and temperature—reaches high enough levels, you're two thirds of the way toward meeting that goal. By hitting a level of 2.05 atmospheres of pressure, the MIT vessel bested its 2005 record of 1.77 atmospheres, while hitting a temperature of 35 million° C (63 million° F). The Department of Energy pulled the plug on Alcator C-Mod because of the rising costs of the mammoth International Thermonuclear Experimental Reactor (ITER), a fusion mega-test-bed now under construction in France. Launched a decade ago, ITER was expected to cost $5.4 billion. It's now expected to cost around four times that amount. Containing plasma may prove easier than containing fusion's spiraling costs. – Thomas K. Grose
©Bob Mumgaard/Plasma Science and Fusion Center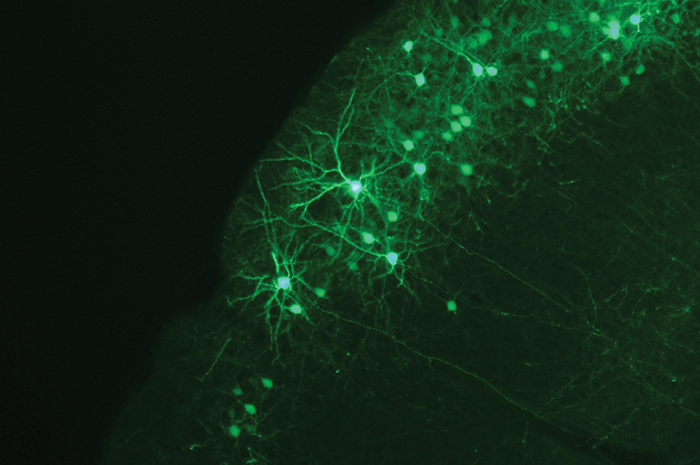 High-Performance Computing
Brain Waves
The number of silicon transistors that can fit on a computer chip has grown since 1947 from a few thousand to more than 2 billion. That's why our computing devices have become faster and more powerful. But growth is slowing, and chipmakers are closing in on the physical limits of how many transistors they can squeeze onto a chip. To get around this coming impasse, some researchers are looking at using different materials, or developing new manufacturing techniques. Others are looking to mimic how our brains function to develop neural computing applications. Last month, researchers at the Sandia National Laboratories presented three new papers that show how neural algorithms might prove to be more rigorous and predictable than they have in the past and invigorate high-performance computing. One paper calls for adaptive learning. Human brains never stop learning. But machine-learning algorithms cease learning once they've solved a problem. So the idea is to develop algorithms that learn continuously, just as we do. A second paper promotes using dynamical systems, which are formulas that are used to model physical phenomena whose states change over time. They're used, for instance, to make medical diagnoses and for financial and environmental modeling. The paper proposes that if we rethink traditional scientific computing problems as dynamic systems, they could be solved on neuro-inspired systems. A third paper was inspired by how brain neurons communicate with one another using spikes of electricity. It features three algorithms that use an arrangement of spiking neuron-like nodes to perform calculations. One of the researchers says that computing needs to be reinvented soon, and our brains offer blueprints worth following. – T.G.
©Frances Chance, Janelia Farm Research Campus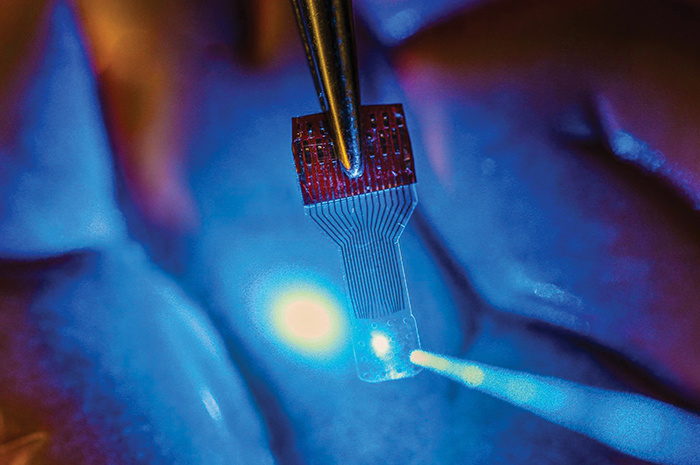 Neural Imaging
The Secret's Out
In 2014, two University of Wisconsin-Madison researchers—Zhenqiang (Jack) Ma, a professor of electrical and computer engineering, and Justin Williams, a biomedical engineering professor—announced that they had developed transparent sensors made from graphene that could be used for imaging the brain. Their neural micro-electrode arrays, which are implantable, could be used in many applications, including electrophysiology, fluorescent microscopy, and optogenetics. They were a vast improvement on previous arrays, and Ma and Williams were quickly flooded with requests for the devices. "We couldn't keep up," says Ma. So, even though they had patented the technology, in October they decided to reveal the secret sauce. In a paper published in Nature Protocols, they detail how to fabricate and use the graphene arrays. They want to work on the devices' next generation, Ma says, and hope other researchers will help them by using and building upon the technology and finding new applications, including research into strokes, epilepsy, Parkinson's disease, and cardiac conditions. "We expect more revolutionary research will follow in this interdisciplinary field," Ma says. The takeaway? If you want to spur medical breakthroughs, sometimes it pays to share. – T.G.
©Justin Williams Research Group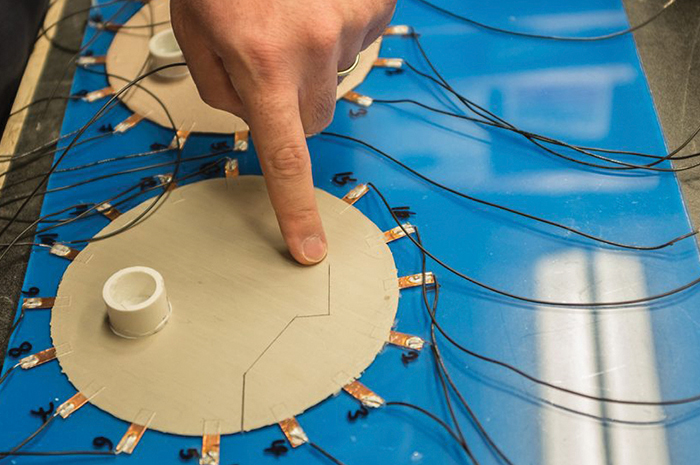 Infrastructure Monitoring
Scouring Scourge
The leading cause of bridge failures in the United States is a phenomenon called scouring. That's when water erodes the foundations of a bridge's piers. When scouring is caught in time, it can be mitigated by dumping rubble, called riprap, around the piers to stabilize the riverbed they're sunk into. But scouring is hard to detect. Recently, however, a number of researchers have come up with new ways to monitor piers and catch scouring early enough to stop it. The Economist reports that Ken Loh, a structural engineer at the University of California, San Diego, has invented rods containing piezoelectric polymers that can be inserted into a riverbed. As they undulate, the polymers convert the motion into electricity. If a bed erodes, more of the rod is exposed and the frequency changes—a clue that scouring could soon occur. Another researcher, at Holland's Delft University of Technology, suggests installing accelerometers on bridges to monitor their vibrations. A change in the pattern of the vibrations could signal foundation erosion. Meanwhile, engineers at North Carolina State University have invented a "sensing skin" that can be used to detect cracks and flaws that are otherwise too small to see, in all types of infrastructure, no matter the cause. It can also detect corrosive substances that can degrade a structure. The skin can either be painted on a structure's surface or attached to it like wallpaper. It's composed of three layers: One is electrically conductive and can detect cracks; another can be engineered to react to specific chemicals; the third layer is a buffer between the other two. The skin is applied over electrodes, and a computer program runs a current between them. A suite of algorithms uses changes in conductivity measured by the skin to detect damage or the presence of a harsh chemical. – T.G.
©Julie Williams Dixon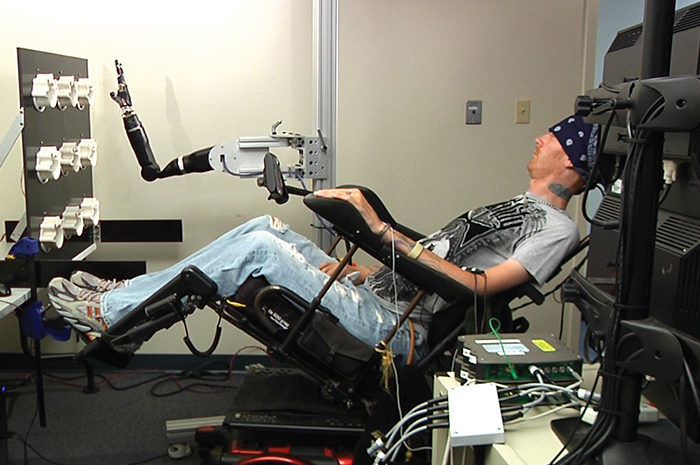 Brain-Computer Interfaces
The Gift of Touch
Computer technologies continue to improve the lives of the disabled. Much progress has been made, for example, in developing prosthetic limbs that can be controlled by the thoughts of paralyzed persons. But users of these devices do not get a true sense of touch, so while they can grab and move objects, the process is usually slow and awkward. Now researchers at the University of Pittsburgh and its Medical Center have designed a brain-computer interface that can restore the feeling of touch in the paralyzed. They implanted supertiny electrodes into the sensory cortex of Nathan Copeland, 28, left paralyzed from the chest down 12 years ago by a car accident. When researchers press the fingers of his robotic arm, Copeland can feel sensations in the fingers of his right hand. The plan is to blend the sensory and movement technologies so that Copeland can feel the objects his robotic arm grasps. Meanwhile, researchers at London's Imperial College have come up with a lightweight, wireless handgrip device that can help stroke victims do physiotherapy exercises to treat arm weakness. Repetitive movements are the only way to improve arm functions, but the cost and availability of physiotherapists limit how often patients can do the exercises. The invention, dubbed GripAble, is linked to a game played on a tablet computer. By squeezing or turning the handgrip, patients control the game's cursor. It's a low-cost way to help patients exercise their arms at home, on their own. In a trial lasting more than six months, researchers found that a significant majority of patients were able to make "meaningful movements" and exert good control over the game. – T.G.
©UPMC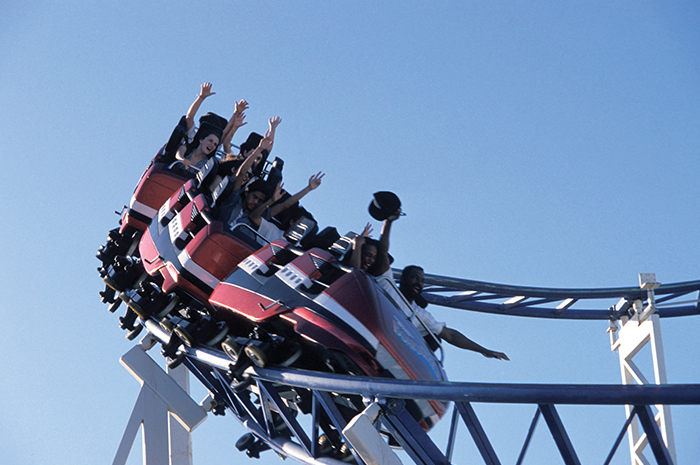 Offbeat Cures
Ride to Remember
About 300,000 Americans end up in the hospital with kidney stones each year. For some, a few rides on the Big Thunder Mountain roller coaster at Walt Disney World might bring relief. That's the finding of David Wartinger, a retired professor of osteopathic surgery at Michigan State University. After a patient told him he had passed three stones after riding the coaster, Wartinger decided to investigate. For his pilot study, he used a 3D printer to construct a clear, hollow silicone model of the man's kidney. He then took the model to the Florida theme park, filled it with urine (yes, really) and three small kidney stones, placed it in a backpack, and began taking rides—20 of them. Sure enough, he discovered that if he sat in the back car of the ride, the model had a 64 percent passage rate. The success rate was only 16 percent when he sat in the front car. He later did an expanded study, using multiple models, and got a success rate of 70 percent in the back car. Overall, Wartinger used 174 kidney stones of varying shapes, sizes, and weights, and took around 200 rides. He also tried other roller coasters, including Space Mountain. But only Big Thunder Mountain affected the stones; The other rides were either too fast or violent to work. – T.G.
©Thinkstock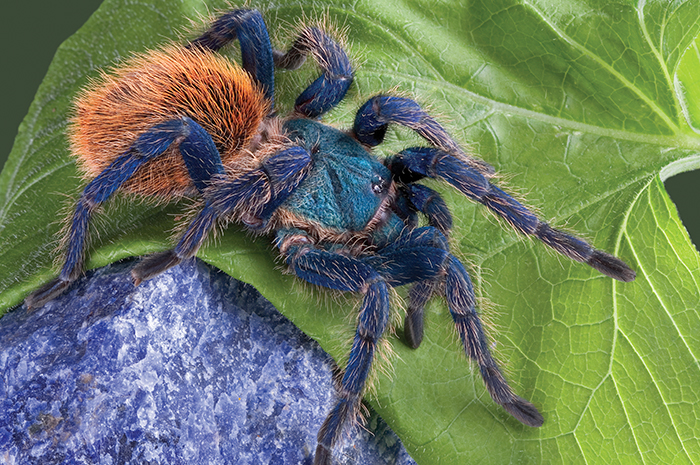 Biomimicry
Playing the Blues
The color of a blue tarantula, which comes from the structure of its hairs, is non-iridescent, so it looks bright blue even when viewed at wide angles. Bor-Kai "Bill" Hsiung, a doctoral student in integrated bioscience at the University of Akron, theorized that using a similar design to make synthetic structures could lead the way to replacing toxic dyes and pigments, or to producing colors in the wide-angle viewing screens of smartphones and TVs. To test his theory, he needed a relatively small amount of cash, mainly to cover the costs of 3D printing. So he turned to the science crowdfunding site experiment.com, which had a competition for projects involving biomimetics. Hsiung came in third, which netted him nearly $8,000, a bit more than his original goal. He put the crowdfunded cash to good use. In October, he and his team published their results, based on computer simulations and tests of the 3D-printed prototypes they built. And he did indeed determine that, by using a flower-like shape seen in the spider hairs, he could produce structures with colors that could be viewed from angles of up to 160 degrees. Hsiung calls it the first step toward replacing pigments and dyes with structural colorants in textiles, packaging, and cosmetics. It's a potentially green solution from blue spiders. – T.G.
©Thinkstock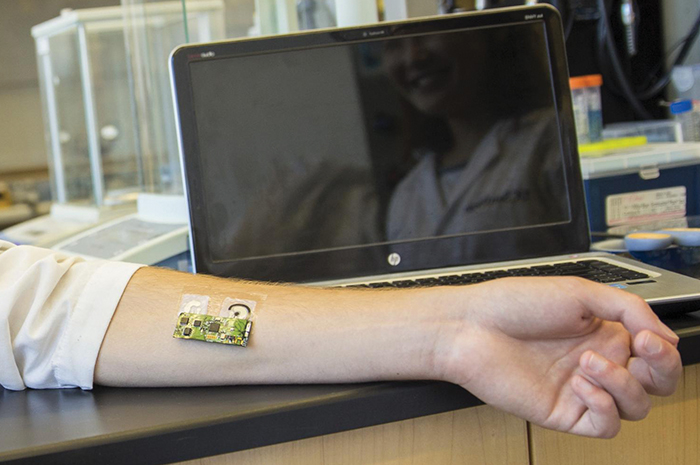 Alcohol Testing
One for the Road
Drunk driving remains a deadly problem. In 2014, alcohol-related car accidents killed nearly 10,000 people in the United States. Now researchers at the University of California, San Diego, have come up with a "tattoo" that measures alcohol levels in sweat and sends the results to a smartphone. They're hoping that folks out for a good time will use the device to self-monitor their booze levels and know when not to get behind the wheel. The tattoo is actually a biosensor patch embedded with flexible wireless components. One of these components releases a chemical that generates perspiration on the skin beneath the patch. Another measures changes in the electrical current in the sweat, which is a means to detect alcohol levels. It's a noninvasive device and can be worn underneath clothing so no one else can see it. Efforts to measure alcohol in sweat have been tried before, but they failed because they took two to three hours to work. The tattoo sends an alcohol reading to a phone in a speedy eight minutes. That's not quite real time, but it's fast enough to make self-monitoring a practical option that might save lives. – T.G.
©Hybridairvehicles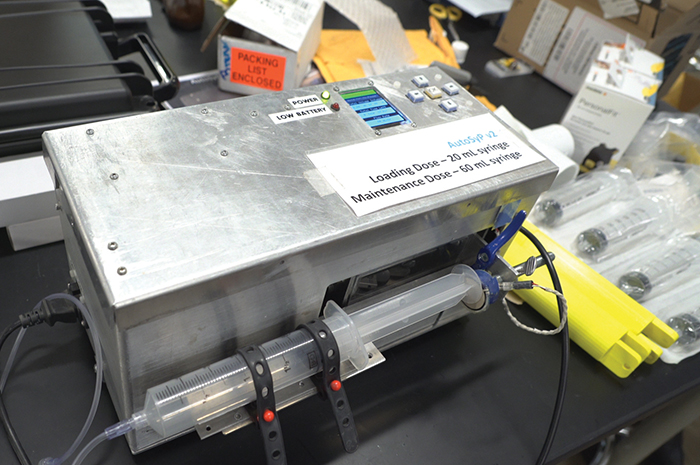 Medical Technology
Global Health 'Genius'
Rebecca Richards-Kortum, 52, a Rice University professor of bioengineering who specializes in health solutions for poor countries, has been named one of 23 MacArthur Fellows for 2016. The $625,000 "genius grants" from the John D. and Catherine T. MacArthur Foundation recognize exceptional creativity and significant achievement. Richards-Kortum's research, which encompasses nanotechnology, molecular imaging, and microfabrication technologies, has resulted in several low-cost, portable medical tools that offer point-of-care diagnoses for many diseases, including malaria and cancer. Richards-Kortum often meets with local practitioners in developing countries, including Malawi, Rwanda, and El Salvador, to identify needs and ensure that her inventions work reliably in the field. The Rice 360° Institute for Global Health, which she co-founded with engineering education Prof. Maria Oden, has, among other initiatives, developed an undergraduate engineering curriculum, Beyond Traditional Borders, in which students work in multidisciplinary teams to develop technologies that meet global health needs. Three years ago, their efforts won the Lemelson-MIT Award for Global Innovation. They used the $100,000 prize to help fund a neonatal ward at a hospital in Malawi that will also serve as an innovation hub for affordable technologies. Their aim: an 80 percent cut in newborn death rates at low-resource hospitals. – T.G.
©Brandon Martin/Rice University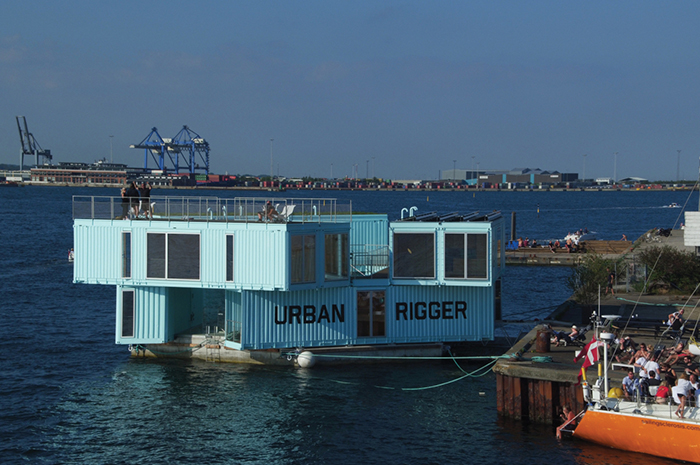 Sustainable Cities
Floating Dorms
Providing low-cost housing for college students in crowded cities is an ongoing problem. There's not much land available for new builds, and what is available is expensive. In Denmark, for example, each year brings around 64,000 new university admissions, and some 24,000 of them will find themselves scrounging for accommodations. Copenhagen start-up Urban Rigger's solution is to move students offshore and into shipping containers. Well, not ordinary containers. They've been fashioned into rooms with paneled and plastered walls, large windows, and sliding glass doors. The containers are stacked on floating pontoons in the city's harbor. In total, they provide 3,200 square feet of dormitory housing that's both cheap and sustainable. Designed by architects at Bjarke Ingels Group, Urban Rigger is basically a barge. Batteries, powered by solar cells on one of the roofs, provide the complex's electricity. Another roof is literally green: It's planted with grass. The current iteration has 12 rooms that rent for $600 a month. The company eventually hopes to link together dozens of these floating dormitories. It also hopes to sell the concept to local governments and universities across Europe as a way to ease the student housing squeeze and make better use of harbors, rivers, and canals. Each unit contains a private bedroom, bathroom, and kitchen. There are also common spaces, including a roof terrace, barbecue area, and diving platform, as well as below-deck storage and laundry facilities. Sounds pretty swank—especially to those of us whose dorm rooms were anything but. – T.G.
©Urbanrigger.com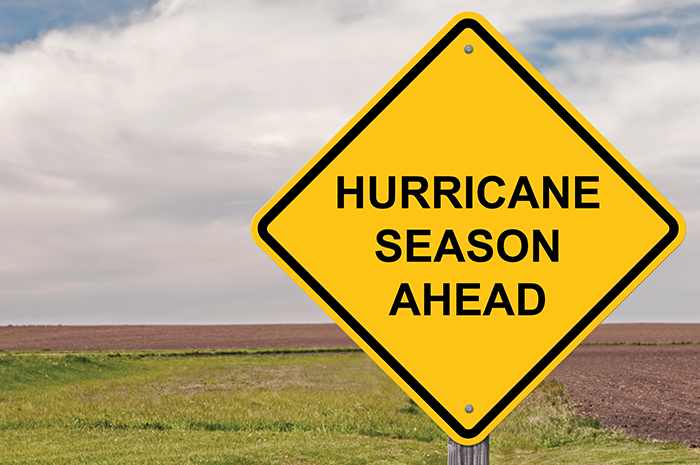 Weather Modeling 
Flawed Forecasts
Severe weather kills more than 500 Americans a year, destroys property, and imposes a cost on many industries—from shipping and transportation to utilities and agriculture. So the need for accurate forecasts of hurricanes, tornadoes, and heat waves goes without saying. But according to a recent New York Times Magazine feature, the computer models used by the National Oceanic and Atmospheric Administration and its agencies, including the National Weather Service, are woefully out of date and perform poorly, especially compared with advanced systems elsewhere, like the European Center for Medium-Range Weather Forecasts in England. The U.S. system doesn't use the most up to date and reliable modeling method, mainly because it lacks the computing power to run it. The story notes that the National Hurricane Center failed to predict how strong September's Hurricane Matthew would be, and that Europe's system did a better and faster job of plotting the path of Hurricane Sandy in 2012. Sandy blasted the Northeast, killed 157 people, and caused perhaps $71 billion in damage, making it the second-most costly storm in U.S. history. The good news: NOAA got new supercomputers last January. The bad news: So far, the agency is using only a small amount of their capacity. The need for accurate predictions is becoming more urgent as a result of climate change. A computer simulation by researchers at Princeton and Rutgers universities and the Woods Hole Oceanographic Institute shows that Sandy-like surges between now and 2100 are likely to become at least 3 times—or possibly as much as 17 times—as frequent. – T.G.
©Thinkstock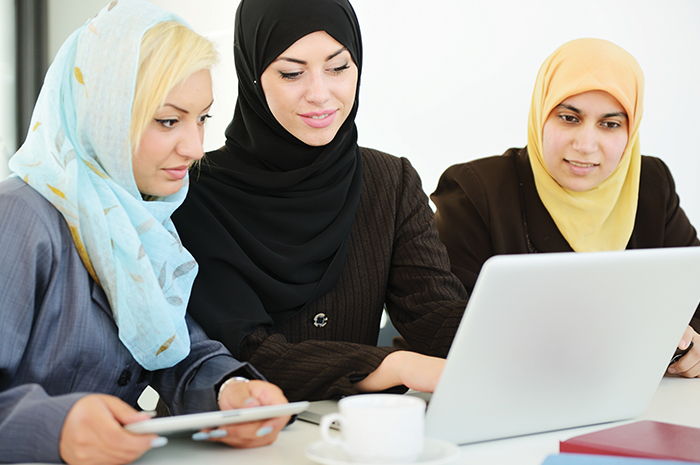 Diversity in Engineering
A Gulf Stream
Women in the Persian Gulf are eager to pursue engineering, compared with their American counterparts. One contributor could be the single-sex schools that are common throughout the oil-rich region, according to a new book chapter by engineering education researchers Jennifer DeBoer and Ashley Ater Kranov, who draw on an extensive literature review as well as their own research. They cite an all-women software engineering course in Kuwait that resulted in improved academic results and a decrease in the performance gap between men and women. The job market has yet to catch up with the trend, particularly in Saudi Arabia, where "as many as 78.3 percent of unemployed women are university graduates or degree-holders." A key exception: "Women from across the Middle East are finding the United Arab Emirates a business-friendly environment for developing their own professional ventures." – T.G.
©Thinkstock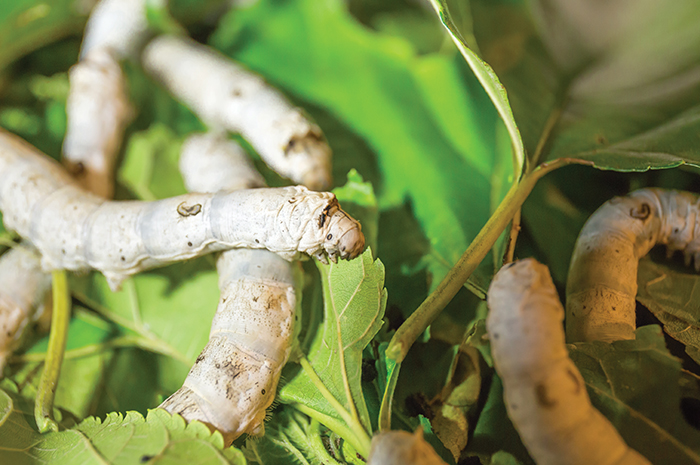 Nanomaterials
Miracle Fabric
Silkworm threads make beautiful clothes, but they have another quality: They're stronger than steel, on a per weight basis. And now a researcher at China's Tsinghua University has made them even stronger by adding either carbon nanotubes or nanoparticles of graphene—the world's toughest material—to the silkworms' normal diet of mulberry leaves. Chemist Yingying Zhang sprayed the leaves with water solutions containing 0.2 percent, by weight, of either carbon nanotubes or graphene. Zhang opted to add the carbon to the worms' feed to avoid having to treat the silk after it was spun. That would have required dissolving the nanomaterials in toxic solvents first, a process that would be less environmentally friendly. The carbon-infused silks are twice as strong as regular silks and can withstand 50 percent more stress before breaking. Moreover, unlike regular silks, they conduct electricity. What's not clear is how much of the carbon nanomaterials actually makes it into the silk threads, or is otherwise excreted or metabolized by the worms. It's likely the carbon content is quite low, because it's not visible in cross sections of the threads. But clearly it's having an effect. Zhang says the method is a means to produce high-strength silk fibers on a large scale. Superstrong silk could be used to make highly durable fabrics. And, given their ability to conduct electricity, they might be used as sensors in smart textiles. They may have medical uses, too: as implants to read nerve signals. – T.G.
©Thinkstock