Breakthroughs and trends in the world of technology.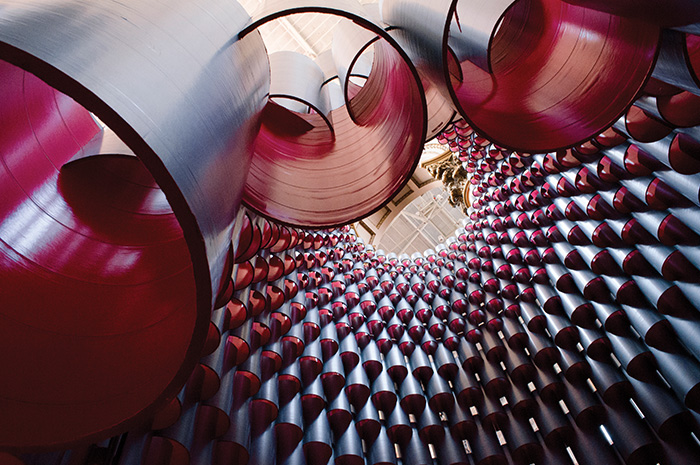 Structural Engineering
Building Buzz
Some 2,700 notched cardboard tubes circle toward the soaring ceiling in the National Building Museum's latest summer show-stopper. Designed by Jeanne Gang, head of Chicago's innovative Studio Gang, The Hive's cozy catenary structures were built to foster a more "intimate space" where "sound would not disappear" in the cavernous atrium, says Cathy Frankel, the museum's vice president for exhibitions. The resulting trio of connected structures act, acoustically, like forest clearings—where some sound escapes through the spaces rather than getting absorbed into the cardboard or reflected. Augmenting the aural landscape are a variety of interactive, found-object chimes and drums and a monstrous "tubulum" created by sound engineers from PVC pipes, plastic tubes, and other construction materials. Topping out at 48 feet, The Hive falls 12 feet short of the original three-dome design. That's because the domes were formed without frames. A computer simulation showed that the tower might get bent out of shape, but the team hoped that locking in the final rings at the top would make it symmetrical. But the weight of the materials forced them to reduce the height and remove the top rings. As a result, the oculus on the tallest hive appears a bit misshapen—but is still a dramatic sight. Additionally, visitors got a rare glimpse into the engineering design process as they watched a fourth hive arise from the excess tubes. "It actually made us think that we need to start marketing these [summer exhibits] when we start building them, not just when they're open," says Frankel. – Jennifer Pocock
 ©Jennifer Pocock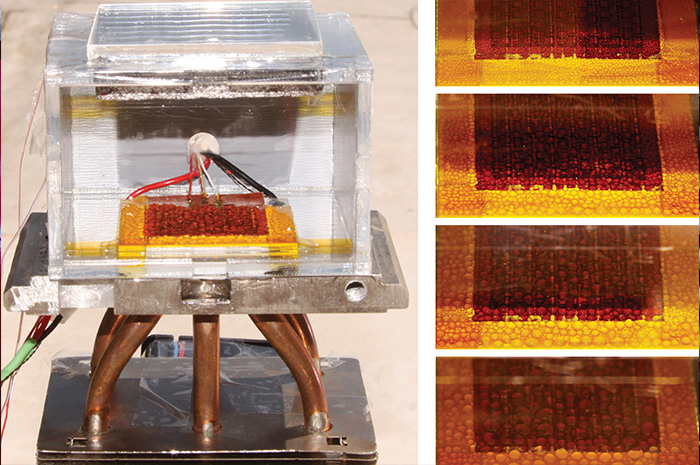 Sustainability 
Potent Potables
The World Bank predicts that 1.8 billion people will be living in areas with acute water shortages by 2025. So why not harvest water from the air? While several technologies exist, few work in arid regions, where the problem is most severe. Those that can operate at humidity levels as low as 50 percent are energy intensive and costly. In a recent major breakthrough, however, researchers at MIT and University of California-Berkeley have found a way to extract atmospheric water at low humidity levels, using only sunlight as power. The investigators used a material called metal-organic framework (MOF), a mix of organic and inorganic metallic units first developed 20 years ago by Omar Yaghi, a Berkeley chemist who co-led this research with Evelyn Wang, an MIT mechanical engineering professor. MOFs are compounds with spongelike configurations that can be "tuned" to be highly hydrophilic. The team's device sandwiches the MOF between a sunlight-absorbing top plate painted black and a bottom panel kept at the same temperature as the outside air. The captured water is released as vapor, which then condenses on the bottom plate. The system has no moving parts and needs no external power source. The prototype used two pounds of MOF to collect three quarts of drinkable water in 12 hours, but researchers think they can eventually tune the material to collect double that amount. In the next two years, they hope to develop a marketable device the size of a suitcase that could cheaply generate around 32 quarts of water a day. – Thomas K. Grose 
 ©MIT/Researchers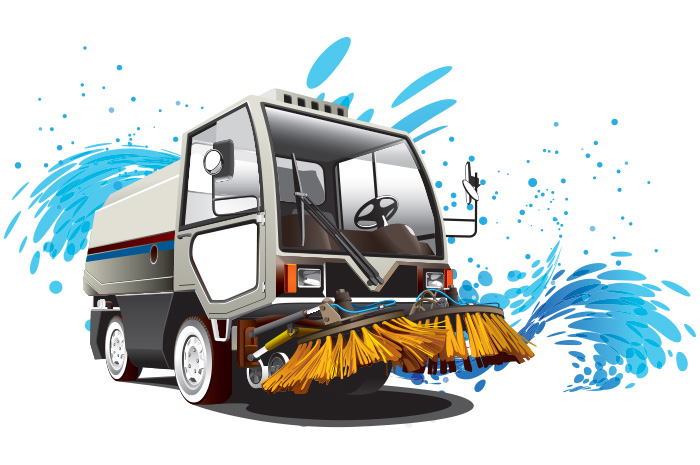 Electric Vehicles 
Clean Sweep
Battery-powered electric vehicles are rapidly becoming more affordable and popular as advances in battery technology expand their range. Drivers who can afford $68,000 for a Tesla Model S can cover 335 miles before recharging, while the new, less expensive Chevy Bolt can run for 238 miles. EVs powered by hydrogen fuel cells, which produce electricity from hydrogen, emit only water vapor, and can travel 300 miles per tank, also are gaining traction—but far more slowly. Though they can refuel in a few minutes, versus the hours it can take to recharge a battery-powered model, hydrogen stations remain few and far between: Just 38 dot the entire United States. Nevertheless, GM, Honda, and Hyundai are investing in fuel-cell technology—which may find a niche in vehicles like the one cleaning roadways in the Dutch town of Hoogezand. Built originally to run on diesel, the street sweeper recently was transformed into a fuel-cell EV by its manufacturer, Holthausen, and Finland's Visedo, a manufacturer of electric powertrains. Holthausen says the hydrogen sweeper can run for 1.5 days per tank, while a battery-powered model needs recharging every 4.5 hours and is quieter. Last spring, US Hybrid and Global Environmental Products won a contract from California's transportation department for fuel-cell street cleaners. Maybe hydrogen is well-poised to clean up in the green machine market. – T. G.
 ©Thinkstock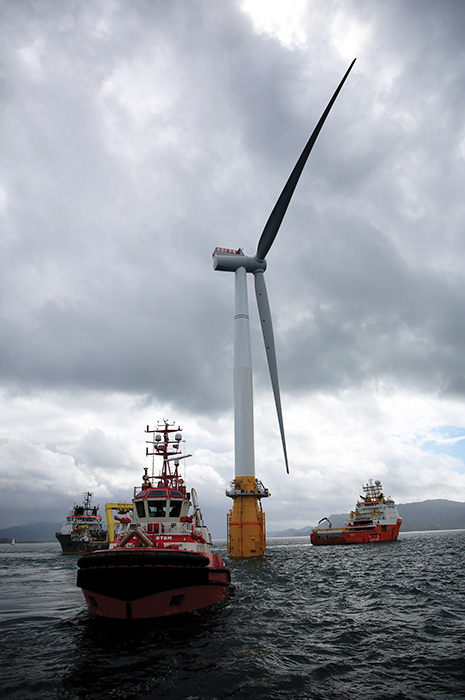 Sustainable Energy
Buoys in Blue
Since 2012, the cost of electricity provided by the United Kingdom's offshore wind farms has plunged by 32 percent, hitting a price that the government had predicted would take another four years to reach. But now under construction in the North Sea, off the coast of Scotland, is a new type of wind farm with the potential to open up areas that cannot now be tapped for their strong winds—a breakthrough that could make wind power even more affordable. The $260 million Hywind pilot will be the world's first floating wind farm, with five 575-foot-tall turbines designed and built by Statoil, Norway's state-owned oil company. Today's offshore turbines are anchored directly to the ocean floor, which means they can't operate in depths beyond 164 feet. Statoil says the floating turbines can work in depths ranging from 328 feet to 2,300 feet and eventually should be able to handle even deeper seas, such as off the U.S. West Coast and Japan. The Hywind project's floating turbines are kept in place by a 256-foot-long underwater ballast and three mooring lines linked to the seabed. The 30-megawatt farm, 15.5 miles offshore, will provide electricity to 20,000 households. Statoil acknowledges this initial working prototype will require subsidies. But it's also breezily confident that the price will fall dramatically once the market begins to expand. – T. G.
 ©Roar Lindefjeld/ Woldcam /Stato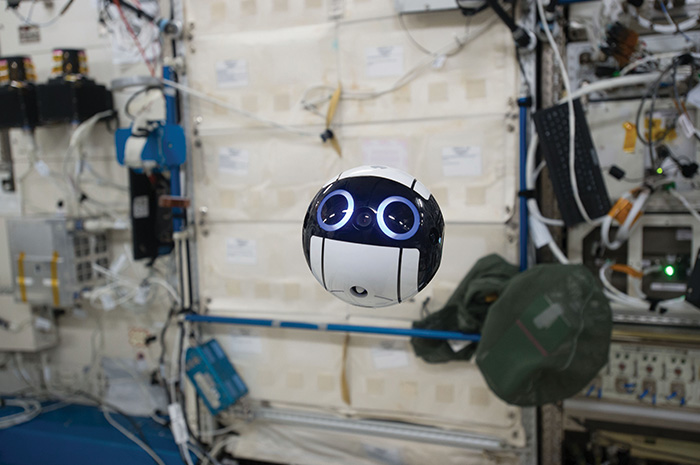 Image Technology
Watch the Birdie
One of the latest creations of JAXA, the Japan Aerospace Exploration Agency, is Int-Ball, a small, round drone that has tech writers gushing about how cute it is. And at 6 inches in diameter, the 2.2-pound robot really is delightful. The black-and-white orb features two lenses that resemble a pair of big, round blue eyes. Moreover, it's got one cool mission: floating around the International Space Station taking videos and snapping pictures. The ball camera arrived aboard the ISS in June, and JAXA began releasing its images in July. Int-Ball can send images to flight controllers on Earth in real time; the images then can be relayed back to the ISS. The agency made Int-Ball using a 3-D printing method it developed to build cubesats, or miniature satellites. The little ball can move autonomously or be remotely controlled by researchers on the ground. It's not all fun and games, however. ISS astronauts spend 10 percent of their working time recording images of onboard experiments for scientists back on Earth. By taking that chore off their hands, Int-Ball can free them to concentrate on more important work. JAXA also hopes it's a first step toward "the automation and autonomy of extra- and intra-vehicular experiments"—an important task for such a playful-looking bot. – T. G.
 ©JAXA/NASA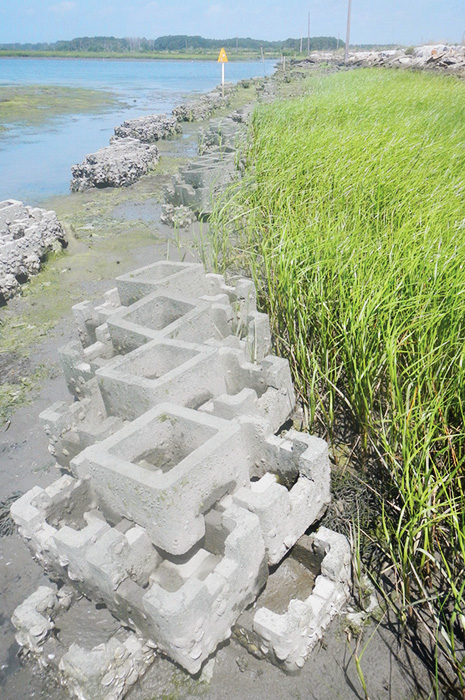 Infrastructure
Resilient Shores
Many U.S. coastal areas—particularly those with large populations—are protected by seawalls, human-designed oyster reefs, and other engineered structures. But these defenses against natural disasters also limit how well shorelines can naturally respond to coastal changes, such as rising sea levels. And that can have an effect on intertidal habitats. To help communities better design future sea defenses, the National Science Foundation's Long-Term Ecological Research network has devised a new conceptual model that looks at the environmental settings of armored structures, including hydrodynamic energy (waves and tides) and whether the structures were built to stop surges or slow seepage. The team reviewed 88 previous studies on the ecological effects of armoring, of which 15 percent focused on high-energy environments, mainly open-coast sandy beaches. The review found that most studies looked at changes in habitat and species distribution but didn't answer questions about other issues, such as nutrient cycling. The NSF model aims to fill in those knowledge gaps and generate useful predictions on the relative impact of different types of shoreline defenses across soft-sediment ecosystems. – T. G.
 ©Bo Lusk, TNC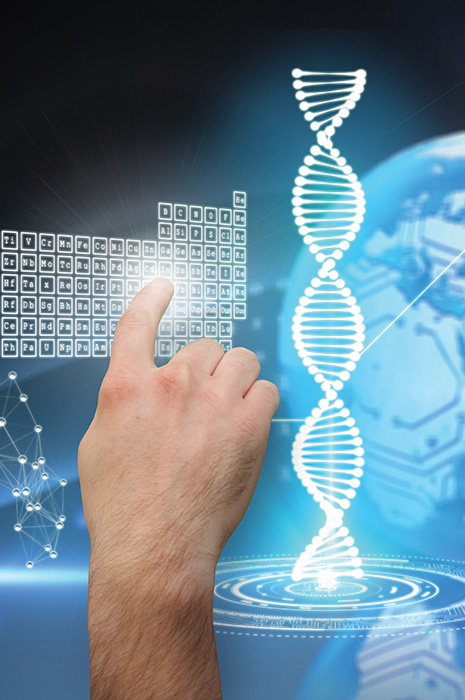 Biomedical Engineering
Life Lines
Researchers have made big advances in regenerative medicine in recent years, discovering numerous ways to use and direct pluripotent stem cells to create specific cells and tissues in the lab. The goal is to someday use 3-D printing technologies and patients' cells to create healthy tissues and organs to replace diseased ones. The hurdle, however, has been an inability to grow the blood vessels needed to keep such organs alive. Now a team of bioengineers and scientists at Rice University and Baylor College of Medicine in Houston say they've come up with a method to print implantable tissue embedded with working capillaries. The team first coaxed endothelial cells—which form blood vessels—from stem cells. They then were able to grow capillary-like structures in two different media: fibrin, a natural material known to encourage tubulogenic growth, and GelMA, or gelatine methacrylate, a semisynthetic material that can easily be used in 3-D printing. The cells grew well in the fibrin, but it took many months and dozens of experiments to come up with a viable process to grow robust structures in the GelMA. What worked in the end was adding mesenchymal stem cells, another type of adult human stem cell, to the mix, which stabilized the growth of the vessels. Though small, even these tiny patches of tissue with working capillaries could be used to test drugs in labs, for example. – T. G.
 ©Thinkstock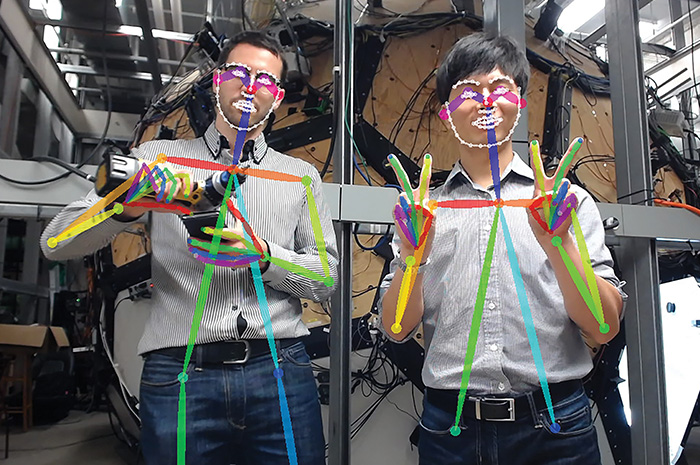 Artificial Intelligence
Moving Target
Humans communicate almost as much with their bodies as with their voices, "but computers are more or less blind to it," says Yaser Sheikh, an associate professor of robotics at Carnegie Mellon University. While facial recognition technologies have made big strides, body movement still baffles. So Sheikh's team tapped the university's Panoptic Studio, a two-story domed room embedded with 500 video cameras. Images were stored in a data set and used to teach a computer to comprehend poses and movements in real-time video, including hand and finger gestures. The Open Pose body-tracking system Sheikh's researchers developed uses computer vision and machine learning to analyze the videos. Sheikh says the hope is to program computers so they eventually can understand nonverbal human communication, such as pointing at objects. That will enable robots to perceive what humans are doing, their moods, and if or when to interrupt. Another application might be to help self-driving cars hit the brakes if a pedestrian is likely to step into the street. Sheikh's team has released its code so other researchers can come up with applications. More than 20 commercial groups, including several automakers, have indicated they might license the technology. – T. G.
 ©Carnegie Mellon University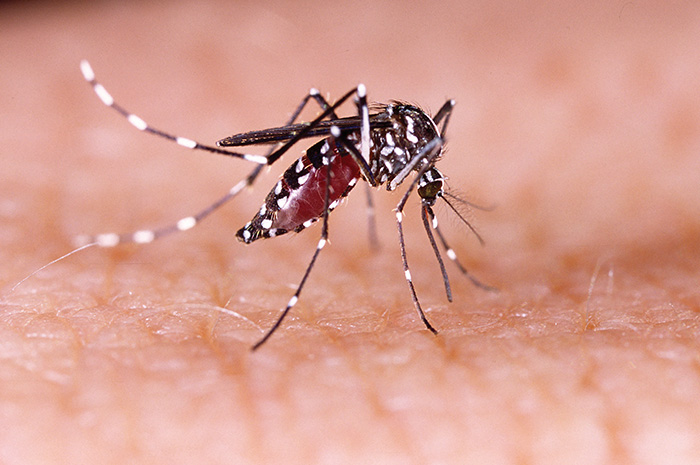 Public Health
Buzz Kill
Most people find mosquitoes merely annoying summertime pests. But in many areas of the world, they carry such dangerous diseases as malaria, Zika, and dengue fever. Could biotechnology help eradicate or greatly reduce mosquito populations? This summer, Verily, a life-sciences arm of the Google holding company Alphabet, teamed with Mosquito Mate, a Kentucky company that's developed a system for infecting male mosquitoes—which don't bite or spread disease—with a naturally occurring bacteria that renders them sterile. Verily designed special algorithms and robotic machines to supercharge the technology 25-fold, allowing researchers to treat and release a million mosquitoes a week at a lower cost. This summer, they worked with local officials in Fresno, Calif., to release 20 million sterilized Aedes aegypti mosquitoes in two neighborhoods to see if their mating with indigenous females will curb the overall numbers. Aedes aegypti is an invasive species in Fresno, so eliminating them shouldn't affect the local ecosystem. Meanwhile, malaria remains a worldwide scourge, with an estimated 212 million cases in 2015. Drugs to treat the debilitating disease are widely counterfeited across affected regions in Asia and Africa, and the useless fakes often look authentic. But Global Good, a Bellevue, Wash., philanthropic lab, has developed a handheld, optical spectrometry device that shoots a beam of near-infrared light at a pill and records how the light's absorbed, creating a unique spectral signature that can reveal chemical content without damaging the medicine, according to IEEE Spectrum. The device sends the info to a smartphone app, which spits out an analysis within two seconds. – T. G.
 ©Thinkstock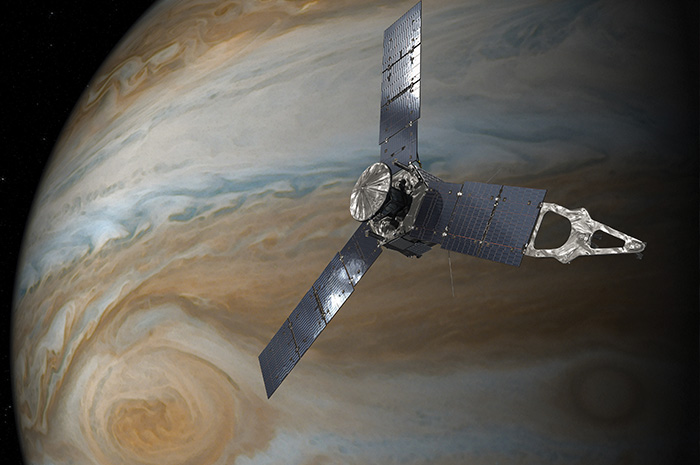 Space Exploration
Juno the Mythbuster
NASA launched its Juno spacecraft on a journey to Jupiter back in August 2011 from Cape Canaveral. In July of last year, the probe dove through the intense radiation surrounding the planet—the most any spacecraft has ever encountered—and pulled into a north-south orbit, where it already has notched up a few records. It traveled 1.7 billion miles, the most for any solar-powered craft, and set a speed record for a man-made vehicle: 164,700 mph. Juno's orbits also are much lower than most spacecrafts'—as close as 2,500 miles when it passes over Jupiter's storm clouds, including its famous Great Red Spot. These traverses are so closely spaced, the probe eventually can map the entire planet, according to Wired magazine. Juno is sending back stunning pictures, including some that let scientists peek at the poles for the first time—and it turns out they're blue, as opposed to the orange and white stripes that color the rest of the planet, and covered in massive cyclones. Wired says that one year into the mission, data from Juno already are upending some long-held beliefs about gas giants, which are mainly composed of hot gases swirling around a relatively small core of rock. For instance, Jupiter's auroras pull electrons out of its polar regions for energy—just the opposite of the process on Earth. Moreover, Jupiter's atmosphere, magnetic field, and gravity field turn out to be much more mobile than previously believed. Juno's mission is set to end in February, so there's still time for more myth-busting about the planet many astrophysicists believe jump-started our solar system. – T. G.
 ©NASA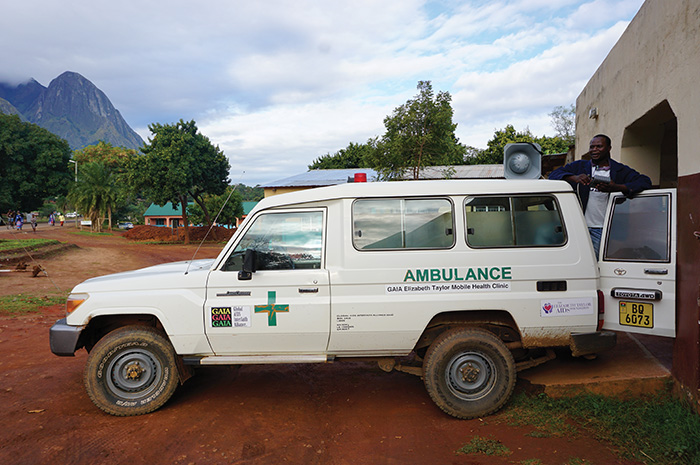 Acoustic Engineering
Listen Up!
Why can't people tune out screams or crying babies as they can most other noises? According to recent findings by University of Geneva neuroscientist Luc Arnal, such sounds directly activate the amygdala, which provokes fear and reaction, he tells the BBC. Jake Harper, an American artist, used Arnal's research to design a siren to help draw people to a mobile HIV clinic in Malawi, Africa, where 17 percent of the population is infected with the virus but few seek tests or treatment because of the social stigma attached to the disease. Using Kyma, an audio software, Harper developed a noise that clearly sounded man-made and appealed to the emotion-processing parts of the brain, spurring a need to act without inciting fear and shock. The most effective sound sample he modified came from his recording of a local band. As Harper tells the BBC, the combination of discordant musical fragments and white noise is similar to tuning in to an AM station on an old transistor radio in an area where the signal's weak. The initial test was encouraging: 160 people visited the van for tests that day, quadruple the typical number. Harper has launched a start-up, Public Decibel, to design sounds to make buildings and public spaces more accessible or adaptable. One researcher tells the BBC that using sounds to manipulate behavior could, for example, be harnessed by shops to encourage customers to linger and buy more things. – T. G.
 ©Jake Harper/ETAF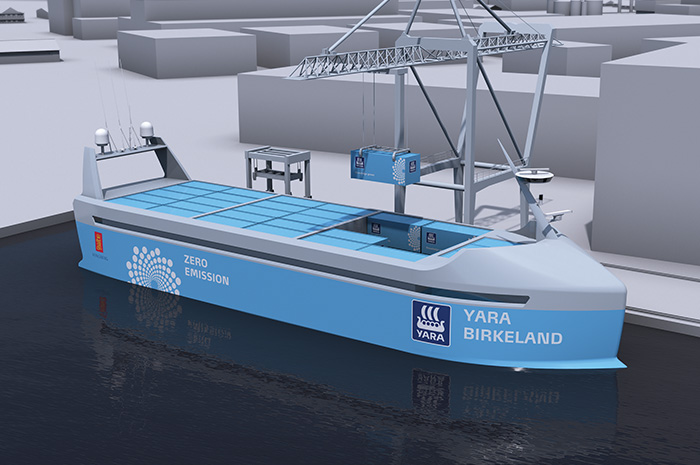 Marine Technology
New Tack
The world's first fully autonomous electric container ship will soon be plying the waters of a Norwegian fjord. Dubbed the "Tesla of the Seas," the Yara Birkeland is the result of a collaboration between Kongsberg Maritime, a marine technology firm, and Yara International, a fertilizer manufacturer. The $25 million, 100-container ship will be launched in three stages, starting with manned operations next year, followed by remote control in 2019 and fully autonomous in 2020. The Birkeland will operate as a feeder vessel along a 37-mile stretch of a fjord that connects Yara's manufacturing plant in Porsgrunn to shipping terminals in Brevik and Larvik, saving an anticipated 40,000 road-freight journeys or more a year—and reducing noise, air pollution, and congestion on local roads. Although the Birkeland costs three times as much as a normal ship, it's expected to cut annual operating costs by 90 percent because it needs no fuel nor crew. Kongsberg is responsible for the ship's control and monitoring technologies, including sensors, the electric drive, and propulsion-control systems. UK aerospace giant Rolls-Royce is also investing in crewless ships, initially tugboats and ferries. The International Maritime Organization expects to have global regulations governing robotic ships in place by 2020. Once that happens, Yara tells the Wall Street Journal, it wants to invest in autonomous container ships that can travel longer routes. But other shipping executives are skeptical, telling the newspaper that the cost of getting a repair team to the middle of the ocean would be prohibitive. – T. G.
 ©University of Manchester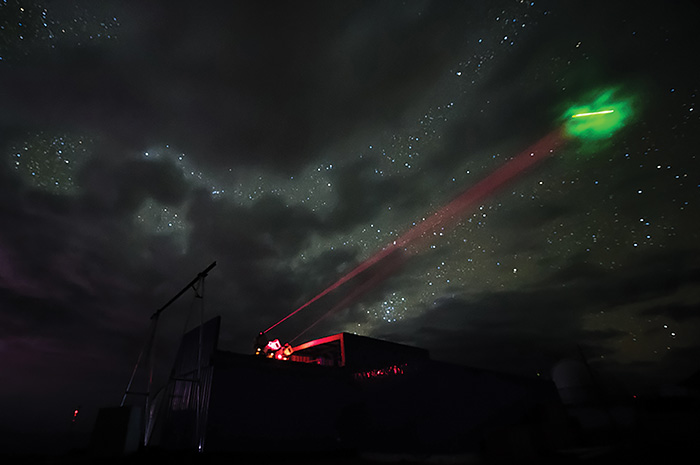 Quantum Computing
All Tangled Up
In quantum theory, entanglement occurs when two or more subatomic particles form or interact at the same time, their properties inextricably linked even when separated by huge distances. Since the 1990s, lab researchers have been able to teleport elementary light particles called photons. The process involves downloading and transferring all of one photon's information to its partner, so the second photon basically becomes the first. Because entanglement is a weak link, researchers on Earth have only been able to teleport photons for a distance of around 60 miles. But last summer, Chinese scientists were able to teleport entangled photon pairs to two ground stations in Tibet from a satellite with a quantum optical payload some 310 miles above Earth. That set the distance record at which entanglement has been measured. The researchers created 4,000 pairs of entangled photons per second, then shot one of each pair to the satellite. They then measured and compared the photons in orbit and those received on the ground to determine if and when entanglement was occurring. After 32 days and millions of photons, they confirmed 911 positive connections. While a far cry from teleporting humans, as in Star Trek, University of Oxford physicist Ian Walmsley tells the BBC that it is an advance toward more secure long-distance communications, perhaps a future cloud-based network that will allow people to exchange information that can't be hacked. – T. G.
 ©CAS