Breakthroughs and trends in the world of technology.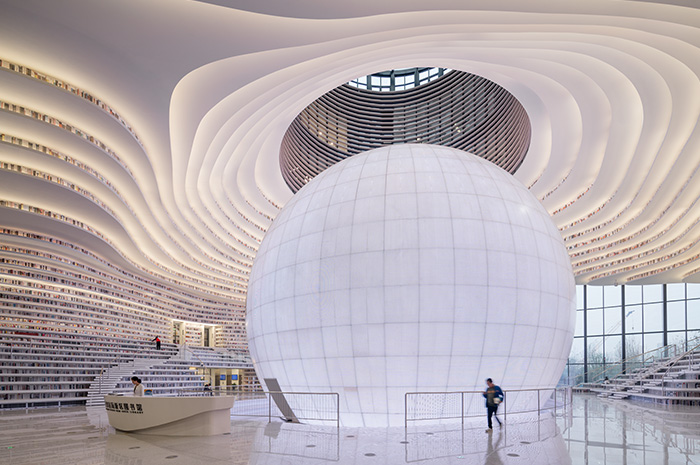 Library Design
Behold the Eye
It may never rival the Great Wall, but China's new Tianjin Binhai Library already has drawn raves for its inspiring design while inviting parallels as a repository of relics: books. An "ocean" of them, gushed CCTV, the state-run network. The five-story "Eye of Binhai," which opened October 1 in the city of Tianjin some 75 miles southeast of central Beijing, features a luminous spherical auditorium at the center of a soaring atrium. Cascading shelves that can hold up to 1.2 million volumes sweep from floor to ceiling, giving the 36,000-square-foot space an eyeball-like quality—hence the nickname. The library, which local media call a "sea of knowledge," is one of five buildings commissioned by the Tianjin Urban Planning and Design Institute to form a new culture center. The ground floor houses reading areas for children and the elderly, with meeting and computer rooms, conventional bookshelves, and two rooftop terraces above. But the dramatic structure is not altogether visitor-friendly. Dutch architectural firm MVRDP says a tight completion schedule forced a design change that makes it impossible to access the upper bookshelves, so perforated aluminum plates printed to resemble books—fakes, in other words—will line the top tiers. MVRDP, which runs an independent research institute on the city of the future with the Delft University of Technology, hopes the "full vision" for the library will someday be realized. Another glitch: Visitors trip on the irregular staircase as they snap selfies or admire the ceiling. – Mary Lord
 ©Ossip van Duivenbode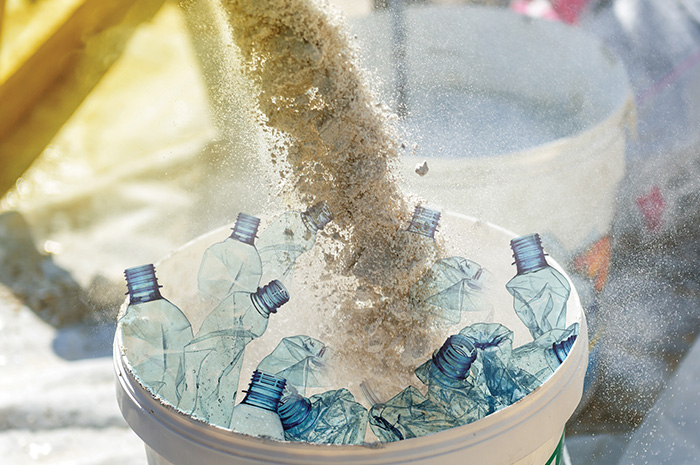 Building Materials
Stronger and Greener
Concrete production is a major source of carbon-dioxide emissions. Used plastic bottles mainly end up as waste in landfills. But a student-led team at MIT has come up with a concrete-production process that could ease both problems. The research began as a class project by nuclear science and engineering undergraduates Carolyn Schaefer and Michael Ortega, but it now includes several MIT faculty members. The students' research found that past efforts to add plastic to concrete weakened it. But they also discovered that zapping plastic with small, harmless doses of gamma radiation can make it stronger. So they decided to find out what would happen if they exposed plastic flakes to gamma rays, pulverized them to a fine powder, and mixed small amounts—just 1.5 percent of the total volume—along with fly ash into batches of Portland cement. The resulting blend is up to 15 percent stronger than conventional concrete. Every little step to cut pollution helps. – Thomas K. Grose
 ©Thinkstock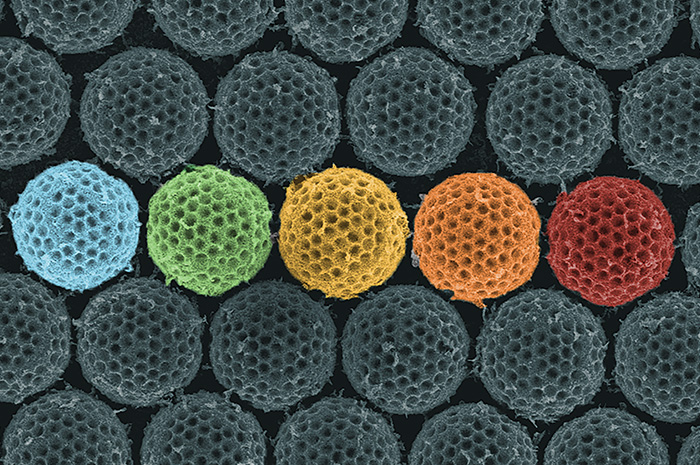 Bioinspired Materials
Stealth Buggy
Leafhoppers, an abundant plant-eating insect, have superhydrophobic microparticles called brochosomes that keep their wings dry. Now Pennsylvania State University engineers have discovered another use for these tiny embedded spheres: camouflage. A team led by Tak-Sing Wong, an assistant professor of mechanical engineering, determined that this natural antireflective coating makes leafhoppers and their eggs blend in to the background at wavelengths of light visible to their main predators, ladybird beetles. The finding came after Wong's former post-doc, Shikuan Yang, noticed that the brochosomes were nearly identical in structure to synthetic microspheres the team produces. Both look like soccer balls pitted with nanoscale holes. It turns out that the size of the nanoholes are close in size to the wavelength of light and can capture 99 percent of the spectrum from ultraviolet to near infrared—in all directions. Wong surmises that the synthetic microspheres, which are produced using electrochemical deposition, could have many uses, including solar energy harvesting systems that need not adjust to capture light as the sun moves across the sky. – T. G.
 ©Shikuan Yang, Birgitt Boschitsch and Tak-Sing Wong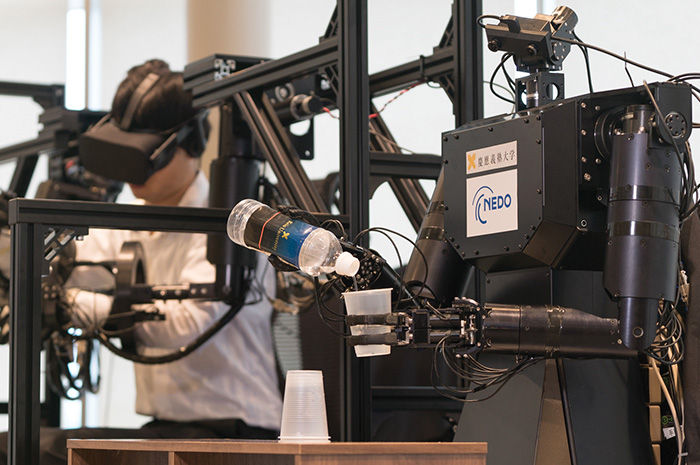 Human-Machine Interaction
Touchy-Feely
Touch technologies are certainly handy, but recent lab breakthroughs could greatly improve them. Haptics is the use of tactile sensations to control and interact with computers. Now haptics researchers at Japan's Keio University have created an avatar-robotic arm that mimics the movements of a human controller. The robotic arms transmit sounds, vision, and highly sensitive feelings of touch to a remotely located human. In a video released by the team, the robot pours water from a bottle into a plastic cup, spills it, then wipes up the puddle with a paper towel by following the movements of its human controller. Robots that can move without preprogrammed commands could find use caring for the elderly and responding to emergencies in environments too dangerous for humans. Meanwhile, Yingying Chen, a professor of electrical and computer engineering at Rutgers University, is developing a touch access system that does away with screens. Chen's VibWrite should work on any solid surface, IEEE Spectrum reports, from glass to wood. Chen's prototype was set up with a wooden table, and it can verify someone's identity with greater than 95 percent accuracy and a false-positive rate of less than 3 percent. Her system sends low-amplitude vibrations through the wood. A finger touching the table changes the vibrations, which are picked up by a sensor and sent to a processor that can detect each user's physiological signature, which is determined by unique finger shapes and pressure exerted. For now, VibWrite can recognize the equivalent of an access code and simple patterns. But Chen's goal is for it to recognize signatures: Want to open your door? Just use your finger and sign in. – T. G.
 ©2017 Keio University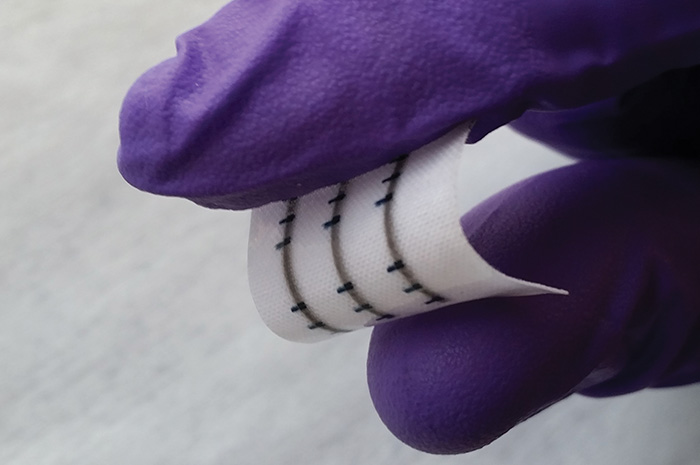 Alternative Fabrics
Couturier's Delight
Fashionistas are finding ways to be cool and trendy while also doing their bit for the environment. Top-end fashion and sportswear brands are starting to appreciate the benefits of alternative fabrics, the New York Times reports. Some are made from recycled materials and fruit fibers, while others are spun from artificially produced proteins inspired by natural silks. Bolt Threads of California is one of several companies making synthetic silks produced by spider-web DNA proteins manufactured using a fermentation process. Designer Stella McCartney has already used Bolt's laboratory silk for a one-off dress, as well as for a bodysuit and trousers featured in her latest collection. Adidas is making sneakers from plastics recovered from shorelines. And a researcher at London's Royal College of Art has created Pinatex, a leather-like material fashioned from pineapple leaf fibers that some brands, including Edun, are using. Meanwhile, researchers at the University of Cambridge have made a breakthrough in wearable electronics. Most wearable devices available now use rigid components mounted on plastic or rubber that can be damaged in washing and unpleasant to wear. The Cambridge team found a way to print washable, stretchable, breathable circuits into fabrics using low-cost, scalable inkjet printing techniques and environmentally safe inks based on graphene, a two-dimensional offshoot of carbon. The technology could lead to clothing-based computing, including garments that track a person's vital stats. – T. G.
 ©Felice Torrisi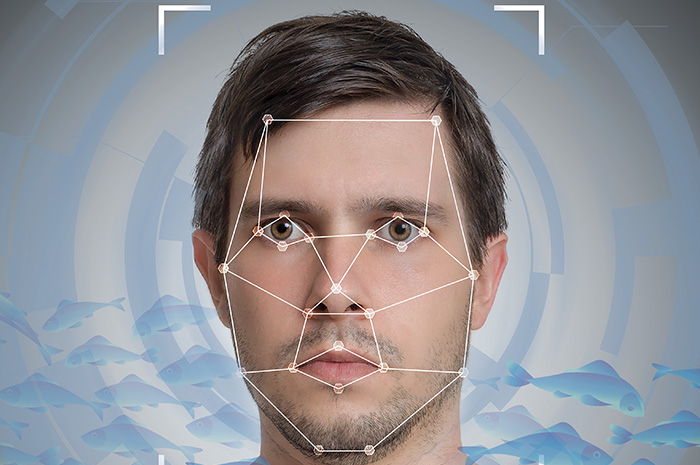 Facial Recognition
Age of Aquarius
Dubai's airports are becoming increasingly busy. Official figures show that already around 80 million passengers pass through them, and that number will increase to 124 million by 2020. To speed the security-clearance process, airports there are developing "virtual borders" that will do away with security counters and e-gates, according to the National newspaper. Soon, visitors will stroll through tunnel-like security gates lined with 80 hidden cameras that will scan their faces or irises. The first tunnel—set to open next summer at Dubai Airport—will look like a virtual aquarium, with high-resolution videos of fish swimming on its walls. The idea is not only to make the experience pleasant for travelers but also to draw their vision to different parts of the tunnel, which will make it easier for the cameras to capture their images. Before walking through the aquarium tunnels, passengers will first register their face scans at kiosks. As The Verge notes, facial recognition technologies are also growing in popularity at American airports. For example, a new biometric system will soon be in use at many airports that tracks the faces of visa holders as they leave the country. However, it adds, these systems are likely to spark debates and lawsuits over privacy concerns. Indeed, in Dubai, Big Bluefish will soon be watching you. – T. G.
 ©Thinkstsock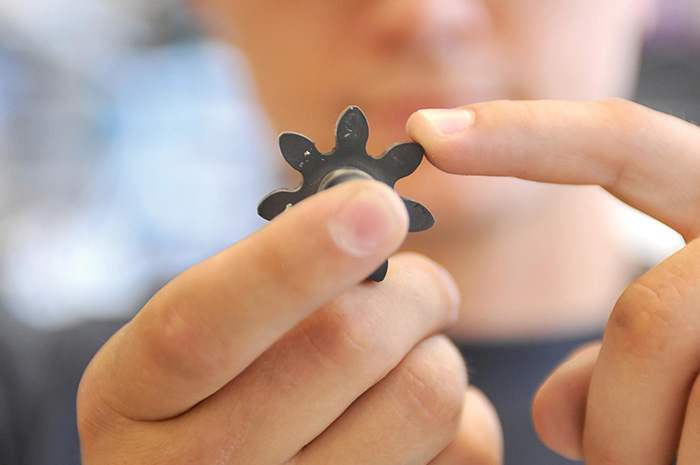 Energy Storage
Taking the Heat
While the fast-growing demand for solar and wind energy is impressive, both technologies remain limited by their intermittent nature: The sun sets each evening, and sometimes winds die down. And electrical grid storage solutions to provide baseline power at night or on still days are constrained by the high cost of batteries. However, researchers at Georgia Tech and Stanford and Purdue universities may have a workable and affordable solution: a ceramic heat pump that can operate at temperatures up to 1,400º C, making it robust enough to stand up to molten metals. Ceramics are resistant to ultrahot temperatures, but because they're brittle, they don't work well as machine components. So the multi-university team improved the material by adding new composites and making use of diamond tooling and precision machining. The researchers also made seals from graphite, another substance that can take the heat. The mechanical pump they built worked for 72 hours moving molten tin at an average temperature of 1,200ºC and a peak of 1,400º. It did show some wear and tear afterward, but the researchers think they can fix that problem using a harder ceramic material. The idea is to take electric power generated during peak sun and wind times and store it at very high temperatures in, say, molten silicon, as thermal energy. The higher the storage temperature, the more efficient the system is. At night or on calm days, thermophotovoltaics cells would convert the heat back to electricity. – T. G.
 ©Christopher Moore, Georgia Tech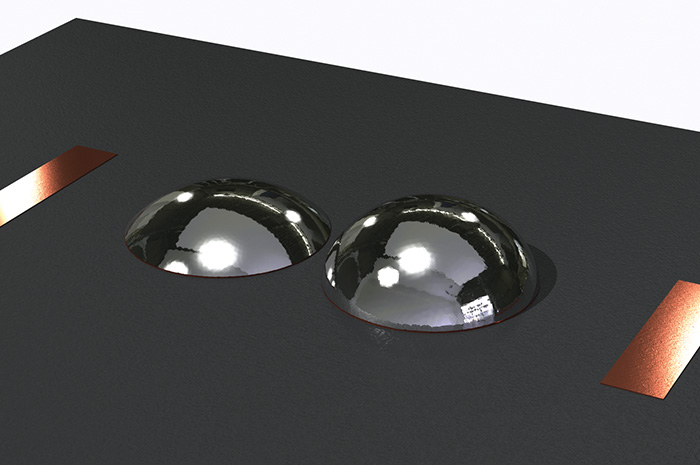 Integrated Circuits
Soft Touch
Transistors have grown so tiny that billions can be squeezed onto a single chip, enabling ever more powerful computers. But chips are solid and thus impractical for many biomedical applications, such as wearable sensors. Mechanical engineers at Carnegie Mellon and North Carolina State universities already have made soft circuits from a metal alloy that's liquid at room temperature, unlike traditional copper or silver wires. Now they've shown they can use the technique to build liquid-metal electrical switches, or fluidic transistors. The switches work by opening and closing a gap between two liquid metal droplets, thus mimicking the properties of conventional transistors. When voltage is applied in either of two directions, it creates an electrochemical reaction. The potential uses of liquid circuitry that can deform and reconfigure include tiny computers linked to biological material for monitoring diseases or restoring damaged nerves. – T. G.
 ©James Wissman, Michael D. Dickey, and Carmel Majid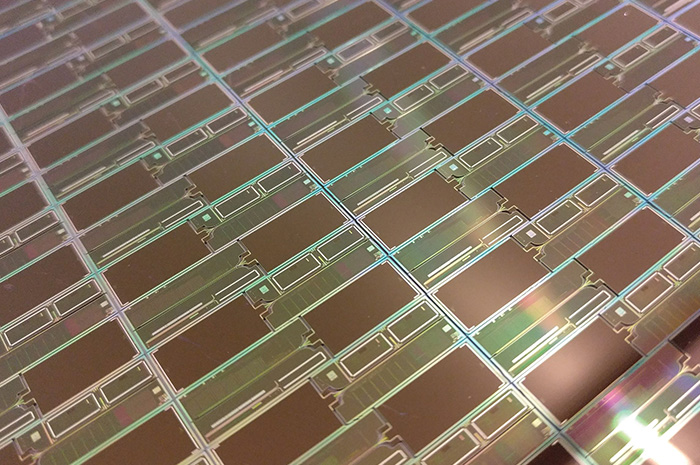 Computer Engineering
Brain Waves
In 1971, physicist Leon Chua theorized that electronic circuits could have a fourth fundamental element beyond resistors, capacitors, and inductors—the memristor, or memory resistor, whose electrical resistance depends on previous flows of current. It took until 2008 for Hewlett Packard to actually make one. Now memristors, which aren't locked into the limits of binary code, are under study as a way to develop computers that function like human brain synapses. Researchers at Russia's Lobachevsky University, for example, are working on a neural network that combines memristors and living brain cells. Such hybrid neural networks, the researchers say, could make possible three exciting prospects: using memristors to put the computing power of supercomputers on a single chip; building robots controlled by an artificially grown neuronal culture; and creating "brain-like" electronic systems to replace damaged or diseased parts of the nervous system. In Britain, a team led by University College London researchers has built a "Neuropixel probe" with 960 recording sites to study individual brain cells as they fire. Made of silicon thinner than a human hair, the probes are roughly the same length as the rodent brains often used in such investigations and should help researchers understand how widely scattered neurocircuits help us process information and make decisions. Such knowledge could lead to better treatment for depression, Alzheimer's, and other brain diseases. – T. G.
 ©imec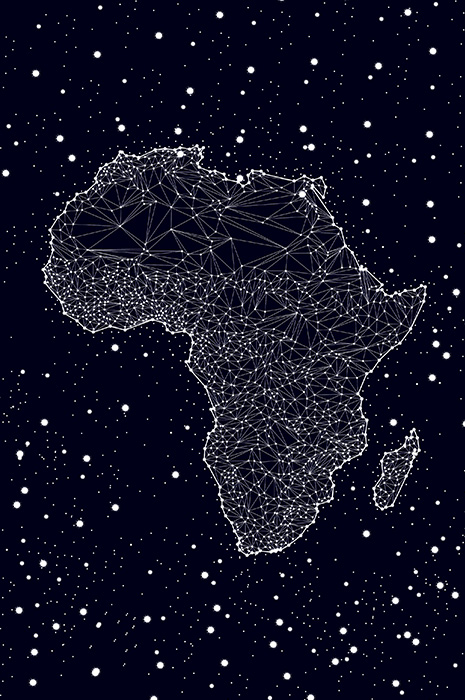 Economic Development
Home-Grown Infrastructure
The economies of sub-Saharan African countries have been stymied by many things, particularly a lack of electric power and very little manufacturing. But as two recent articles in the Economist explain, increasingly affordable new technologies could help overcome those hurdles. Falling costs of solar panels and wind turbines make electricity generation more affordable even as village microgrids and individual home units offer ways to distribute power. Providers often work with cellphone networks that use a "pay-go" system and can offer power for as little as 50 cents a day. One firm, M-Kopa, already provides power to 500,000 homes and is adding nearly 200,000 more annually. Meanwhile, increasingly affordable 3-D printing technologies let start-ups and established companies boost manufacturing in Africa. In the developed world, such technologies are seen as job killers. But so few Africans work in manufacturing, these advances are lowering barriers and providing opportunities for African firms to make and export finished products worldwide. One company the magazine highlights is South Africa's Advanced High Performance Reconnaissance Light Aircraft Holdings, which designs and builds rugged, sensor-filled small planes used for patrolling borders. The company expects to soon be building and shipping two to four planes a month. – T. G.
 ©Thinkstock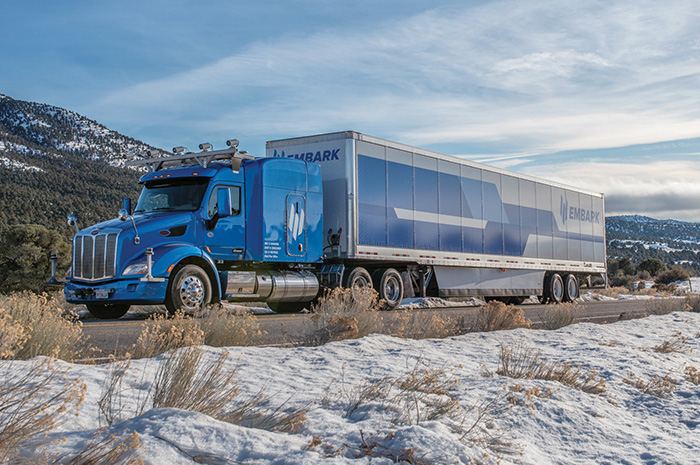 Autonomous Vehicles
Big Rigs on a Roll
Both the global auto industry and Silicon Valley are racing to put self-driving cars on the roads. But the first big commercial application of autonomous vehicles could be long-haul trucks. America's $700 billion trucking industry is ripe to be overhauled by robotic semis because of the huge potential cost savings they offer. As Wired reports, more than 4,000 people die in the U.S. annually in crashes involving trucks. Driver error is usually the cause, requiring the industry to spend billions on insurance premiums. Autonomous semis needn't be job killers, given that a big problem for the industry now is driver shortages. Human drivers would still likely be used for short-haul distances, especially in urban areas. Already, Wired says, Embark, a start-up, has been using robotic trucks—with a human driver inside to monitor things—to haul Frigidaire refrigerators along the 650 miles of I-10 from El Paso, Texas, to Palm Springs, Calif. The New York Times says businesses and investors are on course to spend $1 billion on self-driving trucking technologies this year. Other companies racing to bring robotic big rigs to the interstates are Tesla, which unveiled an electric semi with a range of 500 miles last month; Google's autonomous-car sibling Waymo; Volvo; and Daimler. Autonomous semis may be the future, but don't expect them to inspire country crooners. – T. G.
 ©Embark Trucks, Inc.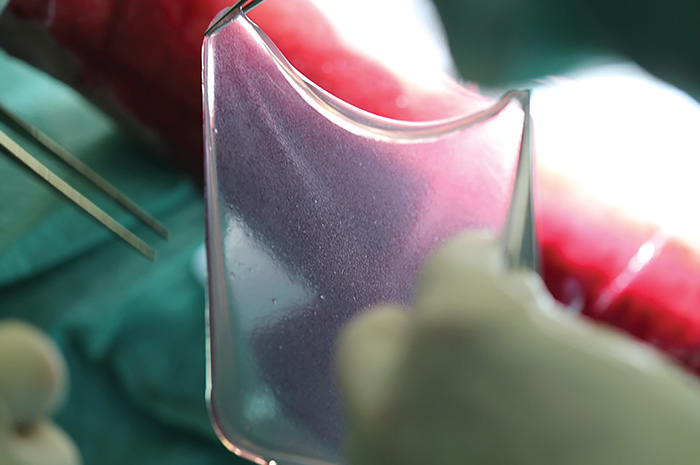 Biomedical Engineering
First Graft
Like some 500,000 other sufferers of a rare genetic disorder called epidermolysis bullosa, a young Syrian boy living in Germany has endured painful blisters on his body since birth. Patients often endure terrible pain and have skin so fragile that some are called "butterfly children." Two years ago, at age 7, the boy nearly succumbed to a bacterial infection that decimated two thirds of his skin. German doctors at the hospital burn unit where he was admitted had no idea how to help him. But a gene-therapy treatment devised by a team of European physicians and first reported in the journal Nature enabled the replacement of 80 percent of the child's diseased skin. The team took healthy cells from areas where the boy's skin was undamaged, isolated the stem cells, and grew them into sheets of skin they grafted onto 9 square feet of his body. His genetic mutation was treated with an engineered virus that carried the normal copy of his haywire LAMB3 gene—a technique previously done only in small patches. Experts caution that not all forms of epidermolysis bullosa may be treated this way, telling the New York Times that the disease often causes irreparable damage to internal tissue. So far, however, the boy is doing well, returning to school and even playing soccer. Based on how burn patients have responded to grafts, it could be a lifelong cure. – T. G.
 ©Ruhr-University Bochum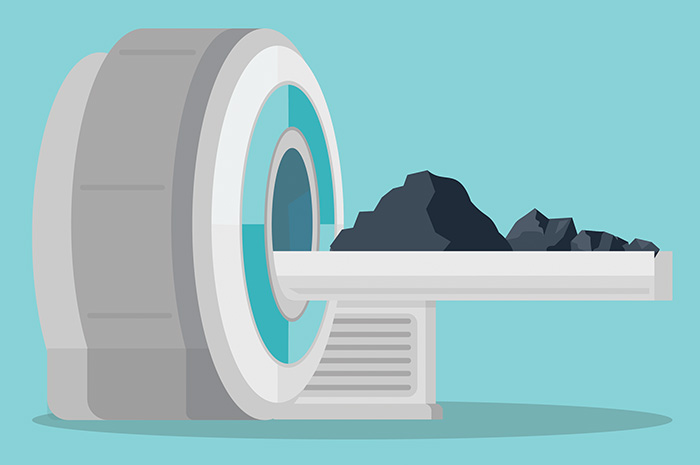 Sustainability
Buried Pressures
A team of Stanford University engineers whose research nurtured the now common practice of injecting carbon dioxide into oil wells to enhance production are exploring new uses for the greenhouse gas. Can it safely be sequestered deep in the earth for eons, thus keeping it from contributing to global warming? Enhanced recovery allows the extraction of large amounts of oil that otherwise would be left in the ground. But there are worries that pumping huge amounts of carbon into the ground could cause other problems, such as exacerbating existing faults and causing earthquakes, or opening cracks that let other harmful gases escape. But the researchers—whose tools include jerry-rigged MRI scanners that re-create how gases move through rock and 4-D computer simulations that model what will happen to carbon dioxide in the ground 3,000 to 4,000 years from now—are increasingly confident that long-term carbon sequestration is viable and safe. The pivot to renewable green energy will take at least 50 years, they note. Meanwhile, millions of gallons of oil will be burned. Asks Hamdi Tchelepi, a professor of energy resources engineering: "Should we do that in a messy, uncontrolled way? Or should we do it with the best possible engineering, maximize the recovery and optimize it by coupling it with sequestration?" – T. G.
 ©Thinkstock