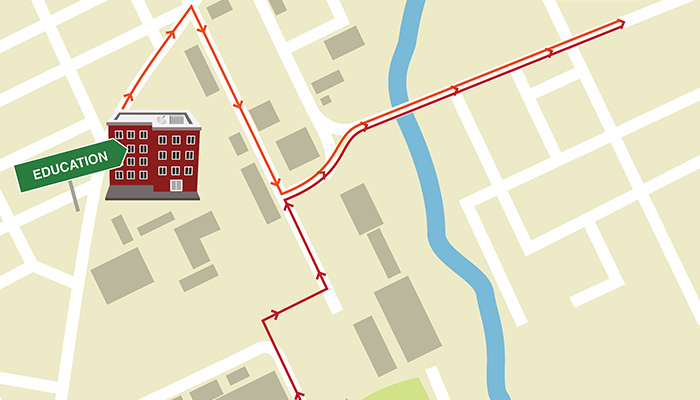 A novel cross-campus collaboration prepares engineering students to transform K-12 instruction.
The University of Colorado, Boulder's engineering and education schools occupy opposite sides of the sprawling main campus. Their curricula and cultures also are worlds apart. That distance is shrinking, however, as a pioneering group of engineering faculty and undergraduates treks between the two in a bold experiment to transform K-12 science and math.
The General Engineering Plus (GE+) and CU Teach Engineering program, now in its first official year, responds to growing demand for precollege engineering and to a nationwide shortage of qualified teachers. But its aim is more ambitious. By elevating the "E" in STEM, Colorado's engineering college believes it can improve math and science teaching more broadly, resulting in a larger pool of undergraduates prepared to succeed in science and engineering. "We don't just want to create STEM teachers," explains Jacquelyn Sullivan, co-director of the engineering college's Integrated Teaching and Learning Program and the driving force behind GE+. "We want to create leaders who will push their schools to create design-focused engineering courses and electives, and who understand the role that engineering can play in an integrated curriculum."
Key to GE+ is a determination not to dilute the undergraduate engineering curriculum. "It's not engineering lite, it's engineering different," says Sullivan. While supported by education-school pedagogy, its teacher-graduates will be fully fledged engineers with a degree that a top-tier engineering school stands behind. Through a focused — and at times strained — curriculum development process, planners say, what might have been six or more years' worth of engineering and education course requirements was condensed into a design-based four-year general engineering sequence that retains the essentials of both, capped by an additional semester of student teaching in an urban high school.
Project-Based Statics
The result is a unique degree pathway within CU's College of Engineering and Applied Science. Everything from statics and thermodynamics to pedagogy is taught via hands-on engineering design projects. Its unconventional approach becomes quickly obvious during a visit to co-director Derek Reamon's required thermodynamics course. Instead of wrestling with textbook problems, student teams brainstorm how to build an engine driven by steam, compressed air, or electricity that will best model the power cycle. A giant toy Jeep captures the eye in Malinda Zarske's Engineering Design for the Community class, where one team of students is working with a physical therapist to prototype a training device for youngsters learning to drive wheelchairs. Her first- and second-year pedagogy classes take a similarly hands-on design approach. Teams of STEM majors, who are also interested in K-12 teaching, create activity-based lessons requested by a mentor teacher who then observes and critiques their delivery to his or her real elementary or middle school students.
With a dozen states implementing the Next Generation Science Standards, which include engineering practices and design, "there is an urgent need for more teachers with this expertise," says Stacy Klein-Gardner, an adjunct associate professor of the practice of biomedical engineering at Vanderbilt University and co-chair of ASEE's K-12 and Pre-College Division, which recently released standards for engineering teacher preparation and professional development. She calls CU Teach Engineering "an exciting program" that "adds on the high end of the best qualified."
Evidence of demand keeps mounting. Some 6,500 schools in all 50 states offer Project Lead the Way's hands-on STEM curricula, for example, a 36 percent increase in just three years. Engineering is Elementary, the Museum of Science, Boston's project-based integrated STEM and literacy curriculum, reaches in excess of 5.8 million K-5 students – more than double the number in 2011.
While business and political leaders have stressed the need to improve STEM education, the focus on teacher preparation is relatively recent. In the past few years, the Obama administration has launched programs to help train 100,000 STEM teachers for high-needs schools and create a STEM master-teacher corps. Teach for America, a highly selective program that puts top college graduates into classrooms for two years, is working to improve the preparation and support of its 3,200 current math and science teachers. Harvard has launched a selective Teacher Fellows program that will offer graduating seniors "free, world-class" preparation to become middle- and high-school math, science, history, or English teachers.
Despite rising need, however, undergraduate teacher-preparation programs have struggled to put the "E" in STEM education. One obstacle, reports ACT, which administers college admission tests, is the dearth of high school seniors who both have the interest and are capable of majoring in and teaching STEM. Rigor also varies widely. Purdue University's 2014 book Engineering in Pre-College Settings: Synthesizing Research, Policy, and Practices, revealed that most programs don't require higher-level math or science courses that would support engineering-focused STEM studies. The College of New Jersey's integrated STEM teacher-preparation program, introduced in 1998 and considered the nation's first, is among the exceptions in requiring calculus and science beyond the introductory level.
The bulk of K-12 engineering education thus falls to traditionally trained science and math teachers. Here, too, the preparation gaps are glaring. One national survey found that elementary teachers take an average of only two math classes. A study by the National Center for Education Statistics revealed that fewer than half of high school chemistry teachers had a major in that subject, compared with three-quarters of math teachers.
Even leading STEM-teacher preparation programs have had trouble attracting engineering majors. Of the 2,153 graduates of UTeach, the University of Texas, Austin's acclaimed pathway into secondary teaching for STEM majors and its partner programs, just 1 percent studied engineering. UTeachEngineering, a National Science Foundation-supported spin-off established in 2008, has shifted from its original goal of preparing engineering teachers for Texas to developing a quality high-school engineering course, Engineer Your World, which is currently being taught to 3,000 students in 77 schools in 12 states. Its primary focus is supporting current science and math teachers in the engineering classroom.
Feasibility Study
Into the breach come GE+ and CU Teach Engineering. With a grant from Bechtel, Sullivan and her team studied the feasibility of developing a four-year pathway to teaching through engineering without compromising quality. It soon became clear it would take at least six years to emerge with an engineering degree that qualified graduates for a $32,000 starting teacher's salary — a "nonstarter," notes Reamon.
Campus leaders, including the associate dean of education, convened to hash out a shared vision for a new program. They benchmarked GE+ against UTeach programs, general engineering programs at MIT and other schools, and ABET requirements. "We started to think, wow, maybe this is possible," recounts Sullivan. Still, there were "uncomfortable conversations" about whether certain courses had to be included. Data from student course evaluations helped cut out ineffective offerings. Eventually, the combined program won support from department chairs and a unanimous approval from CU's board of regents, says Sullivan.
What emerged was "not only a teacher preparation program with a demanding, design-focused engineering degree but a whole other degree program with flexibility and choices we've never seen before in engineering programs." Two sets of degree requirements are distilled into one purposeful four-year sequence, followed by an additional semester of paid student teaching with a master mentor-teacher. The general engineering curriculum lets students emphasize, though not major in, an engineering discipline. First- and second-year students take two education courses co-taught by Zarske, an engineering master teacher with a Ph.D. in engineering education who has taught high school science, which hone their ability to develop and deliver activity-based lessons — and capture their interest in STEM teaching. Thanks to an online library of hands-on engineering lessons that Sullivan's multi-university team also pioneered, Teachengineering.org, they have a built-in archive of 1,340 teacher-proven activities recently aligned with Common Core math and Next Generation science standards.
Students — 44 already have signed on to GE+ — must meet the same high standards for admission as their traditional engineering counterparts, with whom they attend classes, and can also migrate in as sophomores or juniors. Being able to "still be an engineering major but get certified to teach" proved a draw for Ryan Sullivan (no relation to Jacquelyn), a second-year student who switched from mechanical engineering into the GE+ math teaching major with an electrical engineering emphasis this fall. "If I'd had to move to arts and sciences, I probably would not feel as fulfilled," says the math and science whiz who enjoyed tutoring in high school.
Providing a pathway into teaching through engineering may attract a more diverse group of students. Indeed, 25 percent of current concentrators are women like Andi Vicksman, a third-year GE+ major with a civil engineering emphasis. Torn between studying education and studying engineering when she applied to college, she opted for the latter after people told her it was easier to start there and switch out. The camp counselor and former math tutor remains "fascinated by engineering but can't really see myself in an office, working as an engineer."
Fail Soon to Learn Fast
As in engineering, failure — and learning from setbacks — is a central tenet of the new GE+ program. Fluid dynamics researcher Mike Soltys, who is piloting a hands-on statics class where students learn to determine centers of gravity by building mobiles with complex shapes, encourages exploration by grading participation rather than the product. "At first they thought this was child's play, but they have to do the calculations," he says. "I just want them to get the principles." Tapping a textbook full of equations to plug into canned problems, Reamon acknowledges that "a lot of them want this," but says it's important "to push students to more realistic situations, the messy stuff. The more you see it, the more comfortable you get." Even failed final projects don't wreck GPAs.
Faculty are encouraged to experiment and up their game. Instructors and staff meet every other week to go over what's working in the GE+ courses. Students provide real-time feedback about how teaching can improve. Reflection and iteration have become routine practices. Program co-director Reamon says GE+ has changed "not only the way I teach but also what I teach." Though he'd long ago studied thermodynamics, he'd never taught the subject before. He looked at the general education requirements, talked with mechanical engineering colleagues, borrowed good curriculum, got out his old textbook, and relearned the material through a hands-on lens.
Marketing is the next big challenge for GE+ and CU Teach Engineering. A "huge effort" is under way to let Colorado guidance counselors and STEM teachers know about the new pathway to math and science teacher licensure, says Sullivan. Though the focus has been on preparing educators, graduates have a robust pathway to engineering. How many will choose the classroom over industry — where starting salaries are higher — remains to be seen. It's clearly a seller's market, though. And the CU Teach Engineering design team has already lined up a buyer: the Denver School of Science and Technology, a network of top-tier secondary charter schools that serve mainly underrepresented, first-generation, or low-income youth. It's no coincidence that Sullivan had a hand in starting it.
By Mary Lord
Mary Lord is deputy editor of Prism.
Design by Michelle Bersabal