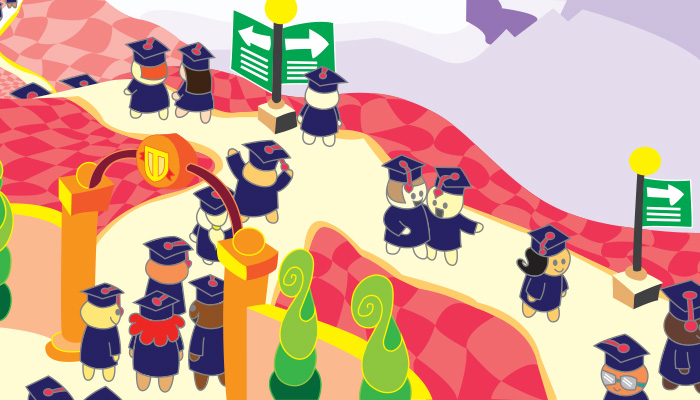 If engineers like what they do, why do so many – including some of the best – work outside the field? An ongoing study seeks to understand the connection between engineering education and the workforce.
Today's engineering graduate can expect relatively good pay and a large measure of satisfaction. His or her job will be secure, though less so than that of a doctor, dentist, or lawyer. As time passes, the slow pace of career advancement will make the job less appealing. Among engineers with a bachelor's degree, only petroleum engineers have a median pay higher than lawyers'; most fall well below. Of those who leave engineering after six to 10 years, a third do so for more pay and better promotion opportunities. Peak earning years, when many will be paying for their kids to attend college, find the median engineering salary reaching no higher than $109,000. Women in some engineering fields find themselves in a tiny minority.
So while it's true that "the climate is excellent for engineers," in the words of Darryll Pines, dean of engineering at the University of Maryland, College Park, engineering as a career is a lot more complicated. That's why the National Academy of Engineering early last year launched a 20-month study of engineering career pathways. Chaired by Jean-Lou Chameau, president of the King Abdullah University of Science and Technology in Saudi Arabia, a 13-member panel will assess "the expectations, training, employment options, and employment choices of those trained or employed as engineers in the United States," and thus "broaden the thinking of engineering educators, employers, and policy-makers about the connections between engineering education and the workforce." For educators, the panel intends to find out what more can be done in curricula and continuing education so engineers gain the knowledge and skills employers demand. The study calls for a demographic and educational analysis of the people who work as engineers and those with engineering training who do other kinds of work, and the implications of their decisions and career pathways for engineering education at all levels.
A centerpiece of the study was a two-day Washington workshop in November entitled Pathways for Engineering Talent. Prominent among the themes raised in presentations and discussion was the wide range of endeavors where engineering degree holders are in demand and find success, many of them outside the formal boundaries of the engineering profession.
More than 40 percent of those with a B.S. degree in engineering work in non-engineering-related jobs. And as many as 25 percent of new graduates consider careers outside engineering. A study led by Sheri Sheppard, associate vice provost for graduate education at Stanford University, cites the "troubling trend" that, over the past two decades, "the highest-performing students and graduates are leaving science and engineering pathways at higher rates" than lower-performing peers.
Educators need to keep this in mind as they consider the essential parts of an engineering degree. A point repeatedly made by workshop participants is that formal engineering education too often fails to provide all the skills — especially so-called professional or soft skills such as communication and collaboration – that students will need to prosper in the workforce. A similar point was stressed by business and other employers during a 2013 ASEE-National Science Foundation workshop, Transforming Undergraduate Education in Engineering. Even NASA, one of the most engineering-centric branches of government, needs engineers who are also knowledgeable about budgeting and regulatory affairs and who can work in teams and understand "how to talk to the press," says Jeri L. Buchholz, the space agency's assistant administrator for human capital management.
Who is an Engineer?
Vocational and statistical categories used in various data sets and surveys often fail to capture the complexity of career paths and labor markets and their relationship to education, workshop participants complain. Not only do confusing, overlapping, and sometimes contradictory classifications make it "often hard to define what people actually do in jobs," but workers frequently move among categories during their careers, notes Chameau, the former president of the California Institute of Technology.
Further blurring the picture, nearly a quarter of individuals who are working as engineers don't have an engineering degree. They include one fourth of NAE members, some of whom have no degree at all. Nonetheless, those elected to the academy have made significant contributions that, in the eyes of NAE President Dan Mote, qualify as engineering. Going beyond what he calls a "stilted view" of the profession, he says engineering encompasses a wide swath of work that "creates solutions for people and society" using technological and scientific principles. Projects such as the Large Hadron Collider, with its "thousands of physicists," and the landing of the Curiosity rover on Mars, which he termed "the greatest engineering achievement of this century thus far," are widely considered scientific but are actually engineering, he argues.
Versatile Skills
Some workshop participants view movement of engineering students and workers into management, business, entrepreneurship, law, health care, government, policy, and other occupations as "leakage" from the engineering profession. Others consider it an appropriate and desirable use of widely applicable and effective abilities and knowledge. The computational ability, systems thinking, and analytic skills learned in engineering school "are highly desirable" to many kinds of employers, says NASA's Buchholz – so much so that "people are poaching" workers with these competencies for careers in pharmaceutical and other technical sales, big data, information technology, and more.
Management, leadership, entrepreneurship, and similar pursuits can also make good use of engineering knowledge, skills, and analysis. Indeed, 20 percent of the CEOs of Fortune 500 companies have first degrees in engineering, notes Gary May, dean of engineering at the Georgia Institute of Technology. But shifts in the economy and employment outlook require engineering schools to monitor who is hiring their graduates and be prepared to adjust accordingly. A decade ago, major aerospace companies dominated the employers hiring his new graduates, says Maryland's Pines. Today, large technical consulting firms "have pushed them out" of first place, a shift that has created a "push for soft skills."
While "most schools are doing an excellent job producing the technical skills that we need," according to Dianne Chong, vice president of engineering, operations, and technology at the Boeing Company, employers want more than that. As workshop speaker Samantha Brunhaver explains, engineering programs are often narrow and homogeneous and fail to provide opportunities to develop those other needed competencies. Brunhaver, a Stanford Ph.D. candidate who studies the career decision-making and professional formation of engineering students and practicing engineers, cited sophomores in engineering design and applied math, who tend to view an engineer as someone who uses theory and equations and designs and builds things. In addition to their technical competence, however, graduates also need to be "socially savvy" and have interpersonal skills and "contextual awareness," she says.
Because nontechnical work plays a larger role in jobs than students expect, early-career engineers often struggle with their lack of nontechnical competence, Brunhaver continues. Particular challenges include "cross-disciplinarity," or the ability to work on technical matters workers have not specifically studied; initiative, especially the ability to speak up for oneself; and the difference between teamwork as taught in school, where groups tend to work together on a project, and collaboration as practiced in the workplace, where people with various responsibilities on a project go back to work in their own spaces instead of being physically together while they work. Different types of colleges, such as technical institutions and liberal-arts-oriented schools, have different cultures that produce different "flavors" of engineering graduates, she says. These differences can influence graduates' career pathways, with those from liberal-arts schools likelier to take jobs outside of engineering.
Degrees of Separation
Fewer than half of people whose highest degree is in engineering work in engineering occupations, and the rate is even lower for those who have gone on to earn a higher degree in another field, says Shulamit Kahn, associate professor in the school of management at Boston University. Many such people are in computer science or other science occupations and non-engineering management. About 20 percent of those who do work in fields defined as engineering occupations, on the other hand, lack an engineering degree, having studied a range of other subjects. Relatively small numbers of engineering graduates remain in the engineering discipline of their original training, but in this respect engineering does not differ from science fields.
Overall, Kahn says, people whose highest degree is in engineering are very likely to report that their jobs relate to engineering, with more than 90 percent calling them either closely or somewhat related. But, she adds, "how we measure it is one thing. How they perceive it" is another. Even 70 percent of those who have left the field say their jobs are related to their highest degree and perceive themselves as "working closely to engineering or somewhat closely."
The most important overall reasons for leaving the original field are pay and promotion, she says, followed by unavailability of a job in the field – a major reason that engineers within five years of graduation give for working outside of engineering. About 17 percent cite change of interest.
What Movement Means
Hal Salzman, a professor at the Rutgers University School of Planning and Public Policy, thinks the flow of people across disciplines is "the strength of U.S. higher education" and something the system should facilitate rather than "encouraging lock-in at an early age" as many other educational systems do. Right now, students who start engineering programs from the outset of college do best after they graduate in terms of earning good salaries, finding full-time work, and attending graduate school. Those who enter engineering later often miss out on valuable support structures offered early in programs, notes Sylvia Hurtado, professor of education at UCLA, adding that late-comers also need and should get this help. In addition, workers who leave fast-moving engineering fields but later want to return frequently find that difficult or impossible because the field has moved on, says Stanford's Sheppard, a mechanical engineer and a member of the NAE panel. This particularly affects women who interrupt careers to raise children. Educational opportunities to bring them back up to speed could really help.
Sheppard's own research has revealed that while the literature on engineering education has proliferated, "relatively few studies have looked at the career decisions of engineering graduates." The NAE's study may provide some answers. Watch that space.
By Beryl Lieff Benderly
Beryl Lieff Benderly is a Washington-based writer and a fellow of the American Association for the Advancement of Science.
Design by Francis Igot