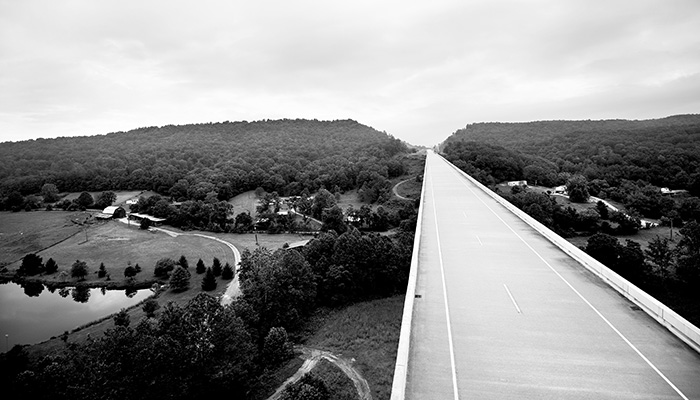 On Virginia Tech's "smart" highway, researchers and students put pedal to the metal in an effort to improve cars, reduce collisions, and ease traffic.
It may never make the map of America's scenic byways, but the 2.2-mile blacktop nestled in the mountains of southwest Virginia has a number of noteworthy features. One of its three bridges, at 175 feet, ranks as the tallest maintained by the state. It also has a signalized intersection; in-pavement sensors for moisture, temperature, strain, vibration, and weighing-in-motion; and a lighting test bed. There's even a half-mile stretch that can produce rain, snow, and fog.
So far, most of the drivers on this state-of-the-art transportation research lab known as the Virginia Smart Road hail from Virginia Tech's engineering school in nearby Blacksburg. When traffic in the region grows, however, the high-tech highway will be extended as originally envisioned and opened to the public as a direct route connecting the campus to Interstate 81 and Roanoke, the region's largest city, 25 miles to the east. Until then, the facility, which is managed by the Virginia Tech Transportation Institute (VTTI) and owned and maintained by the Virginia Department of Transportation (VDOT), will continue to provide unique opportunities for engineering educators and undergraduates to test-drive emerging technologies.
"This is a great place for our students to take experimental data in literally a real-world environment," says Richard Benson, dean of the College of Engineering. "I really don't think there's anything like it in the world. Let's just say it's rare." He should know. Benson previously worked at Penn State with the Pennsylvania Transportation Institute, and can "count on one hand the universities that have similar programs." Each is among the nation's biggest engineering schools. Texas A&M has the Texas Transportation Institute. The University of Michigan is home to the Transportation Research Institute, while Ohio State has the Center for Automotive Research and the University of California-Berkeley works in automotive engineering involving communications.
Serendipity also played a role in the Smart Road's development. First proposed back in 1985 simply as a new link to ease congestion along Route 460 between Blacksburg and the interstate, the concept soon morphed after a local official suggested using the road for research on smart vehicles and highways. In 1990, a Virginia member of Congress sought federal funds to build America's first smart road from the ground up. State and corporate money followed. The Smart Road's first segment opened in 1999, and the final section was completed in 2002 – but the expected local traffic jams never materialized, extending its use as a testing and training ground.
'Like a Chemistry Lab'
"It has lasted as a research facility a lot longer than we anticipated due to changes in economics and our growth predictions," explains Dave Clarke, resident engineer at VDOT's Salem District Christiansburg Residency, who was involved in the design and construction. "The grading work was done for four lanes, but just two lanes were paved," he recalls. Sensors embedded into its 13 different experimental pavement structures were wired to a fiber-optic and electrical spine running down the road. "What we created was like a chemistry lab outfitted with a lot of stuff that researchers could do experiments with," reflects Clarke. "They like that it's not a track. It's as close to a real-life situation as the researchers could get."
The Smart Road "has exceeded everybody's expectations," confirms Tom Dingus, director of the VTTI and a professor of civil and environmental engineering. In 2013, he notes, the facility logged the highest number of paid hours of research since its inception, and it "is getting more and more popular." Participating organizations include car manufacturers, the Department of Transportation, the National Highway Traffic Safety Administration, the Federal Highway Administration, and the Research and Innovative Technology Administration.
The multidisciplinary nature of transportation technology research makes the Smart Road "a wonderful facility that benefits a lot of departments and disciplines," says Benson, the engineering dean. "Civil engineers will study things like the durability of certain kinds of paving. Mechanical engineers might get involved with, say, the tire-road interface. Other people might be involved with some of the control algorithms. So there's a significant role for electrical engineers, computer scientists, and the like."
100-Plus Undergraduates
Students also play an integral role in the team of researchers, engineers, technicians, and support staff it takes to operate the Smart Road. The VTTI typically recruits engineering students to work as graduate research assistants. But there are multiple ways to get involved, explains Benson. "Students might be involved with one of the researchers, perhaps a co-adviser on a master's or Ph.D. thesis. A lot of the work they do is large scale, and it involves sizable teams. So we'll have multiple faculty and permanent research staff as well as a good number of students all working together on the same project." There also are "lots" of opportunities for engineering undergraduates. Currently, more than 100 of them are working there on research projects, estimates Dingus. "That really helps Virginia Tech students get good jobs having that practical experience," he adds.
Jared Bryson is a case in point. The mechanical engineer went straight to work at VTTI after receiving his BSME from Virginia Tech in 1998. As head of the Smart Road Mechanical Systems Group in the Center for Technology Development, he oversees the mechanical side of the hardware operations team. "My counterparts and I develop all the systems that go into our studies, whether that be the electronics, mechanical mountings, devices used in conjunction with the vehicles, or infrastructure to support different research projects," he explains. "The researchers find projects to bid on, and if they're awarded the grants, we have to make them work."
Zac Doerzaph, director of the Center for Advanced Automotive Research at VTTI and a specialist in connected-vehicle technology, followed a path similar to Bryson's, except he earned his BSME from the University of Idaho. He then came to Virginia Tech for master's and doctoral degrees in industrial and systems engineering – conducting his thesis research on an intersection-violation prevention technology at the facility. "In a way, the Smart Road enabled my career," he says.
Connected and Automated Vehicles
In its 20 years, the Smart Road has amassed an impressive track record of influencing technologies now found in today's vehicles. Doerzaph cites such products as forward-collision warnings, backing cameras, and crash-imminent braking – which automatically applies the brakes to avoid a collision. Doerzaph's center, for example, develops and tests prototype systems that focus on the integration of driver and vehicle to improve occupant safety. "The majority of our Smart Road studies involve testing and evaluating collision avoidance and driver assistance systems," he relates.
Several technologies are under development that could make a splash. Connected vehicles, for example, use low-latency, dedicated short-range communications (DSRC), and GPS to predict crashes and warn the driver – the subject of Doerzaph's Ph.D. research. In simple terms, these vehicles have radios that let them communicate with each other as well as with the infrastructure. If a car crashes, it can broadcast the information, and the processor on every other vehicle can figure out if it's in the path and what action to take, such as alerting the driver or applying the brakes.
Automated cars are another hot area of research. Dingus describes how "the next generation is working on lane-centering systems, where you can actually drive hands off the wheel, and if the car sees an obstacle in front, it will brake to avoid a crash." He predicts the technology will be in production "in the next few years."
The timetable for extending the Smart Road into a six-mile, four-lane part of the public transportation system may take a lot longer. A lot will depend on local traffic demands on the Route 460 Bypass and state and federal transportation funding. Plans call for a series of test beds with the ability to shut down two lanes in off-peak hours for testing. In the meantime, researchers and students in this novel public-private-academic project won't be spinning their wheels.
By Tom Gibson
Freelance writer and licensed professional engineer Tom Gibson is a consulting mechanical engineer based in Milton, Pennsylvania, specializing in machine design and green building. He publishes the online magazine Progressive Engineer. 
Design by Francis Igot
Images courtesy of Tom Gibson/Virginia Tech